Egg rolls with Coleslaw Mix, contrary to how we usually acquire them, can be made right inside the premise of our kitchen.  You might be surprised that they are not the greasy and uber-salty dish we get from take-outs and market.  No need to feel panic when we say 'homemade' for your will soon enjoy easy cooking with this classic egg dish
Vegetable Egg rolls Recipe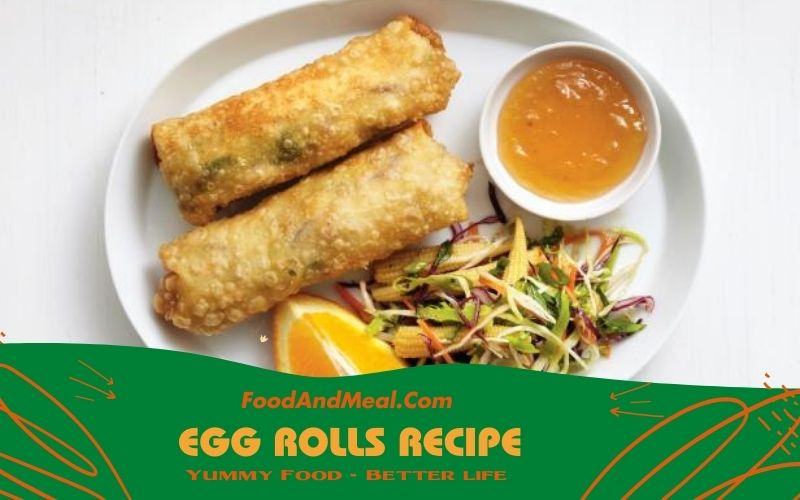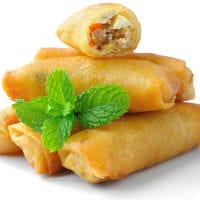 Egg Rolls with Coleslaw Mix
This easy homemade version swaps the traditional roast pork and cabbage filling for rotisserie chicken and Coleslaw mix to deliver great flavor while cutting down on prep time.
Print
Pin Recipe
Add to Collection
Go to Collections
Equipment
Locking tongs
or slotted spoon
Ingredients
Egg roll wrappers

Oil

canola, vegetable and/or sesame

Coleslaw mix

Ground meat

or poultry or small shrimp*

Water

in a small bowl
Materials
Locking tongs or slotted spoon
Instructions
Step 1:
Put the skillet over a medium-high flame and put canola or vegetable oil. You can also put sesame oil with the canola or veggie just to add a little twist with the aroma and flavor of the roll. Lower the heat as soon as the surface of the oil ripples.
Step 2:
If you choose to have meat in your roll, it's about time to cook them. But if you're a vegetarian, just skip this step.  Instead, proceed into making the coleslaw by incorporating the coleslaw mix, bean sprouts and any other vegetable you may like.  Toss them into the skillet and cook for about 2-4 minutes.  Make sure you make the tossing motion from time-to-time to evenly cook the veggies or you may use the locking tongs or slotted spoon.
Step 3:
Season the vegetable mix with rice wine vinegar and soy sauce. Add the seasonings like salt,

pepper

and ginger. It's recommendable that you only half-cook the vegetables to retain their crispness.
Step 4:
Lay one piece of egg roll wrapper in a clean, flat surface. Place it in front of you in a form of diamond instead of a square.
Step 5:
Place the veggie (or meat) filling across the wrapper a little above the center line, maintaining 1-inch margin on all sides without filling.
Step 6:
Dip your finger into the small bowl of water and lightly smear the four margins of the wrapper. The effect of this is like a paste that will seal off the wrapper so the fillings won't come out as you cook.
Step 7:
Fold two side edges into the center and gently press on the part of the dough that has no filling.
Step 8:
Next, fold the top corner down (towards you), but not letting it meet with the bottom corner. Gently press again on the edges.
Step 9:
Now, roll the egg roll towards you until the bottom corner is covered. Gently press on the edges and seal off the roll.  Do the same procedure with the remaining wrappers or at least until you don't have filling anymore.
Step 10:
Put the skillet on a medium-high flame and pour at least ¼ inch of oil. Heat the oil until it sparkles but does not smoke.
Step 11:
Place egg rolls into the skillet but make sure that you leave enough space in between each roll. Cook them for 2-3 minutes per side or until they have the deep, golden brown hue.
Step 12:
Put the finished egg rolls over paper towels so the towels can seep the extra oil. Serve with your favorite sauce but they can also work with sweet and sour, spicy mustard, soy-ginger and teriyaki sauce.
Notes
Reduce the amount of cilantro and maybe reduce the ginger. This would be perfect for leftover turkey.
Share by Email
Share on Facebook
Share on Twitter
Nutrition
Serving:
100
g
|
Calories:
196.5
kcal
|
Carbohydrates:
29
g
|
Protein:
10
g
|
Cholesterol:
14
mg
© Food And Meal
This website provides approximate nutrition information for convenience and as a courtesy only. Nutrition data is gathered primarily from the Spoonacular Database, whenever available, or otherwise other online calculators.
Pin Recipe
Chicken Egg Rolls with Broccoli Slaw Recipe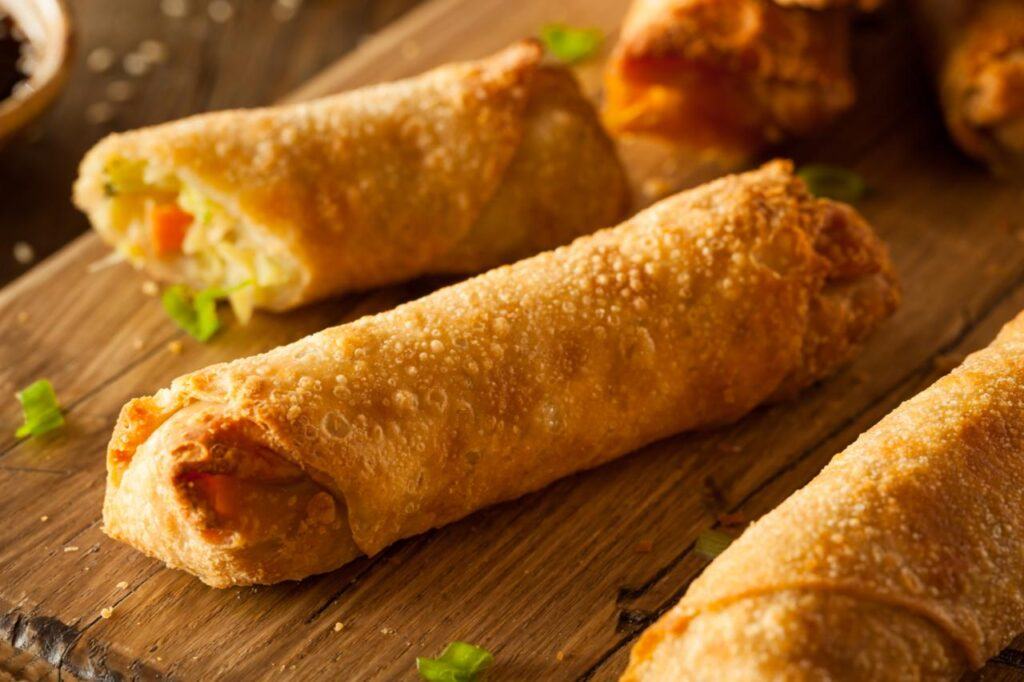 Ingredients
1 1/2 cups shredded rotisserie chicken, skin removed
4 cups broccoli slaw mix (about 8 ounces)
1/2 cup roughly chopped fresh cilantro
4 scallions, sliced
2 tablespoons grated peeled fresh ginger
3 tablespoons teriyaki sauce
3 tablespoons duck sauce, plus more for serving
2 tablespoons vegetable oil, plus more for frying
8 egg roll wrappers (each about 5 1/2 by 6 inches)
1 14-ounce can baby corn, drained
1 tablespoon rice vinegar
2 oranges, cut into wedges
Direction
Mix the chicken, 2 cups broccoli slaw, 1/4 cup cilantro, 2 scallions, the ginger, 2 tablespoons each teriyaki sauce and duck sauce and 1 tablespoon vegetable oil in a large bowl.
Heat 1/4 inch vegetable oil in a large skillet over medium-high heat until hot but not smoking. Meanwhile, arrange the chicken mixture down the center of each egg roll wrapper. Tuck in the ends and roll to enclose; dab the edges with water and press to seal. Working in batches if needed, add the egg rolls to the oil seam-side down; fry, turning, until golden brown, 5 to 6 minutes. Transfer to a paper towel-lined plate to drain.
Combine the remaining 2 cups broccoli slaw, 1/4 cup cilantro, 2 scallions and the baby corn in a large bowl. Add the remaining 1 tablespoon each teriyaki sauce, duck sauce and vegetable oil, and the rice vinegar; toss. Serve the egg rolls with the broccoli slaw, orange wedges and more duck sauce.
What is Egg Rolls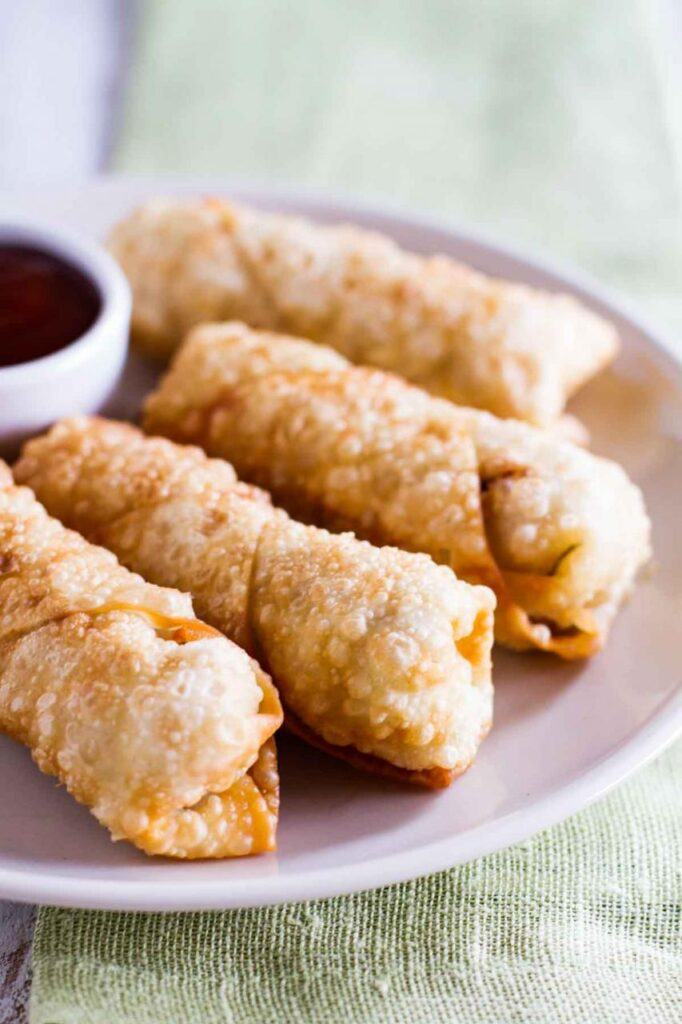 When you go to a Chinese restaurant in the United States, you've likely seen the fried appetizer known as egg rolls. These cylindrical savory rolls are filled with shredded cabbage, pork and other fillings and wrapped in a thin layer of wheat flour. When you order an egg roll, it's not just an egg. It's also a meal in itself, as it includes pork, shredded cabbage, and other ingredients.
Although most American egg rolls don't contain eggs, the wrapper often does. The wrapper is made of a thick layer of dough, making it durable enough to withstand heavy loads. The meat inside almost always contains juices from the meat, so the wrapping can't be as thin as the filling. The filling is a dense mixture of cabbage, and other ingredients. The shredded cabbage is what gives egg rolls their distinctive flavor.
In the United States, egg rolls aren't usually filled with actual eggs. Instead, the wrapper contains cabbage and other vegetables, while egg rolls are more commonly stuffed with meat. And they don't usually come with an egg-free version. Despite the names, the filling is the main ingredient of an "egg roll." This is an important reason to eat a healthy egg roll. You'll find many options for meat-free versions in the market.
Tips for making Egg Rolls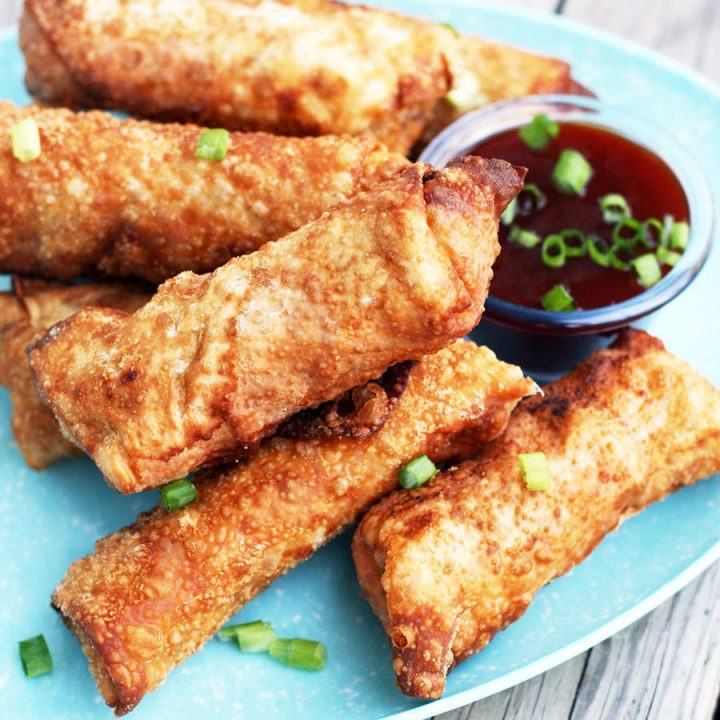 This recipe uses store-bought coleslaw mix. The shredded carrots and cabbage are mixed with ground white pepper, garlic, and scallions for a tangy, earthy flavor. You can also add sriracha sauce for an extra kick! You can even add the green parts of green onions and fresh cilantro for extra zing! Prepare your filling by chopping the vegetables and garlic. Lay them out in a diamond shape and press them to form the egg rolls.
Combine ground beef, coleslaw mix, and soy sauce. Add ginger, onion powder, and garlic powder. Spread the mixture into the center of the egg roll wrapper. Fold the bottom corner over the filling. Then, fold the sides towards the center of the filling. If you do not have any ground ginger, use fresh ginger instead. The fresh ginger adds a tangy, fresh flavor to the dish.
To make egg rolls, you need to make the cabbage and sausage mixture. Divide the mixture into ten tortillas and cook. Once you have prepared the filling, place them on a clean sheet pan. Brush the wrapper with olive oil. Once they are ready, place them on the baking sheet, fold-side down. Bake for 10 minutes to set. Then, serve them hot! You can also freeze them for later use.
Thanks for your visiting our FoodAndMeal.Com website. Like and share this recipe if it is beneficial for you.
Affiliate DisclaimerAbout The Author
As an affiliate, we may earn a commission from qualifying purchases. We get commissions for purchases made through links on this website from Amazon and other third parties.