This recipe for milk chocolate clusters made with Corn Flakes could not be more simple and easy to make. Ready in minutes, all you have to do is let the chocolate set for the treats to be ready. Perfect for lunchbox snacks or feeding hungry kids after school.
Milk Chocolate Clusters Recipes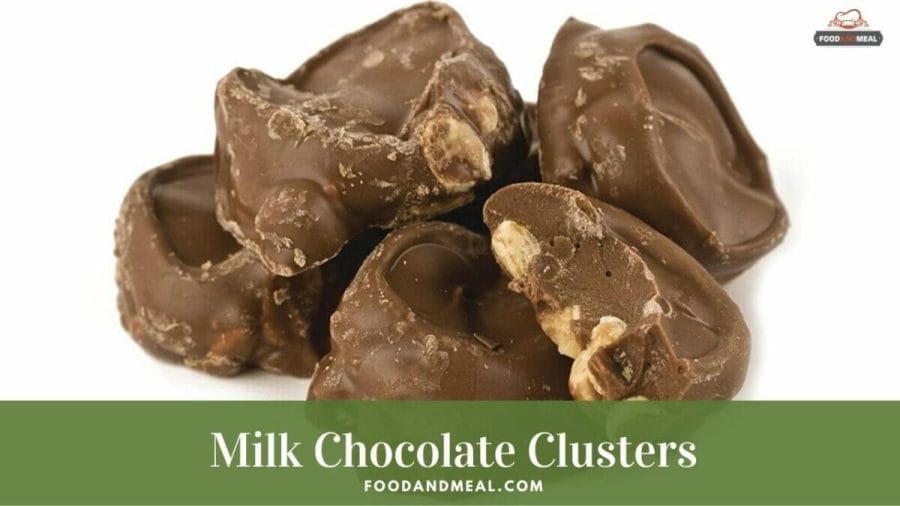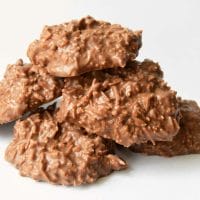 Milk Chocolate Clusters
If you are looking for a simple, three ingredient Milk Chocolate Clusters recipe, look no further. I'll show you how to prepare these delicious treats in just one hour! I've included both a Stovetop and a Crockpot version. I hope you enjoy! Here is a brief description of each method. Once you've completed the steps, you can put your delicious creation in the freezer to set.
Print
Pin
Add to Collection
Go to Collections
Instructions
Prepare a cookie sheet covered in parchment.

In a large bowl, combine the Corn Flakes with the pistachios, hazelnuts, raisins and salt.

Melt the chocolates in a microwave safe bowl stirring every 30 seconds to avoid burning the chocolate. Stir the chocolate until smooth and add to the Corn Flake mixture. Combine till the cereal is properly coated.

Using an ice cream scoop, place rounds of the mixture onto the cookie sheet, using a spoon to keep cereal together. Allow at least one hour till the chocolate sets.

Do not worry if the mixture appears loose. Once the chocolate sets, they will hold together perfectly.
Video
Notes
You can make substitutions as long as the ratio of dry ingredients and chocolate is kept the same. Do not worry if the mixture appears loose. Once the chocolate sets, the clusters will hold together perfectly.
Share by Email
Share on Facebook
Share on Twitter
Nutrition
Serving:
1
set
|
Calories:
2905
kcal
|
Carbohydrates:
357
g
|
Protein:
38
g
|
Fat:
176
g
|
Saturated Fat:
78
g
|
Polyunsaturated Fat:
13
g
|
Monounsaturated Fat:
75
g
|
Cholesterol:
12
mg
|
Sodium:
1202
mg
|
Potassium:
2448
mg
|
Fiber:
31
g
|
Sugar:
249
g
|
Vitamin A:
1407
IU
|
Vitamin C:
23
mg
|
Calcium:
331
mg
|
Iron:
34
mg
© Food And Meal
This website provides approximate nutrition information for convenience and as a courtesy only. Nutrition data is gathered primarily from the Spoonacular Database, whenever available, or otherwise other online calculators.
Other Ways to Make a Delicious Milk Chocolate Clusters Recipe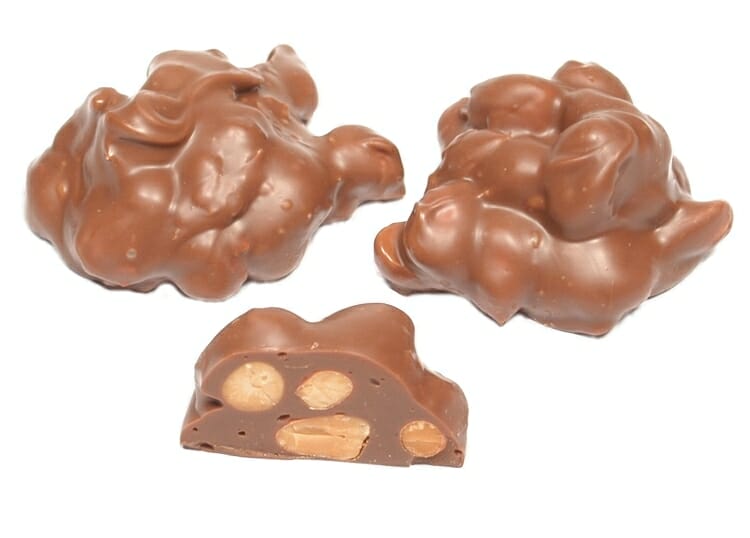 Easy homemade chocolate peanut clusters
If you like the taste of salted peanuts and chocolate, try making your own easy homemade milk chocolate peanut clusters. This recipe is perfect for chocolate lovers who don't want to spend a lot of time in the kitchen. The mixture is made of almond bark, milk chocolate chips, and peanuts. Once mixed, the peanuts are coated in chocolate. For best results, use a lined baking sheet to bake the clusters.
You can also add sprinkles or decorate them according to the season. For fall or Halloween, you can use orange food coloring and sprinkles with m&m's or pumpkin shaped candy. For Christmas and Thanksgiving, you can add red and green sprinkles, edible glitter, or shredded coconut. Make sure to store them in airtight containers to prevent them from drying out. Chocolate peanut clusters keep well for a few weeks and make great gifts.
To make chocolate peanut clusters, you can use any combination of peanuts and chocolate. The first step is to prepare a baking sheet lined with parchment paper. Once the baking sheet is ready, pour the chocolate mixture over the peanuts. Be sure to use a non-stick surface. Add your toppings before the chocolate sets. It will take around a minute for the mixture to set up. You can then enjoy this tasty treat.
Chocolate peanut clusters are one of the easiest and most classic candy gifts to give at Christmas time. They require only three ingredients – semi-sweet chocolate, salted cocktail peanuts, and almond bark. This recipe is easy enough to make that even your kids can help! They are perfect for last-minute gift-giving. These are sure to please! So, start preparing your chocolate peanut clusters today! Make the candy for your loved ones and surprise them with delicious treats at the holidays!
3 ingredients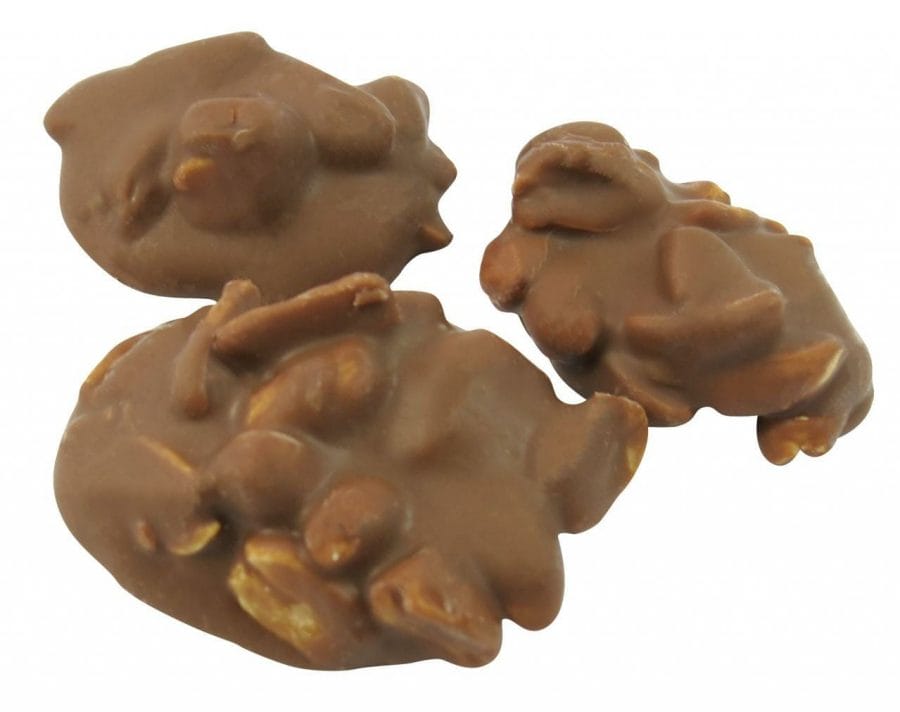 These chocolate chip clusters can be customized to fit any holiday or get-together. Instead of using one type of M&M, try a variety of them and see what combinations work best! Then, place the chocolate clusters on a baking sheet, leaving an inch between them. Let them cool for half an hour before serving them. If you'd like to give them as a gift, you can wrap them in festive holiday candy cups!
These no-bake treats are the perfect addition to any holiday dessert platter. They're also great for Christmas gifts. Homemade food is always appreciated. While planning a holiday menu can be challenging, you can make chocolate almond clusters in 20 minutes and impress your recipients. Add sea salt if desired, and you'll have a delicious no-bake treat that's sure to impress your guests! And since chocolate almond clusters are a classic, no-bake holiday treat, there's no reason not to try it.
To prepare these delicious treats, melt the chocolate and peanut butter in the microwave for 30 seconds. Stir well to combine. After 30 seconds, the chocolate should be smooth. Next, drop the chocolate almond mixture onto a baking sheet. Let cool completely, or put them in the refrigerator to speed up the process. Once cooled, you can store them at room temperature or in the fridge for several weeks. It's best to refrigerate them if possible.
To make chocolate peanut clusters, you can use a crockpot. Simply spray the bottom with cooking oil. Cook on low for one to two hours, stirring every 20 minutes to prevent scorching. When finished, the clusters should be firm enough to lift and store in a container. Afterward, you can wrap them up in a cellophane bag and add a gift tag. The recipient of your gift will love them!
Crockpot method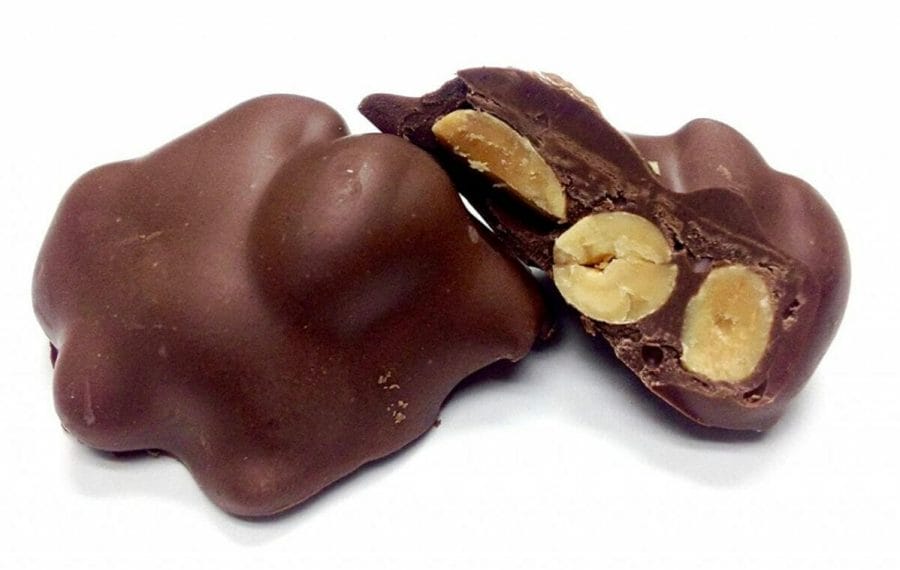 The crockpot method makes it easy to make delicious homemade candy in just a few hours. All you need is a 6-quart slow cooker and a spray of cooking oil. Cook on low for 1-2 hours, stirring once every 20 minutes to prevent scorching. Upon completion, the candy should be thick enough to lift with a spoon and be stored in an airtight container or refrigerator.
For the best results, use a three-quart crock pot, although a 6-quart cooker will work fine. Large crock pots may overheat, so check at 90 minutes and then again at 60 minutes. If the chocolate is still too firm, turn down the heat and let it cook for another 30 minutes. This recipe will probably take two hours, depending on the crock pot size and the amount of chocolate used. For best results, set the Crockpot to low and stir occasionally. Keep in mind that most crock pots slowly reach 210 degrees over four or more hours, so make sure to adjust the time accordingly.
If you want your candy to be a little more fancy, try adding flaked sea salt or different nuts. You can also try different types of chocolate chips. You can even substitute almond bark for the usual chocolate chips if you prefer. Regardless of the method you choose, you will enjoy your homemade caramel candy! Make sure to chill the clusters in the fridge for half an hour before serving. When you're done, you can serve it with a cup of coffee or tea!
This Crockpot candy is easily stored and can last for a month or two. Store them in an airtight container at room temperature or freeze them for up to three days. You can also serve them as gifts. They're perfect for any occasion. They can be given as gifts to friends and family. To make them extra special, use different toppings. A sprinkle of mini marshmallows on top or graham cracker is a great choice for a S'mores-inspired treat.
Stove method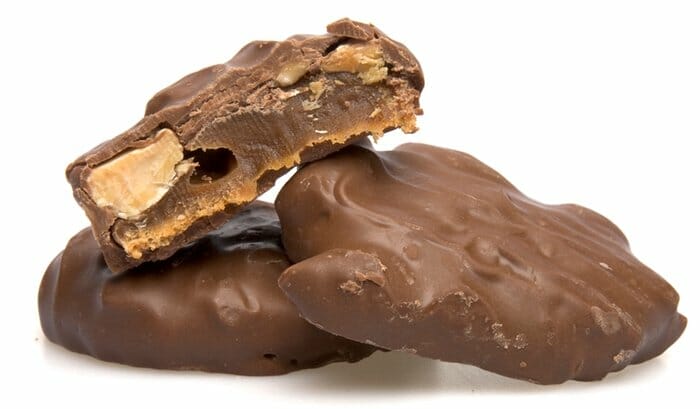 A classic recipe for chocolate nut clusters is easy to make. This holiday treat is a family favorite and has been nicknamed Reindeer Poo! You can prepare these treats on your stovetop, microwave, or slow cooker. This recipe includes instructions for all three methods. Here are some tips for each. If you want a gourmet candy store look, add dried fruit or nuts. You can also use dairy-free chocolate, if you prefer.
Melt the chocolate over a medium-low flame. Add mini marshmallows, Golden raisins, and almonds, and stir to combine. Once the mixture is smooth, add other ingredients, like Golden Grahams, to make the clusters even more delicious. You can also use white chocolate candy melts for this recipe. These treats can also be frozen for faster cooling. The recipe yields six dozen candies. You can increase or decrease the amount of the ingredients as needed.
You can also use a double boiler to make chocolate clusters. To melt chocolate in a double boiler, you need a pot on the stove. Pour an inch of water into the pot. Place a metal bowl on top of it. The steam from the water will gently melt the chocolate. It is important to note that you can use different kinds of chocolate, or use candy melts to create a variety of colors.
Once you've cooled the mixture, scoop out the clusters onto a lined baking sheet. Once the mixture is completely cool, store the clusters in the refrigerator or freezer. You can use freezer-safe storage bags or airtight containers to store these delicious treats. They keep for a few weeks in the fridge or up to three months in the freezer. You can also freeze them if you need to make more than one batch.
Airtight container method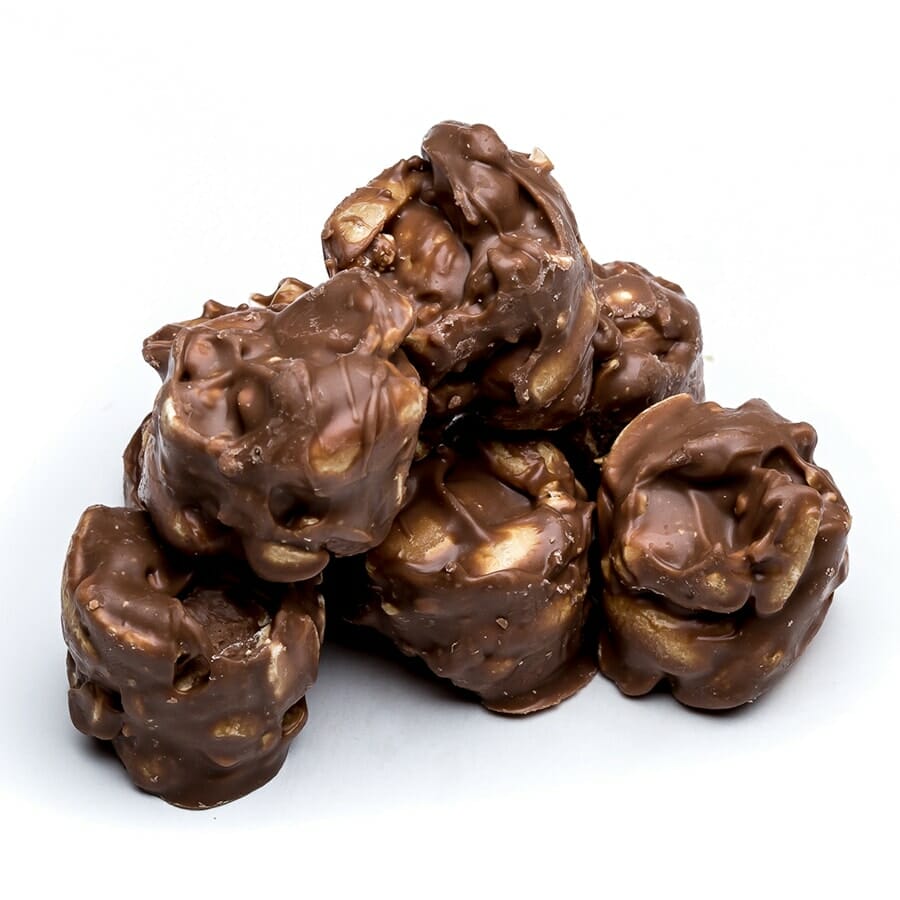 When making Milk Chocolate Clusters, the most common mistake is not keeping them in an airtight container. While this is true to an extent, they do not last very long if stored improperly. It is important to store them in an airtight container, as they will keep for up to two weeks. It is also important to let them sit out at room temperature for 30 to 60 minutes before eating them.
After making these delicious treats, store them in an airtight container at room temperature. They will keep for up to two weeks in the refrigerator, and even longer if stored in the freezer. You should be sure that the chocolate is completely solid before freezing, because it is better to freeze solid chocolate than semi-solid peanut clusters. However, it is important to store them in an airtight container in the fridge, as they will soften and crumble over time.
To preserve the deliciousness of Milk Chocolate Clusters, store them in an airtight container. For best results, store the clusters in the refrigerator, so that they will last for a longer period of time. You can decorate the clusters to suit the season or celebration. For Valentine's Day, use red food glitter or sprinkles and a heart cookie cutter. For Easter, use pastel pink or blue sprinkles.
To make your own clusters, heat the chocolate and shortening in a microwave on 50% power for two minutes. Stir well to ensure that the chocolate is evenly coated on all sides. Then, transfer the clusters to the lined baking sheet. Once completely covered in chocolate, sprinkle sea salt over the top. Refrigerate until the clusters have completely set. You may also want to keep them in an airtight container in the refrigerator for up to one week.
Would you like to collect the dozens of unique recipes? Don't hesitate to follow us! And you may have them at no cost. Foodandmeal gives you culinary and cultural voyages around the world that you couldn't find anywhere. Feel free to accompany us so that all the cooking secrets and techniques are in your hands.