Puran Poli comes from Marathi words Puran meaning 'stuffing', and Poli meaning 'outer covering'. This is a known Indian bread that is stuffed with sweet lentil filling. There are two popular ways of preparing Puran Poli, namely the Maharashtrian and Gurajati way. Even though these two ways look similar, the difference can be seen when it comes to making the stuffing and the way it is served.
Maharashtrian Puran Poli Recipe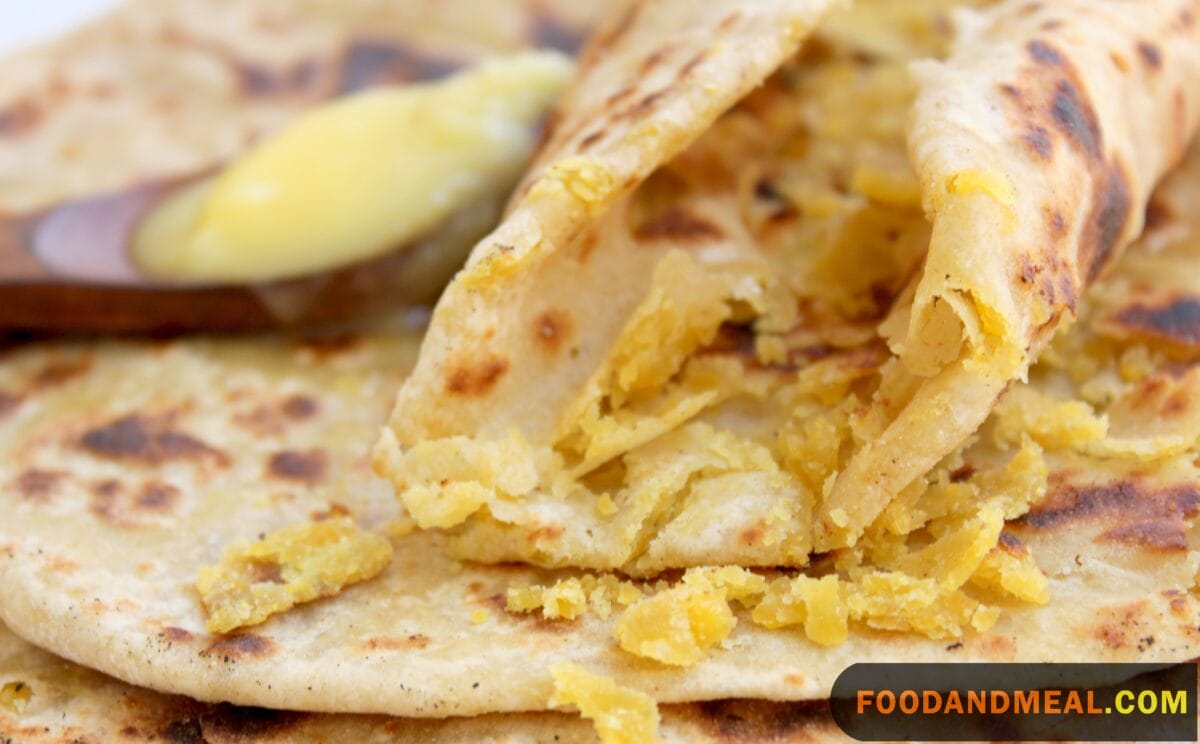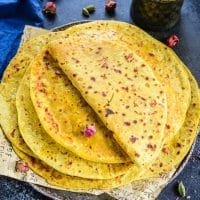 Maharashtrian Puran Poli
Maharashtrian Puran Poli is a traditional food prepared with chana dal. Unlike the Gujarati version, this dish is a heavy dinner that needs to be eaten at lunchtime. It is also a common way to celebrate Holi, where it is traditionally offered to the goddess Holika. You can make this delicious flatbread with just a few ingredients, and the results are sure to impress your friends.
Print
Pin Recipe
Add to Collection
Go to Collections
Equipment
Ingredients
Ingredients for Stuffing (Puran)
¾

cup

Toovar dal or Chana dal

2 ½

cups

Water

¾

cup

Jaggery or Sugar

1

pinch

Cardamom Powder

A few strands of Saffron
Instructions
Make the stuffing by washing the dal under running water until the water runs clear. Soak in warm water for at least 30-45 minutes.

Drain dal and put it inside a pressure cooker with 2 ½ cups of water. After that, drain the dal water in a separate bowl by using a sieve. Lightly press the dal so it will get mashed a bit while making the amati thick at the same time. Put the mashed dal in a pan along with jaggery, stirring until it thickens. Add cardamom powder and saffron, mix and let it cool by setting it aside.

In a separate bowl, prepare the dough by mixing atta, salt and a little oil. Knead it by adding a little water at a time until it gets soft before covering it and letting it rest for 15 minutes.

After that, divide the dough into 6 equal portions and make balls out of it. Do the same with Puran.

Using your hand, flatten a dough ball, put a ball of stuffing inside it before wrapping it up by the edges. Flatten it into 5-6-inch diameter poli.

Cook the poli by putting it in a tawa or skillet under medium heat. Flip and cook the other side if you see some bubbles forming on the top of poli. Smear some ghee so it will have brown spots when cooked.

When both sides are cooked, add some ghee on top then serve.
Notes
A Maharashtrian Puran Poli is a sweet Indian flatbread made especially for the Holi festival. This recipe takes a little time to prepare, but is certainly worth the effort. First, wash and soak the chana dal overnight. After soaking, it should be mashed and soaked for 3 hours. Next, it needs to be boiled for 10 minutes on a medium flame. It can be served hot or cold. The leftover water can be used to make katachi amti, a type of ice cream.
Share by Email
Share on Facebook
Share on Twitter
Nutrition
Serving:
1
serving
|
Calories:
219
kcal
|
Carbohydrates:
34
g
|
Protein:
11
g
|
Fat:
3
g
|
Sodium:
118
mg
|
Fiber:
2
g
© Food And Meal
This website provides approximate nutrition information for convenience and as a courtesy only. Nutrition data is gathered primarily from the Spoonacular Database, whenever available, or otherwise other online calculators.
Pin Recipe
Alternative method for preparing the Maharashtrian Puran Poli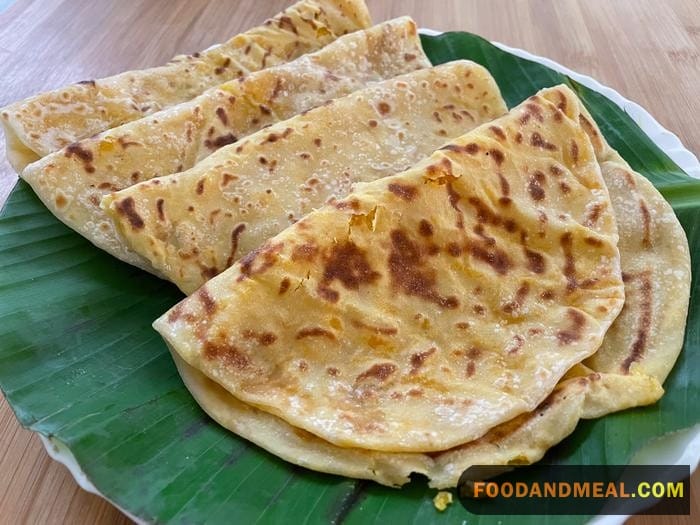 Absolutely, I'd be delighted to share an alternative method for preparing the Maharashtrian Puran Poli. This time, let's use a pressure cooker to prepare the filling, which is traditionally done on a stovetop. The pressure cooker can significantly reduce the cooking time and ensure a perfectly smooth and flavorful filling.
First, let's prepare the filling or 'Puran'. Rinse 1 cup of Chana Dal under cold water until the water runs clear. Add the rinsed dal to the pressure cooker along with 2 cups of water. Cook it on high pressure for about 5 whistles or until the dal is soft and mushy.
Once the pressure naturally releases, open the lid and check if the dal is cooked properly. It should be easily mashable between your fingers. Now, add 1 cup of jaggery or sugar (as per your preference) and a teaspoon of cardamom powder to the cooked dal. Mix well and cook on medium heat without the lid until the jaggery melts and the mixture thickens. Keep stirring occasionally to prevent the mixture from sticking to the bottom of the cooker.
While the filling is cooling down, let's prepare the dough. In a mixing bowl, take 2 cups of whole wheat flour, add a pinch of salt, and enough water to make a soft and pliable dough. Cover the dough and let it rest for about 30 minutes.
Now, divide the dough and the filling into equal portions. Roll out one portion of the dough, place the filling in the center, gather the edges and seal it. Roll it again carefully to ensure the filling spreads evenly.
Heat a tawa or griddle, place the rolled out Puran Poli on it, and cook on medium heat until golden brown spots appear on both sides. Apply some ghee on top while cooking.
And there you have it, a delicious Maharashtrian Puran Poli made easier with the help of a pressure cooker. Remember, cooking is all about enjoying the process and experimenting with new methods. Happy cooking!
Tips for making Maharashtrian Puran Poli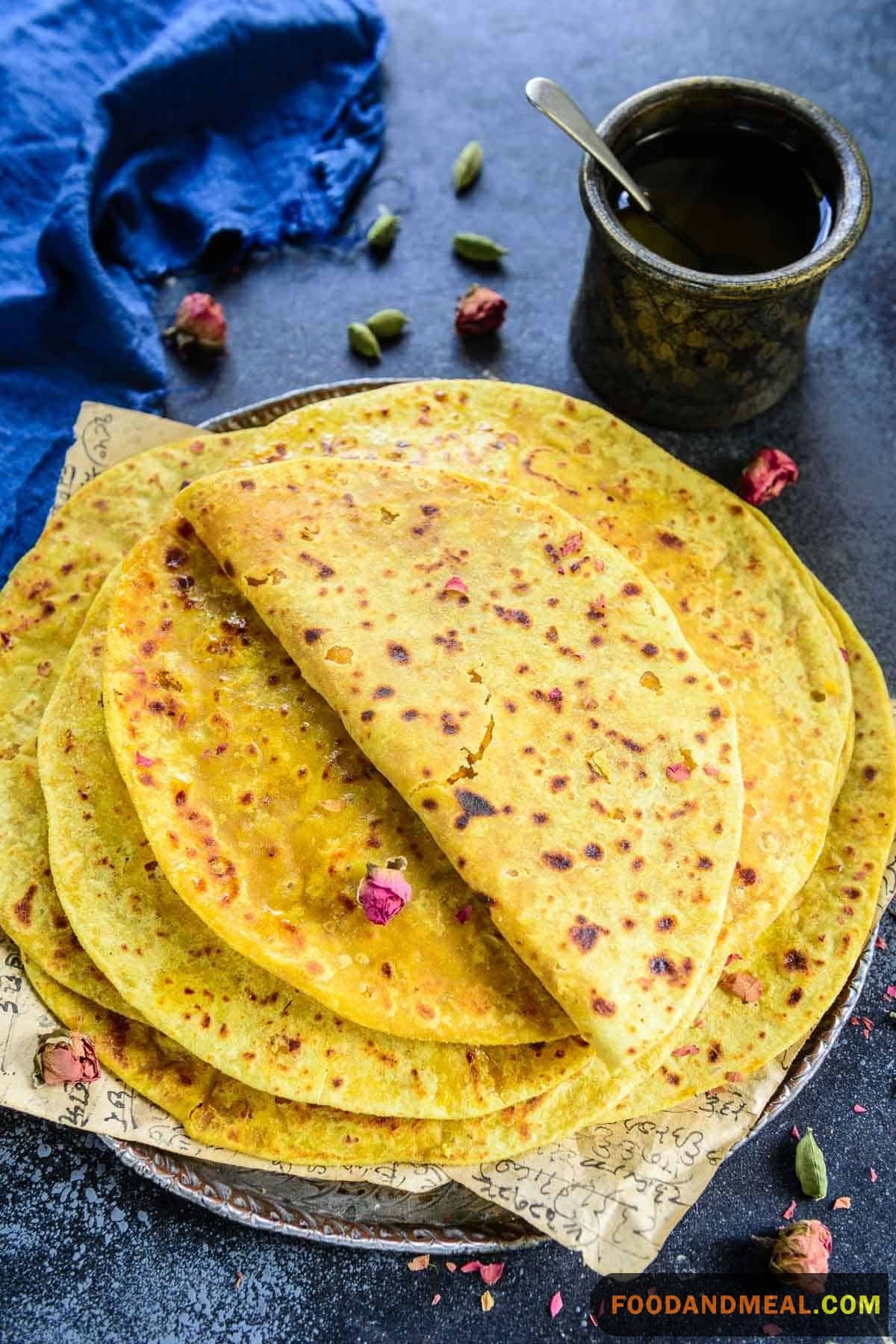 Cooking Tips for Maharashtrian Puran Poli
While preparing the dough, ensure it's soft and pliable. A hard dough can result in a tough Poli.
When cooking the Chana Dal for the filling, make sure it's well-cooked and mushy. This will give you a smooth filling.
While rolling out the filled dough, apply gentle pressure to avoid breaking the Poli.
Cook the Puran Poli on medium heat. High heat can burn them quickly.
Serving Suggestions for Maharashtrian Puran Poli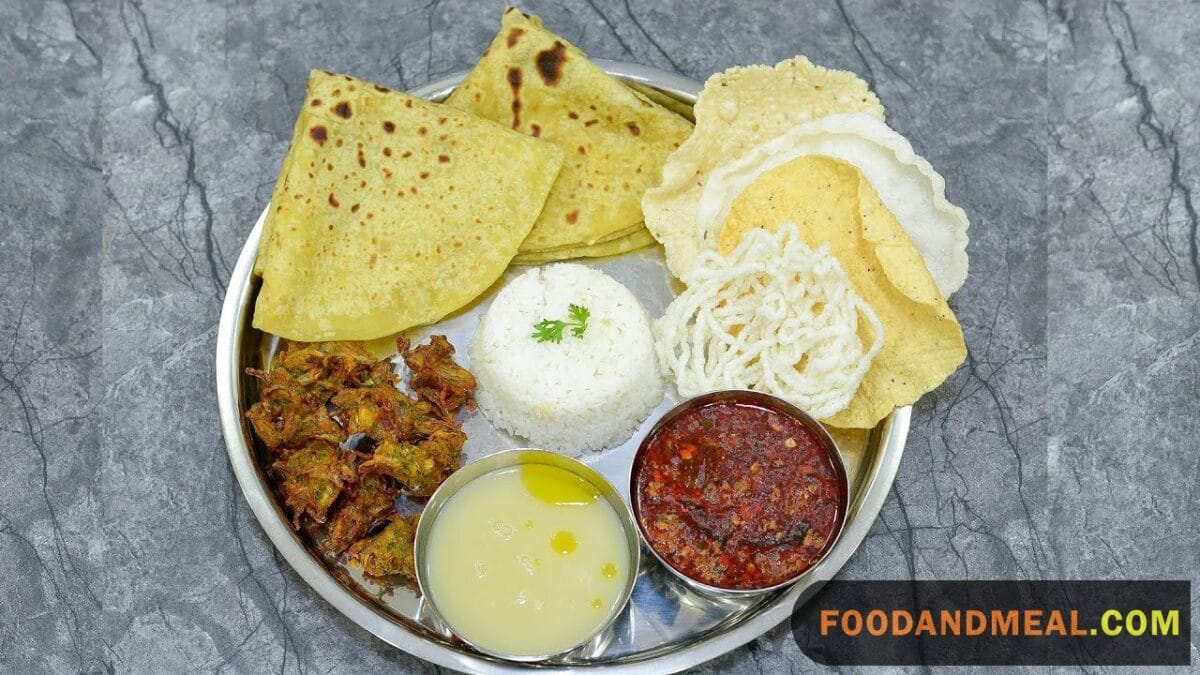 Traditionally, Puran Poli is served with a dollop of ghee on top. The richness of the ghee complements the sweet filling beautifully.
It can also be served with milk or Aamras (mango pulp) on the side.
For a festive meal, serve it with Batata Bhaji (potato stir fry) or Katachi Amti (a spicy dal preparation).
You could also serve it as a dessert after a meal.
Frequently Asked Questions about Maharashtrian Puran Poli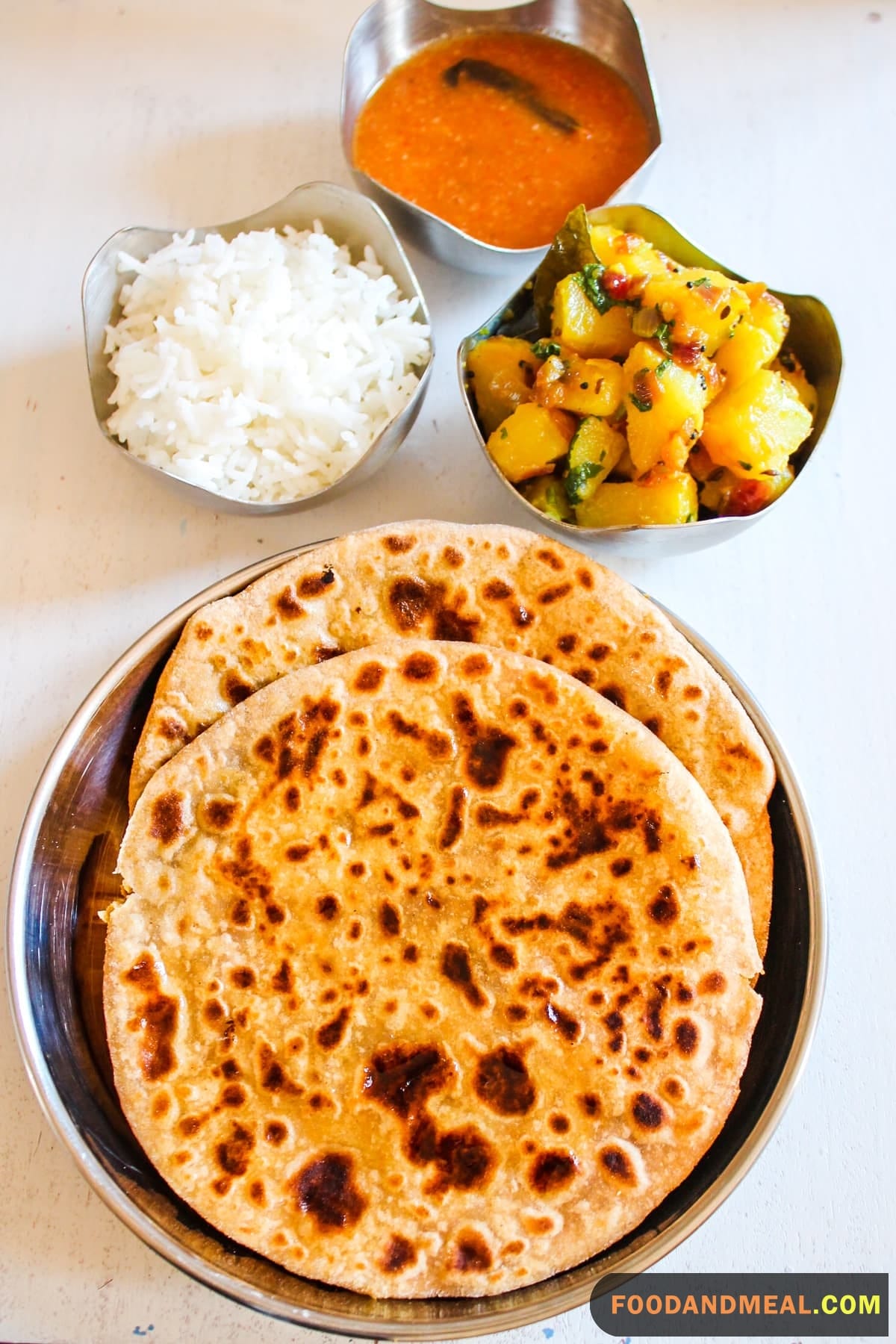 Can I make the Puran (filling) in advance? Yes, you can prepare the Puran a day in advance and store it in the refrigerator. Just warm it up before using.
Can I use any other dal for the filling? Traditionally, Chana Dal is used. However, you can also use Toor Dal or Moong Dal for a variation.
How can I store leftover Puran Poli? Wrap each Puran Poli individually in plastic wrap and store in the refrigerator. They should be good for 2-3 days.
Can I reheat my Puran Poli? Yes, you can reheat it in a microwave for about 30 seconds or on a tawa over low heat.
What can I do with leftover Puran (filling)? Leftover Puran can be used to make Puranache Dind (a sweet dumpling) or you can mix it with hot milk and drink it as a sweet beverage.
Explore our Maharashtrian Puran Poli recipe! Share the joy of cooking and subscribe for more delicious recipes.
Experience the culinary brilliance of Chef John at Food And Meal Restaurant. With over 20 years of global expertise, My innovative creations and unwavering dedication to cooking have earned me a well-deserved reputation. My passion for gastronomy is showcased in every dish, combining fresh, local ingredients with harmonious flavors and captivating presentations. My ability to tell a story through my food reflects my profound understanding of culture and emotion.
Affiliate DisclaimerAbout The Content
As an affiliate, we may earn a commission from qualifying purchases. We get commissions for purchases made through links on this website from Amazon and other third parties.