We all know that berries ooze not only with natural sweetness but also of nutritional value.  Now, putting them onto your breakfast table in harmonious partnership with cheese crepes is a simple experience to savour.  Let us begin with this our blueberry cream cheese crepe recipe.
Blueberry Cream Cheese Crepes Recipe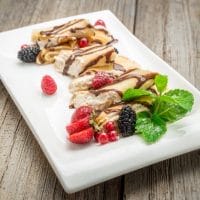 How to Make Blueberry Cream Cheese Crepes - 5 easy steps
This recipe is very simple to prepare and tastes fantastic. You'll love the flavor of blueberries and cream cheese, and they'll keep for a long time in the refrigerator. 
Print
Pin Recipe
Add to Collection
Go to Collections
Ingredients
For the cheese filling:
1

box of 8oz.

cream cheese

1

container of 8oz.

Mascarpone

optional
Instructions
For the crepes, melt the butter first by microwaving it for about 30 seconds. In one medium-sized bowl, incorporate all the ingredients for the batter (as indicated above) and whisk.  Store the batter in a mason jar and cover it with lid.  Refrigerate overnight and use for the next day.

For the fruit sauce, put your pan over a medium flame and add the butter and blueberries. Toss the blueberries in butter continually until they turn dark blue in shade.

As the blueberries achieve the dark shade of blue, add salt and the vanilla extract.

Now, temporarily remove the pan from the flame and add the whisky and let it sizzle a bit before returning the pan onto the flame.

Cook until the sauce thickens but be sure that the blueberries do not get all soggy.

Homemade thin crepes served with curd cream, fruits and berries in black and white plates. Healthy beautiful breakfast concept.

How to make blueberry cream cheese crepes - 5 easy steps 5

blueberry cheesecake on a gray concrete

How to make blueberry cream cheese crepes - 5 easy steps 6
Share by Email
Share on Facebook
Share on Twitter
Nutrition
Serving:
162
g
|
Calories:
306
kcal
|
Carbohydrates:
40
g
|
Protein:
5
g
|
Fat:
25
g
|
Saturated Fat:
14
g
|
Sodium:
292
mg
© Food And Meal
This website provides approximate nutrition information for convenience and as a courtesy only. Nutrition data is gathered primarily from the Spoonacular Database, whenever available, or otherwise other online calculators.
Pin Recipe
Tips for making Blueberry Cream Cheese Crepes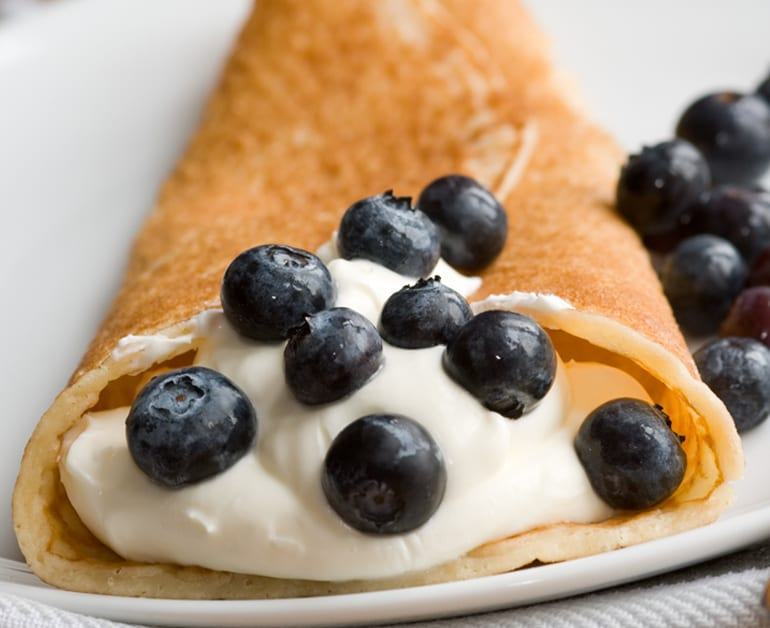 First, you'll need to prepare the filling. Add the cream cheese and the blueberries to a large mixing bowl and whisk until the mixture forms soft peaks. Once the batter has set, you can make the crepes. You can either fold each crepe into a triangle or roll them away from the center. Then, spread the honey whipped-cream on the edges of each crepe and top with the blueberry sauce.
Next, you'll need to combine the blueberries, lemon curd, and sugar in a small saucepan. Boil until the berries have melted, about two minutes. Remove from heat and allow the blueberries to cool. In a separate bowl, mix the cream cheese and powdered sugar. After mixing the ingredients, spread about half of the cream cheese mixture on each crepe. Repeat with the remaining batter.
Now, let's make the batter. You can prep the blueberry compote the night before, or even several days ahead. Then, simply refrigerate until you're ready to cook the crepes. Then, sift the flour and mix it with the other ingredients, like the ricotta. When it's ready, use a blender to make the batter.
You can also use lemon juice to add a little something extra to the crepes. This delicious recipe features a delicious filling that's bursting with fresh blueberries. The filling will be perfect with any type of filling. Once the batter is ready, simply use a large non-stick skillet to cook the crepes. For the best results, leave the batter to rest overnight. When it is ready to use, add the toppings.
Unlike many crepe recipes, this recipe calls for a few essential tools. The whipped cream cheese can be prepared in advance, so be sure to have some on hand. For the blueberry compote, a large non-stick skillet with a diameter of six to eight inches is ideal. A crepe pan can be used to make the crepes, but it is not necessary. If you're serious about making crepes, you can purchase a pan that has a special shape.
How to storage leftover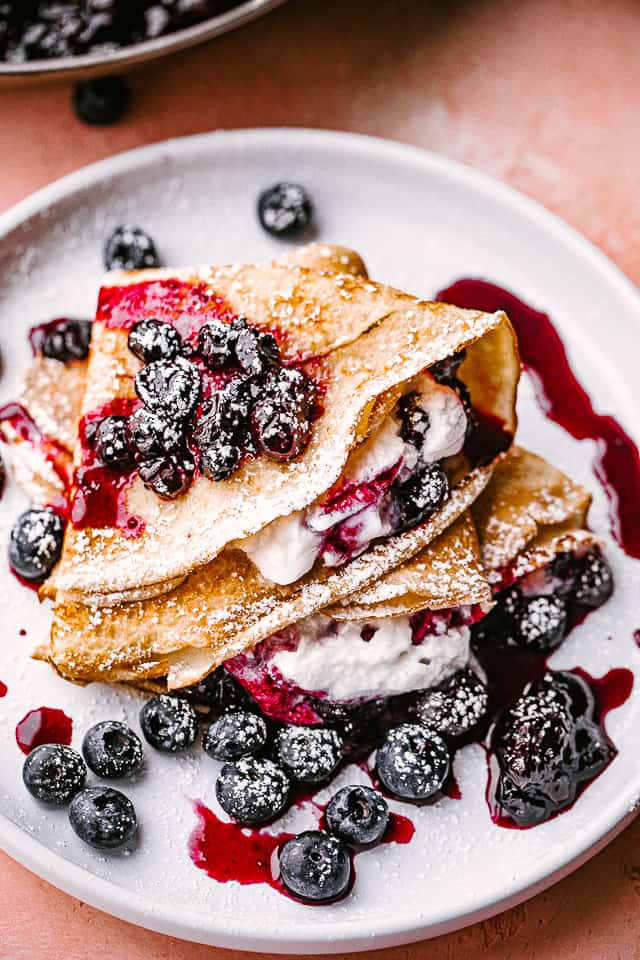 You can prepare the compote ahead of time and store it in the refrigerator for up to three days. Then, let the blueberry compote cool to room temperature and refrigerate until you're ready to eat. The batter can be mixed with chopped nuts, whipped cream, or blueberry syrup. If you're making this dessert for guests, you'll have to consider what kind of filling you're going to use.
You can use lemon curd or blueberry preserves for this recipe. Then, add more blueberries to the whipped cream and fold in quarters. Sprinkle the crepes with whipped or sliced strawberries. It's that easy! There's nothing better to eat than a crepe! So enjoy! Hope you'll be making these delicious breakfast treats soon! Yummy – If you're feeling lazy, you can prepare these delicious pancakes in advance and freeze them for later. The blueberry sauce is great over ricotta pancakes. It's a great idea to serve it with a cup of coffee or tea!
Thanks for your visiting our Food And Meal site. Like and share this recipe if it is useful for you.
Experience the culinary brilliance of Chef John at Food And Meal Restaurant. With over 20 years of global expertise, My innovative creations and unwavering dedication to cooking have earned me a well-deserved reputation. My passion for gastronomy is showcased in every dish, combining fresh, local ingredients with harmonious flavors and captivating presentations. My ability to tell a story through my food reflects my profound understanding of culture and emotion.
Affiliate DisclaimerAbout The Content
As an affiliate, we may earn a commission from qualifying purchases. We get commissions for purchases made through links on this website from Amazon and other third parties.