A nutrient-packed, delicious Couscous and Black Bean Bowl is a delicious side dish that will satisfy your taste buds. It's a great lunch or dinner option for busy people. You can make it ahead and enjoy it whenever you want! And if you're like me, you can eat it at any time of the day. You can even take it to work or school with you for a healthy and quick lunch!
Couscous And Black Bean Bowl Recipes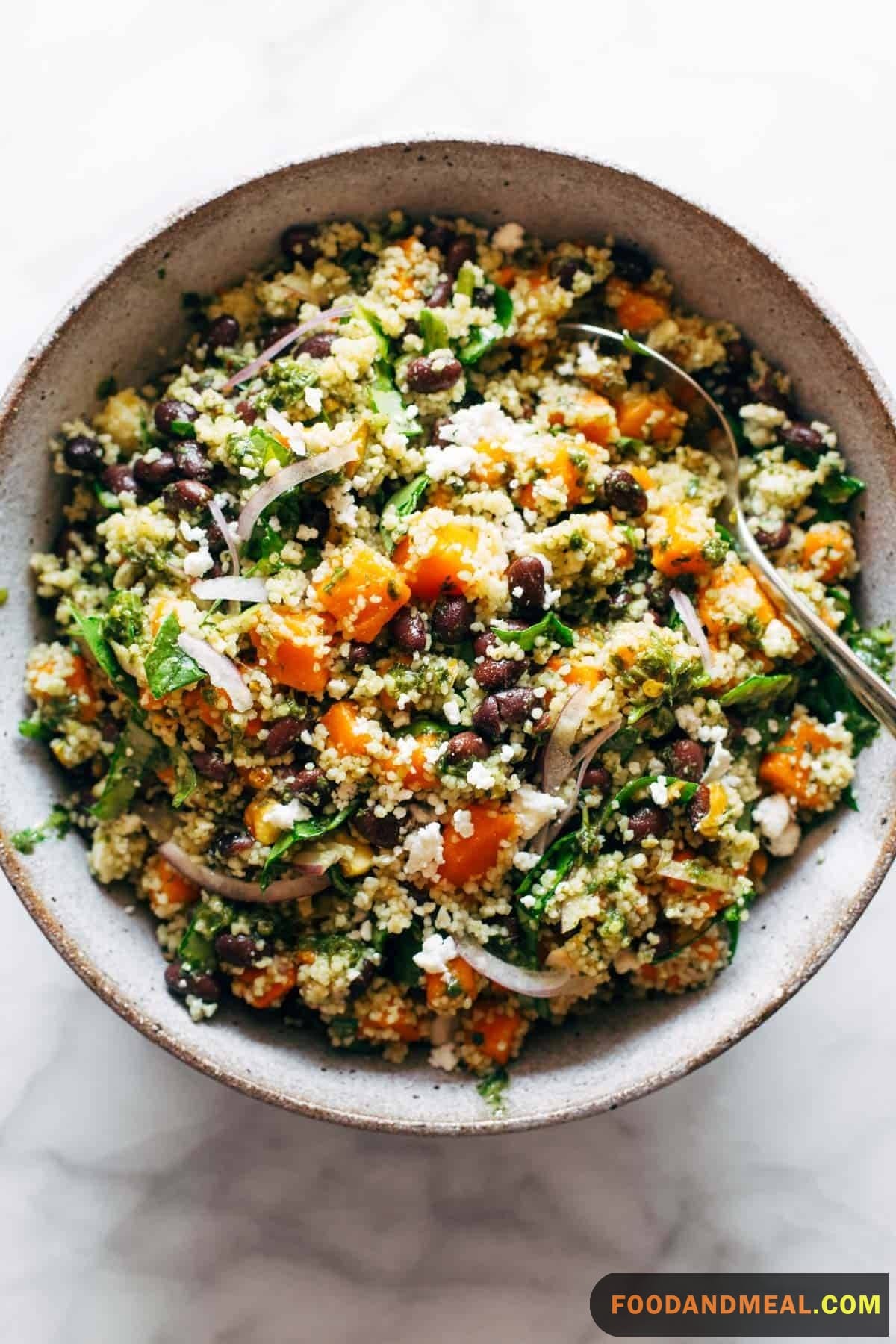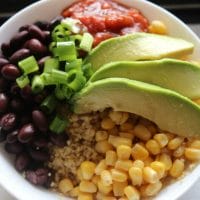 Air Fried Couscous And Black Bean Bowl
The Couscous And Black Bean Bowl is a tasty, nutritious lunch. Its flavorful ingredients will leave you feeling satisfied for days! If you're a busy mom, it's a great way to start the week! You can make a huge Couscous And Black Bean Bowl the night before and enjoy it with friends! If you're a vegetarian, this dish will fill you up and satisfy your hunger. It's also great for your next meal prep.
Print
Pin Recipe
Add to Collection
Go to Collections
Equipment
Instructions
1.Put the couscous in a bowl; pour the boiling water to cover by about 1 inch. Cover and set aside for 5 to 8 minutes; fluff with a fork.

Place the couscous in a lightly greased cake pan.

Transfer the pan to the air fryer basket and cook at 360° f about 20 minutes. Make sure to stir every 5 minutes to ensure even cooking.

Transfer the prepared couscous to a mixing bowl. Add the remaining ingredients; gently stir to combine. Bon appetit!
Notes
If you're planning on eating a Couscous And Black Bean Bowl as a side dish, this is the perfect option! It is full of colorful vegetables, and it's a delicious and filling lunch or dinner that's sure to impress! It's a great side dish for a meal prep lunch. The southwestern flavors and texture of this Salad will make it a great meal.
Share by Email
Share on Facebook
Share on Twitter
Nutrition
Serving:
4
servings
|
Calories:
357
kcal
|
Carbohydrates:
51
g
|
Protein:
12
g
|
Fat:
12
g
|
Saturated Fat:
2
g
|
Polyunsaturated Fat:
4
g
|
Monounsaturated Fat:
6
g
|
Sodium:
192
mg
|
Potassium:
608
mg
|
Fiber:
8
g
|
Sugar:
4
g
|
Vitamin A:
2870
IU
|
Vitamin C:
56
mg
|
Calcium:
77
mg
|
Iron:
3
mg
© Food And Meal
This website provides approximate nutrition information for convenience and as a courtesy only. Nutrition data is gathered primarily from the Spoonacular Database, whenever available, or otherwise other online calculators.
Pin Recipe
Alternative Preparation Method: Stovetop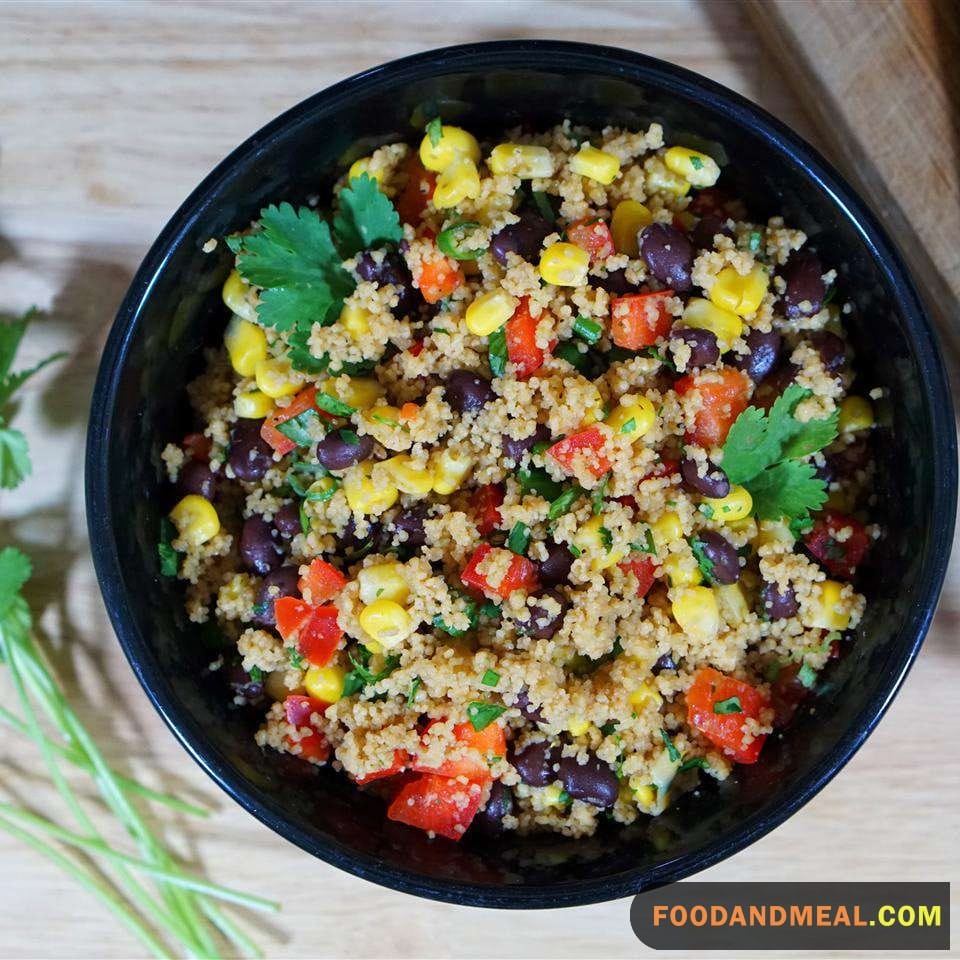 Ingredients:
1 cup couscous
1 ½ cups vegetable or chicken broth
1 can (15 oz) black beans, drained and rinsed
1 red bell pepper, diced
1 small red onion, finely chopped
2 cloves garlic, minced
1 tablespoon olive oil
1 teaspoon ground cumin
Salt and pepper to taste
Fresh cilantro leaves for garnish
Instructions:
Heat a large skillet over medium heat. Add the olive oil and let it warm up.
Add the finely chopped red onion and minced garlic to the skillet. Sauté for about 2-3 minutes until the onions become translucent and fragrant.
Stir in the diced red bell pepper and cook for an additional 2-3 minutes until they begin to soften.
Sprinkle the ground cumin over the vegetables and stir to coat them evenly. The cumin will add a warm, earthy flavor to the dish.
Pour the vegetable or chicken broth into the skillet and bring it to a gentle boil.
Once the broth is boiling, add the couscous to the skillet, remove it from the heat, and cover it with a lid. Let it sit for 5-7 minutes to allow the couscous to absorb the liquid.
After the resting time, fluff the couscous with a fork to separate the grains. It should be light, fluffy, and infused with the flavors from the vegetables and spices.
Gently fold in the drained and rinsed black beans.
Season your Stovetop Couscous and Black Bean Bowl with salt and pepper according to your taste.
Serve the dish warm, garnished with fresh cilantro leaves for a burst of freshness.
Tips for making Couscous and Black Bean Bowl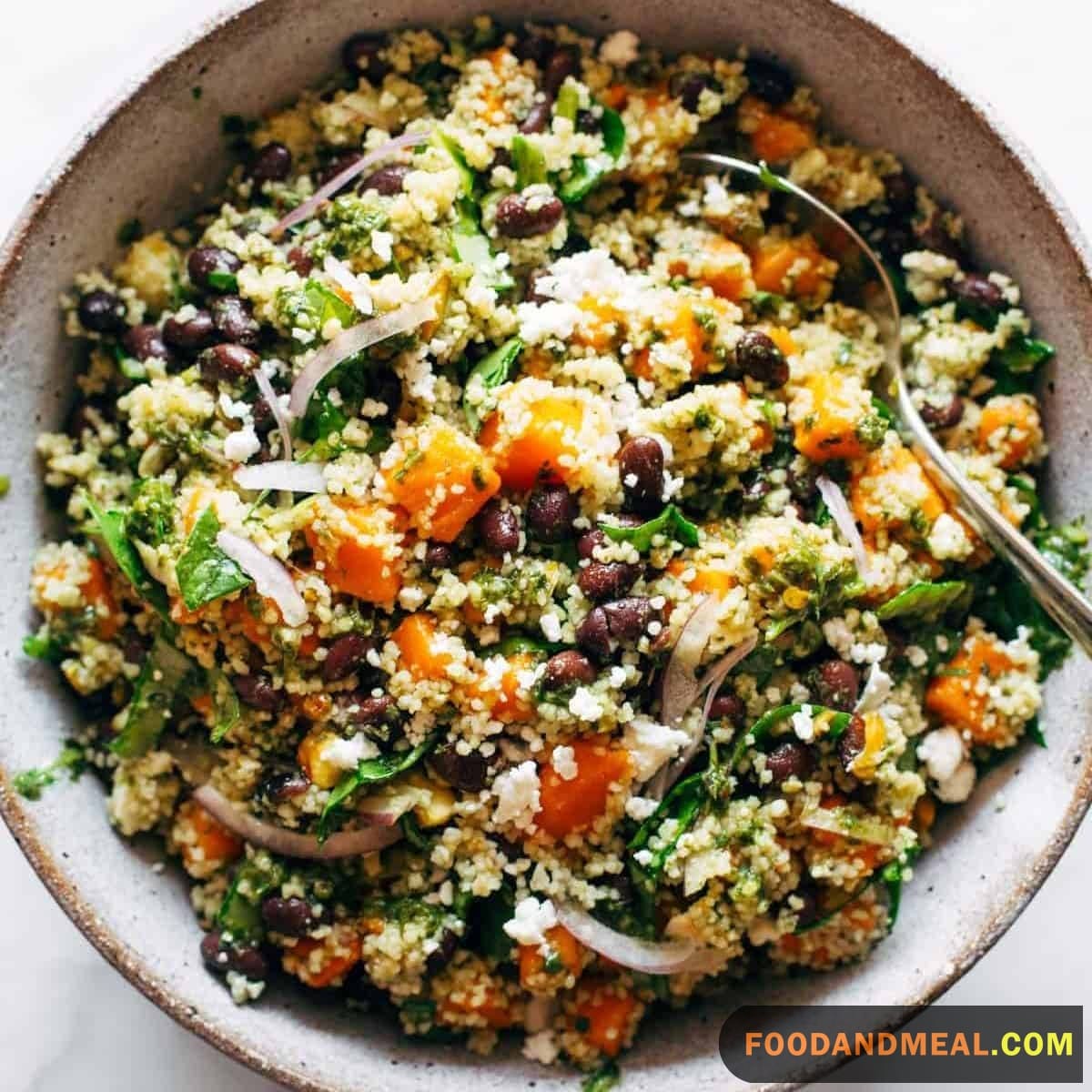 Cooking Tips
Tips for Success:
Use high-quality broth: The flavor of your Couscous and Black Bean Bowl largely depends on the broth you use. Opt for a flavorful vegetable or chicken broth for the best results.
Fluff the couscous: After the couscous has absorbed the liquid, fluff it with a fork to ensure it's light and separate.
Spice it right: Adjust the cumin, salt, and pepper to your taste. Feel free to experiment with other spices that you love.
Common Mistakes to Avoid:
Overcooking the couscous: Be careful not to overcook the couscous, as it can turn mushy. Follow the recommended cooking time closely.
Skipping the resting time: Allowing the couscous to rest is essential for proper absorption of the liquid. Don't rush this step.
Not adjusting the seasoning: Taste your dish before serving, and adjust the seasoning as needed. Adding a dash of lemon juice can also brighten the flavors.
Serving Suggestions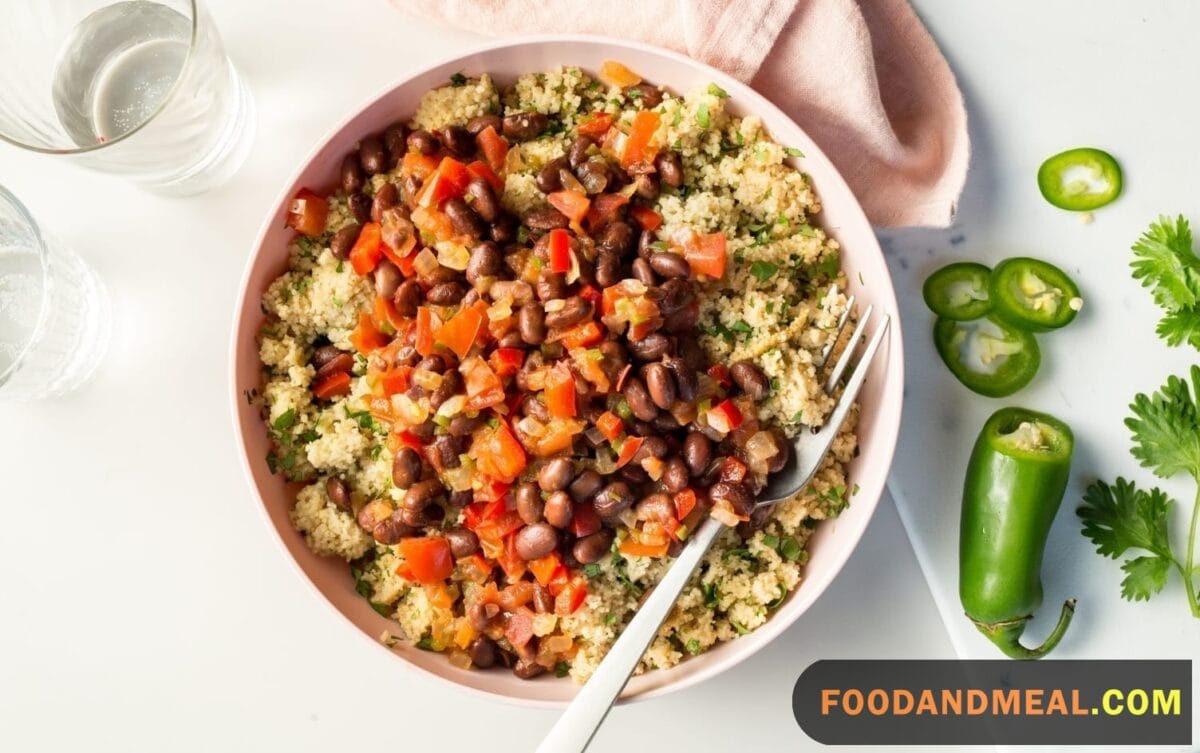 Complementing Flavors:
Side Salad: Serve your Couscous and Black Bean Bowl with a fresh side salad of mixed greens, cherry tomatoes, and a lemon vinaigrette. The crispiness and acidity of the salad balance the dish.
Tangy Garnish: A dollop of Greek yogurt or a drizzle of tahini sauce adds creaminess and a touch of tanginess to each bite.
Fresh Herbs: Sprinkle chopped fresh cilantro, parsley, or mint over your dish for an extra layer of flavor and freshness.
Versatile Serving Ideas:
Wrap it: Turn your couscous mixture into a flavorful wrap by filling a tortilla or pita bread with the mixture, adding some greens, and drizzling with your favorite sauce.
Stuffed Peppers: Use the Couscous and Black Bean mixture as a delicious filling for bell peppers. Top them with cheese and bake until tender.
Lunch Bowl: Make a meal prep bowl by layering the couscous mixture, roasted vegetables, and protein of your choice.
FAQs (Frequently Asked Questions) about Couscous and Black Bean Bowl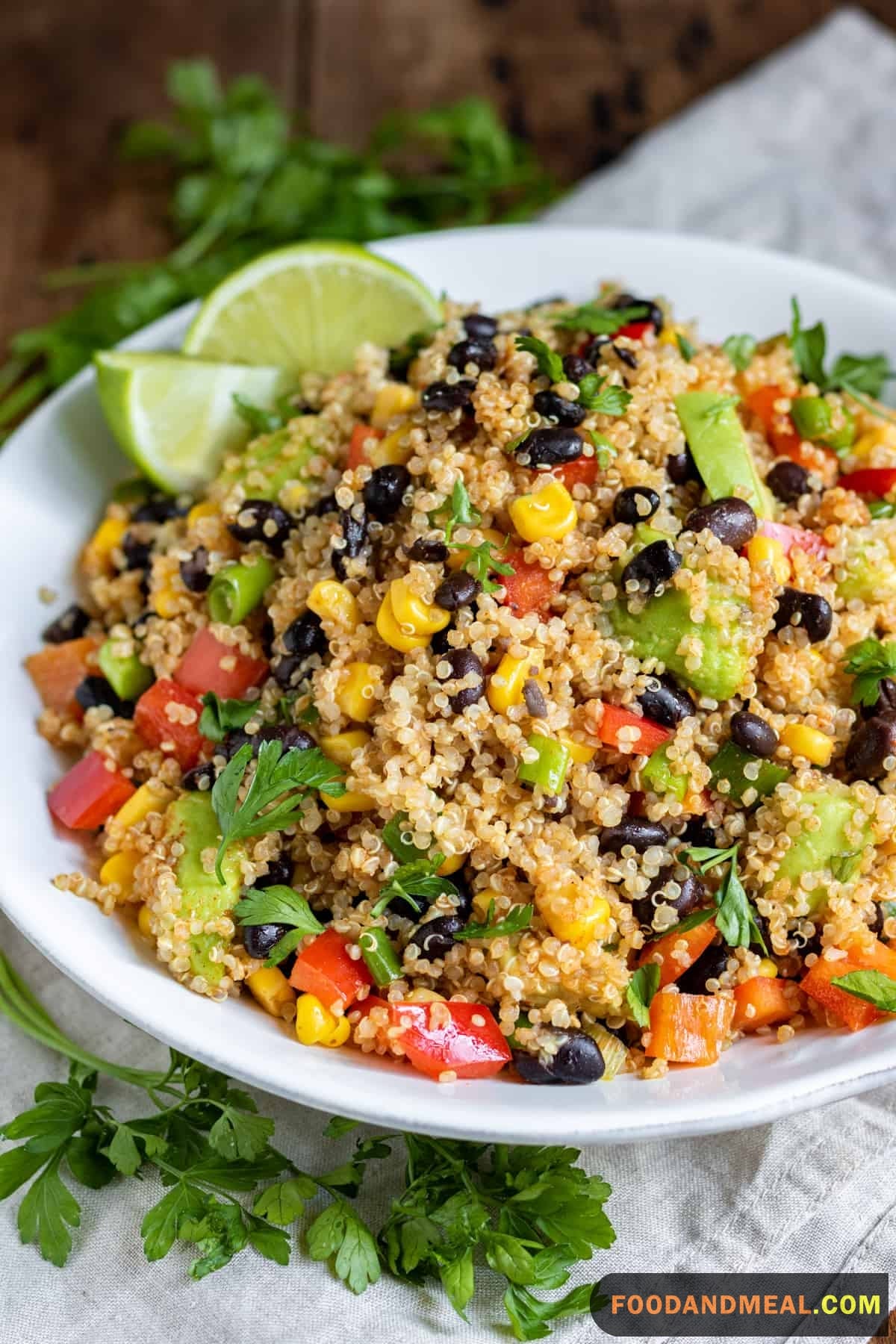 Can I make this dish ahead of time? Yes, this dish stores well, and you can make it a day ahead. Just reheat it gently on the stovetop or in the microwave when you're ready to enjoy.
Is couscous gluten-free? Couscous is made from wheat, so it's not gluten-free. If you need a gluten-free option, consider using quinoa instead.
Can I freeze leftovers? While you can freeze this dish, keep in mind that couscous may change texture slightly upon freezing. Thaw and reheat it gently for the best results.
What protein can I add to this recipe? Grilled chicken, shrimp, or tofu all make great additions. Simply cook your chosen protein separately and add it to the dish.
How can I store leftovers? Place any leftovers in an airtight container and store them in the refrigerator for up to 3-4 days. Reheat on the stovetop or in the microwave before serving.
Elevate dinner tonight with our Couscous and Black Bean Bowl. A delicious, nutritious recipe for busy weeknights. Share with friends and subscribe for more!
I'm James F Anderson, a noted sous chef from London and a Le Cordon Bleu alumnus. My career began in a Michelin-starred Parisian eatery, where my blend of classic and contemporary cooking, using seasonal ingredients, earned accolades. Recognized in culinary publications and on cooking shows, I'm committed to mentoring aspiring chefs and delivering memorable dining experiences, marking me as a standout talent in the culinary world.
Affiliate DisclaimerAbout The Content
As an affiliate, we may earn a commission from qualifying purchases. We get commissions for purchases made through links on this website from Amazon and other third parties.