As I reflect on my culinary journey, there's a particular dish that holds a cherished place in my heart – Beef Wellington Braciola. It's a dish that resonates with the spirit of both elegance and rustic charm, a true testament to the diversity of flavors I've encountered in my culinary adventures.
Today, I'm excited to share with you the recipe for Beef Wellington Braciola, a dish that encapsulates the essence of my culinary journey. It's a combination of techniques and traditions that result in a masterpiece worthy of any dining occasion. So, join me as we explore the art of creating this extraordinary dish, and let's embark on a culinary adventure together.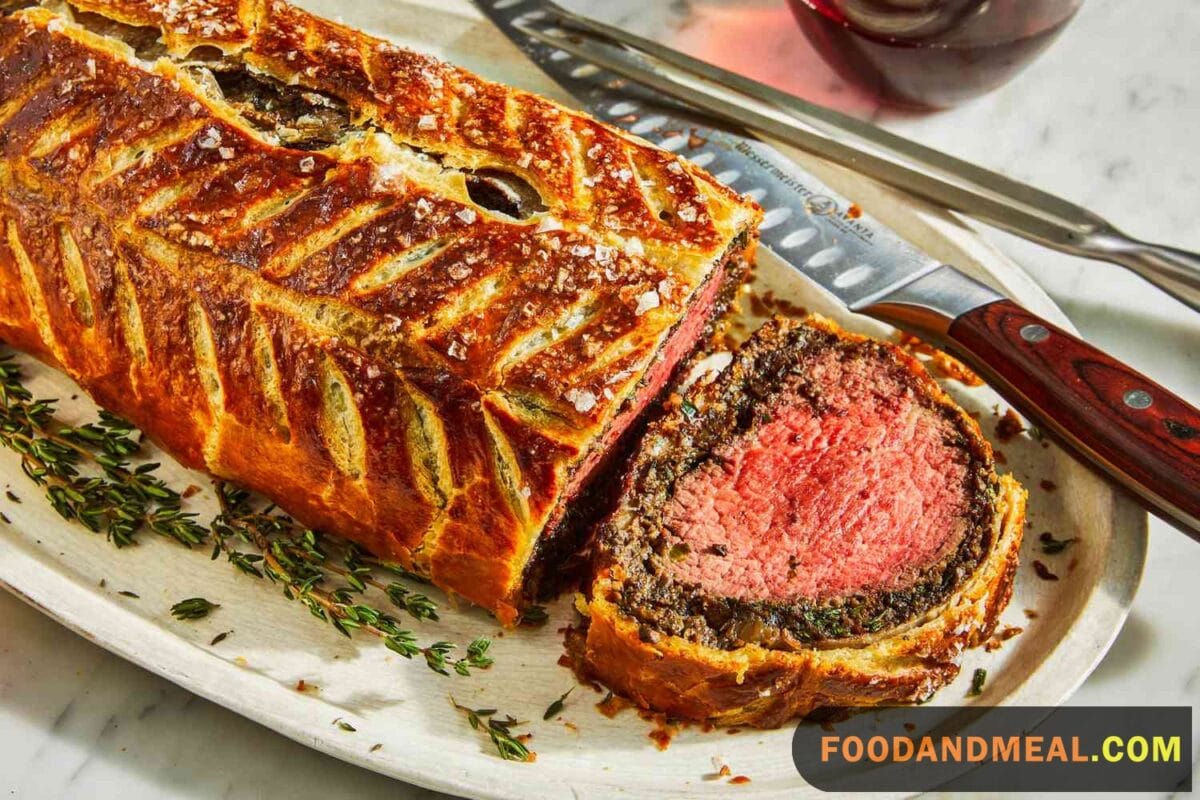 Beef Wellington Braciola Recipe
Beef Wellington Braciola
Beef Wellington braciola is a traditional Italian dish that has been popular for centuries. This savory dish has a rich, meaty flavor and is perfect for any occasion. This recipe calls for a few simple ingredients and requires a few hours to prepare. The braciola is a type of roasted beef and should be cooked within one and a half hours. It should be served warm or at room temperature.
Print
Pin Recipe
Add to Collection
Go to Collections
Instructions
Portion of beef Wellington on the white plate: cross section

Put a large skillet over medium heat and add 1 tbsp. of olive oil.

Saute the shallots for about 2-3 minutes.

Add the mushrooms and thyme and season with salt and pepper. Saute for another 5-7 minutes until the mushrooms are tender.

Pour the wine and simmer for about 10 minutes until most of the liquid evaporated and there's the only little amount left of it. Put it aside until the duxelles is needed.

Using a sharp knife, slice through the flank steak horizontally but be careful not to cut it all the way through. The effect should be like flipping pages of a book.  Place plastic wrap over the beef and flatten it slightly using a meat mallet or rolling pin.  After flattening it, remove the plastic wrap.

Smear the steak with the duxelles or mushroom mixture, maintaining 1-inch border margin from the edge. Sprinkle the gorgonzola over the duxelles.

Parallel to the grain, start rolling the steak from either of the sides. Be sure that you roll it tightly and secure it with butcher's twine in several places.

Get a bowl and stir together all the gravy ingredients save for the time.

Heat the remaining olive oil in a large Dutch oven. Heat it up in high heat and sear the Braciola in about 2-3 minutes as per side.

Reduce the heat, bringing it into a simmer. Braise the beef within 1 ½ hour.

Before serving, slice it in a way that you can see the spiral pattern of beef and duxelles. Serve with the remaining mushroom duxelles
Notes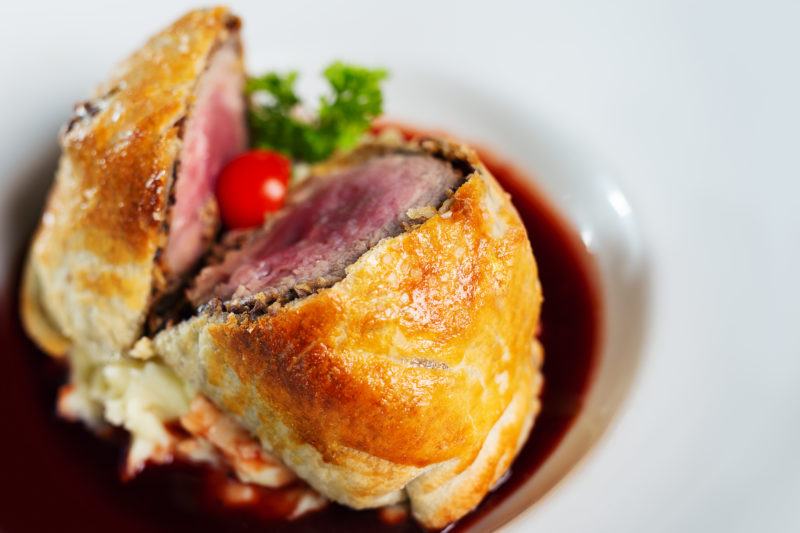 Share by Email
Share on Facebook
Share on Twitter
Nutrition
Serving:
1
servings
|
Calories:
766
kcal
|
Carbohydrates:
20
g
|
Protein:
76
g
|
Fat:
31
g
|
Saturated Fat:
12
g
|
Polyunsaturated Fat:
2
g
|
Monounsaturated Fat:
13
g
|
Cholesterol:
191
mg
|
Sodium:
2293
mg
|
Potassium:
2111
mg
|
Fiber:
4
g
|
Sugar:
9
g
|
Vitamin A:
972
IU
|
Vitamin C:
17
mg
|
Calcium:
249
mg
|
Iron:
7
mg
© Food And Meal
This website provides approximate nutrition information for convenience and as a courtesy only. Nutrition data is gathered primarily from the Spoonacular Database, whenever available, or otherwise other online calculators.
Pin Recipe
Alternative Method: Sous Vide Beef Wellington Braciola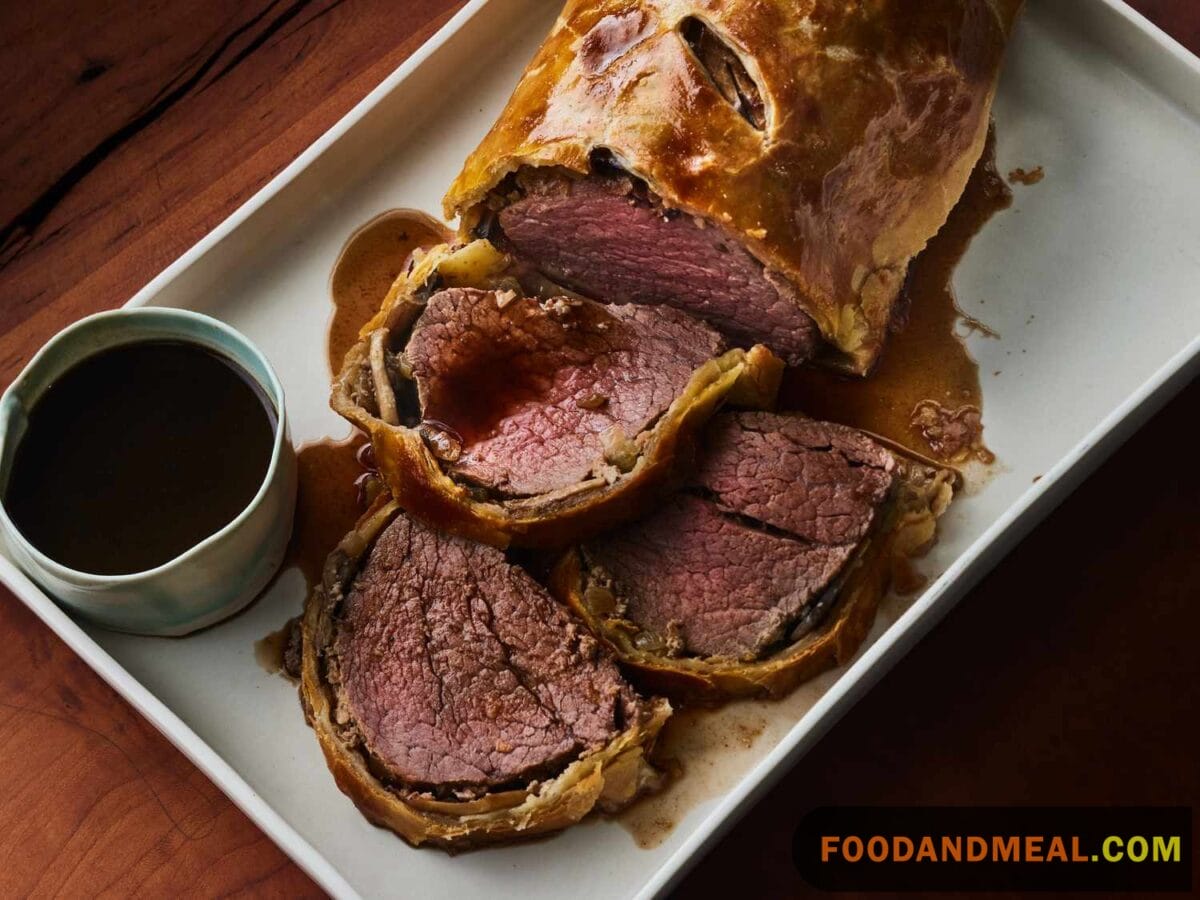 Ingredients:
1 center-cut beef tenderloin (approximately 2 pounds)
4 slices of prosciutto
1 cup mushroom duxelles (as prepared in the main recipe)
1 sheet puff pastry
1 egg (for egg wash)
Salt and freshly ground black pepper
Olive oil
Instructions:
Prepare the Beef: Season the beef tenderloin generously with salt and freshly ground black pepper. Vacuum-seal the beef in a sous vide bag, ensuring it's airtight.
Sous Vide Cooking: Preheat your sous vide machine to 130°F (54°C) for medium-rare doneness. Place the vacuum-sealed beef tenderloin into the water bath and cook for 2.5 to 4 hours. The longer cooking time will result in a more tender texture.
Prepare Mushroom Duxelles: While the beef is cooking, prepare the mushroom duxelles as instructed in the main recipe.
Sear the Beef: Once the sous vide cooking time is complete, remove the beef from the bag and pat it dry with paper towels. Heat a skillet over high heat, add a splash of olive oil, and sear the beef for about 1-2 minutes on each side, just until it develops a beautiful crust. Remove from heat and let it rest for a few minutes.
Wrap with Prosciutto and Mushroom Duxelles: Lay out a sheet of plastic wrap and arrange the prosciutto slices on it, slightly overlapping. Spread a layer of mushroom duxelles over the prosciutto. Place the seared beef on top and carefully roll it in the prosciutto and mushroom mixture, creating a tight cylinder. Wrap it tightly in the plastic wrap and refrigerate for about 20-30 minutes to set its shape.
Puff Pastry and Baking: Preheat your oven to 400°F (200°C). Roll out the puff pastry sheet and unwrap the beef from the plastic wrap. Place the beef cylinder in the center of the puff pastry sheet and wrap it snugly. Seal the edges by brushing them with egg wash. Place the wrapped Beef Wellington Braciola on a baking sheet lined with parchment paper, seam side down.
Baking: Brush the entire pastry with the remaining egg wash for a golden finish. Make a few slits on the top for steam to escape. Bake in the preheated oven for 30-35 minutes, or until the puff pastry is golden brown and crispy.
Rest and Serve: Allow the Beef Wellington Braciola to rest for a few minutes before slicing it into elegant portions. Serve it immediately and savor the luxurious flavors and textures.
Tips for making Beef Wellington Braciola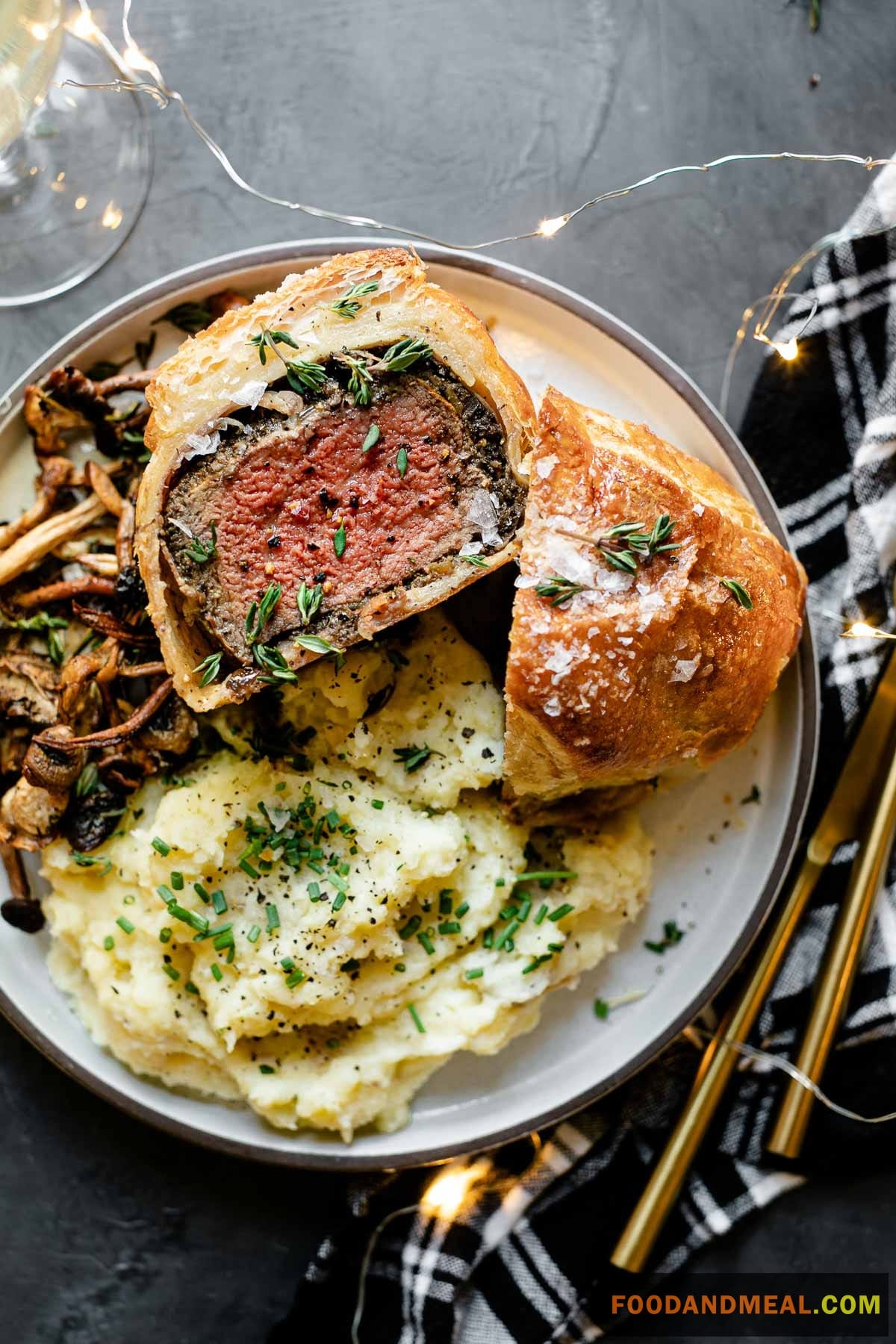 Cooking Tips
Proper Beef Searing: When searing the beef tenderloin, make sure your skillet is very hot to achieve a beautiful crust. Searing helps seal in the juices and adds flavor to the final dish.
Even Mushroom Spread: When preparing the mushroom duxelles, ensure an even and fine spread to prevent the puff pastry from becoming soggy.
Chilling the Roll: After wrapping the beef in prosciutto and mushroom duxelles, chilling it in the refrigerator for about 20-30 minutes helps maintain its shape and structure when wrapped in puff pastry.
Golden Puff Pastry: Achieve that perfect golden-brown puff pastry by brushing it generously with egg wash before baking. It adds a lovely shine and color to the dish.
Precise Sous Vide: If you opt for the sous vide method, maintain a precise temperature throughout cooking to achieve the desired level of doneness. Use a reliable sous vide machine for accuracy.
Serving Suggestions
Side Dishes: Serve alongside garlic mashed potatoes, buttered asparagus, or a simple mixed green salad for a balanced meal.
Garnishes: Fresh herbs like parsley or chives can be used to garnish the dish before serving. It adds a burst of color and freshness.
Sauces: A drizzle of red wine reduction or a creamy peppercorn sauce can complement the flavors of Beef Wellington Braciola wonderfully.
Beverages: Pair this elegant dish with a robust red wine like Cabernet Sauvignon or a glass of sparkling water with a twist of lemon.
Alternative Presentation: Consider slicing the Beef Wellington Braciola into medallions before serving for a more dramatic presentation.
Frequently Asked Questions about Beef Wellington Braciola
Can I prepare the mushroom duxelles in advance? Absolutely! You can make the mushroom duxelles a day or two ahead and store it in the refrigerator. It saves time on the day of preparation.
How do I store leftovers? To store leftover Beef Wellington Braciola, wrap it tightly in plastic wrap or aluminum foil and refrigerate for up to 3 days. Reheat in the oven at a low temperature to maintain its crispy texture.
Can I use a different cut of beef? While tenderloin is the traditional choice, you can experiment with other cuts like sirloin or ribeye, keeping in mind that cooking times may vary.
What's the recommended doneness for the beef? Medium-rare to medium is the ideal doneness for Beef Wellington Braciola, ensuring a tender and juicy interior.
Can I make Beef Wellington Braciola ahead for a special occasion? Certainly! You can prepare it a few hours ahead, wrap it in puff pastry, and refrigerate until you're ready to bake. It's a perfect dish for special gatherings.
In conclusion, Beef Wellington Braciola is a culinary journey that celebrates tradition while embracing innovation. I hope this recipe inspires you to create your own masterpiece in the kitchen. Share this delightful dish with loved ones, and may every bite be a moment of joy and togetherness. Happy cooking!
Experience the culinary brilliance of Chef John at Food And Meal Restaurant. With over 20 years of global expertise, My innovative creations and unwavering dedication to cooking have earned me a well-deserved reputation. My passion for gastronomy is showcased in every dish, combining fresh, local ingredients with harmonious flavors and captivating presentations. My ability to tell a story through my food reflects my profound understanding of culture and emotion.
Affiliate DisclaimerAbout The Content
As an affiliate, we may earn a commission from qualifying purchases. We get commissions for purchases made through links on this website from Amazon and other third parties.