For a delicious and nutritious breakfast, try PUMPKIN OATMEAL! This easy recipe can be made with water and oats, but you can also add applesauce, syrup, or dried fruit to make it more appealing to children. In the morning, heat the oats in the microwave, and enjoy!  If you're serving it as an afternoon snack, try adding whipped topping or maple syrup to it, too!
Pumpkin Oatmeal Recipes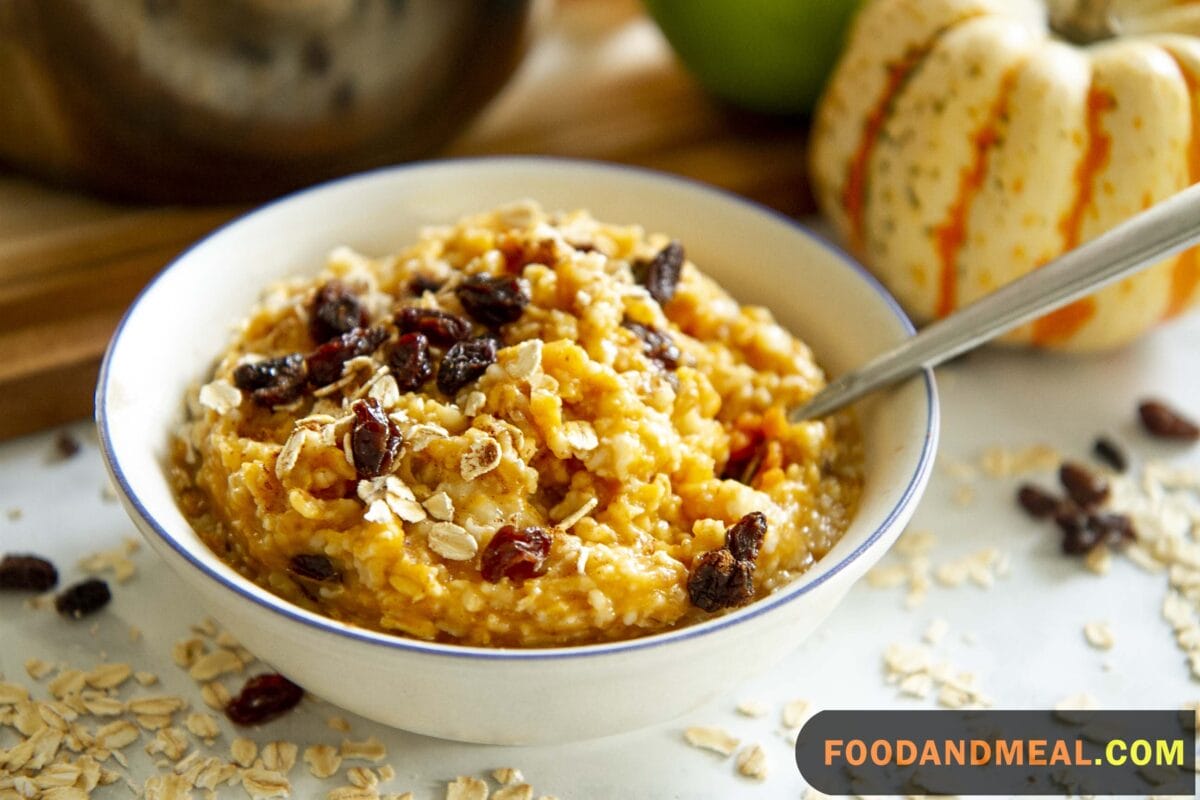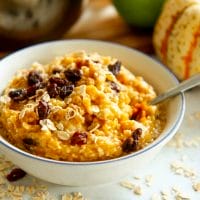 Pumpkin Oatmeal by Air Fryer
For a healthy and filling breakfast, try making pumpkin oatmeal. This recipe is very versatile. The sweetness of pumpkin can be substituted with maple syrup or honey, and the texture will remain creamy and fluffy for hours. You can also make it gluten-free if you prefer. This pumpkin oatmeal is also a good choice for breakfast and can be eaten for lunch or dinner, and it's good to keep in the fridge for up to four days.
Print
Pin Recipe
Add to Collection
Go to Collections
Equipment
Instructions
In your air fryer's pan, mix water with oats, pumpkin puree, pumpkin spice and stevia, stir, cover and cook at 360°f for 20 minutes

Divide into bowls and serve for breakfast.
Notes
You can use any type of sugar for your pumpkin oatmeal. It can be made gluten-free by using a low-fat milk. To make it more healthy, add hemp seeds, ground flaxseed, or other healthy seeds. Alternatively, you can eat it plain, or serve it with a cup of almond milk. A few spoons of this delicious recipe will give you a boost of fiber and protein.
Share by Email
Share on Facebook
Share on Twitter
Nutrition
Serving:
1
serving
|
Calories:
89
kcal
|
Carbohydrates:
16
g
|
Protein:
4
g
|
Fat:
2
g
|
Saturated Fat:
1
g
|
Polyunsaturated Fat:
1
g
|
Monounsaturated Fat:
1
g
|
Sodium:
6
mg
|
Potassium:
66
mg
|
Fiber:
3
g
|
Sugar:
1
g
|
Vitamin A:
4767
IU
|
Vitamin C:
1
mg
|
Calcium:
24
mg
|
Iron:
1
mg
© Food And Meal
This website provides approximate nutrition information for convenience and as a courtesy only. Nutrition data is gathered primarily from the Spoonacular Database, whenever available, or otherwise other online calculators.
Pin Recipe
Alternative Preparation Method: Baked Pumpkin Oatmeal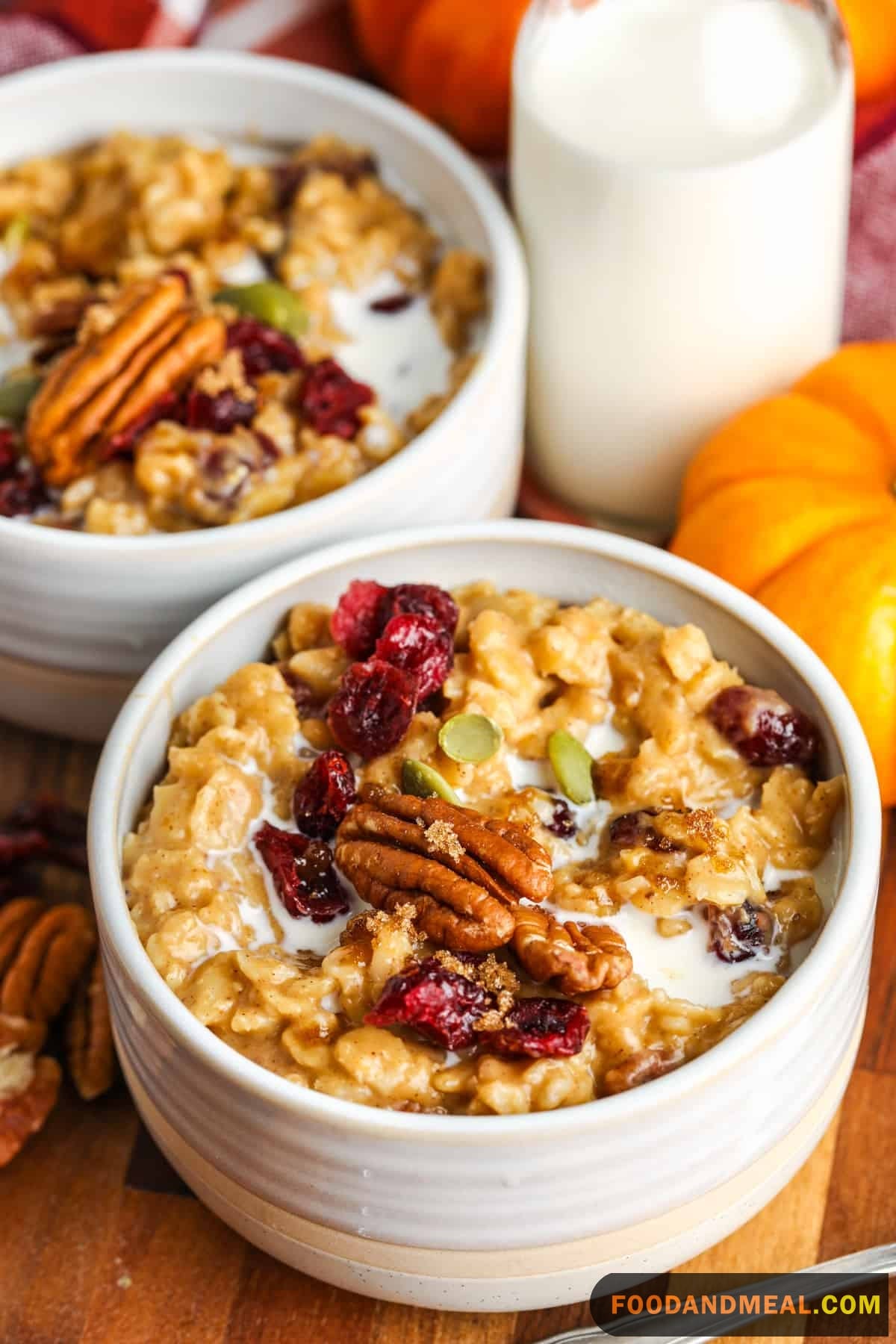 Ingredients:
2 cups old-fashioned oats
1 1/2 cups milk (dairy or non-dairy)
1 cup canned pumpkin puree
1/4 cup pure maple syrup
2 eggs
1 teaspoon vanilla extract
1 teaspoon ground cinnamon
1/2 teaspoon ground nutmeg
1/4 teaspoon salt
Chopped nuts, for topping (optional)
Instructions:
Preheat your oven to 350°F (175°C) and grease a baking dish (8×8 inches or a similar size) with butter or cooking spray.
In a mixing bowl, combine the old-fashioned oats, ground cinnamon, ground nutmeg, and a pinch of salt. Mix them together and set aside.
In another bowl, whisk together the canned pumpkin puree, pure maple syrup, eggs, milk, and vanilla extract until well combined.
Pour the wet mixture into the bowl with the dry ingredients. Stir thoroughly to ensure all the oats are coated.
Transfer the mixture to the greased baking dish and spread it evenly.
If desired, sprinkle some chopped nuts on top for a crunchy contrast.
Place the baking dish in the preheated oven and bake for about 30-35 minutes, or until the center is set, and the edges turn golden brown.
Once baked, remove from the oven and allow it to cool for a few minutes before serving.
Tips for making Pumpkin Oatmeal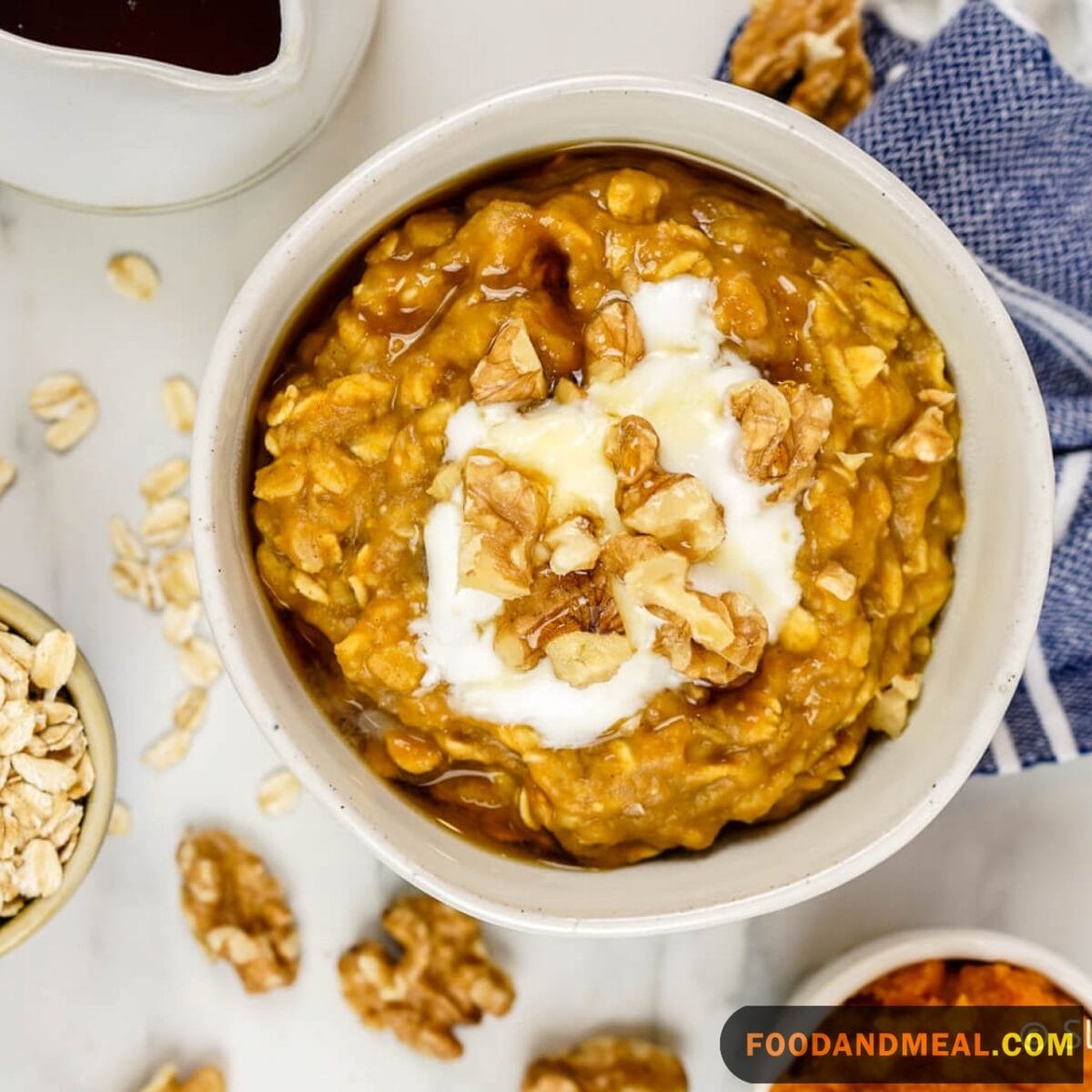 Cooking Tips
For the creamiest Baked Pumpkin Oatmeal, use old-fashioned oats. Avoid quick-cooking oats, as they can become too mushy.
Be patient when mixing the wet and dry ingredients. A thorough mix ensures that every oat is coated and evenly baked.
Don't skip the salt; it enhances the overall flavor and balances the sweetness of the maple syrup and pumpkin.
Monitor the baking time closely. Overbaking can result in dry oatmeal, so aim for a slightly gooey center when you remove it from the oven.
Let the dish cool for a few minutes after baking. It allows the flavors to settle and makes serving easier.
Serving Suggestions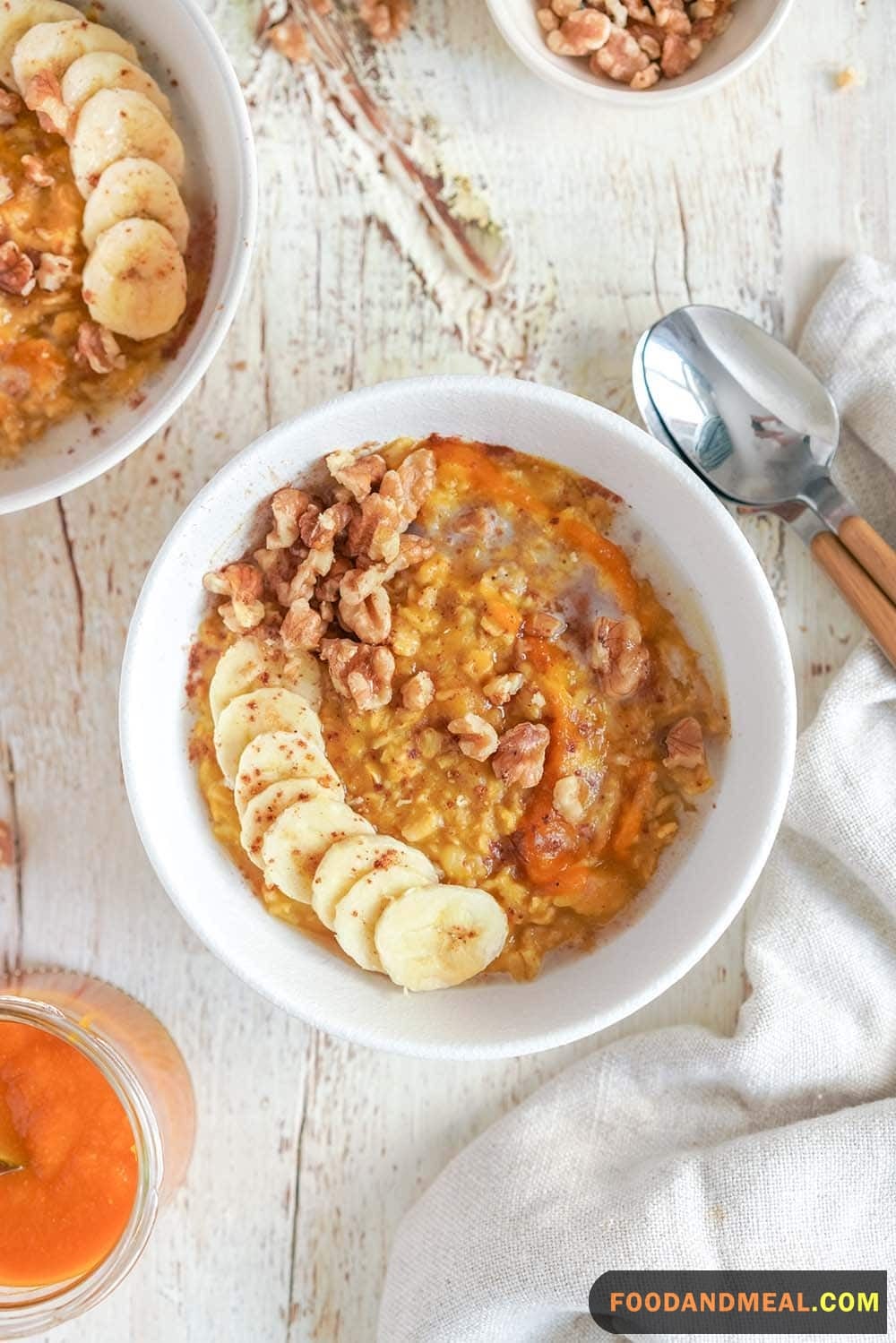 Whipped Cream: Top your serving with a dollop of freshly whipped cream for a touch of decadence.
Maple Syrup Drizzle: Enhance the sweetness with a drizzle of pure maple syrup over the baked oatmeal.
Fresh Berries: A handful of fresh berries like raspberries or blueberries add a burst of color and fruity freshness.
A Scoop of Ice Cream: Surprise your taste buds by serving a warm slice with a scoop of vanilla ice cream for a dessert-like twist.
Hot Coffee or Chai Tea: Pair it with a steaming cup of coffee or a spiced chai tea to create a comforting breakfast experience.
FAQs about Pumpkin Oatmeal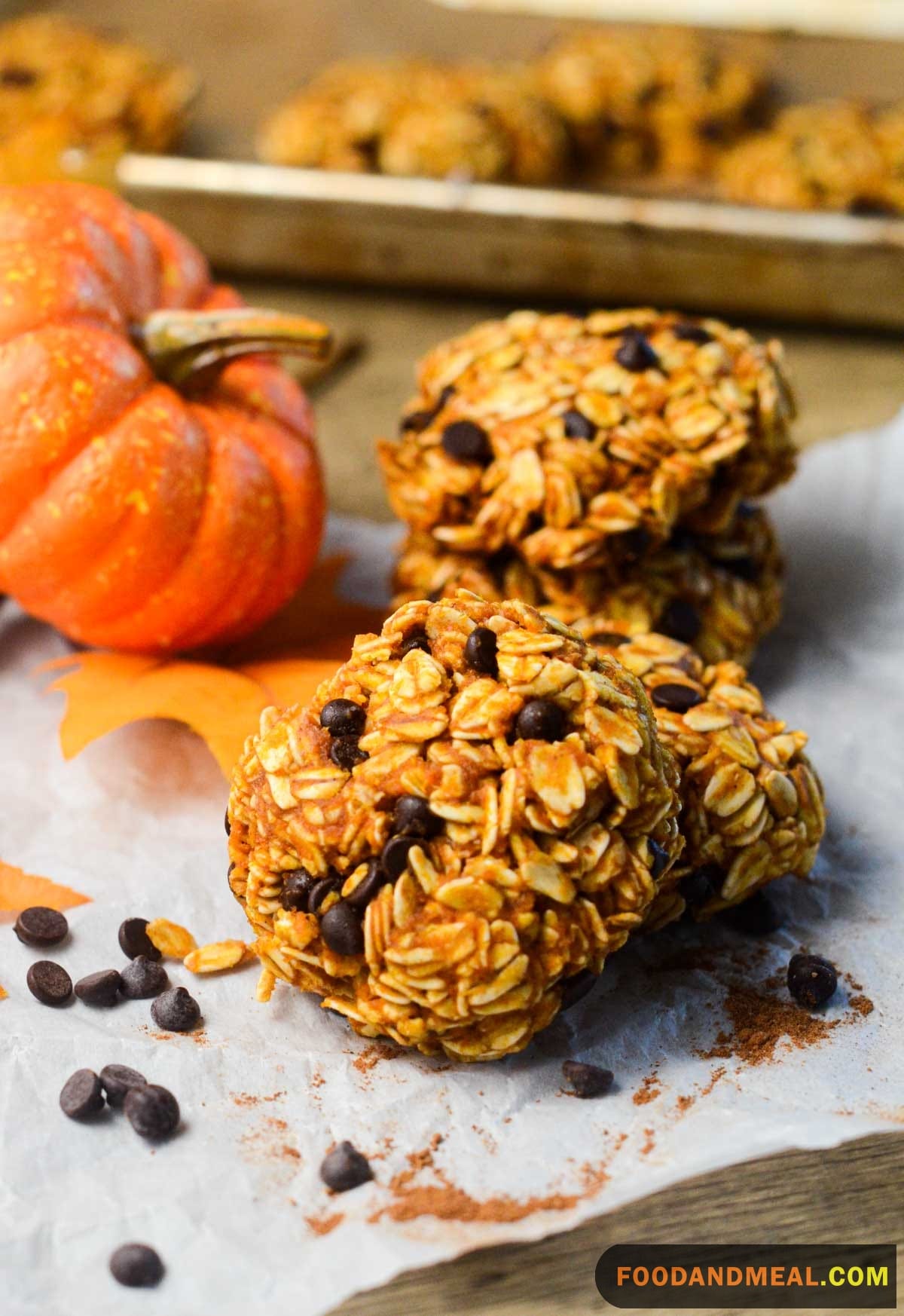 Can I prepare Baked Pumpkin Oatmeal in advance? Absolutely! Baked Pumpkin Oatmeal can be made ahead of time and stored in the refrigerator. When ready to enjoy, reheat in the microwave or oven with a splash of milk to restore its creaminess.
Can I use fresh pumpkin instead of canned pumpkin puree? Yes, fresh pumpkin can be used, but make sure it's cooked and pureed before mixing it into the recipe.
Can I substitute the eggs for a vegan option? Certainly. You can use flax eggs or a commercial egg replacer for a vegan version of this dish.
How should I store leftover Baked Pumpkin Oatmeal? Store any remaining oatmeal in an airtight container in the refrigerator for up to 3-4 days. Reheat with a splash of milk before serving to regain its creamy texture.
Is it possible to freeze Baked Pumpkin Oatmeal? Yes, you can freeze individual portions in airtight containers. When you're ready to enjoy it, thaw in the refrigerator and reheat in the oven or microwave.
Savor the flavors of Baked Pumpkin Oatmeal, a nutritious and comforting breakfast. Share the recipe, spread the love, and subscribe for more culinary delights!
I'm James F Anderson, a noted sous chef from London and a Le Cordon Bleu alumnus. My career began in a Michelin-starred Parisian eatery, where my blend of classic and contemporary cooking, using seasonal ingredients, earned accolades. Recognized in culinary publications and on cooking shows, I'm committed to mentoring aspiring chefs and delivering memorable dining experiences, marking me as a standout talent in the culinary world.
Affiliate DisclaimerAbout The Content
As an affiliate, we may earn a commission from qualifying purchases. We get commissions for purchases made through links on this website from Amazon and other third parties.