What makes these chocolate chip cookies special is a touch of coarse sea salt that is added to the top right before baking. They are chewy and soft and very delicious. This recipe is loosely adapted from the Barefoot Contessa's Make it Ahead cookbook.
Chocolate Chip Oatmeal Cookies Recipes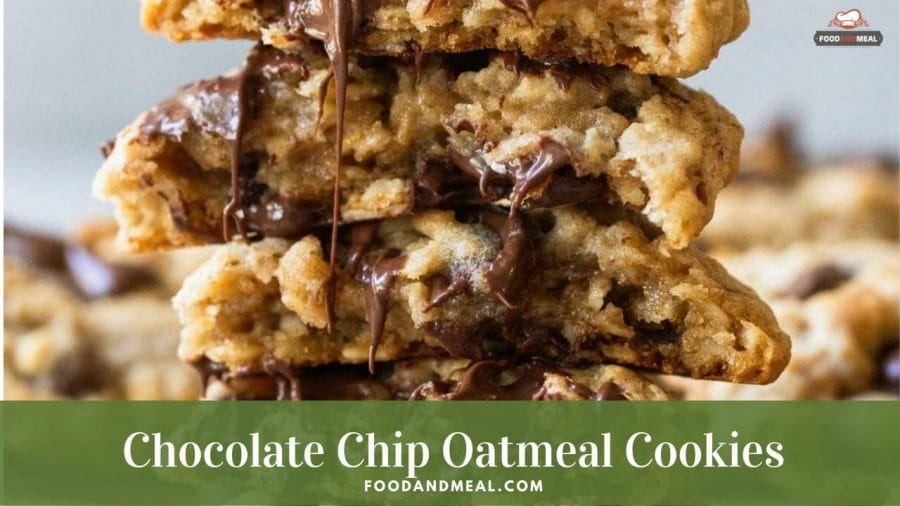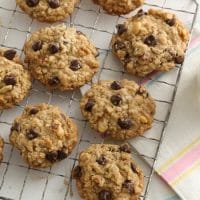 Chocolate Chip Oatmeal Cookies with Sea Salt
If you're looking for a great chocolate chip cookie recipe, this is it. This recipe is easy to make and is sure to please everyone! Rolled oats, quick cooking oats, and flaky sea salt are some of the most important ingredients for this recipe. You'll also need to follow the baking time and the flaky sea salt instructions. Read on to discover more about these ingredients.
Print
Pin
Add to Collection
Go to Collections
Instructions
Preheat oven to 375 F.

Prepare 3 cookie sheets lined with parchment paper.

In a bowl, combine the flour, oats, baking soda and sea salt.

Cream the butter with the sugar in a mixer with a paddle attachment, for 3-4 minutes, until light and fluffy. I do this step by hand with a rubber spatula.

Add the vanilla and eggs, one at a time, and mix on low speed until just combined. Make sure to scrape down the sides of the bowl.

Add the flour mixture in 3 parts, and combine. Do not over mix. Stir in the chocolate chips with a spatula.

Measure cookies with a tablespoon and place on the cookie sheet, using another spoon to scoop out the dough (or use a small ice cream scoop). Sprinkle with coarse salt (I used a pink Himalayan sea salt, but any coarse salt will do.)

Bake for 10-12 minutes, until nicely browned. Cool on a rack.
Video
Notes
Once baked, you may store them in an airtight container in the refrigerator or freezer for up to 5 days.
Share by Email
Share on Facebook
Share on Twitter
Nutrition
Serving:
1
serving
|
Calories:
182
kcal
|
Carbohydrates:
24
g
|
Protein:
2
g
|
Fat:
9
g
|
Saturated Fat:
5
g
|
Polyunsaturated Fat:
1
g
|
Monounsaturated Fat:
2
g
|
Trans Fat:
1
g
|
Cholesterol:
31
mg
|
Sodium:
92
mg
|
Potassium:
44
mg
|
Fiber:
1
g
|
Sugar:
15
g
|
Vitamin A:
219
IU
|
Calcium:
17
mg
|
Iron:
1
mg
© Food And Meal
This website provides approximate nutrition information for convenience and as a courtesy only. Nutrition data is gathered primarily from the Spoonacular Database, whenever available, or otherwise other online calculators.
Other ways to make Chocolate Chip Oatmeal Cookiese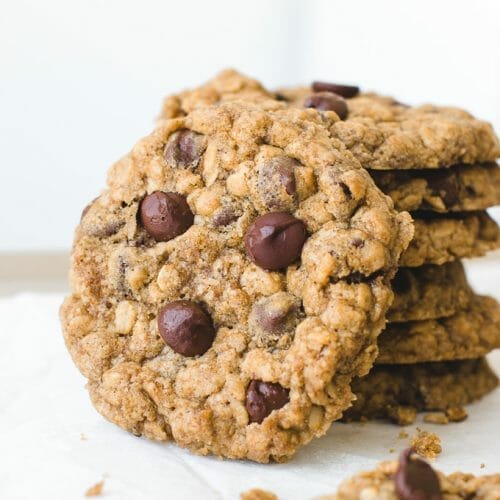 Rolled oats
Oatmeal chocolate chip cookies are deliciously chewy and crisp on the outside and soft on the inside. They have big notes of chocolate and butter with just a hint of salt. These cookies make wonderful presents and are perfect any time of the day. The best oatmeal cookies are made with rolled oats, which have a greater chew than quick oats. The chewy texture helps these cookies to hold together when baked.
For a chewier cookie, use old fashioned oats. Quick-cooking oats will not hold up as well. If you can't find any, you can substitute 1/2 teaspoon ground ginger instead of the old fashioned kind. Be sure to chill the dough before baking. The cookies will keep for about five days if they are kept in an airtight container.
To make these chocolate chip oatmeal cookies, prepare rolled oats by pulverizing them in a coffee grinder or food processor. Rinse them thoroughly before using them. Add the dry ingredients to the dry oats and brown sugar. Stir until the dry ingredients are well combined. Add the chocolate chips. Stir until evenly distributed. Sprinkle flakes of sea salt on top of the cookie dough.
Rolling oats for chocolate chip oatmeal cookies are best suited for those with allergies, but if you're concerned about gluten or dairy intolerance, you can opt for whole-wheat oats instead. They are easier to digest than white flour, which makes them suitable for people with nut allergies. Once rolled oats are soaked, they are ready to bake.
Quick cooking oats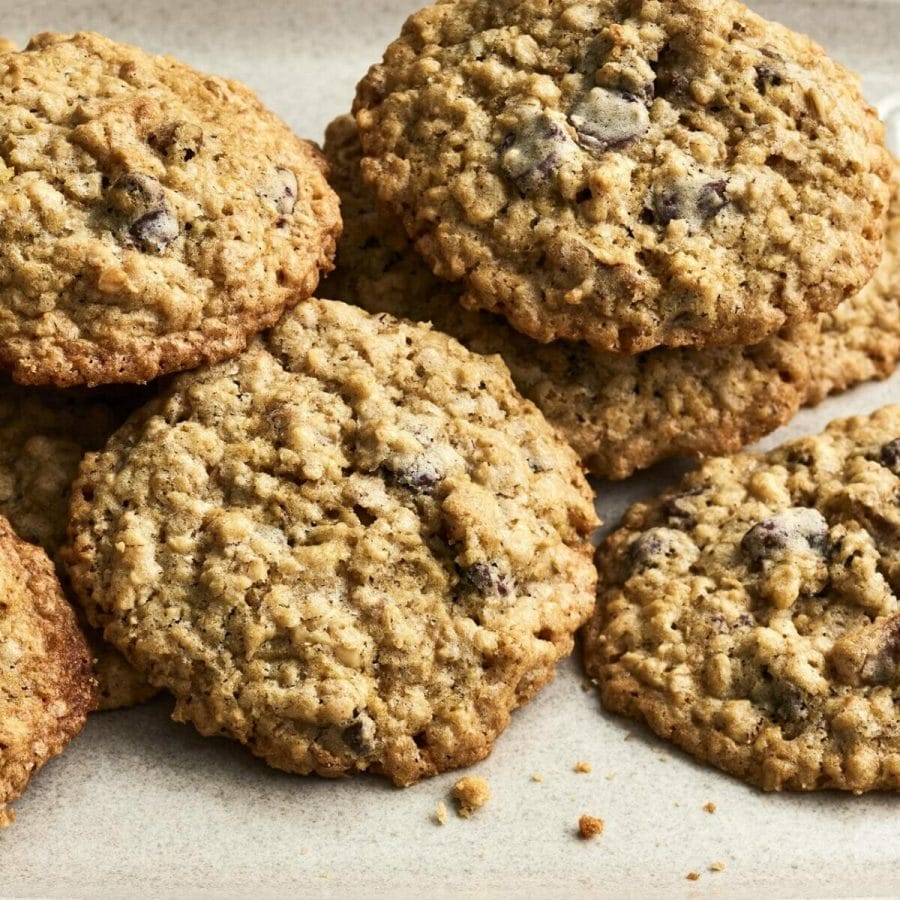 You can use quick cooking oats for chocolate chip oatmeal cookie recipe. Simply cook the oats for about 5 minutes, stirring in the remaining ingredients. Then add chocolate chips, flour, and baking soda. Combine the ingredients until the batter is smooth. Pour the batter onto a cookie sheet and bake for 11 to 13 minutes. Remove from oven and allow to cool for 5 minutes before transferring to a wire rack.
If you want a softer cookie, you can substitute quick cooking oats for old-fashioned oats. Make sure to measure the flour with a kitchen scale. You will need salt, baking soda, and baking powder to give the cookies a slightly raised texture. Cinnamon will add flavor to the cookies. You'll also need unsalted butter. Be sure to check the temperatures of your ingredients, too.
Another option is to use rolled or steel cut oats. Steel cut oats are similar to those of rice and barley. Quick cooking oats will have more chew than rolled oats, but they are slightly harder to pulverize. If you prefer rolled or instant oats, make sure you use the right kind for your recipe. You'll want to avoid using too much butter as it will make the oatmeal cookie spread or look flat. If you aren't sure, you can always use a little more flour to solve this issue.
If you're planning to freeze leftover chocolate chip oatmeal cookies, you can store the dough in the fridge for up to two weeks. Alternatively, you can freeze the dough and bake it whenever you need. The refrigerated dough can be scooped straight onto the cookie sheet. Before storing them, be sure to allow them to warm up a bit before serving. If you're planning to store them for a while, try freezing them unbaked.
Flaky sea salt
The flaky sea salt in Chocolate Chip Oatmeals adds a delicate crunch. You should use a high-quality variety such as Maldon Sea Salt. In addition to the Maldon salt, use finely chopped smoked paprika or kosher salt. It may not be immediately apparent, but the flaky salt will enhance the flavor of the cookies. To make the cookies more appealing, sprinkle with flaky sea salt before baking.
For a truly amazing cookie, try using flaky sea salt. You can find Maldon or Fleur de Sel at your grocery store or online. You can also use ordinary kosher salt, but note that different types of salt have different flavors. It's best to use high-quality salt, as it will bring out the true flavor of the cookies. Once you've bought your flaky sea salt, the next step is to prepare the dough.
To make the dough, combine the flour, baking soda, and cornstarch. Gradually stir in chocolate chunks, raisins, and flaky sea salt. Place the cookie sheet on the bottom or opposite rack of the oven. This will ensure even baking and a perfectly golden, crisp cookie. If you're looking for a gluten-free version of this recipe, use certified gluten-free oats and chocolate.
Flaky sea salt adds a savory and complex flavor to this classic chocolate chip cookie. The oats give it an oaty, chewy center and a crisp edge. You can even freeze them to eat later. The rolled oats give the cookies a light chewy texture on the inside, but are still soft and chewy in the center.
Baking time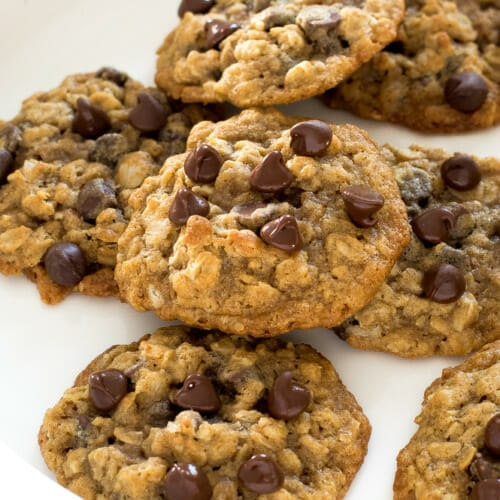 For the best results, bake your chocolate chip oatmeal cookies at 350 degrees F, until the edges are golden and the centers are soft and chewy. Then, transfer the cookies to a wire rack to cool completely. Once they have cooled, store them in an airtight container for up to 5 days, or freeze them for up to two months. If you're worried about the baking time, you can freeze them for a few weeks.
Mix flour, baking soda, and salt in a large bowl. Add butter and sugar to the bowl. Beat until they are combined. Add the egg and vanilla, and beat on low speed until blended. Add oats and semisweet chocolate chips, and mix just until combined. Bake the cookies for 12 minutes, or until they are lightly golden. When cool, remove from the oven, and add flakes of sea salt and oats.
Make your oatmeal cookies extra special by adding nuts, chocolate chips, and other delicious ingredients. Brown sugar reacts with baking soda, creating more moisture and making the oatmeal cookies soft and chewy. Then, add the vanilla extract and baking soda to the cookie batter, and bake for another three minutes. Then, cool and serve! You'll be amazed at how easy it is to customize chocolate chip oatmeal cookies to fit your taste and your lifestyle.
Once the dry ingredients are combined, mix them together. Once you've mixed the wet and dry ingredients together, add them to the mixer and mix until everything is combined well. Bake the cookies for eight to ten minutes. The center of the cookies should be undercooked, but that's okay. This will make the centers extra chewy and soft. Cool the cookies on a wire rack for about 3-4 minutes before removing them from the pan.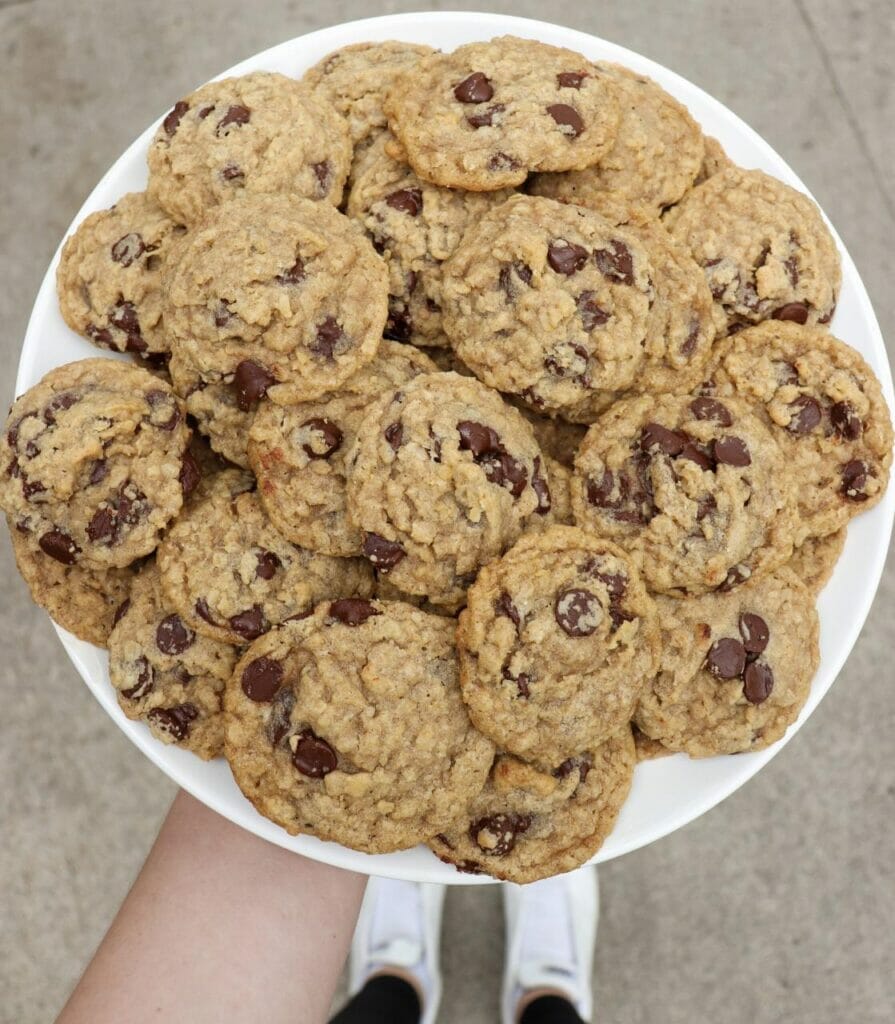 To maintain the soft and chewy texture of your chocolate chip oatmeal cookies, storage is critical. To maintain the soft texture, store the cookies in an airtight container, or freeze them for up to 3 months. To maintain their freshness, store the cookies at room temperature or in the fridge. If storing cookies in the freezer, remember to defrost the dough first. Once frozen, the cookies may not be scoopable.
Once baked, you may store them in an airtight container in the refrigerator or freezer for up to 5 days. You can also freeze them for up to two months. Oatmeal chocolate chip cookies can be stored for up to 3 months if they're kept in a ziplock freezer. When storing them, make sure to store them in a dry, airtight container. To keep them fresh, place the cookies on a parchment-lined baking sheet.
To store cookies for longer than a week, place them in an airtight container and keep in the fridge. The cookies should stay fresh in this manner for up to three days. If you're hosting a bake sale, start the day before the sale so that the cookies are still at room temperature when you're ready to sell them. One cookie only takes 30 minutes to thaw. But the cookies won't keep that long if you're rushing the cooling process.
Thanks for your visiting our FoodAndMeal.Com site. Like and share this recipe if it is beneficial for you.