My love affair with the Chicken Mushroom Hot Pot began years ago, on a quaint street in Kyoto. The gentle steam rising, the soft aroma wrapping me like a comforting hug, it was love at first bite. Let me share with you a piece of my heart and a bowl of warmth.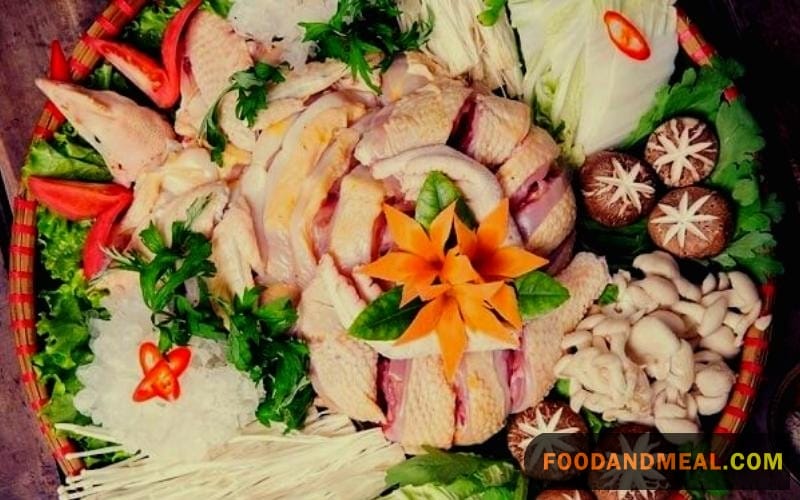 Japanese Chicken Mushroom Hot Pot Recipe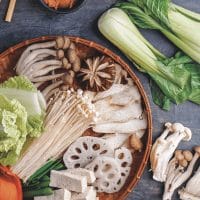 Japanese Chicken Mushroom Hot Pot
Dive into the comforting realm of Japanese cuisine with our Chicken Mushroom Hot Pot recipe. As the flavors meld and dance on your palate, don't forget the joy of sharing! If you loved this journey, share the recipe with friends and subscribe for more culinary tales.
Print
Pin Recipe
Add to Collection
Go to Collections
Equipment

Ingredients
17

fl. oz. of

stock, chicken

2

tablespoons of

soy sauce, low sodium

2

tablespoons of

miso paste, white

4

chunk-cut chicken thighs

2

cubed leeks

10 1⁄2

oz. of

halved mushrooms, chestnut

2

sliced

carrots, medium

7

oz. of

chopped cavolo nero (kale)

1

tablespoon of

unami paste ginger
Instructions
Heat soy sauce and stock in large pot.

Place 1 teaspoon of stock in small bowl. Whisk the miso in. Stir the mixture into stock.

Place mushrooms and leeks in pot. Bring to a boil and cover. Cook for 8-10 minutes. Add other ingredients but not umami paste yet.

Cover. Cook for 6-10 more minutes. Then stir in umami paste and season as desired.

Place hot pot on burner on dinner table. Have your diners cook the pieces of chicken in the hot stock individually, making sure each one has their own bowl, too. They can add as much soup as they want.
Notes
Note on Ingredients: Always opt for fresh, organic chicken and mushrooms. It makes a world of difference to the flavor and is a nod to the authenticity of the dish. Hungry for more such insights? Don't forget to subscribe and journey with me through global culinary trails!
Customization Alert: While this recipe stays true to the Japanese roots, don't hesitate to give it your personal touch. Maybe a hint of spice or an extra herb? After all, the best recipes are those that evolve. Loved this recipe? Share your version and inspire others. And yes, subscribe for more such tweaks and tales!
Serving Suggestion: The true essence of the Chicken Mushroom Hot Pot is best enjoyed when shared. So, gather your loved ones, lay out some traditional sides, and let the feast begin. Tried this recipe? Share the love on social media and let the world know. And, hit subscribe for more heartwarming dishes coming your way!
Share by Email
Share on Facebook
Share on Twitter
Nutrition
Calories:
500
kcal
|
Carbohydrates:
203
g
|
Protein:
305
g
|
Fat:
235
g
© Food And Meal
This website provides approximate nutrition information for convenience and as a courtesy only. Nutrition data is gathered primarily from the Spoonacular Database, whenever available, or otherwise other online calculators.
Pin Recipe
Chicken Mushroom Hot Pot: Pressure Cooker Method
Ingredients:
Same as the original recipe
Method:
Preparation: Clean and slice your chicken into bite-sized pieces. Wash and chop the mushrooms. Keep all other ingredients prepped and at arm's length.
Sauté Time: Begin by setting your pressure cooker to the 'Sauté' mode. Once hot, add a dash of sesame oil. Gently toss in the garlic and ginger, letting them release their aroma.
Layering: Place the chicken pieces in, browning them slightly. Add in your mushrooms, ensuring they get a light sauté. This step enhances the depth of flavor.
Flavor Infusion: Pour in your broth (whether it's chicken, vegetable, or dashi), ensuring it covers the ingredients. Sprinkle in your seasonings – soy sauce, mirin, and a touch of sake for that authentic taste.
Pressure Cooking: Secure the lid of your pressure cooker. Set it to 'High Pressure' and adjust the timer to 15 minutes. Let the cooker do its magic. The high-pressure environment will not only ensure swift cooking but will also allow for an intense flavor melding, mimicking hours of traditional simmering.
Final Touches: Once done, allow the pressure to release naturally for about 10 minutes, then manually release any remaining pressure. Open the lid, give it a gentle stir, and toss in any fresh herbs or garnishes you'd like.
Serve and Enjoy: Transfer to a serving dish, ensuring to ladle both chicken, mushrooms, and the soul-soothing broth into bowls. Pair with rice or noodles if desired.
Cooking Tips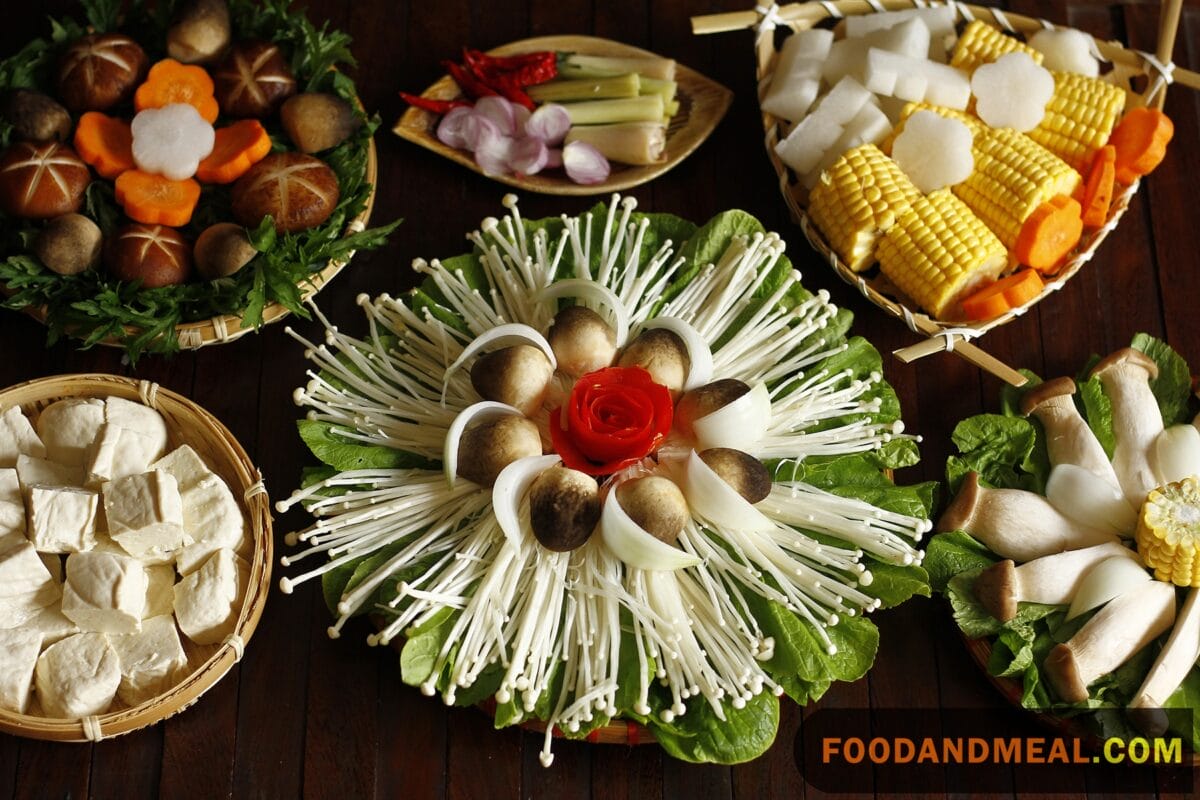 Quality Ingredients: The simplicity of Chicken Mushroom Hot Pot means every ingredient shines. Opt for free-range chicken and fresh, organic mushrooms if possible.
Layering Flavors: When sautéing, ensure you give each ingredient its time. This layering is what builds the depth in the final dish.
Don't Overcook: Especially when using chicken breasts, be cautious. Overcooking can lead to a drier texture. Always aim for juicy, succulent pieces.
Seasoning: While the recipe provides measurements, always trust your palate. Taste and adjust as you go.
Common Mistake: Avoid adding all the liquid at once. Start with a portion, let the dish simmer, and add as needed. This ensures a concentrated flavor profile.
Serving Suggestions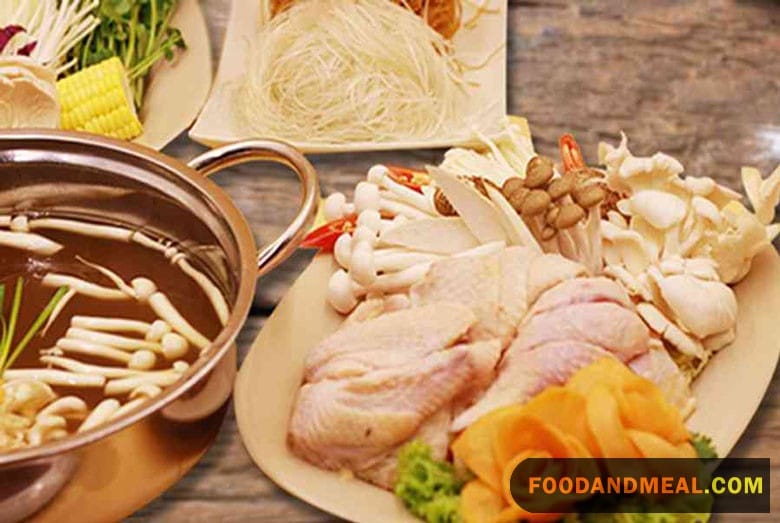 Occasion: This dish is ideal for cold evenings or when you need some culinary comfort. It's versatile enough for a family dinner, yet special enough for guests.
Audience: While adults often appreciate the deep, melded flavors, kids are drawn to the tender chicken and soothing broth. A win-win for everyone!
Accompaniments: Serve with a side of steamed white rice or udon noodles. These not only complement the dish but also ensure you soak up every drop of the delightful broth.
Garnishes: Top with finely sliced green onions, a sprinkle of sesame seeds, or even a few drops of chili oil for those who prefer a kick.
Beverages: Green tea pairs beautifully with the earthy flavors. For those looking for something stronger, a light sake or even a crisp white wine can be delightful.
List of 5 FAQs of Chicken Mushroom Hot Pot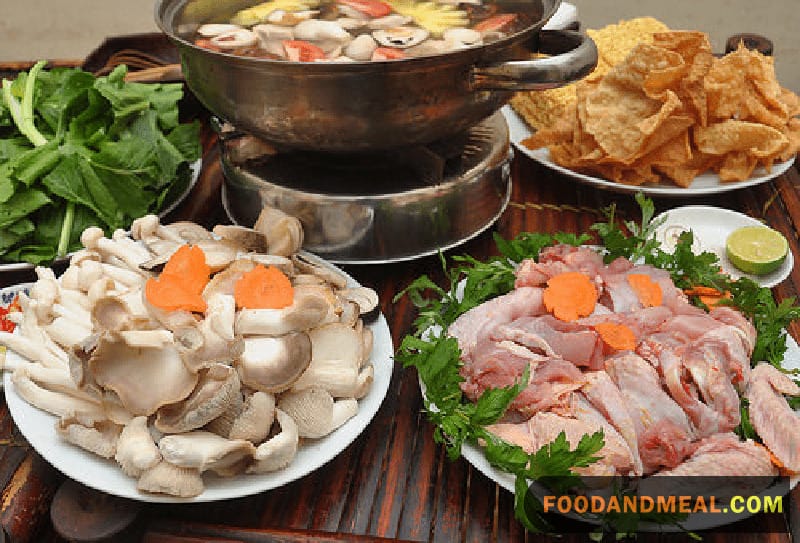 Can I use other types of mushrooms in the Chicken Mushroom Hot Pot? Absolutely! While certain mushrooms like shiitake or enoki are traditionally used in Japanese dishes, feel free to experiment with what you have on hand. Oyster mushrooms, portobello, or even button mushrooms can work.
What's the best cut of chicken for this dish? Thighs are generally preferred for their tenderness and richer flavor. However, if you're watching your fat intake, chicken breasts can be used. Just monitor closely to prevent overcooking.
I don't have mirin or sake, what can I substitute? For mirin, a mix of honey and white wine or sherry can be used. For sake, dry sherry or Chinese rice wine are good alternatives.
Is this dish gluten-free? Traditional soy sauce contains gluten. If you're gluten-sensitive or celiac, opt for tamari or a certified gluten-free soy sauce.
Storing leftovers – how and for how long? Cool the hot pot mixture completely before transferring to an airtight container. It can be stored in the refrigerator for up to 3 days. To reheat, ensure it's warmed thoroughly on the stove or in the microwave.
Unravel the secrets of authentic Japanese Chicken Mushroom Hot Pot. Join us on this flavor journey and spread the culinary magic.
Affiliate DisclaimerAbout The Author
As an affiliate, we may earn a commission from qualifying purchases. We get commissions for purchases made through links on this website from Amazon and other third parties.