If you love blueberries, you should definitely give these a try. They are delicious and easy to eat. They are also juicy and sweet, and you'll be thrilled with the result. These Blueberry Crumb Bars make the perfect summer dessert and are a great way to celebrate the arrival of summer. They are the perfect treat for family reunions or birthday celebrations. So, if you haven't had them yet, make sure to bake them and enjoy.
Blueberry Crumb Bars Recipes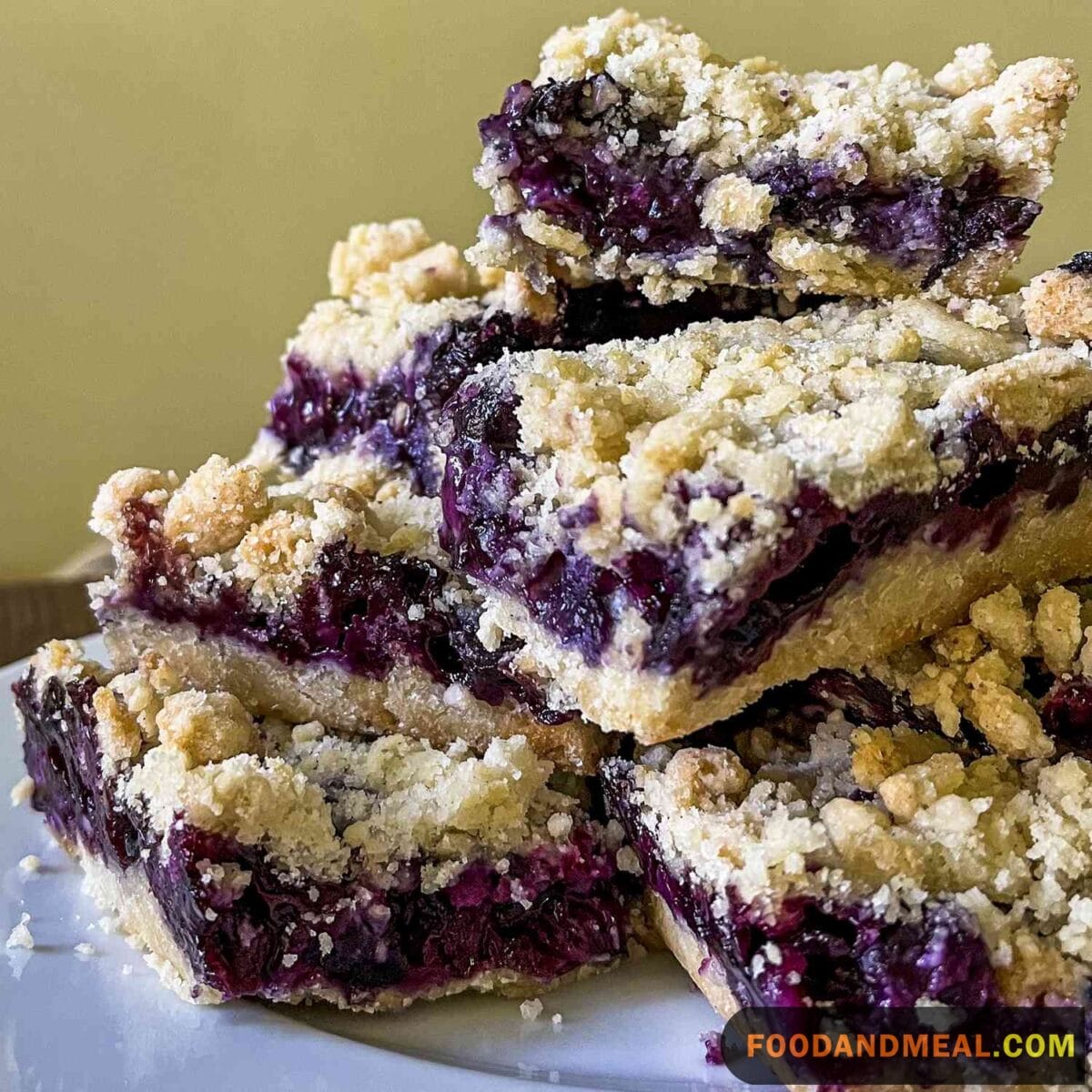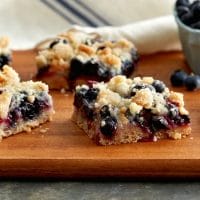 Low Potassium Blueberry Crumb Bars
If you're a berry lover, you can also use other fruits instead of blueberries. They will be delicious either way. They'll make a great dessert for a summer picnic or at home. They're a great choice for breakfast or dessert.
Print
Add to Collection
Go to Collections
Instructions
Preheat the oven to 375 degrees F (190 degrees C). Grease a 9x13 inch pan.

In a medium bowl, stir together 1 cup sugar, 3 cups flour, and baking powder.

Mix in salt and cinnamon, if desired. Use a fork or pastry cutter to blend in the shortening and egg. Dough will be crumbly.

Pat half of dough into the prepared pan.

In another bowl, stir together the sugar and cornstarch. Gently mix in the blueberries. Sprinkle the blueberry mixture evenly over the crust. Crumble remaining dough over the berry layer.

Bake in preheated oven for 45 minutes, or until top is slightly brown. Cool completely before cutting into squares
Notes
If you don't have access to fresh berries, freeze them and use them in this recipe. Don't forget to add a little lemon juice to the blueberry filling, as this helps the berries get soft. Once baked, the bars will be soft and delicious! You can also use a mixture of frozen berries instead of fresh. If you don't have fresh ripe pears, you can substitute frozen cranberries. Be sure to bake the bars for a few more minutes to ensure that the filling sets and bubbles up.
Share by Email
Share on Facebook
Share on Twitter
Nutrition
Serving:
4
servings
|
Calories:
1191
kcal
|
Carbohydrates:
170
g
|
Protein:
12
g
|
Fat:
54
g
|
Saturated Fat:
13
g
|
Polyunsaturated Fat:
15
g
|
Monounsaturated Fat:
22
g
|
Trans Fat:
7
g
|
Cholesterol:
41
mg
|
Sodium:
273
mg
|
Potassium:
231
mg
|
Fiber:
6
g
|
Sugar:
90
g
|
Vitamin A:
139
IU
|
Vitamin C:
14
mg
|
Calcium:
90
mg
|
Iron:
5
mg
© Food And Meal
This website provides approximate nutrition information for convenience and as a courtesy only. Nutrition data is gathered primarily from the Spoonacular Database, whenever available, or otherwise other online calculators.
Alternative Method: Baking in the Oven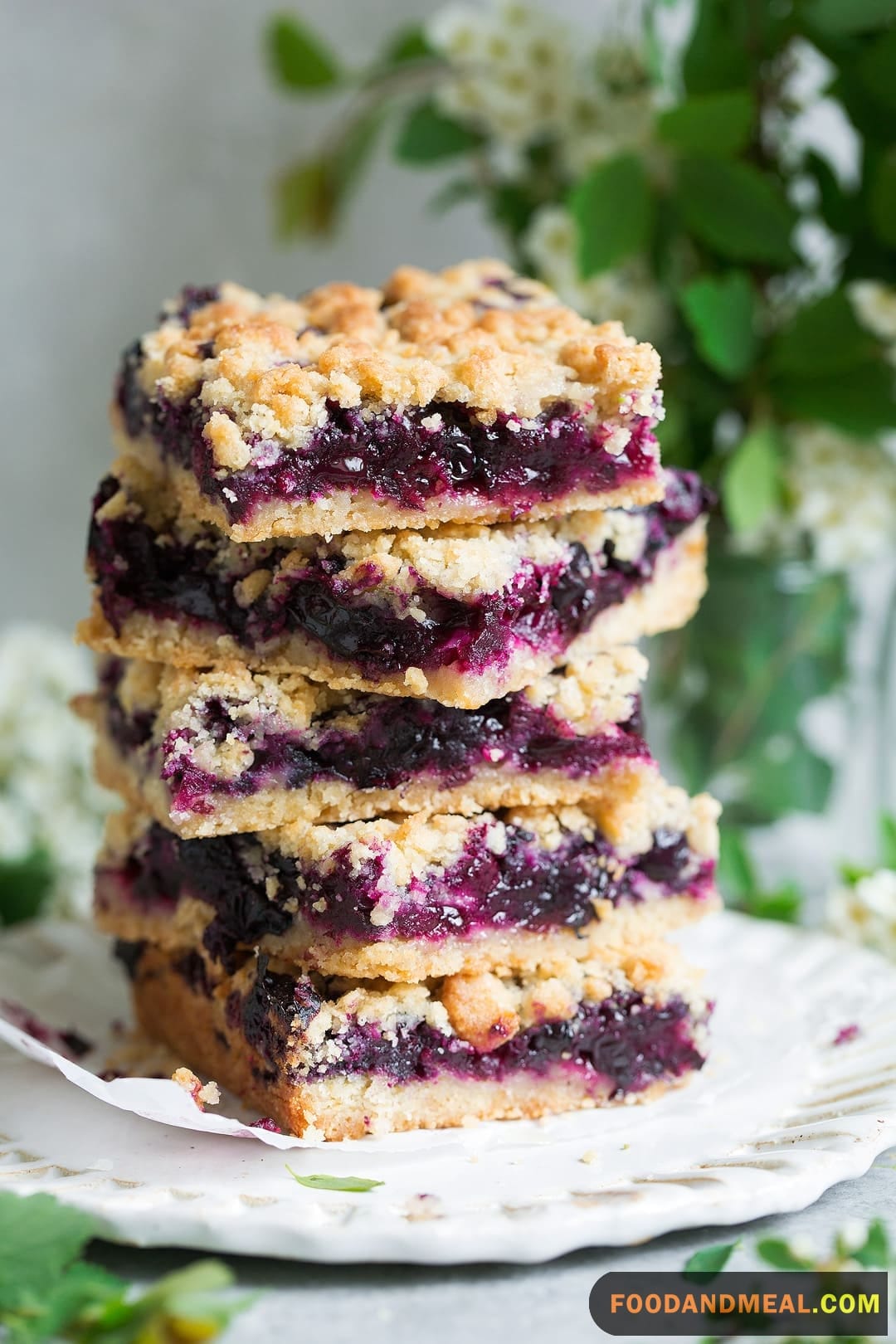 Ingredients:
1 ½ cups of fresh or frozen blueberries
1 ½ cups of all-purpose flour
1 cup of granulated sugar
1 tsp of baking powder
¼ tsp of salt
1 large egg
1 tsp of vanilla extract
½ cup of unsalted butter (1 stick)
Cooking spray or extra butter for greasing the pan
Instructions:
Prepare the Blueberry Filling:

In a saucepan over low heat, add the blueberries and ¼ cup of granulated sugar.
Stir occasionally and cook for about 5-10 minutes until the blueberries break down and the mixture thickens. Remove from heat and set aside to cool.

Prepare the Crumb Mixture:

In a mixing bowl, combine the remaining ¾ cup of sugar, flour, baking powder, and salt.
Add the egg and vanilla extract, then cut in the softened butter until you have a crumbly mixture.

Assemble the Bars:

Grease a stovetop-safe, ovenproof pan (about 8×8 inches) with cooking spray or butter.
Press half of the crumb mixture evenly into the bottom of the pan to create a crust.

Add the Blueberry Filling:

Spread the blueberry filling over the crust.

Top with Remaining Crumbs:

Sprinkle the remaining crumb mixture over the blueberry filling.

Stovetop Cooking:

Cover the pan and cook on low heat for about 20-25 minutes or until the bottom is golden and the blueberry filling is bubbling. Keep an eye on it to prevent burning.

Browning the Top (Optional):

If you'd like to brown the top, remove the lid and place the pan in an oven set to broil for 1-2 minutes, or until the top is golden.

Cool and Serve:

Allow the bars to cool before cutting them into squares. Serve and enjoy!
Tips for making Blueberry Crumb Bars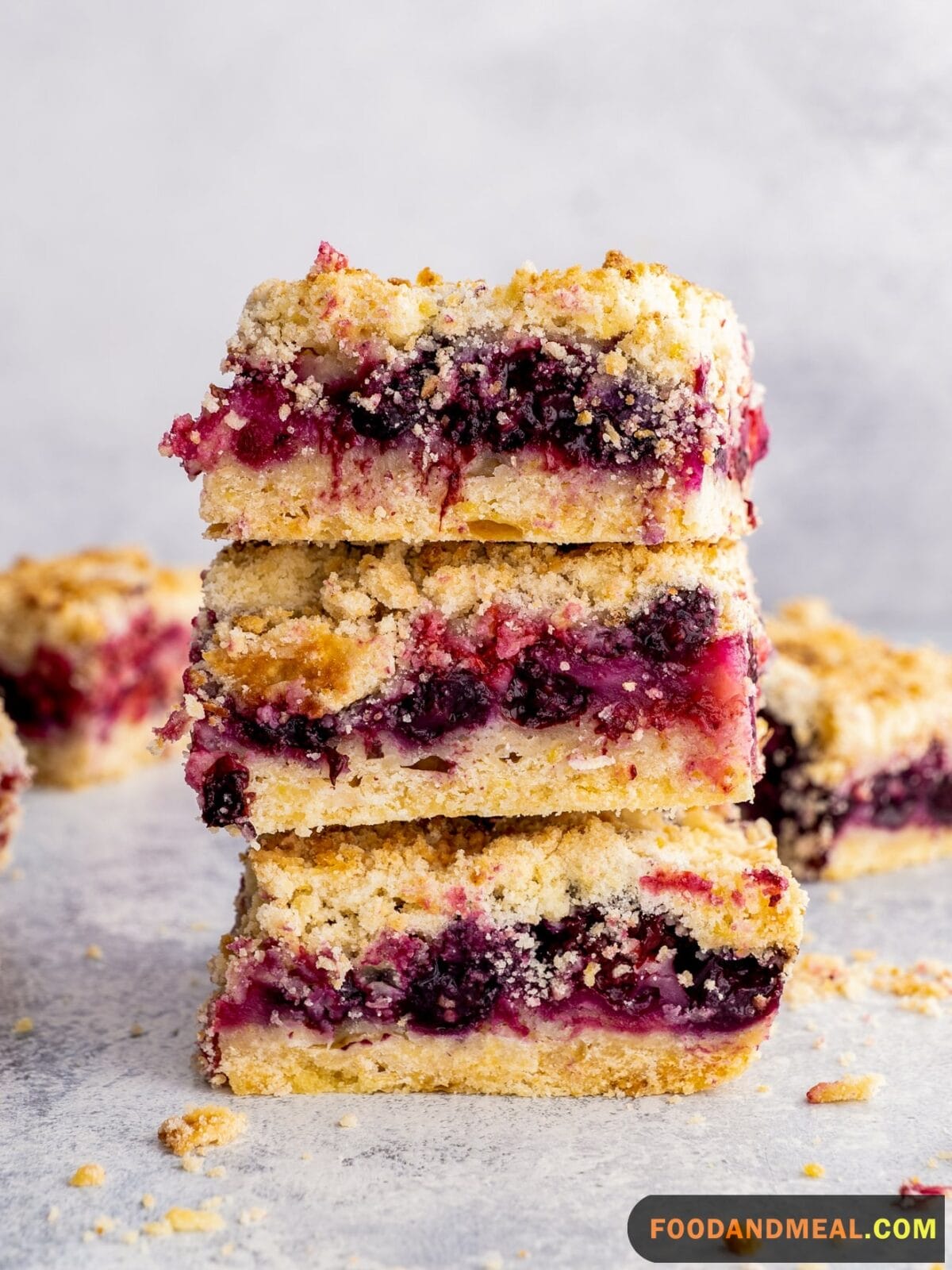 Serving Suggestions
Recommend Sides, Garnishes, and Beverages:
Ice Cream Delight: One of the most classic pairings is a scoop of vanilla ice cream. The warm, gooey bars combined with the cold creaminess of ice cream is pure perfection.
Whipped Cream Whimsy: Freshly whipped cream is another delightful choice. You can flavor it with a hint of vanilla or lemon zest for that extra touch of luxury.
Fruit Fusion: Create a fruit medley by serving the bars with a side of fresh berries – think strawberries, raspberries, and of course, more blueberries.
Lemon Zest and Mint: For a zesty twist, add a sprinkle of lemon zest and a few fresh mint leaves to each serving. The citrusy aroma and refreshing mint balance the sweetness.
Different Ways to Serve:
Mini Bites: Cut the bars into bite-sized pieces and serve them on a platter for easy snacking at gatherings or parties.
Picnic-Ready: Wrap individual bars in parchment paper or foil for a delightful picnic treat. They're perfect for outdoor adventures.
Warm and Decadent: If you've made these bars stovetop, serve them warm directly from the pan for an extra comforting experience.
Brunch Bonanza: Surprise your brunch guests with Blueberry Crumb Bars alongside savory items like quiches and frittatas. The sweet bars complement the savory dishes remarkably well.
Cooking Tips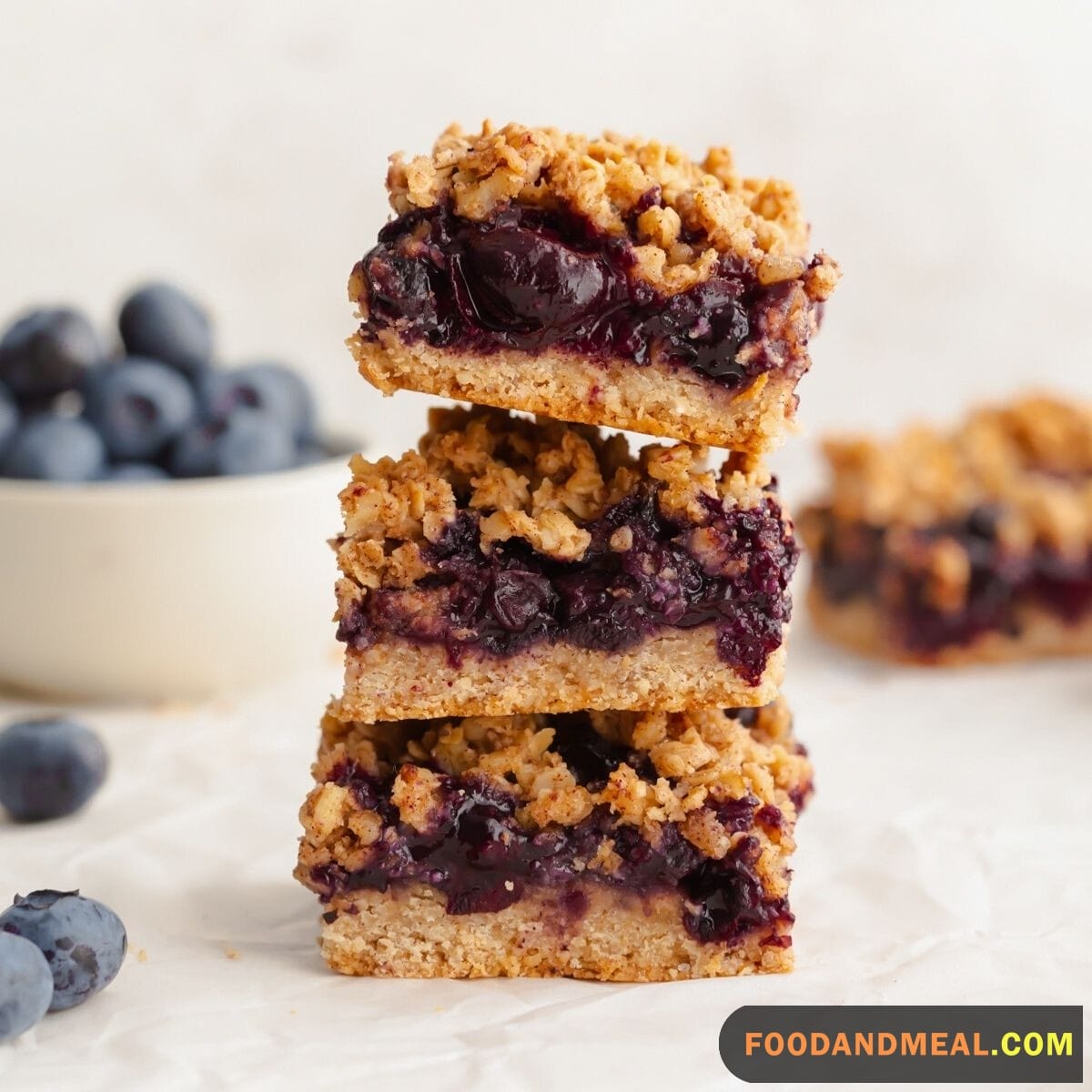 Tips and Tricks for the Best Results:
Properly Line the Pan: When baking, use parchment paper to line the pan. Leave some overhang on the sides to easily lift the bars out for cutting.
Even Crust: Press the crust mixture firmly and evenly into the pan. This ensures a stable base for the bars.
Not-So-Frozen Blueberries: If using frozen blueberries, be sure to thaw and drain them before adding them to the recipe. This prevents excess moisture.
Taste Testing: When making the blueberry filling, feel free to taste it as you go. Adjust the sugar to your preference, especially if your blueberries are particularly sweet or tart.
Common Mistakes to Avoid:
Overmixing the Crumb Mixture: When combining the ingredients for the crust and topping, mix until just combined. Overmixing can result in a dense, tough texture.
Not Letting Them Cool: It's tempting to dive into your Blueberry Crumb Bars right out of the oven, but allow them to cool for a bit. This helps the bars set and hold their shape.
Ignoring the Blueberry Layer: Make sure the blueberry filling covers the entire crust. Leaving gaps can lead to uneven bars.
Impatience While Cutting: Once cooled, use a sharp knife to cut the bars. If you cut them while they're still warm, they may crumble.
Frequently Asked Questions (FAQs) about Blueberry Crumb Bars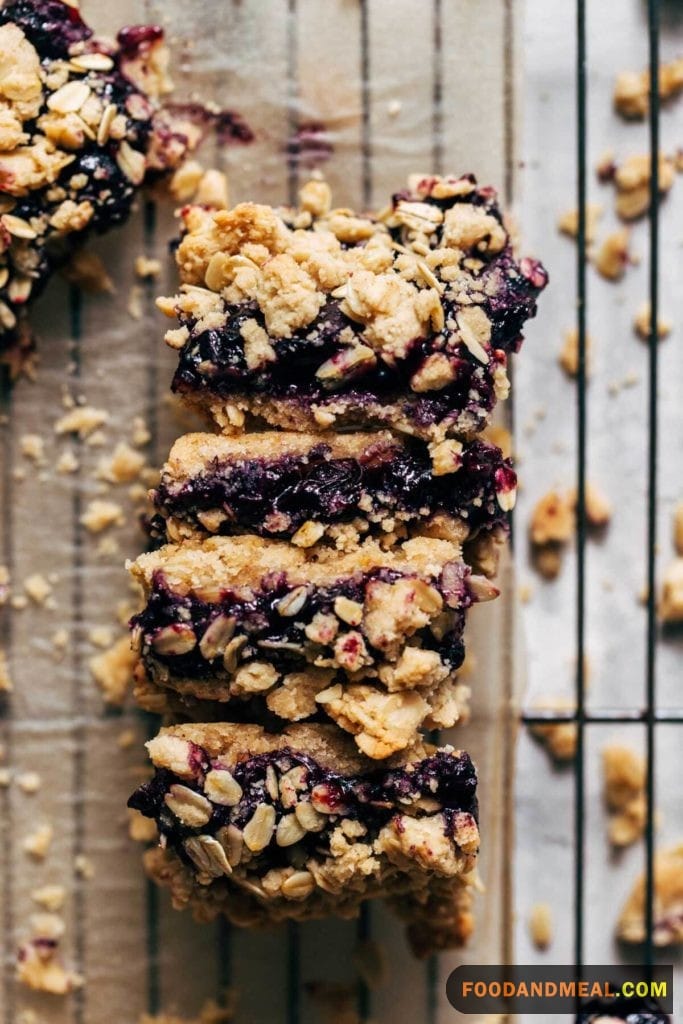 Can I use frozen blueberries for this recipe? Yes, you can use frozen blueberries. Be sure to thaw and drain them before adding them to the recipe.
How should I store leftovers? Store any leftover bars in an airtight container at room temperature for up to two days or in the refrigerator for up to a week. They can also be frozen for longer storage.
Can I make these bars with other fruits? Absolutely! You can substitute blueberries with other fruits like strawberries, raspberries, or a combination to create unique flavor variations.
Can I use gluten-free flour in this recipe? Yes, you can use gluten-free flour as a substitute without affecting the overall taste and texture.
Can I reduce the sugar in the recipe? You can reduce the sugar to your taste, but keep in mind that it might affect the sweetness and texture of the bars.
Dive into the scrumptious world of Blueberry Crumb Bars. Discover the perfect recipe and unleash your baking skills. Subscribe for more delightful recipes.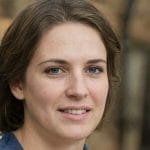 Hi! I'm Paula from the Philippines, the passionate blogger and skilled photographer behind Gobble the Cook. I also spearhead the media photography for Food And Meal in Vietnam.
Affiliate DisclaimerAbout The Content
As an affiliate, we may earn a commission from qualifying purchases. We get commissions for purchases made through links on this website from Amazon and other third parties.