Print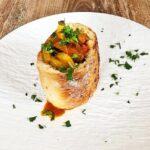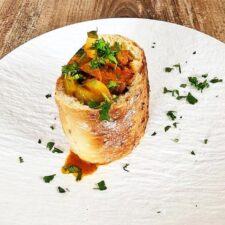 Bunny Chow Easy Recipe – South African Curry served inside Bread
---
Author:

Prep Time:

15

Cook Time:

40

Total Time:

55

Yield:

4

1

x
Description
In this Bunny Chow easy recipe I will share how to make the South African Curry served inside Bread A simple one, yet delicious for everyone.
#FoodAndMeal #bunnychow ##lambcurry #southafricancurry #Curry #southafricancusine
---
Scale
Ingredients
1 tsp

turmeric

1 tsp

coriander powder

1 tsp

cayenne pepper

1 tsp

Hot chili pepper

3 tsp

curry powder,

2 tsp

kashmiri chili powder

5 tsp

salt

25 tsp

black pepper.

120

ml oil

2

bay leaves

10

cm cassia bark
star anise

1 tsp

cumin seeds

1 tsp

black mustard seeds

1 tsp

fennel seeds

3

medium onions

3

garlic cloves

10g

ginger
Curry leaves

400

–

500

g lamb or any other meat such as beef, mutton, goat, or rabbit
Lamb bone (optional)

200g

plum tomatoes

3 tbsp

tomato ketchup
A handful of coriander stalks/leaves

100g

potato (diced)
Green chilies

200

–

300

g other veggies like green beans and aubergine
Water
White bread (flat bottomed)
Carrot salad
---
Instructions
Chop the onions, garlic cloves, garlic, and green chilies. Peel and dice the potatoes into cubes.
Add oil in a large pan on medium heat
Add the bay leaves, cassia bark, star anise and fry for 30- 40 seconds to infuse the oil
Add the cumin seeds, black mustard seeds, fennel seeds And constantly stir until mustard seeds start popping.
Add chopped onions and fry for 5 minutes, frequently Stirring until it is translucent and starting to brown.
Add the chopped garlic cloves and ginger and fry for Further few minutes. Then, add the curry leaves and stir.
Add all the spices together and constantly stir for a couple Of minutes. If spices start sticking to the pan, add a little water to Compensate.
Add the meat, in 1-inch chunks, trimmed of any excess Fat. Add some lamb bone to the pot for extra flavor if you have any.
Coat well with the mixture and fry for 2 more minutes Until the meat is sealed.
Add the plum tomatoes and tomato ketchup and mix well. Add the coriander stalks/leaves and fry for a few minutes.
Add the potato, green chilies, and any other vegetable that You have and stir thoroughly for 2 minutes. Then, add 300l water and Stir well.
Turn down the heat to low, cover and leave to cook for 1½ Hours or until the meat is tender. Stir occasionally.
Taste and adjust seasoning and add fresh coriander leaves. (you can add more water to your desired consistency if you don't like A thick bunny).
Remove any bone and sticks.
Notes
Serving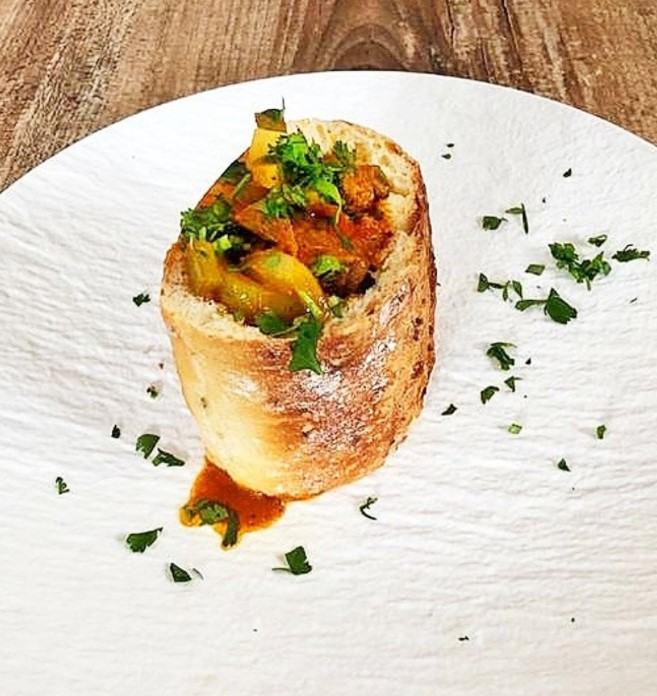 Take a cube-shaped chunk of flat bottomed bread And cut a cube of the inner bread out using a knife leaving about 1.5- 2cm around the sides and the bottom.
Cut the removed inner into stripes (optional)
Ladle the curry into the hole in the bread and top With some carrot salad and the excess bread.
Don't worry if it gets messy. It's supposed to be.
Category:

Main Course, Lunch, Dinner, Main dishes, Curry Recipes

Cuisine:

South African
Nutrition
Serving Size:

4

Calories:

428

Sodium:

445

Fat:

21

Carbohydrates:

30

Protein:

30

Cholesterol:

107