Welcome to my kitchen, where we're about to embark on a culinary journey to Korea. Today, I'm sharing a recipe close to my heart, Spicy Sliced Pork Korean Style. As an experienced chef and food blogger, I'm excited to guide you through the process of creating this flavor-packed masterpiece.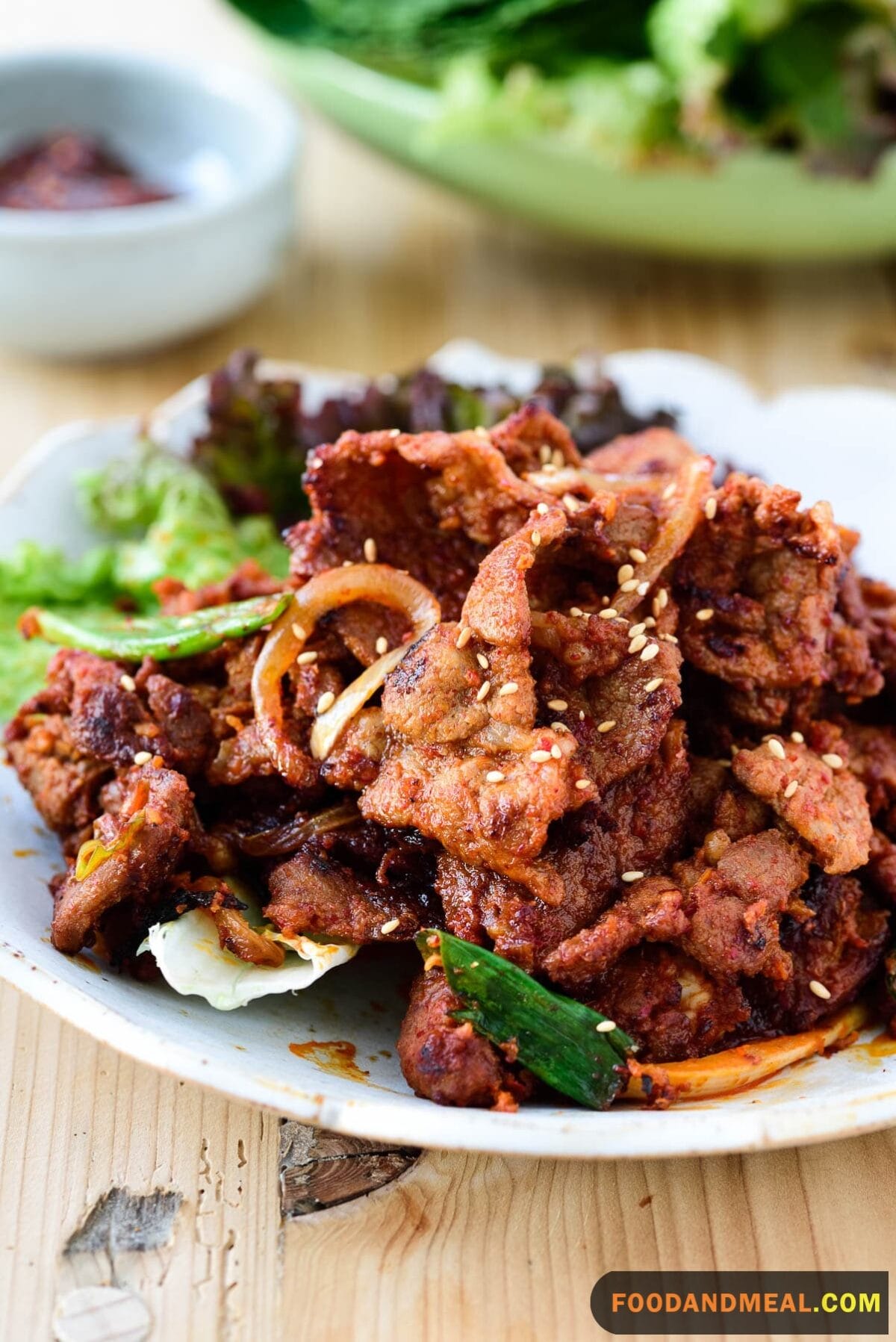 Spicy Sliced Pork Korean Recipe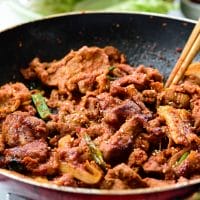 SPICY SLICED PORK
Get ready to unleash a flavor explosion with our Spicy Sliced Pork recipe! As a seasoned chef and food blogger, I'm excited to share this culinary masterpiece with you. Join the community, share this recipe, and subscribe to stay tuned for more mouthwatering creations.
Print
Add to Collection
Go to Collections
Ingredients
1/2

sweet onion, finely minced

1

tablespoon

minced garlic

1 1/2

teaspoons

toasted sesame oil

1

tablespoon

soy sauce or gluten-free soy sauce

2

tablespoons

gochujang or gluten-free gochujang

2

tablespoons

sugar

1

tablespoon

mirin

1

teaspoon

fresh minced peeled ginger

2

pounds

pork butt
Instructions
Preheat a grill to medium-high heat, or preheat the broiler.

In a medium bowl, mix together the onion, garlic, sesame oil, soy sauce, gochujang, sugar, mirin, and ginger until well-blended.

Freeze the pork for 20 minutes, so it hardens and is easier to slice. Slice the pork into very thin pieces, about the thickness of bacon.

Add the pork to the bowl with the marinade and let sit for at least 30 minutes.

Grill or broil, flipping once, for 4 to 8 minutes, until cooked through. You can also stir-fry the pork in an unoiled skillet for 8 to 10 minutes.
Notes
Mastering the Marinade: Achieving the perfect balance of sweet, savory, and spicy in the marinade is key. Take your time to mix the ingredients thoroughly, ensuring every slice of pork is coated. Don't forget to share your creation and experiences in the comments below!
Slicing and Dicing: For the most authentic experience, slice your pork as thin as possible. It not only cooks faster but also absorbs more of that delicious marinade. As you slice, picture yourself in a Korean kitchen, and don't forget to subscribe for more culinary adventures.
Sides and Garnishes: Korean cuisine is all about balance. Pair your Spicy Sliced Pork with a variety of banchan (side dishes), such as kimchi and pickled radishes. For a finishing touch, garnish with sesame seeds and fresh green onions.

 
Share by Email
Share on Facebook
Share on Twitter
Nutrition
Calories:
332
kcal
|
Carbohydrates:
8
g
|
Protein:
43
g
|
Fat:
13
g
|
Saturated Fat:
5
g
|
Polyunsaturated Fat:
1
g
|
Monounsaturated Fat:
6
g
|
Trans Fat:
0.1
g
|
Cholesterol:
136
mg
|
Sodium:
180
mg
|
Potassium:
777
mg
|
Fiber:
0.04
g
|
Sugar:
7
g
|
Vitamin A:
0.2
IU
|
Vitamin C:
1
mg
|
Calcium:
35
mg
|
Iron:
3
mg
© Food And Meal
This website provides approximate nutrition information for convenience and as a courtesy only. Nutrition data is gathered primarily from the Spoonacular Database, whenever available, or otherwise other online calculators.
Alternative Method: Spicy Sliced Pork in an Air Fryer
Spicy sliced pork in an air fryer is a delicious and convenient dish that you can make with ease. It's a healthier alternative to traditional frying methods as it requires less oil. Here's a step-by-step guide to preparing spicy sliced pork in an air fryer:
Ingredients:
1 pound of thinly sliced pork (you can use pork loin or pork belly)
2 tablespoons of vegetable oil
2 tablespoons of soy sauce
1 tablespoon of gochugaru (Korean red pepper flakes) or chili powder (adjust to your spice preference)
1 tablespoon of sugar
1 teaspoon of minced garlic
1 teaspoon of minced ginger
1/2 teaspoon of sesame oil
Salt and pepper to taste
Optional garnishes: sliced green onions and toasted sesame seeds
Instructions:
Prepare the Marinade: In a mixing bowl, combine the vegetable oil, soy sauce, gochugaru or chili powder, sugar, minced garlic, minced ginger, sesame oil, salt, and pepper. Mix well to create a spicy marinade.
Marinate the Pork: Place the thinly sliced pork into a large zip-top bag or a shallow dish. Pour the marinade over the pork, making sure each slice is coated evenly. Seal the bag or cover the dish and refrigerate for at least 30 minutes, or ideally 1-2 hours to allow the flavors to meld.
Preheat the Air Fryer: Preheat your air fryer to 375°F (190°C) for about 5 minutes.
Air Fry the Pork Slices: Remove the marinated pork from the refrigerator and arrange the slices in a single layer in the air fryer basket. You may need to cook them in batches depending on the size of your air fryer. Avoid overcrowding for the best results.
Cook in the Air Fryer: Cook the pork slices in the preheated air fryer for 8-10 minutes, flipping them halfway through the cooking time. The exact time may vary depending on the thickness of your pork slices and the specific model of your air fryer. The pork should be cooked until it's nicely browned and cooked through.
Check for Doneness: To ensure the pork is fully cooked, you can use a meat thermometer. The internal temperature should reach at least 145°F (63°C).
Serve: Once the pork is cooked, transfer it to a serving plate. Garnish with sliced green onions and toasted sesame seeds if desired. You can also serve it with steamed rice, kimchi, or other side dishes for a complete meal.
Cooking tips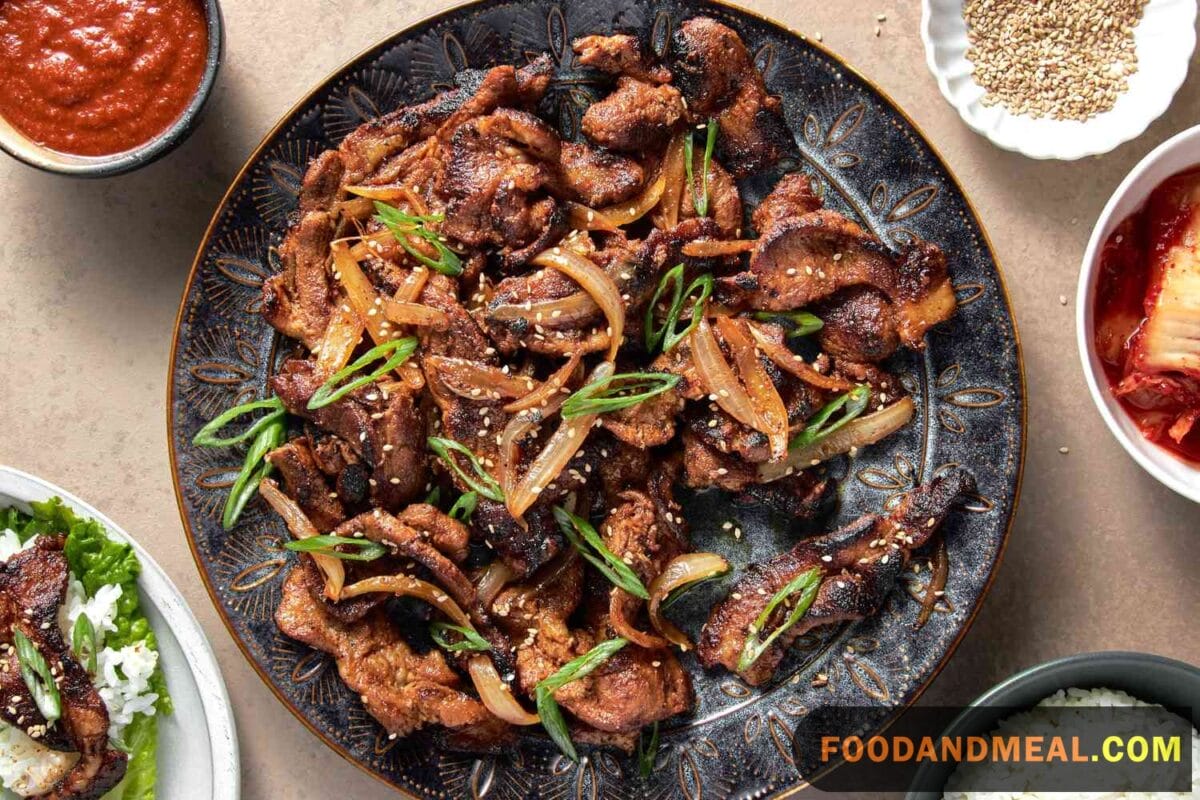 Read the Recipe Before Starting: Always read the entire recipe from start to finish before you begin cooking. This helps you understand the steps and gather all the necessary ingredients and equipment.
Mise en Place: This French term means "everything in its place." Preparing and measuring all your ingredients before you start cooking can make the process smoother and prevent mistakes.
Use Fresh Ingredients: Whenever possible, use fresh and high-quality ingredients. Fresh herbs, spices, and produce can make a significant difference in the flavor of your dishes.
Season Thoughtfully: Season your dishes at multiple stages of cooking. Seasoning with salt and pepper as you go can enhance the overall flavor.
Taste as You Go: Don't be afraid to taste your food as you cook. This allows you to adjust the seasoning and make necessary adjustments to achieve the desired flavor.
Control the Heat: Understand your stovetop or oven's heat settings. Different dishes require different heat levels, so learn to control the temperature to avoid burning or undercooking your food.
Serving suggestions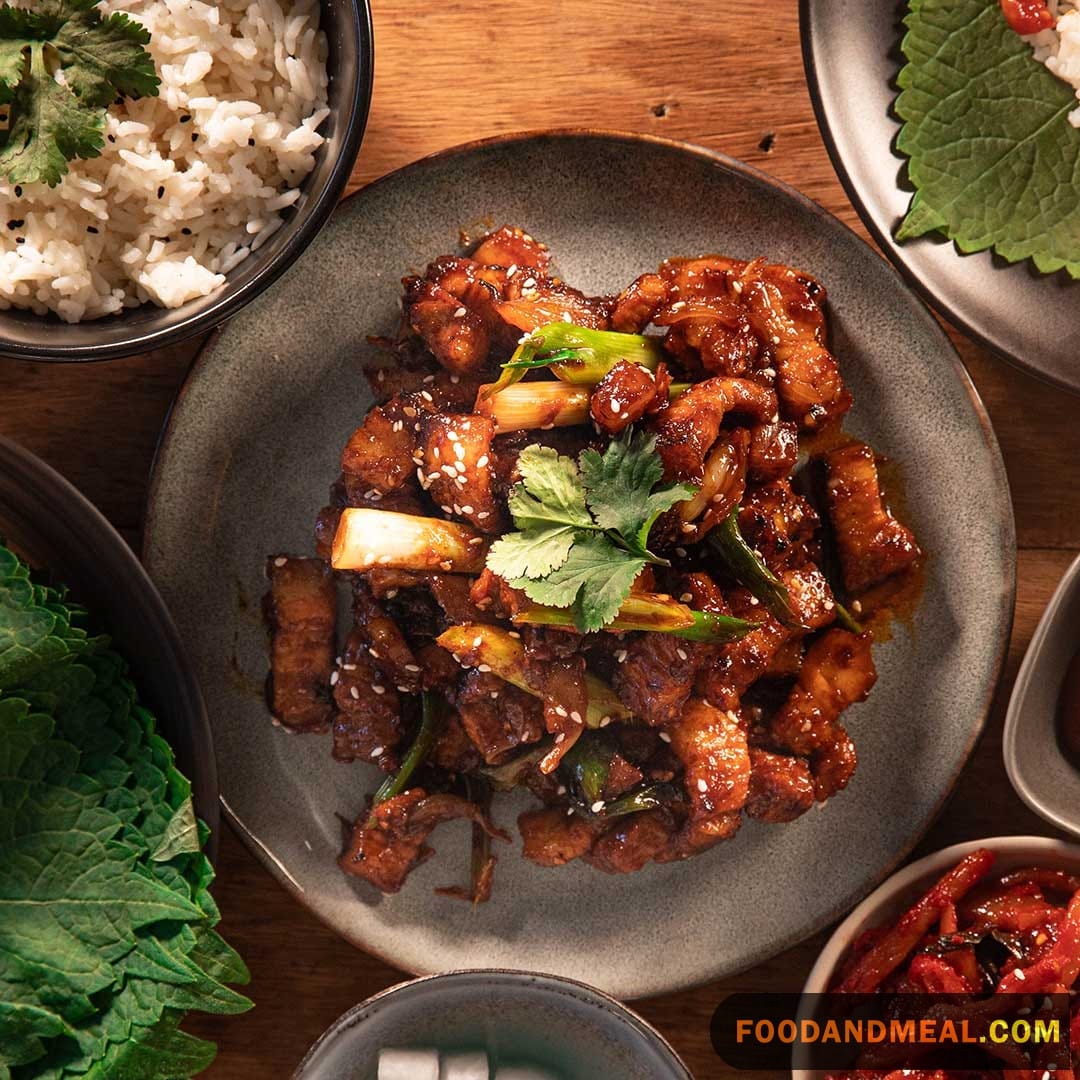 Appetizers and Snacks:
Serve small bites like mini quiches or bruschetta on a decorative platter with fresh herbs for garnish.
Create a colorful and enticing cheese or charcuterie board with a variety of cheeses, cured meats, fruits, and crackers.
Present finger foods like chicken wings or spring rolls in a stylish serving basket with dipping sauces on the side.
Salads:
Serve salads in individual bowls or on large platters, arranging the ingredients artfully.
Garnish with a sprinkle of nuts, seeds, or croutons for added texture.
Drizzle salad dressings just before serving to keep the greens crisp.
Main Courses:
Plate individual servings of main courses like steak, chicken, or fish with a complementary sauce drizzled over the top.
Pair dishes with appropriate side items such as roasted vegetables, rice, or mashed potatoes.
Use colorful and contrasting ingredients to make the plate visually appealing.
Pasta and Noodles:
Serve pasta and noodle dishes in bowls or on deep plates.
Top with freshly grated Parmesan cheese or chopped herbs for a burst of flavor.
Include a slice of garlic bread or a breadstick on the side.
Soups and Stews:
Ladle soups and stews into deep bowls.
Garnish with a dollop of sour cream, a sprinkle of fresh herbs, or a drizzle of olive oil.
Serve with a slice of crusty bread or a roll for dipping.
Vegetarian and Vegan Dishes:
Arrange colorful vegetable dishes with a variety of textures on the plate.
Add a squeeze of lemon or a dash of balsamic reduction for extra flavor.
Consider serving with a grain like quinoa or couscous.
FAQs of Spicy sliced pork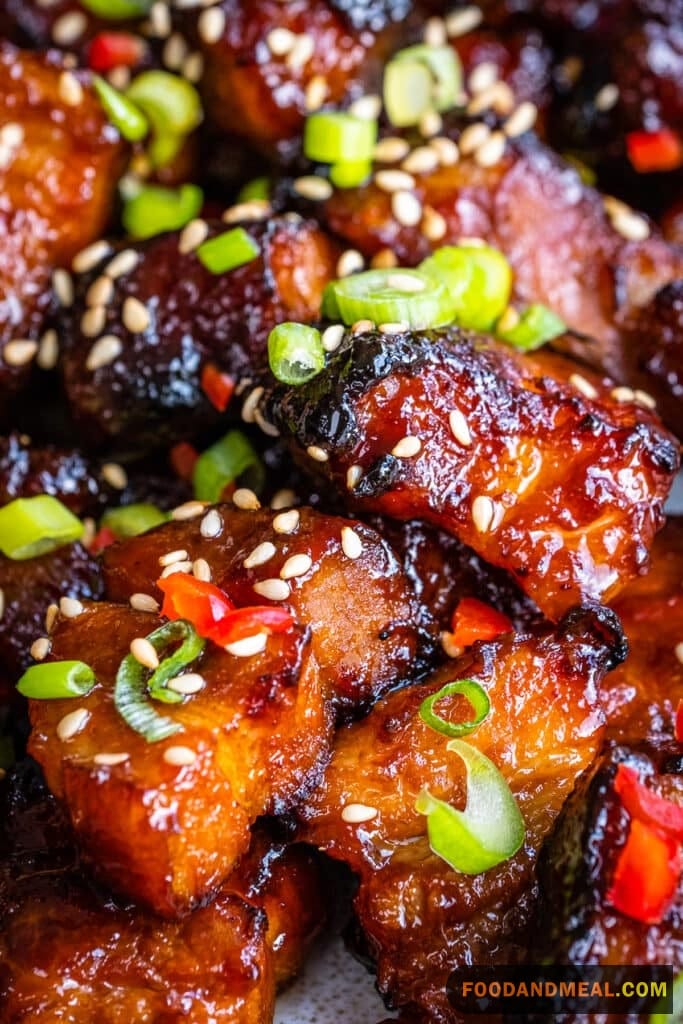 What is the meaning of life?

The meaning of life is a philosophical and existential question that varies from person to person. It often involves finding purpose, happiness, and fulfillment in one's own way.

What is the universe made of?

The universe is primarily composed of dark matter and dark energy, which make up most of its mass-energy content. The rest consists of visible matter, such as stars, planets, galaxies, and interstellar gas.

What is climate change?

Climate change refers to long-term shifts in weather patterns and global temperatures. It is largely driven by human activities, such as the burning of fossil fuels, deforestation, and industrial processes, which increase the concentration of greenhouse gases in the atmosphere.

How does vaccination work?

Vaccination involves introducing a weakened or inactivated form of a pathogen (such as a virus or bacteria) into the body to stimulate the immune system. This allows the immune system to build antibodies and memory cells, providing protection against future infections with the actual pathogen.
Make the best air fryer spicy sliced pork with our easy recipe. Spice up your kitchen tonight! Subscribe for more tasty recipes.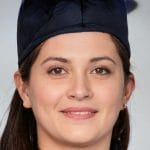 Hi! I'm Nazia of 'Nazia Cooks', a self-taught baker and cook residing in Chennai. Rooted in the rich South Indian culinary landscape, my palate has expanded to embrace global flavors. I revel in crafting fusion dishes, melding traditions to birth unique tastes.
Affiliate DisclaimerAbout The Content
As an affiliate, we may earn a commission from qualifying purchases. We get commissions for purchases made through links on this website from Amazon and other third parties.