Tomato tuna curry is a tasty Indian recipe that will satisfy your craving for spicy food. The main ingredient is canned tuna, which is readily available in our pantry. This simple dish has a slightly sweet flavor and is perfect with rotis or chappathis.
Tomato Tuna Curry Recipes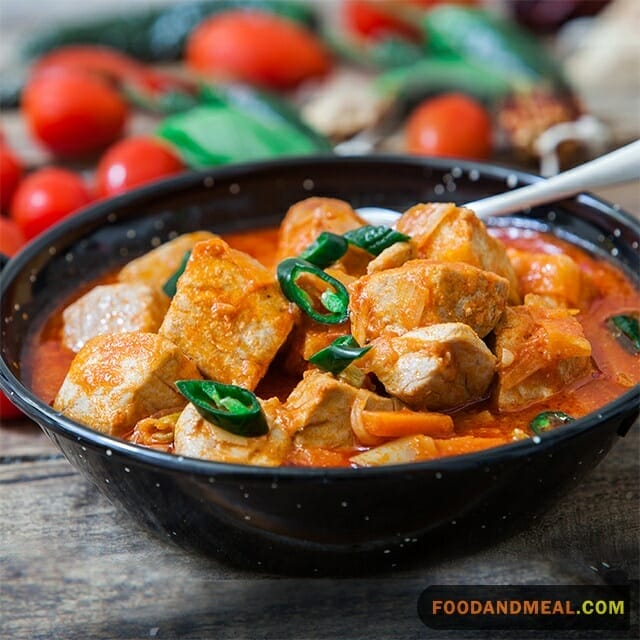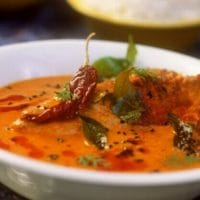 Tomato Tuna Curry
Tuna curry is a traditional Indian meal. It can be made in many different ways. There are many variations of this dish, so it's worth trying a few different types. One of the most common is to serve it with rice, but it can also be served with a Dosa or chapati. This dish is an excellent side dish for any occasion. If you're preparing it for the first time, try the ingredients below.
Print
Pin Recipe
Add to Collection
Go to Collections
Equipment
Instructions
Cut the tuna into medium chunks.

In a large pan, heat the mustard oil.

Add the onion and fry until it is golden.

Add 1 tbsp of water.

Add the turmeric, red chili powder, salt, ginger paste, and garlic paste.

Cook for 1 minute. Add the tomato and cook for 5 minutes.

Pour in the fish stock. Bring it to boil.

Add the fish, dried chili, curry leaves and cook for 8 minutes.

Serve hot.
Notes
Tomato tuna curry is a delicious, affordable, and healthy Indian dish. It's a great side dish for rice or bread and a great budget meal for a family or student. Tomato tuna curry is a delicious Indian dish that will be the perfect addition to any menu. Its rich taste and unique combination of spices make it a tasty and healthy dish. However, you can use it in other ways, too.
Share by Email
Share on Facebook
Share on Twitter
Nutrition
Serving:
1
serving
|
Calories:
321
kcal
|
Carbohydrates:
7
g
|
Protein:
42
g
|
Fat:
13
g
|
Saturated Fat:
3
g
|
Polyunsaturated Fat:
3
g
|
Monounsaturated Fat:
5
g
|
Cholesterol:
65
mg
|
Sodium:
273
mg
|
Potassium:
688
mg
|
Fiber:
2
g
|
Sugar:
3
g
|
Vitamin A:
4934
IU
|
Vitamin C:
307
mg
|
Calcium:
110
mg
|
Iron:
2
mg
© Food And Meal
This website provides approximate nutrition information for convenience and as a courtesy only. Nutrition data is gathered primarily from the Spoonacular Database, whenever available, or otherwise other online calculators.
Pin Recipe
Alternative Method: Slow Cooker Tomato Tuna Curry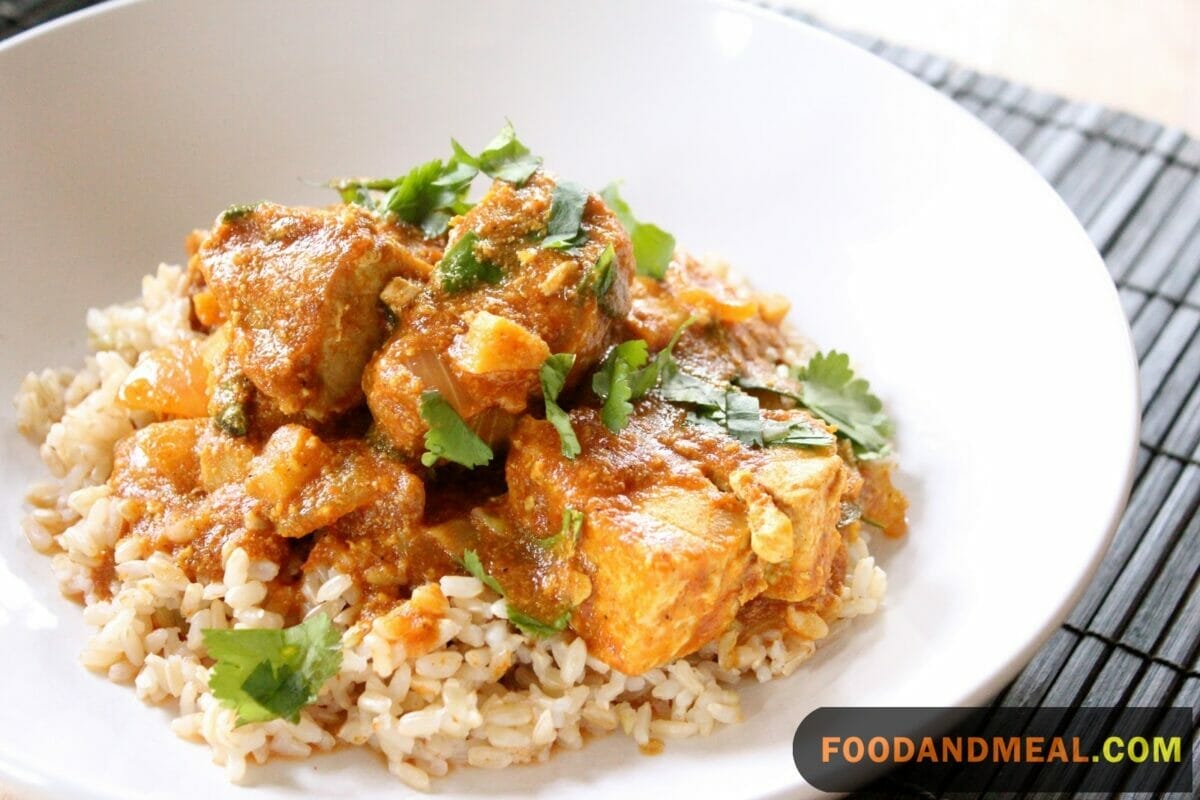 Ingredients:
1 lb (450g) tuna steaks, cut into chunks
2 large tomatoes, chopped
1 large onion, finely chopped
3 cloves garlic, minced
1-inch piece of ginger, grated
2-3 green chilies, slit
1/2 cup tomato sauce
1/2 cup plain yogurt
2 teaspoons curry powder
1 teaspoon ground cumin
1 teaspoon ground coriander
1/2 teaspoon turmeric
1/2 teaspoon paprika
Salt to taste
Fresh cilantro leaves, for garnish
2 tablespoons cooking oil
Instructions:
Sear the Tuna: Start by heating the cooking oil in a pan. When the oil is hot, add the tuna chunks and sear them until they are browned on the outside. This step adds depth of flavor to your curry.
Layer the Slow Cooker: Transfer the seared tuna to your slow cooker. On top of the tuna, add the chopped tomatoes, finely chopped onions, minced garlic, grated ginger, and slit green chilies.
Create the Sauce: In a mixing bowl, combine the tomato sauce, plain yogurt, curry powder, ground cumin, ground coriander, turmeric, paprika, and salt. Mix well to form a smooth, creamy sauce.
Pour the Sauce: Pour the sauce mixture over the ingredients in the slow cooker.
Slow Cook: Cover the slow cooker and set it to the low-temperature setting. Let the Tomato Tuna Curry simmer and meld its flavors for 4-6 hours. Slow cooking allows the tuna to become incredibly tender and the flavors to intensify.
Serve: Once the curry is ready, garnish it with fresh cilantro leaves. Serve the Tomato Tuna Curry hot over steamed rice or with your choice of naan or bread.
Tips for making Tomato Tuna Curry
Cooking Tips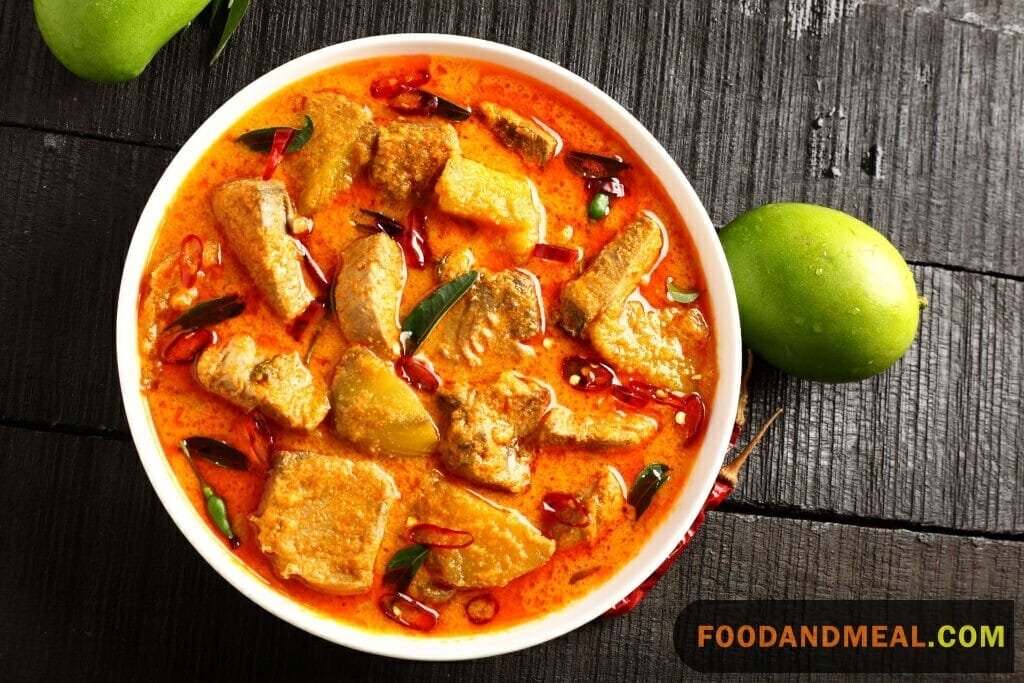 Use Fresh Tuna: Opt for fresh tuna steaks whenever possible. The freshness of the tuna will significantly impact the flavor and texture of your curry.
Sear the Tuna: Don't skip the step of searing the tuna before slow cooking. This adds a rich, caramelized flavor to the curry.
Slow and Steady Wins the Race: When using a slow cooker, low and slow is the key. Allow the flavors to meld by cooking on a low setting for several hours. Your patience will be rewarded with tender, flavorful tuna.
Balance the Heat: Adjust the number of green chilies to your desired level of spiciness. Removing the seeds can help reduce the heat while retaining the flavor.
Seasoning is Key: Taste your curry before serving and adjust the seasoning as needed. Sometimes, a pinch more salt or a dash of lemon juice can make all the difference.
Serving Suggestions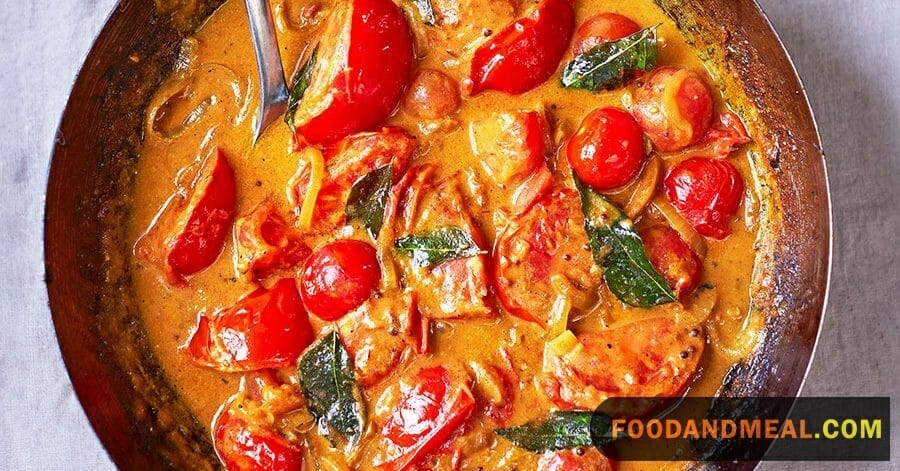 Steamed Basmati Rice: Serve the curry over a bed of fragrant steamed Basmati rice. The mild, fluffy rice complements the rich, spicy flavors of the curry perfectly.
Fresh Naan Bread: Warm, fluffy naan bread is excellent for scooping up every bit of the curry. It's great for those who prefer bread over rice.
Garnish with Fresh Herbs: A final touch of freshly chopped cilantro or mint leaves adds a burst of freshness to your curry.
Cucumber Raita: A side of cucumber raita, made with yogurt, cucumber, and a hint of mint, provides a cooling contrast to the spicy curry.
Lemon Wedges: Serve with lemon wedges for a zesty squeeze of citrus that brightens the flavors.
FAQs about Tomato Tuna Curry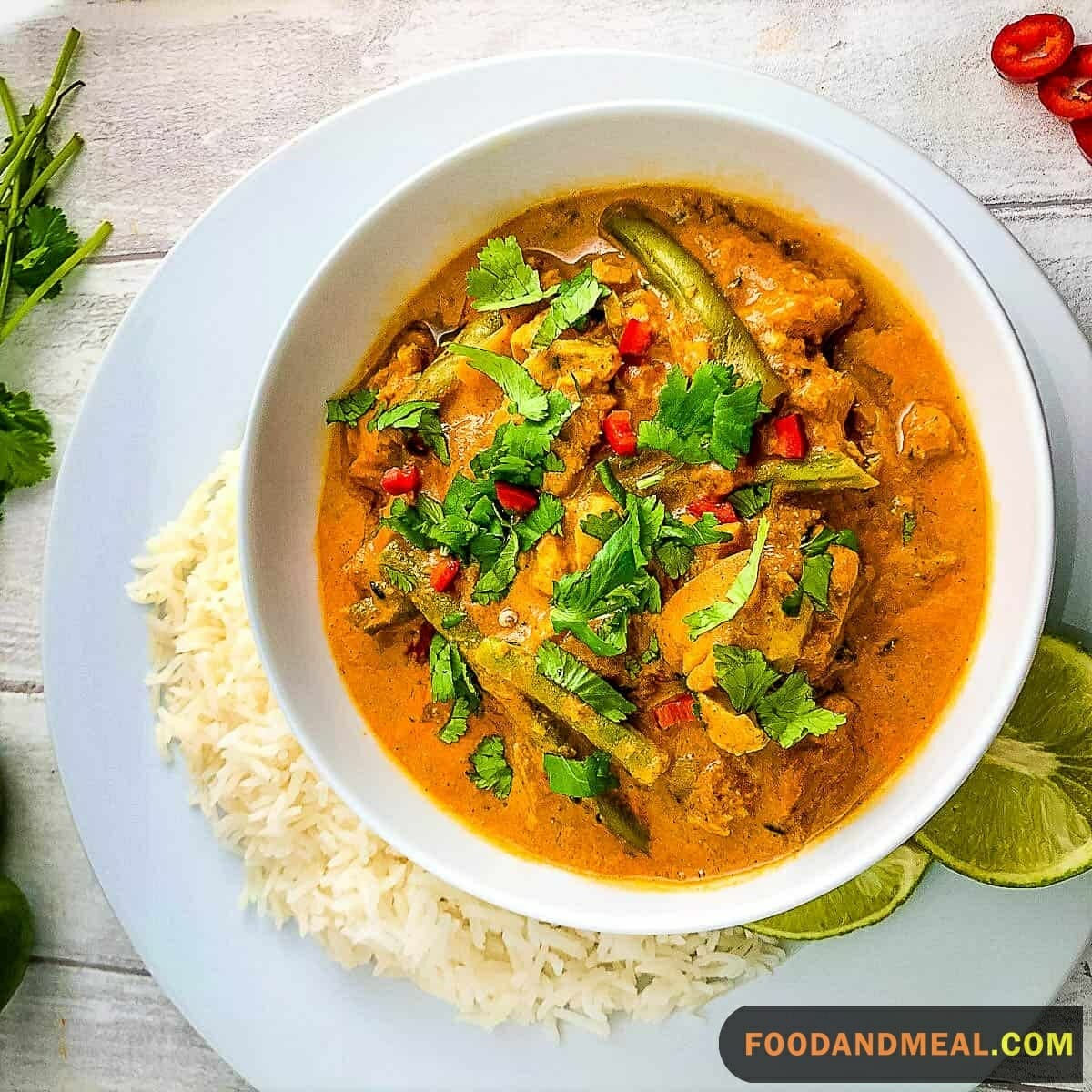 Can I use canned tuna for this recipe? While fresh tuna is recommended for the best results, you can use canned tuna as a convenient alternative. Just drain it before use.
Can I make this curry in advance? Absolutely! Tomato Tuna Curry often tastes even better the next day as the flavors continue to meld. Store it in an airtight container in the refrigerator.
How can I reduce the spiciness of the curry? To make the curry milder, reduce the number of green chilies or remove their seeds. You can also add a bit of yogurt to balance the heat.
What can I substitute for tuna if I'm not a fan of fish? Chicken or firm tofu can be excellent alternatives for a Tomato Chicken Curry or Tofu Tomato Curry, respectively.
Can I freeze the leftovers? Yes, you can freeze leftover Tomato Tuna Curry. Store it in an airtight container, and it should be good for up to three months. Simply thaw and reheat when you're ready to enjoy it again.
Indulge in the freshness of Mango Tuna Salad. Create a colorful, healthy, and delicious dish that's perfect for any occasion. Your tropical escape awaits.
I'm James F Anderson, a noted sous chef from London and a Le Cordon Bleu alumnus. My career began in a Michelin-starred Parisian eatery, where my blend of classic and contemporary cooking, using seasonal ingredients, earned accolades. Recognized in culinary publications and on cooking shows, I'm committed to mentoring aspiring chefs and delivering memorable dining experiences, marking me as a standout talent in the culinary world.
Affiliate DisclaimerAbout The Content
As an affiliate, we may earn a commission from qualifying purchases. We get commissions for purchases made through links on this website from Amazon and other third parties.