Every once in a while, a recipe comes along that's more than just a meal—it's a memory, an emotion, a story. Today, I'm sharing with you the cherished notes of my Shrimp Mushroom Hot Pot. Journey with me to the heart of Japan, right from your kitchen.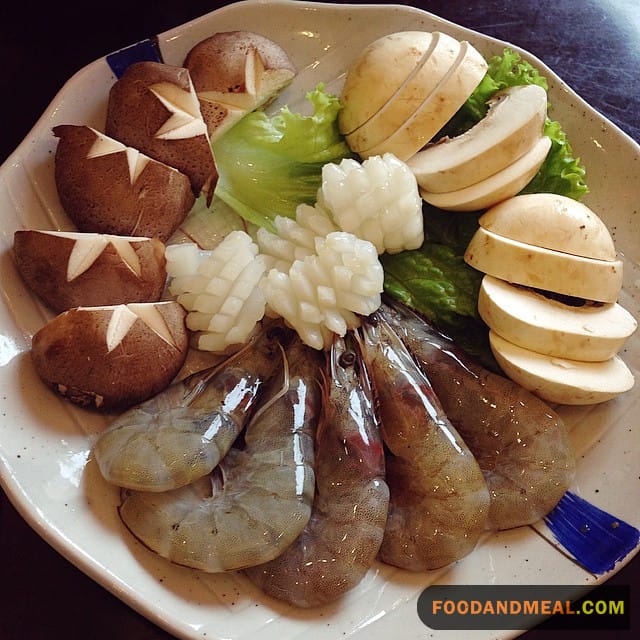 Japanese Shrimp Mushroom Hot Pot Recipe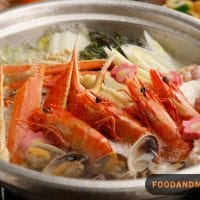 Japanese Shrimp Mushroom Hot Pot
A symphony of shrimp and mushrooms awaits in this heartwarming hot pot recipe. Crafted with love and years of culinary expertise, it's an invitation to experience flavors that resonate. Delighted? Share the joy and subscribe to our blog for more culinary treasures.
Print
Pin Recipe
Add to Collection
Go to Collections
Ingredients
Ingredient List:
4

ounces of sliced

cabbage, Nap

12

ounces of

fish balls

4

ounces of

tofu, firm

6

oz. of

thinly sliced chicken meat

4

ounces of

sliced mushrooms, shiitake

3

ounces of

sliced mushrooms, white

6

ounces of

deveined, shelled shrimp

4

ounces of

chunk-cut salmon fillet

3 1⁄2

ounces of

scallops

4

ounces of

sliced baby Bok choy
For the garlic oil
1

head of

peeled, minced garlic

5

tablespoons of

cooking oil
For the broth
1 x 32-ounce

container of

chicken stock

3

cups of

water, filtered

5

dashes of

WHITE pepper, ground

Condiments

Optional: chilies, cut
Instructions
Arrange fresh ingredients decoratively on plates.

Pour cooking oil in skillet. When hot, prepare garlic oil with minced garlic, till it turns JUST barely light brown. Turn heat off. Transfer garlic oil to small sized bowl. Allow to cool.

Add water, stock and white pepper to hot pot and bring to boil. Add Napa cabbage. Cook for a minute.

Add ingredients except chicken to hot pot. When soup boils, add garlic oil and stir till combined.

Give your family and friends chopsticks and allow them to cook the chicken cubes in the soup. Ladle ingredients and soup into the individual bowls. Serve with condiments.
Notes
A Little Broth Tip: Always start with cold water when preparing your broth. It helps extract flavors more effectively. Loving these tiny nuggets of wisdom? Share this recipe with friends and family and let's spread the joy of cooking!
Mushroom Magic: Opt for fresh Shiitake mushrooms for the best flavor. Their meaty texture elevates the hot pot. Enthralled by these insights? Subscribe to our blog and never miss out on exclusive tips and recipes!
Shrimp Selection: Fresh, pink, and firm—that's your go-to shrimp for this hot pot. Remember, quality ingredients lead to a quality dish. Found this useful? Share your Shrimp Mushroom Hot Pot experience and tag us! Don't forget to subscribe for more culinary adventures.
Share by Email
Share on Facebook
Share on Twitter
Nutrition
Calories:
240
kcal
|
Carbohydrates:
4
g
|
Protein:
13
g
|
Fat:
19
g
|
Saturated Fat:
2
g
|
Polyunsaturated Fat:
5
g
|
Monounsaturated Fat:
12
g
|
Trans Fat:
0.1
g
|
Cholesterol:
26
mg
|
Sodium:
429
mg
|
Potassium:
227
mg
|
Sugar:
0.1
g
|
Vitamin A:
3
IU
|
Vitamin C:
0.02
mg
|
Calcium:
7
mg
|
Iron:
0.4
mg
© Food And Meal
This website provides approximate nutrition information for convenience and as a courtesy only. Nutrition data is gathered primarily from the Spoonacular Database, whenever available, or otherwise other online calculators.
Pin Recipe
Pressure Cooker Shrimp Mushroom Hot Pot Method
Ingredients: Same as the traditional Shrimp Mushroom Hot Pot.
Method:
Preparation: Clean and devein the shrimp, leaving the tails intact for presentation. Slice the mushrooms thinly, ensuring they're of uniform size for even cooking.
Sauté: Set your pressure cooker to the sauté setting. Add a splash of sesame oil. Once hot, toss in your sliced mushrooms. Sauté until they begin to release their natural juices.
Layering: Add your shrimp on top of the mushrooms. Sprinkle with a pinch of salt and pepper or any desired seasoning.
Broth Time: Pour your broth over the shrimp and mushrooms, ensuring they are completely submerged. If you have kombu or dried seaweed, you can add it at this stage for additional depth of flavor.
Pressure Cooking: Secure the lid of your pressure cooker. Set it to high pressure and cook for 10 minutes. This duration allows the shrimp to be perfectly tender and the mushrooms to imbibe the broth's flavor.
Release: Once the cooking time is up, perform a quick release of the pressure. This prevents overcooking of the shrimp and keeps the mushrooms from becoming too mushy.
Finishing Touches: Once the pressure is fully released, open the lid. Stir in your thinly sliced green onions, tofu cubes, or any other preferred ingredients. Allow them to sit in the hot broth for a few minutes to absorb the flavors.
Serve and Savor: Pour your Shrimp Mushroom Hot Pot into individual bowls. Serve immediately, garnishing with fresh herbs or a sprinkle of sesame seeds if desired.
Cooking Tips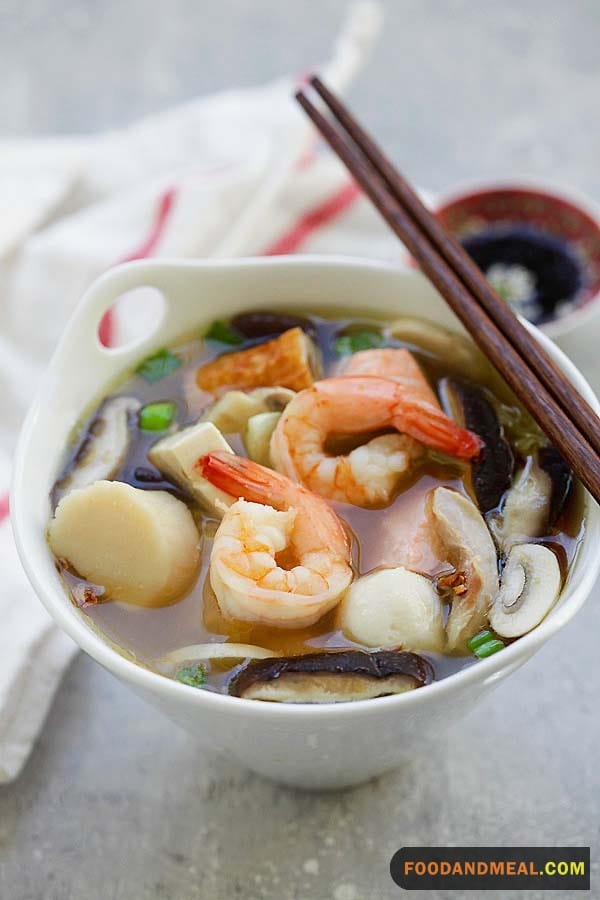 Shrimp Size Matters: Opt for medium to large shrimps. They remain juicy and succulent under pressure and won't disintegrate like their smaller counterparts.
Mushroom Magic: Using a mix of mushroom varieties (shiitake, enoki, oyster) not only adds depth in flavor but also gives a beautiful texture contrast.
Seasoning Sensation: Always season in layers. Season the mushrooms while sautéing and the shrimp before adding the broth. This ensures every ingredient sings its flavorful note.
Watch the Pressure: While pressure cooking saves time, overcooking can turn shrimp rubbery. Stick to the 10-minute mark for that perfect texture.
Freshness First: Always ensure your seafood is fresh. The hot pot's flavor largely depends on the quality of the shrimp.
Serving Suggestions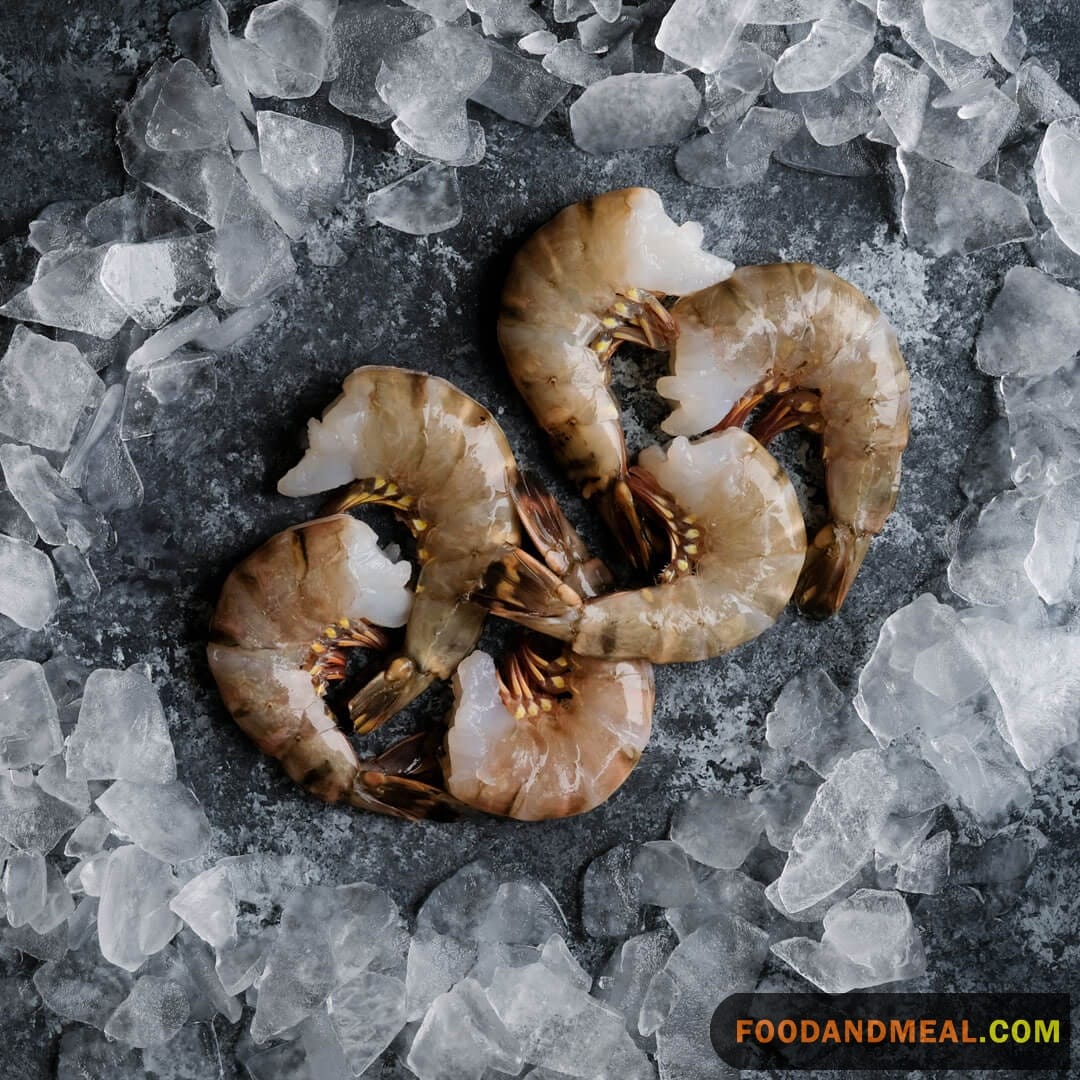 Occasion: This hot pot makes for an exquisite centerpiece at dinner parties or family gatherings. The communal nature of hot pot brings everyone together, making conversations flow effortlessly.
Audience: Impress seafood lovers and mushroom enthusiasts alike. The delicate flavors cater to both adults and children, making it versatile for all age groups.
Complementary Sides: Consider cold soba noodles or a refreshing cucumber salad with a light soy dressing. These dishes provide a cooling contrast to the hearty hot pot.
Beverages: A crisp sake or a light green tea complements the flavors of the shrimp and mushroom, making every sip and bite harmonious.
Presentation: Serve the hot pot in individual bowls or go traditional with a communal pot in the center. Use ceramic ladles and offer a variety of dipping sauces on the side like ponzu or a spicy sesame oil blend.
5 FAQs of Shrimp Mushroom Hot Pot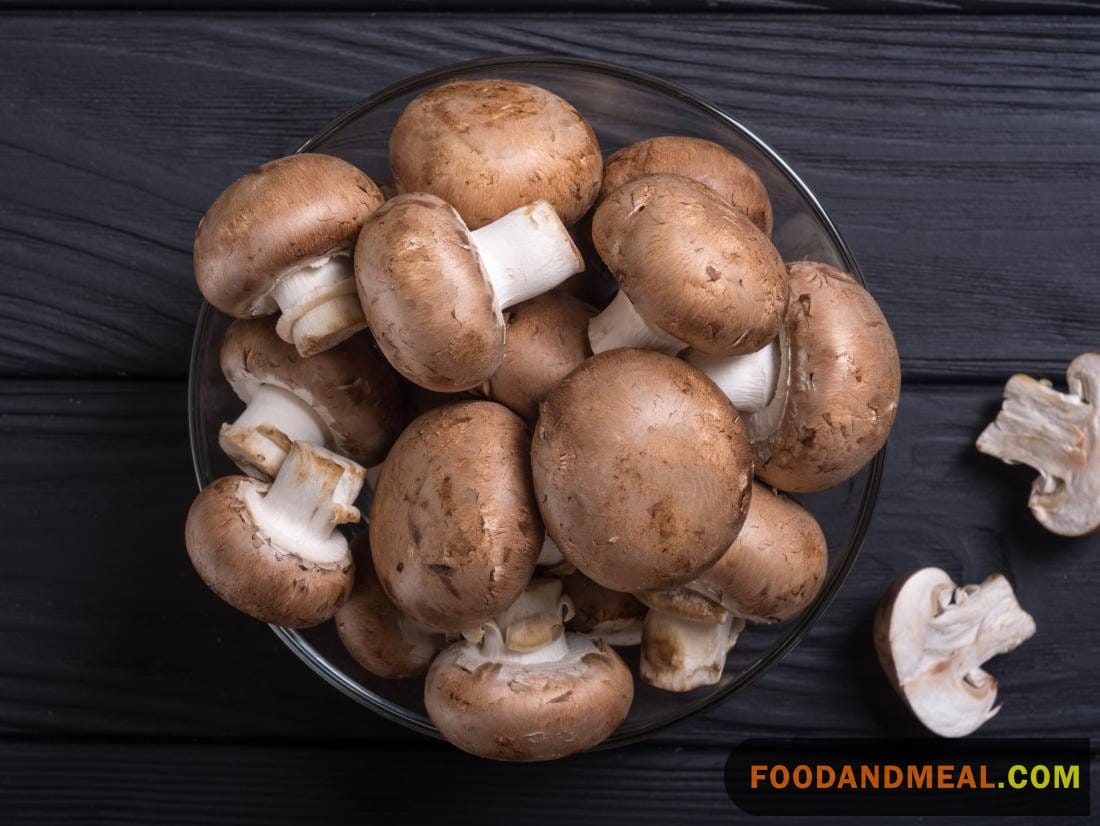 Can I use frozen shrimp for the hot pot? Absolutely! Just ensure you thaw them properly before use. Running them under cold water or leaving them in the fridge overnight is ideal.
How spicy is this hot pot? The base recipe is mild, but you can amp up the heat with red chili flakes or a splash of spicy sesame oil.
What other seafood can be added? Feel free to incorporate thinly sliced fish, scallops, or even squid rings. The beauty of hot pot is its versatility.
Is it essential to use a mix of mushrooms? Not necessarily. While a mix offers varied textures and flavors, you can stick to one type if preferred.
How do I store leftovers? Let the hot pot cool to room temperature. Transfer to an airtight container and refrigerate. Consume within 2 days for optimal freshness.
A Japanese culinary gem, our Shrimp Mushroom Hot Pot promises warmth and flavor in every spoonful. Try, taste, and treasure!
Affiliate DisclaimerAbout The Author
As an affiliate, we may earn a commission from qualifying purchases. We get commissions for purchases made through links on this website from Amazon and other third parties.