Have you ever wanted to bring a slice of Japan right into your kitchen? With the chilly winds approaching, it's the perfect time to dive deep into one of Japan's most beloved dishes – the Yosenabe Hot Pot. Crafted with love and years of culinary expertise, I present to you a recipe that will make you the talk of every dinner party!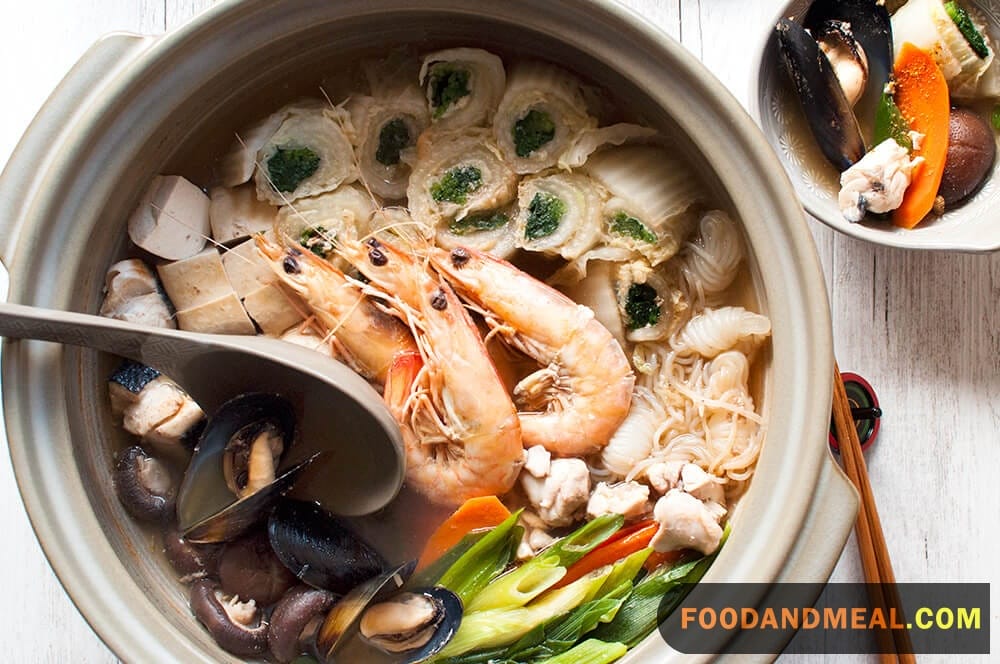 Japanese Yosenabe Hot Pot Recipe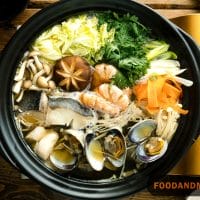 Yosenabe Hot Pot
Dive deep into the heartwarming world of Japanese Yosenabe Hot Pot. From ingredients to presentation, embrace this culinary gem. Loved what you've learned? Share this recipe with friends and subscribe to the blog for more delectable dishes!
Print
Add to Collection
Go to Collections
Equipment

Ingredients
Ingredient List:
1

pound

of fish fillet, white

1/2

pound

of chicken, boneless

8

clams, fresh

8

peeled, de-veined shrimp, large

8

mushrooms, button, white

2

oz.

of noodles, harusame (clear filament)

5

oz.

of spinach with ends trimmed

6

cabbage leaves, large
Instructions
Cut x's at tops of mushrooms.

Dice chicken and fish into small squares.

Soak the clams in lightly salted, filtered water for five or six hours. Remove and rinse well.

Boil the spinach and cabbage lightly.

Place three leaves of cabbage on sushi mat. Place spinach inside. Roll.

Cut rolls into pieces of about 1 1⁄2" each.

Put sake, mirin, soy sauce and dashi in pot. Bring it to boil. Cook vegetables till they are tender.

Move hot pot to table over fondue type burner. Have your guests use skewers or chopsticks to cook chicken and fish in hot pot, then use ponzu dipping sauce, if they like. Ladle some soup and veggies in their individual bowls, too.
Notes
Ingredient Flexibility: The beauty of the Yosenabe Hot Pot is its versatility. You can easily substitute some ingredients based on availability or preference. Just ensure you don't compromise on the broth's quality. It's the soul of the dish! Enjoyed the recipe? Share the love by posting your rendition on social media. And for more such authentic recipes, do subscribe!
Cookware Matters: Traditional Japanese clay pots (donabe) are ideal for this recipe. They retain heat and add a rustic charm to the dish. If you don't have one, a deep skillet works too. Did this recipe warm your heart? Share your Yosenabe moments with our community. Don't forget to subscribe for more culinary adventures!
Serve Immediately: The essence of Yosenabe is in its warmth. Serve immediately after cooking to relish its true flavors. Perfect for family gatherings or a serene evening alone. Fell in love with Yosenabe? Spread the joy by sharing it with friends and family. Stay tuned and subscribe for more such delectable journeys!
Share by Email
Share on Facebook
Share on Twitter
Nutrition
Calories:
1000
kcal
|
Carbohydrates:
108
g
|
Protein:
605
g
|
Fat:
240
g
© Food And Meal
This website provides approximate nutrition information for convenience and as a courtesy only. Nutrition data is gathered primarily from the Spoonacular Database, whenever available, or otherwise other online calculators.
Alternative Method: Yosenabe Hot Pot using a Slow Cooker
Method:
Preparation: Start by prepping all your ingredients, just as you would for the traditional method. Slice the meats thinly, chop the vegetables, and keep the tofu and other delicate ingredients aside.
Layering: Begin with placing the sturdier vegetables at the bottom of the slow cooker. This includes ingredients like carrots and radishes. Next, add in your choice of proteins – chicken, seafood, or beef.
Broth Time: In a separate bowl, combine your soy sauce, sake, mirin, and dashi. Give it a gentle stir and pour this mix over the ingredients in the slow cooker.
Set and Simmer: Cover the slow cooker with its lid. Set it on a low setting and let it simmer for about 4-5 hours. The slow cooking process ensures that all ingredients meld beautifully, letting each ingredient speak while harmonizing into a symphonic flavor.
Final Touch: About 30 minutes before you're ready to serve, add in the more delicate ingredients like tofu, green onions, and mushrooms. They don't require as much cooking and this ensures they retain their texture.
Serve and Enjoy: Once done, carefully ladle out the hot pot into serving bowls. Serve with steamed rice or noodles on the side.
Yosenabe Cooking Tips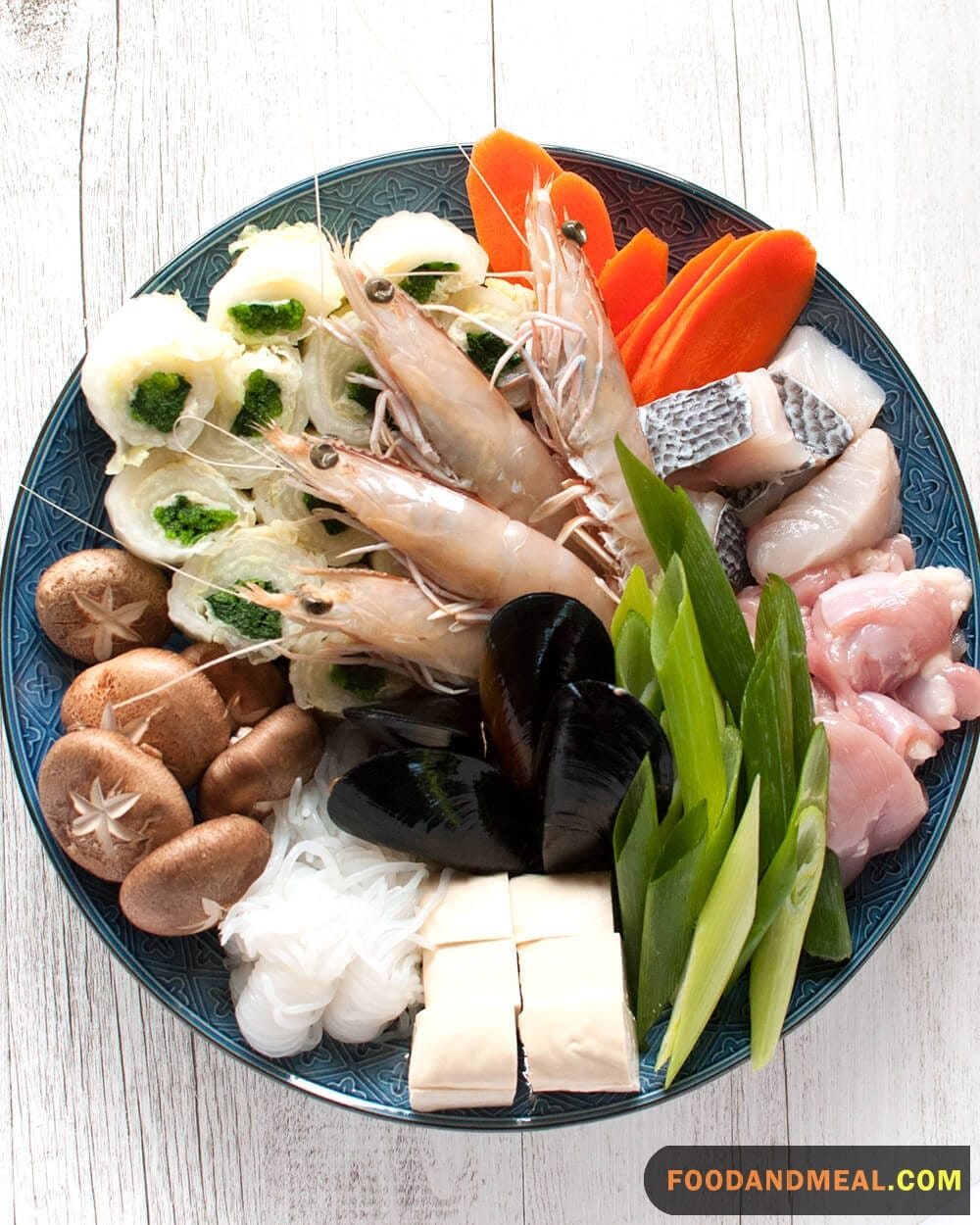 Quality Over Quantity: Invest in high-quality, fresh ingredients. Freshness plays a pivotal role in the end taste of the dish.
Dashi Stock: While it's tempting to opt for quick dashi stock powders, nothing beats the taste of homemade dashi. It's the backbone of your hot pot!
Simmer, Don't Boil: Yosenabe is about slow-cooking and letting the ingredients speak. Boiling on high heat can make meats tough and overcook the veggies.
Order of Ingredients: Add ingredients based on their cooking times. Root veggies take longer than leafy greens. Add delicate ingredients like tofu last to retain their structure.
Taste and Adjust: As the pot simmers, taste the broth periodically and adjust seasonings if needed.
Serving Suggestions for Yosenabe Hot Pot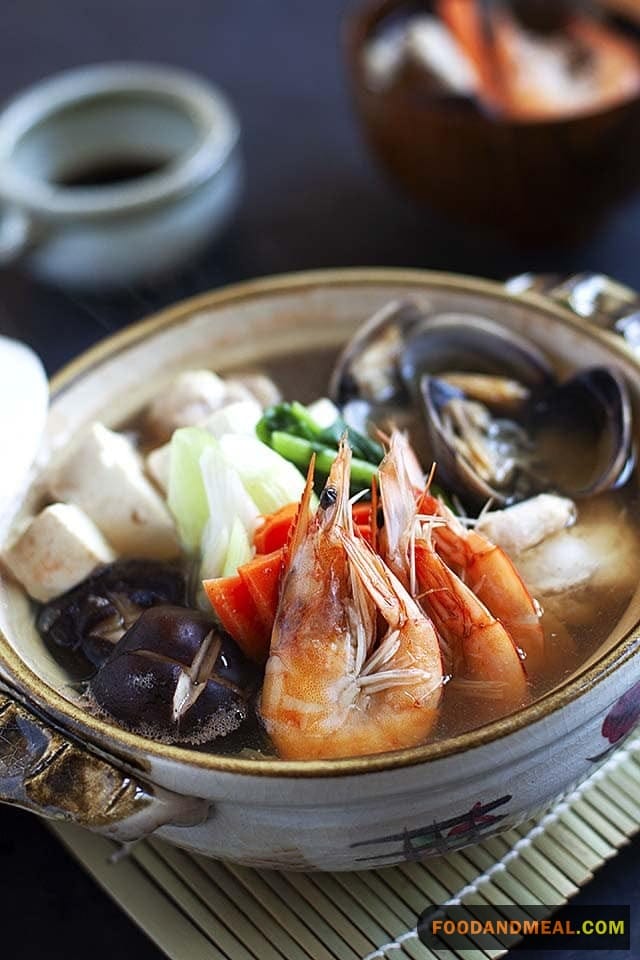 Embracing the delicate and harmonious flavors of Yosenabe Hot Pot isn't just about the cooking—it's also about the presentation and pairing. Here's how you can take this comforting dish to the next level:
Occasions: Yosenabe is best suited for those cold evenings when you want to huddle around a warm pot with friends or family. It's also a great choice for celebrations or gatherings where a communal dish can become the star of the evening.
Audience: This versatile dish appeals to both meat lovers and vegetarians alike. For a vegetarian version, simply skip the meat and increase the assortment of veggies and tofu.
Sides: While Yosenabe is hearty on its own, pairing it with steamed white rice or udon noodles can enhance the dining experience. A side of pickled vegetables or a light salad with a citrusy dressing can also balance the flavors.
Beverages: Sake is a natural choice here. However, for those preferring non-alcoholic options, try cold barley tea or a gentle green tea.
Presentation: Serving Yosenabe in individual bowls topped with finely sliced green onions and a sprinkle of sesame seeds can elevate the visual appeal.
FAQs on Yosenabe Hot Pot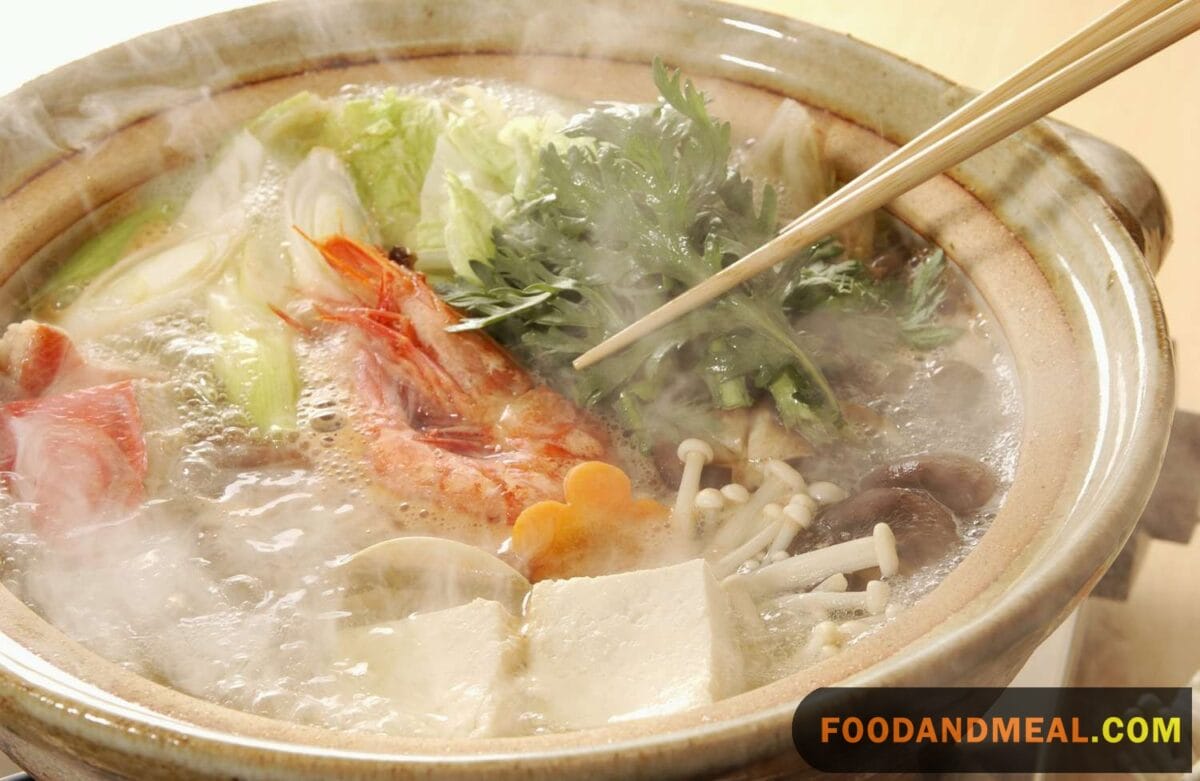 Can I use any other protein instead of the ones listed?
Absolutely! Yosenabe is versatile. While traditional proteins include chicken, fish, or tofu, you can always add or replace with ones you prefer. Pork, shrimp, or even plant-based proteins work well.
What if I can't find dashi stock or ingredients for it?
While dashi provides a unique flavor, in a pinch, you can use a mild chicken or vegetable broth. There are also dashi stock powders available which, while not as authentic, can do the trick.
Is there a vegetarian version of Yosenabe?
Certainly! Skip the meats and load up on a variety of veggies, mushrooms, and tofu. Use a kombu-based dashi to keep it vegetarian.
How do I store leftovers?
Cool the Yosenabe to room temperature and transfer to airtight containers. It can be refrigerated for up to 3 days. When reheating, do so over gentle heat, and add some fresh greens or tofu to rejuvenate it.
Can I freeze Yosenabe Hot Pot?
While it's best enjoyed fresh, you can freeze Yosenabe, excluding ingredients like tofu that might change texture. Thaw in the refrigerator and reheat gently on the stove.
Unveil the mystique of Japanese Yosenabe Hot Pot with our easy-to-follow guide. Dive in, savor, and embark on a culinary journey today!
Affiliate DisclaimerAbout The Author
As an affiliate, we may earn a commission from qualifying purchases. We get commissions for purchases made through links on this website from Amazon and other third parties.