Hello, fellow food lovers! It's JaimeInez from Food and Meal, back with another culinary adventure. Today, we're heading to the historic city of Vigan in the Philippines to explore a local favorite – Vigan Bagnet.
Picture this: you're walking down the cobblestone streets of Vigan, surrounded by centuries-old Spanish colonial houses. You stop at a local eatery, drawn in by the tantalizing aroma wafting from the kitchen. As you sit down, a plate is placed before you, piled high with golden, crispy pork that instantly makes your mouth water. This is Vigan's Bagnet, a dish that perfectly encapsulates the rich culinary heritage of the Ilocanos.
Vigan Bagnet Recipe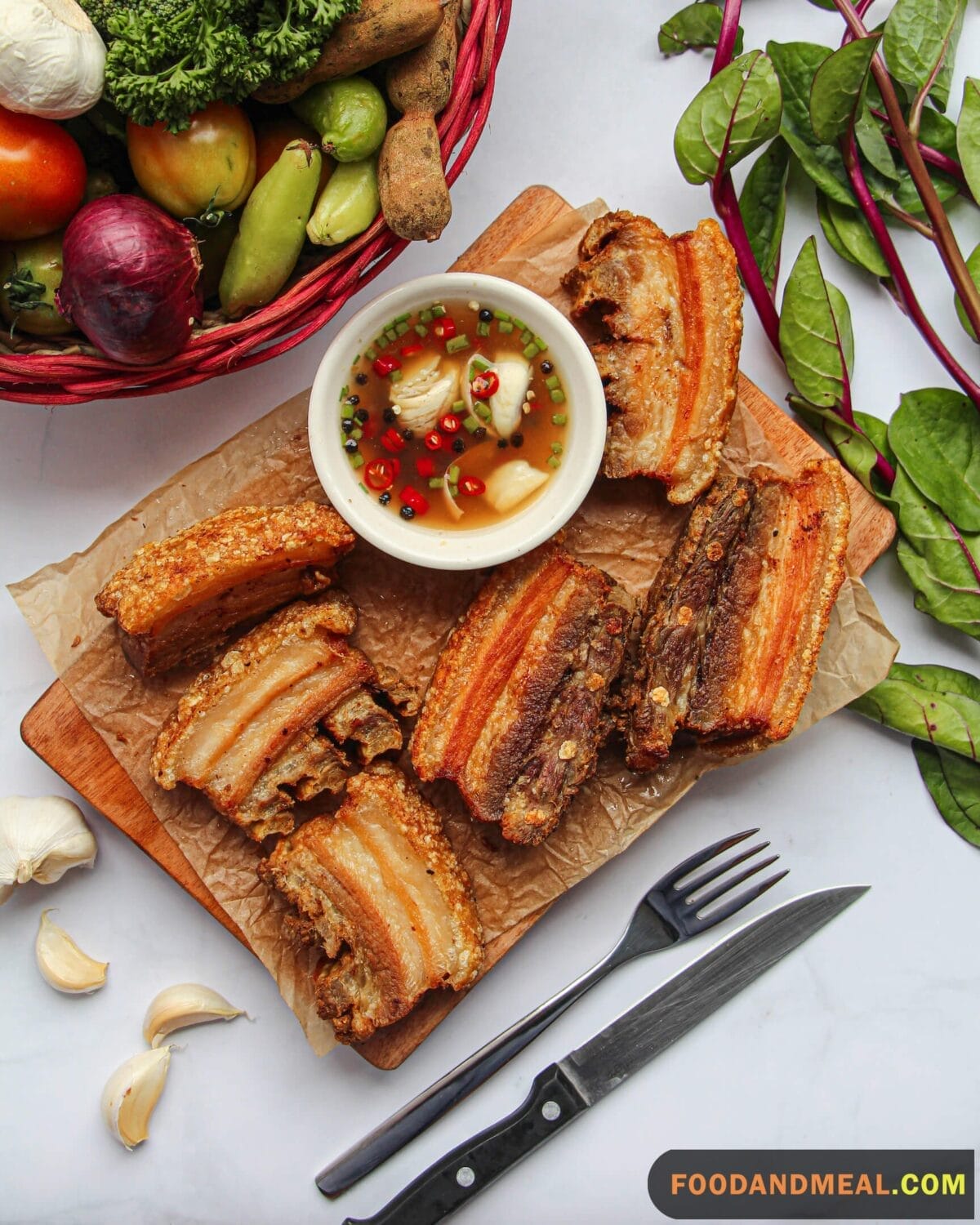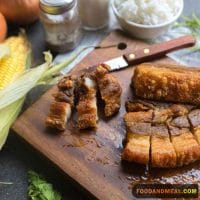 Vigan's Bagnet
Vigan Town Fiesta of Vigan, Ilocos Sur (Januray 25). Vigan and its cultural heritage is one of the biggest tourist draws of the Philippines. Through this festival, which is held in honor of the town's patron saint Saint Paul the Apostle, Vigan is able to showcase its beauty and of course, its food.
Print
Add to Collection
Go to Collections
Equipment
Instructions
Place pork belly and water in a pot. Boil over medium fire.

Stir in garlic, onions, salt, and peppercorns. Simmer for about half an hour or until the meat is tender.

Transfer meat in a wire rack and allow to cool and drain.

When the meat is cool enough to handle, rub some salt all over. Let it sit for another 15 minutes.

Heat oil in a pan or deep fryer over medium fire.

Gently put the belly onto oil and fry until crispy and golden brown.

Place fried belly in a paper towel lined plate and set aside to cool.

Once the meat has cooled down completely, heat up the oil again and fry it one more time for about 10 more minutes.

Allow excess oils to drain on paper towels, then, slice and serve with your preferred dip.
Notes
It is no secret how Filipinos have such a knack for greasy, crispy pork (think
lechon and Chicharrón or pork cracklings). Bagnet is borne out of their love
affair with pork. It's a traditional cooking technique in the Ilocos region,
which ensures that fried pork is nothing but ordinary. The process of cooking
the meat twice helps double the crispiness. That unique character of this dish
makes it a certified favorite not just in northern Philippines but in the rest of
the country as well. This is a staple in buffet spreads and pasalubong bags as
well.
Share by Email
Share on Facebook
Share on Twitter
Nutrition
Calories:
749
kcal
|
Carbohydrates:
2
g
|
Protein:
0.3
g
|
Fat:
84
g
|
Saturated Fat:
6
g
|
Polyunsaturated Fat:
24
g
|
Monounsaturated Fat:
53
g
|
Trans Fat:
0.3
g
|
Sodium:
1318
mg
|
Potassium:
26
mg
|
Fiber:
0.4
g
|
Sugar:
0.04
g
|
Vitamin A:
7
IU
|
Vitamin C:
1
mg
|
Calcium:
16
mg
|
Iron:
0.2
mg
© Food And Meal
This website provides approximate nutrition information for convenience and as a courtesy only. Nutrition data is gathered primarily from the Spoonacular Database, whenever available, or otherwise other online calculators.
Cooking Vigan's Bagnet with an Air Fryer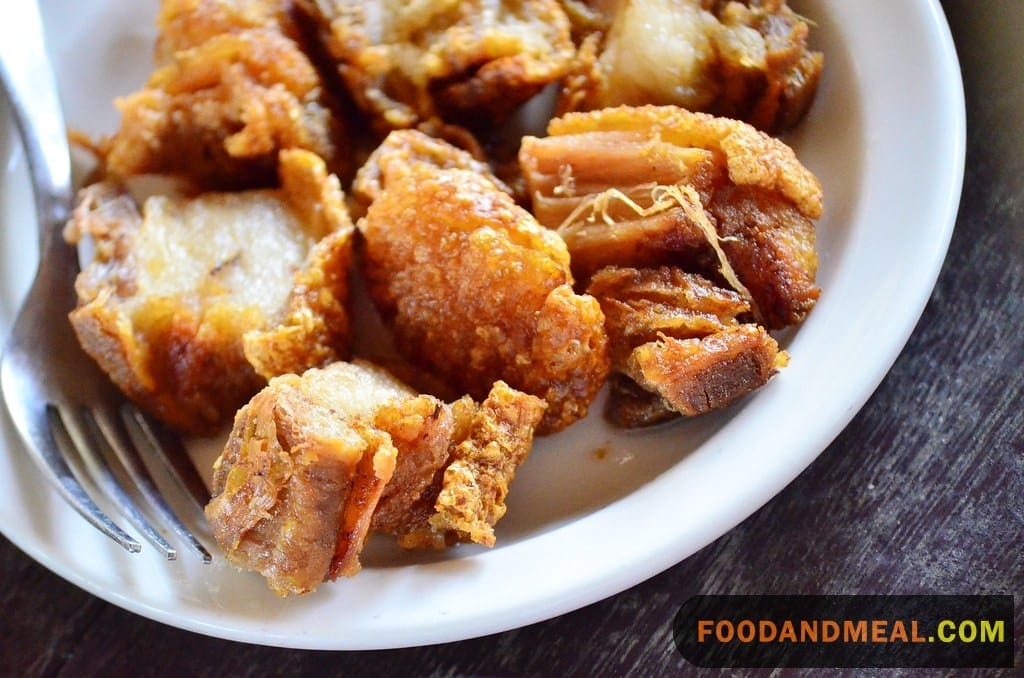 If you're a fan of convenience and healthier cooking methods like me, you'll be happy to know that you can cook Vigan's Bagnet using an air fryer.
Prepare Your Pork Belly Start by boiling your pork belly with salt and peppercorns until it's tender.
Air Fry to Crispy Perfection Next, pat dry the boiled pork belly and place it in your air fryer. Set the temperature to 180°C and cook for about 30 minutes or until it's golden and crispy.
Serve and Enjoy! Serve your Bagnet with your choice of side and enjoy the crispy goodness of this Ilocano classic.
Cooking Vigan's Bagnet in an air fryer not only makes the process easier but also results in a less oily but still deliciously crispy Bagnet. It's a great example of how traditional dishes can adapt to modern cooking methods. So go ahead, give it a try!
Tips for making Vigan Bagnet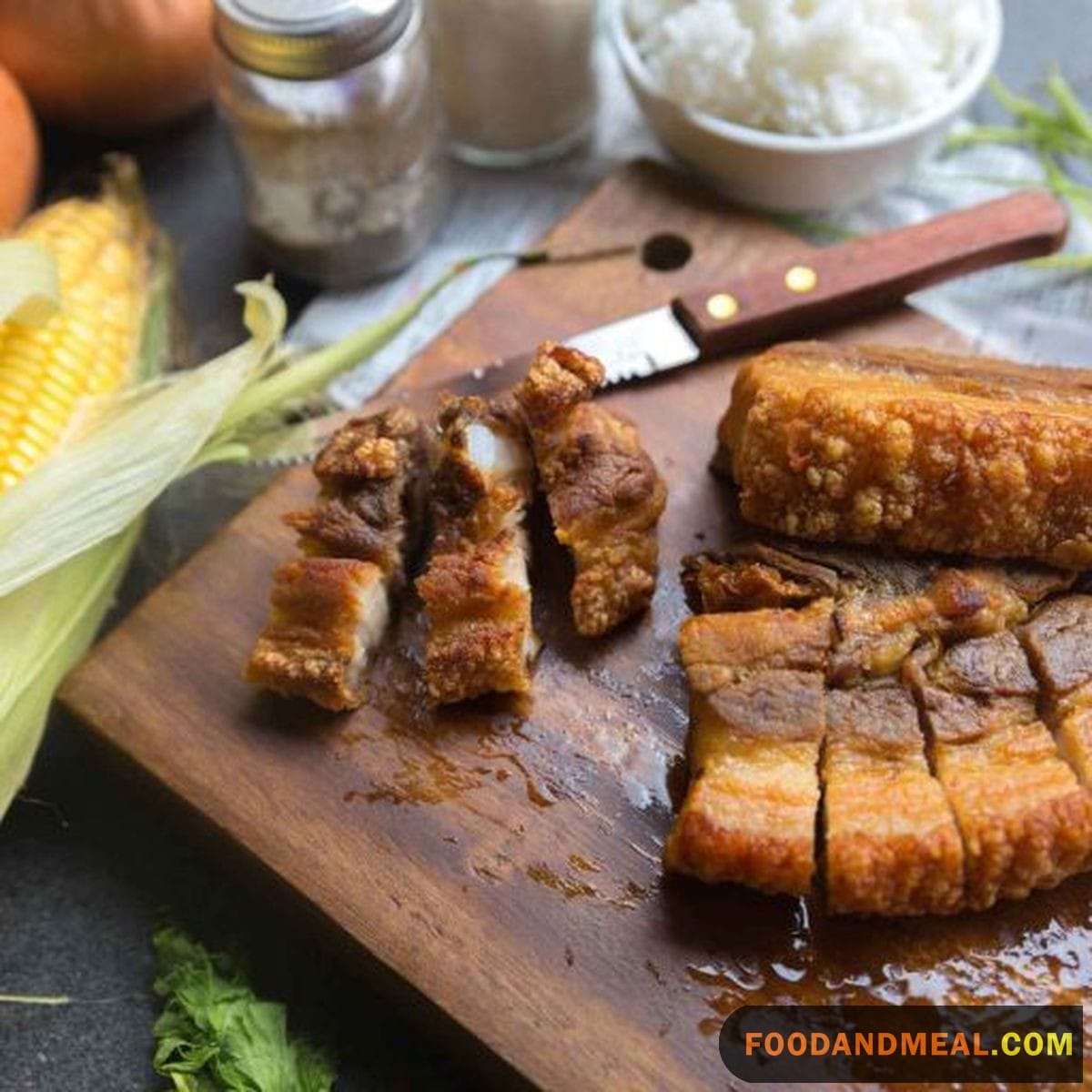 Bagnet is more than just a dish; it's a celebration of Vigan's culture and traditions. It's a slab of pork belly, boiled and deep-fried to perfection until it achieves a delightful crunch on the outside while remaining tender and juicy on the inside. It's the kind of meal that satisfies not just your hunger, but also your soul.
Cooking Tips for Vigan Bagnet
Choose Quality Pork
When preparing Bagnet, always opt for quality pork belly. The better the quality, the tastier your Bagnet will be.
Don't Rush the Frying Process
Bagnet is known for its crispy exterior. To achieve this, make sure to fry the pork belly on medium heat to allow it to cook evenly without burning.
Let it Rest
After frying, let your Bagnet rest for a few minutes. This allows the juices to redistribute, making your Bagnet even more flavorful.
Serving Suggestions for Vigan Bagnet
Bagnet is traditionally served with a side of tomato, mango, and bagoong (fermented shrimp paste) salad. But if you're like me and love to experiment, try serving it with a tangy atchara (pickled papaya) or a spicy vinegar dip. And for a truly Ilocano experience, pair it with a bowl of pinakbet!
FAQs about Vigan Bagnet
Can I use other parts of pork for Bagnet? Yes, you can! But pork belly is the traditional choice because of its perfect fat-to-meat ratio.
What can I use if I don't have an air fryer? You can still deep-fry your Bagnet in a regular pot. Just make sure to use enough oil to cover the pork belly.
Can I prepare Bagnet ahead of time? Absolutely! You can boil the pork belly a day before and store it in the fridge. Just make sure to bring it to room temperature before frying.
How long does Bagnet last in the fridge? When stored properly, it can last for up to 3-4 days.
Can I freeze Bagnet? Yes, you can freeze it for up to 3 months. Just make sure to cool it completely before freezing.
So there you have it – Vigan's Bagnet, a dish that offers a crispy taste of Ilocano heritage. Give it a try and let me know how it turns out. Happy cooking!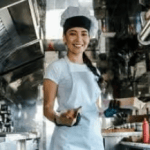 Cooking Like A Pro
Author Name : Jaime Inez
Address: Times Street, West Triangle, 1103, Quezon City, Metro Manila, Philippines
Phone:  96-2-4108596
Email: Contact@cookinglikeapro.net
Affiliate DisclaimerAbout The Content
As an affiliate, we may earn a commission from qualifying purchases. We get commissions for purchases made through links on this website from Amazon and other third parties.