Hello there, Elaina here! I'm delighted to welcome you back to Food and Meal, where we explore the world of culinary delights from my sweet little city, Winnipeg, nestled in the heart of the Canadian prairies. Today, I'm excited to share with you my recent culinary adventure with a classic dish – Grilled Chicken Breast Rosemary. This journey has been nothing short of amazing, and I can't wait to dive into the details with you. So, let's embark on this gastronomic exploration together, showcasing the simplicity and elegance of Canadian cuisine!
Grilled Chicken Breast Rosemary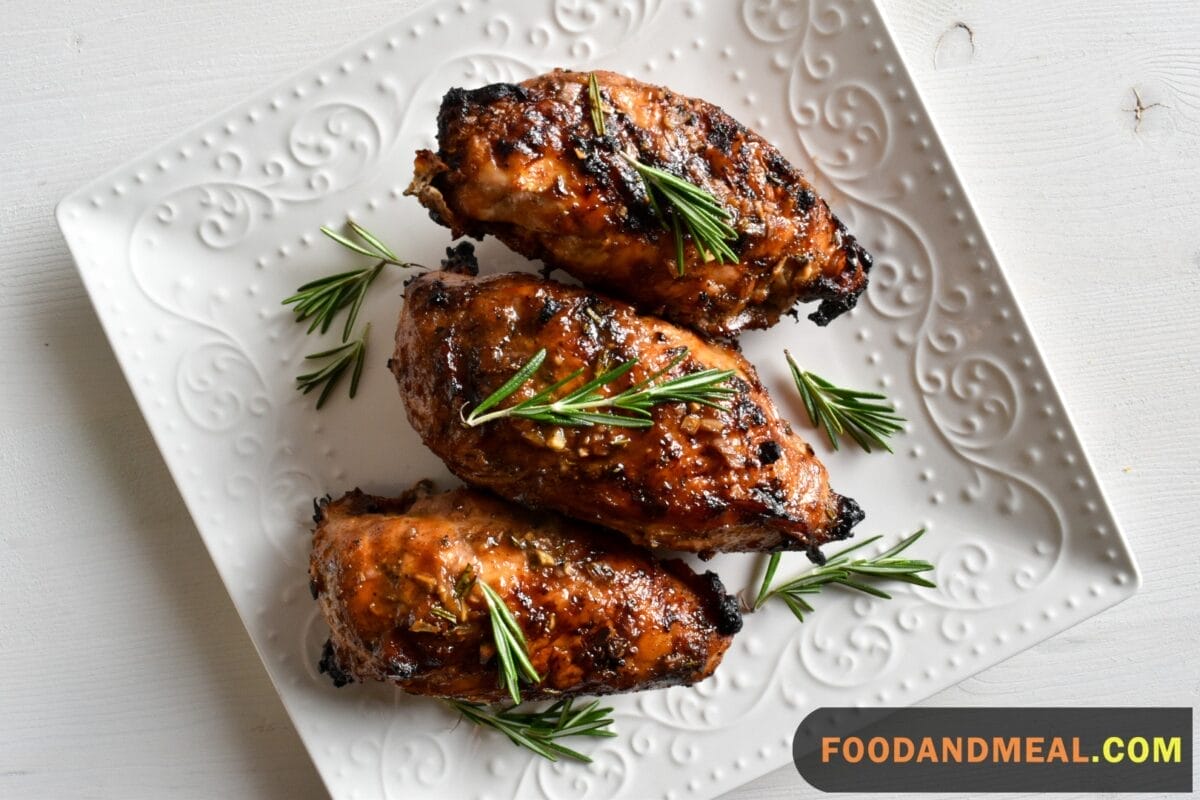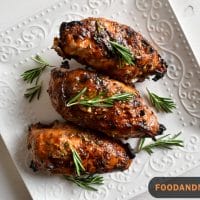 Instructions
Preheat your grill to high.

In a mixing bowl, combine your coriander, rosemary, garlic, and oil. Brush mixture on to all sides of chicken breasts. Season with salt and pepper to taste.

Grill for about 7-minutes on each side or until chicken is cooked through.

Transfer the chicken breasts onto individual plates and sprinkle with fresh chopped rosemary. Serve with your choice of steamed vegetables.

Serve and Enjoy!
Share by Email
Share on Facebook
Share on Twitter
Nutrition
Calories:
235
kcal
|
Carbohydrates:
0.8
g
|
Protein:
33
g
|
Fat:
10.5
g
© Food And Meal
This website provides approximate nutrition information for convenience and as a courtesy only. Nutrition data is gathered primarily from the Spoonacular Database, whenever available, or otherwise other online calculators.
About Grilled Chicken Breast Rosemary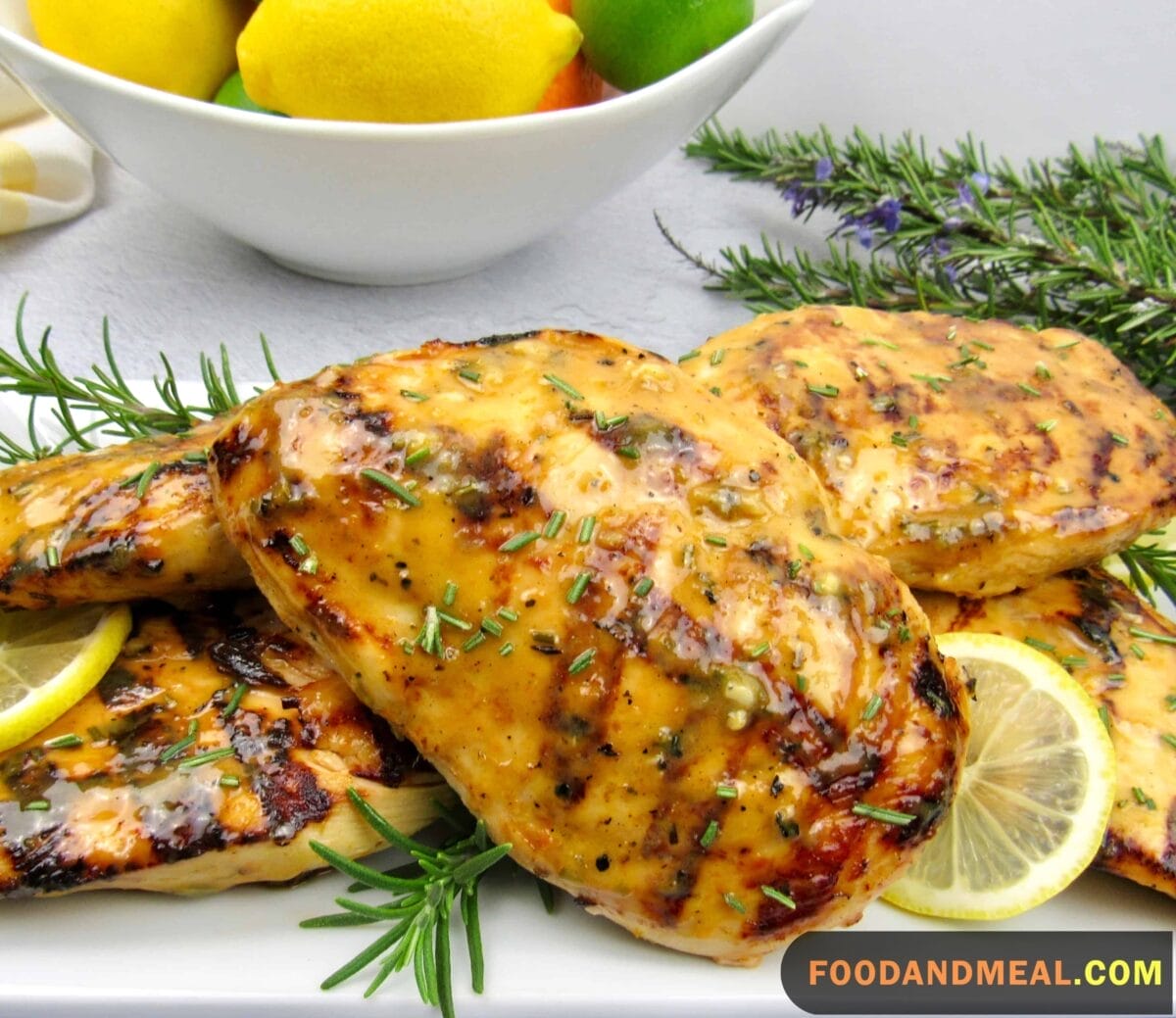 Grilled Chicken Breast & Rosemary is a classic dish that's popular across many cultures, including Canadian cuisine. This dish features chicken breast that has been marinated with rosemary and other seasonings, then grilled to perfection. The result is a tender, juicy, and aromatic dish that truly embodies the simplicity and elegance of home cooking.
Cooking Tips for Grilled Chicken Breast Rosemary
Quality of Ingredients: Always opt for fresh chicken breast and high-quality rosemary. The quality of your ingredients can significantly impact the taste of your dish.
Marination Process: Properly marinate the chicken breast to ensure it absorbs all the flavors. A few hours or even overnight marination would be ideal.
Grilling Technique: Grill the chicken breast over medium heat to ensure it cooks evenly without burning. The internal temperature should reach 165°F (74°C) to ensure it's fully cooked.
Serving Suggestions for Grilled Chicken Breast Rosemary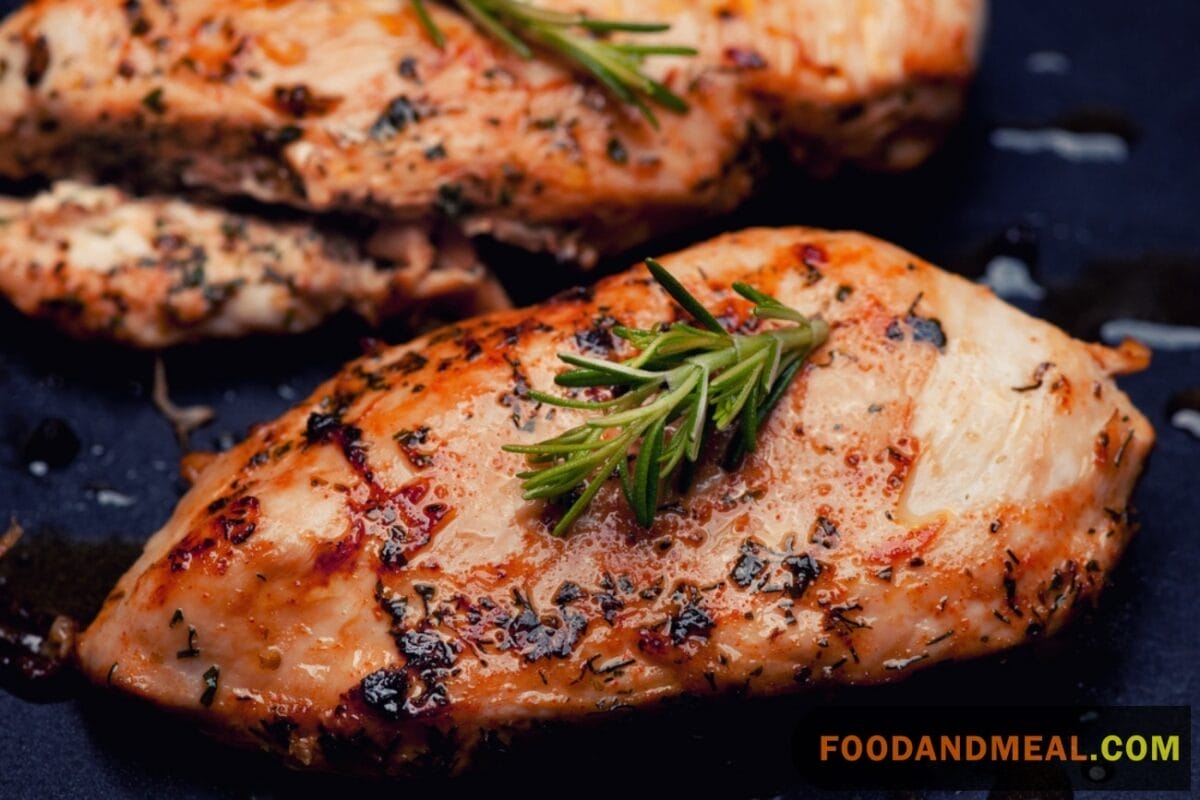 Vegetable Side: Serve your grilled chicken with a side of roasted vegetables or a fresh salad to complement its savory flavors.
Sauce Pairing: A light sauce or a squeeze of lemon can enhance the flavors of the grilled chicken.
Drink Pairing: A cold drink like a craft beer or a white wine can complement the flavors of this simple yet elegant dish.
FAQs About Grilled Chicken Breast Rosemary
What Makes Grilled Chicken Breast  Rosemary Special? Grilled Chicken Breast & Rosemary is special due to its simplicity and the aromatic flavor imparted by the rosemary.
Can I Use Other Parts of the Chicken? While you can experiment with other parts of the chicken, using the breast is traditional and recommended for this dish due to its lean texture.
How Can I Store Leftovers? Leftovers can be stored in an airtight container in the refrigerator for up to 3 days. Reheat on the stove or in a microwave.
Can I Make It More Flavorful? Yes, you can adjust the marination process and ingredients according to your preference. Adding more herbs or spices can enhance the flavor profile!
In conclusion, Grilled Chicken Breast Rosemary is more than just a dish; it's a culinary staple that reflects the simplicity and elegance of home cooking. The process of making it involves careful preparation and grilling, resulting in a dish that's both flavorful and satisfying. Whether you're a seasoned cook or a beginner, I hope these tips and suggestions inspire you to try making your own Grilled Chicken Breast & Rosemary at home. Happy grilling!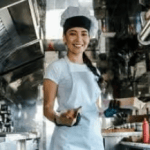 Cooking Like A Pro
Author Name : Jaime Inez
Address: Times Street, West Triangle, 1103, Quezon City, Metro Manila, Philippines
Phone:  96-2-4108596
Email: Contact@cookinglikeapro.net
Affiliate DisclaimerAbout The Content
As an affiliate, we may earn a commission from qualifying purchases. We get commissions for purchases made through links on this website from Amazon and other third parties.