Welcome to my culinary haven, where every dish is a masterpiece waiting to be savored. Today, I'm thrilled to unveil a recipe that combines the elegance of salmon with the zing of lemon pepper sauce, all accompanied by the earthy delight of roasted Brussels sprouts.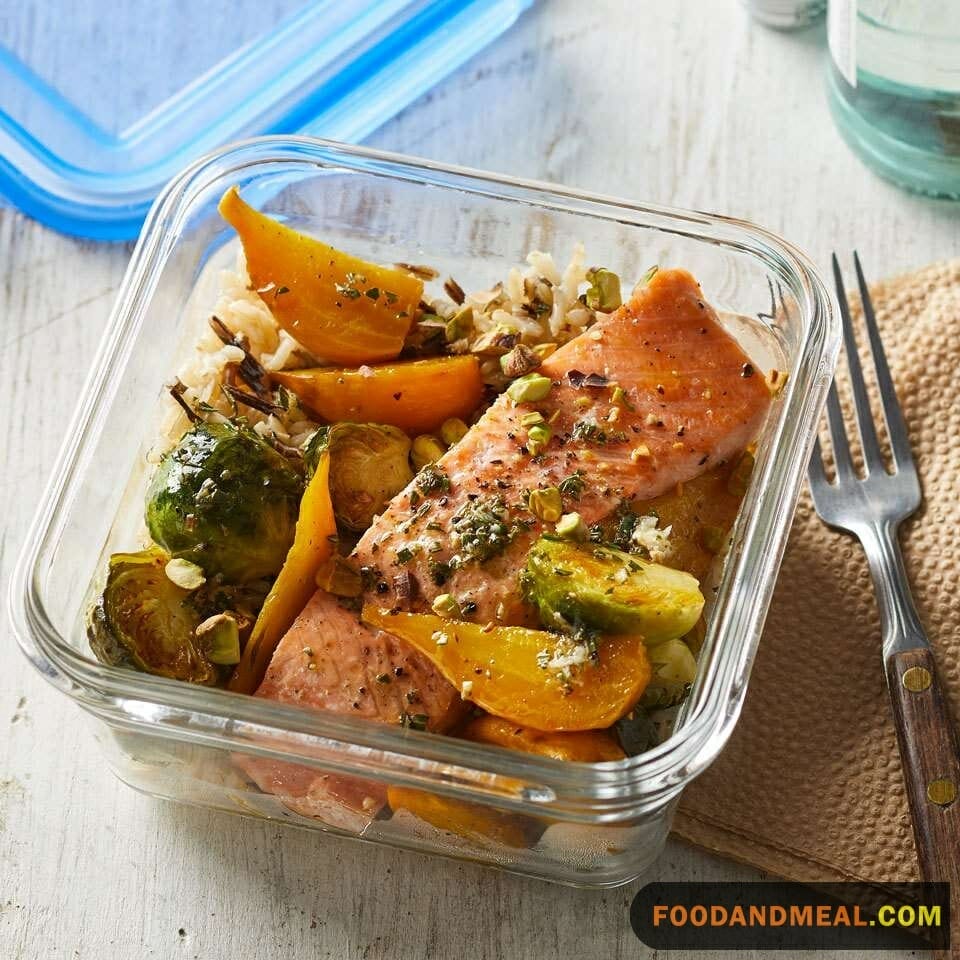 Salmon with Lemon Pepper Sauce and Roasted Brussel Sprouts recipes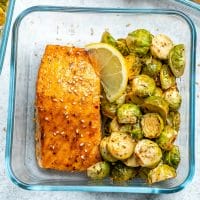 Salmon with Lemon Pepper Sauce and Roasted Brussel Sprouts
This recipe is a simple and elegant way to make salmon look more appetizing. You can garnish it with sprigs of fresh thyme and thin slices of lemon. You can even use homemade lemon pepper seasoning to add even more flavor to the fish. It is also fast and easy to prepare. You'll thank yourself for taking the time to make this dish! The sauce is a delicious addition to any dinner.
Print
Add to Collection
Go to Collections
Equipment
Ingredients
1

cup

creme fraiche

or sour cream

3

tablespoons

lemon juice

plus 2 teaspoons, divided, fresh

1

teaspoon

lemon peel

finely grated, divided

2

tablespoons

honey

1

tablespoon

olive oil

plus 2 teaspoons, plus additional for brushing

2

tablespoons

shallots

chopped

6 6

ounce

salmon fillets

skin off

1 2/3

cups

watercress leaves

1/4

cup small fresh

dill sprigs

1/4

tarragon leaves

fresh

sea salt and pepper

6

lemon wedges
Instructions
Whisk creme fraiche, 1 tablespoon lemon juice, and 1/2 teaspoon lemon peel in small bowl. Season with salt and generous amounts of pepper.

Whisk honey, one tablespoon olive oil, shallot, 2 tablespoons lemon juice, and remaining 1/2 teaspoon lemon zest in 11 x 7 x 2 inch glass baking dish. Add salmon fillets and turn to coat. Cover and chill at least 15 minutes and up to 1 hour, turning salmon fillets occasionally.

Position rack in top third of oven and preheat to 400 F.

Line large baking sheet with foil and brush with olive oil.

Transfer salmon fillets, with some marinade still clinging, to rimmed baking sheet. Roast until salmon is just opaque in centre, about 14 minutes.

Meanwhile, toss watercress leaves, dill, tarragon, remaining 2 teaspoons lemon juice, and remaining 2 teaspoons olive oil in medium bowl. Season to taste with salt and pepper.

Place 1 salmon fillet on each of 6 plates. Top with watercress salad. Drizzle with lemon pepper sauce and garnish with lemon wedges. Serve, passing additional sauce alongside.

For the brussel sprouts, remove the brown base and toss with 3 tablespoons olive oil, salt and pepper and bake at 400 F for 35 to 40 minutes. Sprinkle with salt once more after baking while still hot. Serve alongside the salmon.
Notes
This lemon pepper salmon recipe uses a sweet and sour sauce for a flavorful and enticing dish. You can serve it as a cold seafood salad or eat it as a meal. To make this lemon pepper salmon recipe, you'll need: 1 tbsp lemon juice, 1 tsp of ground black pepper, 2 oz of lemon slices. Once the salmon is ready, it should be brushed with the lemon-pepper sauce.
Share by Email
Share on Facebook
Share on Twitter
Nutrition
Serving:
1
serving
|
Calories:
332
kcal
|
Carbohydrates:
28
g
|
Protein:
23
g
|
Fat:
17
g
|
Saturated Fat:
2
g
|
Polyunsaturated Fat:
4
g
|
Monounsaturated Fat:
9
g
|
Cholesterol:
47
mg
|
Sodium:
378
mg
|
Potassium:
1190
mg
|
Fiber:
8
g
|
Sugar:
13
g
|
Vitamin A:
1779
IU
|
Vitamin C:
165
mg
|
Calcium:
110
mg
|
Iron:
3
mg
© Food And Meal
This website provides approximate nutrition information for convenience and as a courtesy only. Nutrition data is gathered primarily from the Spoonacular Database, whenever available, or otherwise other online calculators.
Salmon with Lemon Pepper Sauce and Roasted Brussel Sprouts in the Oven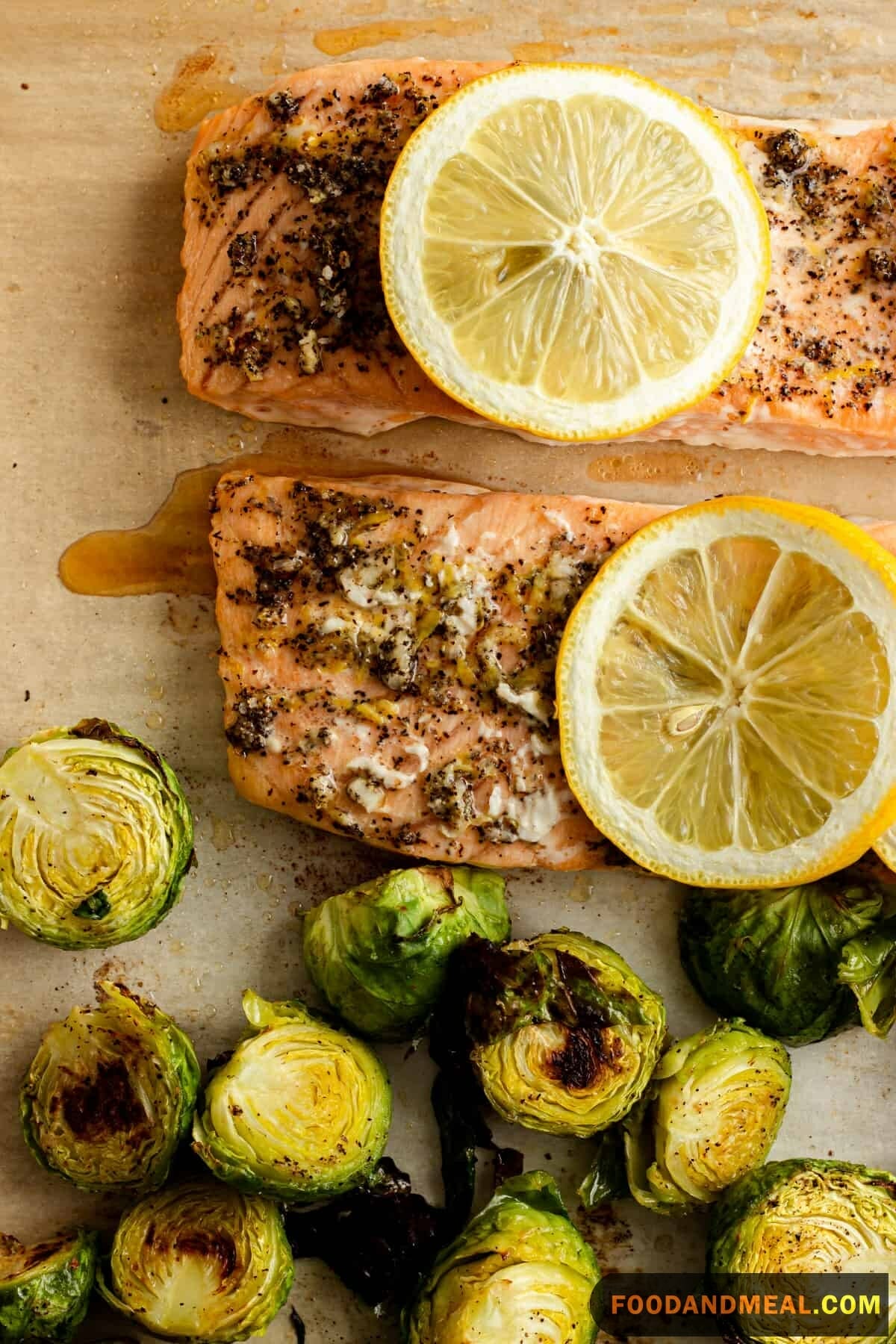 Ingredients:
4 salmon fillets
1 pound (450 grams) Brussels sprouts, trimmed and halved
2 tablespoons olive oil
Salt and freshly ground black pepper, to taste
2 lemons, thinly sliced
3 cloves garlic, minced
1 teaspoon lemon zest
2 teaspoons freshly ground black pepper
1/4 cup fresh lemon juice
2 tablespoons honey
Fresh parsley, for garnish
Instructions:
Preheat the Oven: Preheat your oven to 400°F (200°C) and position a rack in the middle.
Prepare the Brussels Sprouts: In a large bowl, toss the halved Brussels sprouts with 1 tablespoon of olive oil, salt, and pepper to taste. Spread them evenly on a baking sheet.
Prepare the Salmon: Place the salmon fillets on a separate baking sheet lined with parchment paper. Brush them with the remaining olive oil, and season with salt, pepper, and lemon zest.
Lemon Pepper Sauce: In a small saucepan over medium heat, combine the minced garlic, freshly ground black pepper, lemon juice, and honey. Stir until the mixture slightly thickens, about 2-3 minutes. Remove from heat.
Bake: Place both the Brussels sprouts and salmon in the preheated oven. Roast the Brussels sprouts for 20-25 minutes or until they are tender and caramelized, giving them a gentle toss halfway through. Bake the salmon for about 12-15 minutes until it flakes easily with a fork.
Lemon Pepper Glaze: Drizzle the lemon pepper sauce over the salmon fillets while they are still hot.
Garnish and Serve: Arrange the lemon slices on top of the salmon fillets, and garnish with fresh parsley. Serve the salmon alongside the roasted Brussels sprouts, and drizzle any remaining sauce over the vegetables.
Tips for making Salmon with Lemon Pepper Sauce and Roasted Brussel Sprouts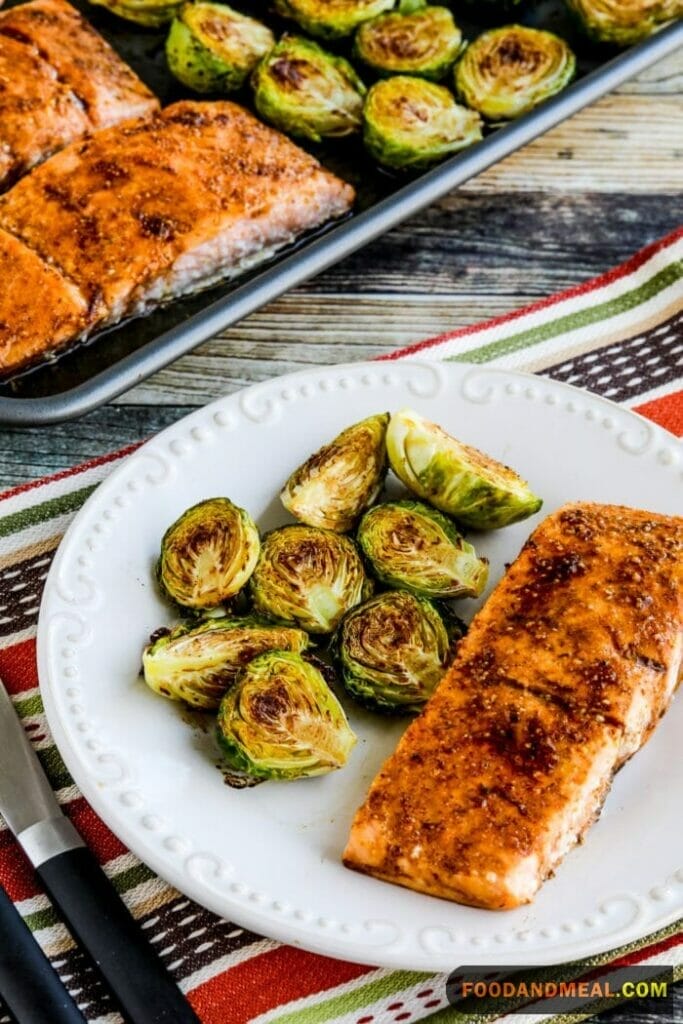 Cooking Tips
Common Mistakes to Avoid:
Overcooking the salmon: Keep a close eye on the salmon to prevent it from becoming dry. Check for doneness by gently flaking it with a fork; it should be opaque and moist.
Neglecting to preheat the oven: Ensure your oven is fully preheated to the recommended temperature for even cooking.
Crowding the baking sheet: Give the Brussels sprouts and salmon some space on the baking sheets to allow for proper air circulation, ensuring they cook evenly.
Skipping the lemon zest: Don't underestimate the flavor boost from lemon zest; it enhances the overall taste of the dish.
Forgetting to baste: During baking, baste the salmon with the lemon pepper sauce a couple of times for maximum flavor infusion.
Tips for Success:
Use a rimmed baking sheet: A rimmed baking sheet prevents any juices from spilling into your oven and makes cleanup easier.
Quality ingredients matter: Fresh salmon, ripe lemons, and good-quality olive oil can elevate the dish.
Uniform Brussels sprouts: Try to cut the Brussels sprouts into uniform sizes to ensure they cook evenly.
Roast at high heat: Roasting at 400°F (200°C) ensures a nice caramelization of the Brussels sprouts while keeping them tender.
Adjust seasoning to taste: Don't be afraid to tweak the seasoning and lemon pepper sauce to suit your preferences.
Serving Suggestions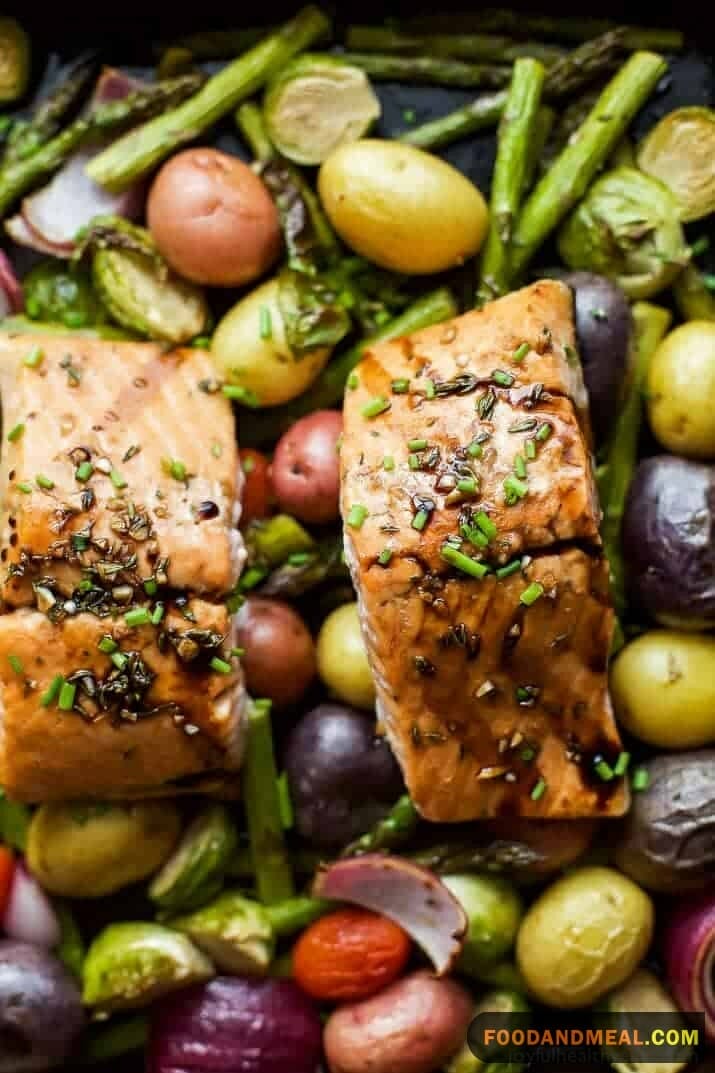 Recommend Sides and Beverages:
Serve this delightful dish with a side of garlic mashed potatoes for a hearty meal.
A crisp, refreshing white wine like Sauvignon Blanc or Chardonnay pairs beautifully with the lemony flavors.
Consider a fresh mixed green salad with a light vinaigrette for a refreshing contrast.
For a more substantial side, try quinoa or couscous seasoned with lemon and fresh herbs.
A sparkling water infused with lemon or a lemonade makes a perfect non-alcoholic beverage pairing.
Ways to Serve:
Plate the salmon and Brussels sprouts together as a main course, drizzling any remaining lemon pepper sauce over the top.
For a visually stunning presentation, arrange lemon slices and fresh herbs like parsley or dill on the platter.
Serve the dish family-style, allowing everyone to help themselves to the salmon and Brussels sprouts.
Turn leftovers into a delicious salad by flaking the salmon over a bed of mixed greens and adding a lemon vinaigrette.
Make salmon and Brussels sprouts tacos by placing them in warm tortillas with a dollop of Greek yogurt or tzatziki sauce.
FAQs about Salmon with Lemon Pepper Sauce and Roasted Brussel Sprouts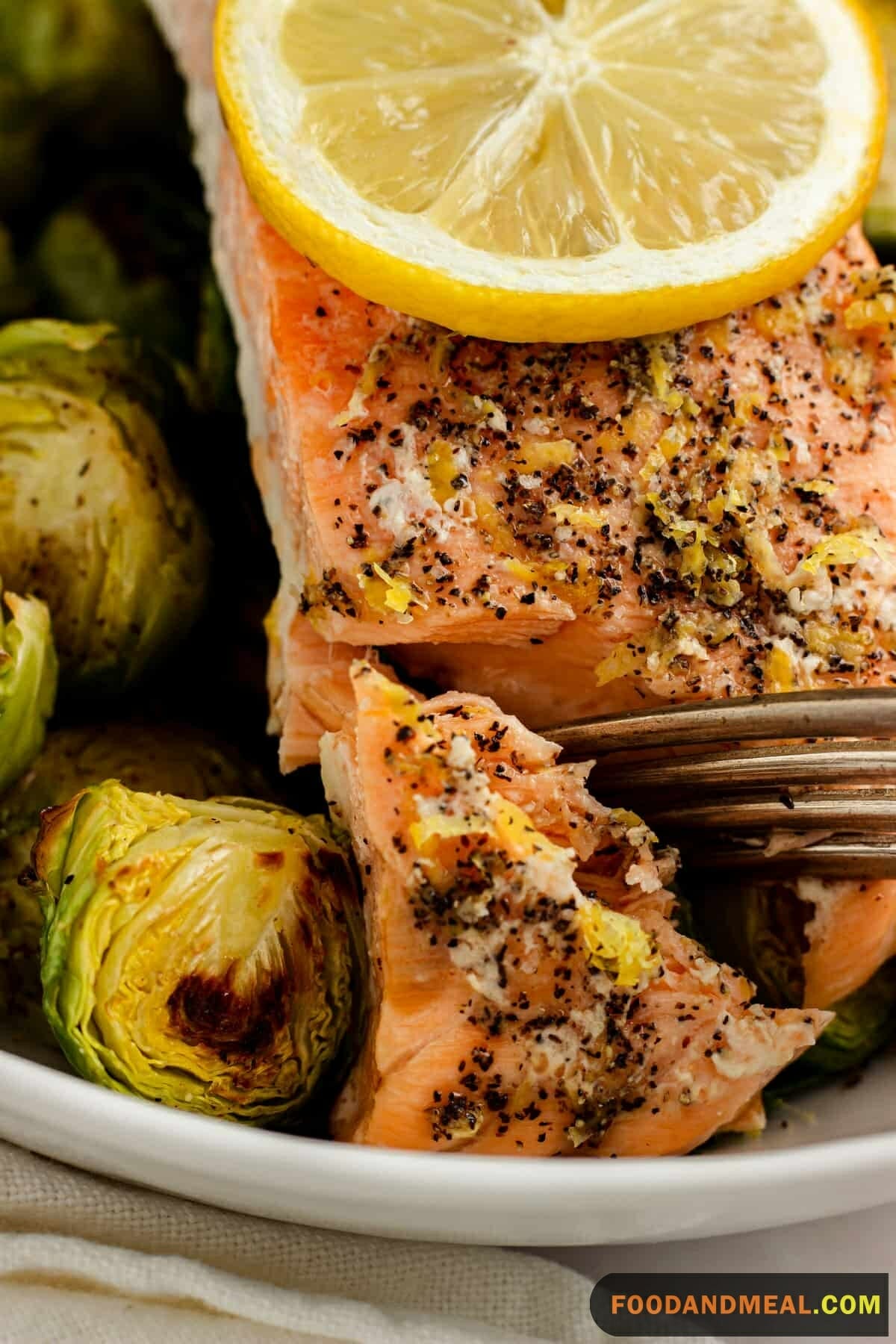 Can I make this dish ahead of time? While it's best served fresh, you can prepare the lemon pepper sauce and roast the Brussels sprouts in advance. Reheat the salmon in a preheated oven and drizzle with the sauce just before serving.
How do I store leftovers? Store any leftover salmon and Brussels sprouts separately in airtight containers in the refrigerator for up to 2 days. Reheat the salmon in the oven for best results.
Can I use frozen Brussels sprouts? Fresh Brussels sprouts are recommended for optimal flavor and texture. If using frozen, thaw and pat them dry before roasting, but be aware that the texture may differ slightly.
What can I substitute for honey in the lemon pepper sauce? If you prefer a different sweetener, you can use maple syrup, agave nectar, or brown sugar as a honey substitute in the sauce.
Is there a vegetarian version of this dish? Absolutely! You can create a vegetarian version by substituting the salmon with marinated tofu or tempeh. The lemon pepper sauce and roasted Brussels sprouts will pair beautifully with these alternatives.
Discover culinary excellence with our Lemon Pepper Salmon and Brussels Sprouts recipe. Elevate your dining experience and share the gourmet magic with loved ones. Subscribe for more gourmet adventures!
I'm Tracy F Hilton, a devoted culinary professional shaped by a mix of natural aptitude and refined skills from a top culinary school. In the dynamic kitchen environment, I'm a catalyst for seamless operations and timely, high-quality dish preparation. My culinary creations are a blend of art and skill, offering visually and gustatorily delightful experiences. A learner at heart, I'm continuously honing my craft, embracing new techniques, and culinary innovations. My positive, collaborative nature is amplified in fast-paced settings, showcasing my commitment to team efficiency and guest satisfaction. Each dish I present is a meticulous blend of tradition and innovation, promising an unforgettable dining experience that marries taste, aroma, and aesthetic appeal in perfect harmony. Join me on a gastronomic journey where each bite encapsulates a rich, evolving narrative of flavors and culinary artistry.
Affiliate DisclaimerAbout The Content
As an affiliate, we may earn a commission from qualifying purchases. We get commissions for purchases made through links on this website from Amazon and other third parties.