Welcome to a culinary journey filled with the flavors of the sea and a touch of gourmet elegance. Today, I'm excited to share with you my cherished recipe for Stuffed Sole, a dish that has graced my family's table on special occasions for generations. Get ready to experience a taste of culinary excellence.
Stuffed Sole Recipes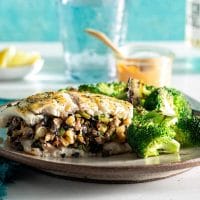 Stuffed Sole with Broccoli and Mushroom Sauce
A Stuffed Sole looks like a fancy restaurant entree, but it's actually quite simple to prepare at home. Simply prepare the seafood mixture in the morning and refrigerate it overnight. Then bake the stuffed sole in the evening. You can serve the stuffed sole with rice, pasta, or even steamed vegetables. To make it even more impressive, add some melted butter to the top of the stuffed sole.
Print
Add to Collection
Go to Collections
Instructions
Preheat oven to 375 F.

Cook broccoli in a medium pot of salted boiling water until tender, about 5-10 minutes. Once cool, process in a food processor until finely chopped.

Heat 3 tablespoons olive oil in a medium pan and sauté the shallot moderate heat for 2 minutes. Add the cooked broccoli and season to taste. Off the heat and reserve mixture.

Season sole fillets with salt and pepper and place them dark side up. Fill with about 2-3 tablespoons of the broccoli and onion mixture and roll up.

Place in a buttered Pyrex or another oven-to-table dish with the seam-side down. Pour mushroom sauce (see directions below ) on the fish fillets and sprinkle with seasoned breadcrumbs. Bake for 30-35 minutes.

To make the sauce, sauté mushrooms in 2 tablespoons olive oil over medium-high heat until golden. Reserve.

Melt 1 tablespoon butter in a separate saucepan with medium heat, add the flour and cook for a minute or two, stirring with a wooden spoon all the while. Off the heat, and add the milk or rice milk and keep mixing until well incorporated. Return to the heat and cook for about 10 minutes until the sauce has thickened. Stir in the sautéed mushrooms, and add the 1/2 teaspoon chicken consommé powder and dash of nutmeg. Adjust seasonings to taste.
Notes
A savory mushroom filling can be made a day ahead, and can be served with the fish or on its own. If you are serving a large group, divide the filling into eight equal portions. If you are serving a small crowd, you can stuff sole fillets individually with some of the remaining stuffing, and bake them for 25 to 30 minutes. To prepare the spinach souffles, crumble breton crackers and place them in a shallow bowl.
Share by Email
Share on Facebook
Share on Twitter
Nutrition
Serving:
1
serving
|
Calories:
284
kcal
|
Carbohydrates:
18
g
|
Protein:
7
g
|
Fat:
21
g
|
Saturated Fat:
13
g
|
Polyunsaturated Fat:
1
g
|
Monounsaturated Fat:
5
g
|
Trans Fat:
1
g
|
Cholesterol:
56
mg
|
Sodium:
692
mg
|
Potassium:
383
mg
|
Fiber:
2
g
|
Sugar:
8
g
|
Vitamin A:
699
IU
|
Vitamin C:
3
mg
|
Calcium:
149
mg
|
Iron:
1
mg
© Food And Meal
This website provides approximate nutrition information for convenience and as a courtesy only. Nutrition data is gathered primarily from the Spoonacular Database, whenever available, or otherwise other online calculators.
Alternative Method: Baked Stuffed Sole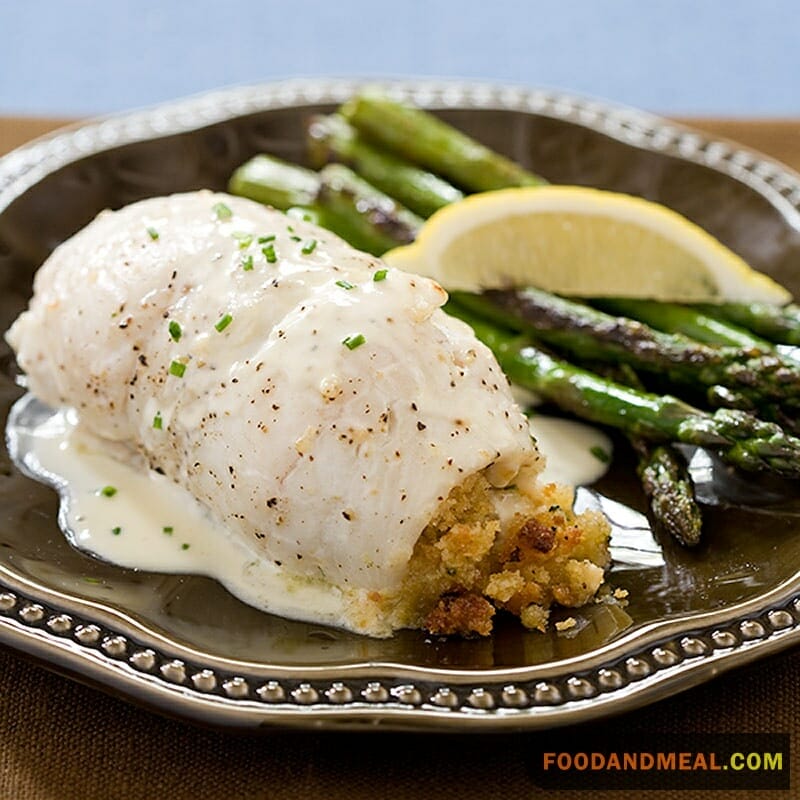 Ingredients:
4 sole fillets
1/2 cup lump crab meat
1/2 cup cooked shrimp, chopped
2 cloves garlic, minced
2 tablespoons fresh parsley, chopped
1/4 cup breadcrumbs
1/4 cup grated Parmesan cheese
2 tablespoons melted butter
1 lemon, zest and juice
Salt and black pepper to taste
Olive oil for greasing
Lemon wedges and fresh parsley for garnish
Instructions:
Preheat your oven to 375°F (190°C). Grease a baking dish with olive oil and set it aside.
In a mixing bowl, combine the lump crab meat, chopped shrimp, minced garlic, chopped parsley, breadcrumbs, grated Parmesan cheese, melted butter, lemon zest, and lemon juice. Season the mixture with salt and black pepper to taste. Gently fold everything together until well combined.
Lay out the sole fillets on a clean surface, and season them lightly with salt and pepper.
Spoon a generous portion of the crab and shrimp mixture onto each sole fillet, spreading it evenly over the surface.
Carefully roll up each sole fillet with the stuffing, securing it with toothpicks if needed. Place the stuffed sole fillets seam-side down in the prepared baking dish.
Drizzle a bit of olive oil over the stuffed sole fillets for a golden finish.
Bake in the preheated oven for approximately 15-20 minutes or until the sole is cooked through and the stuffing is heated and slightly crispy on top.
Remove the toothpicks from the stuffed sole fillets before serving.
Garnish with lemon wedges and fresh parsley. Serve hot, and enjoy your baked stuffed sole!
Tips for making Stuffed Sole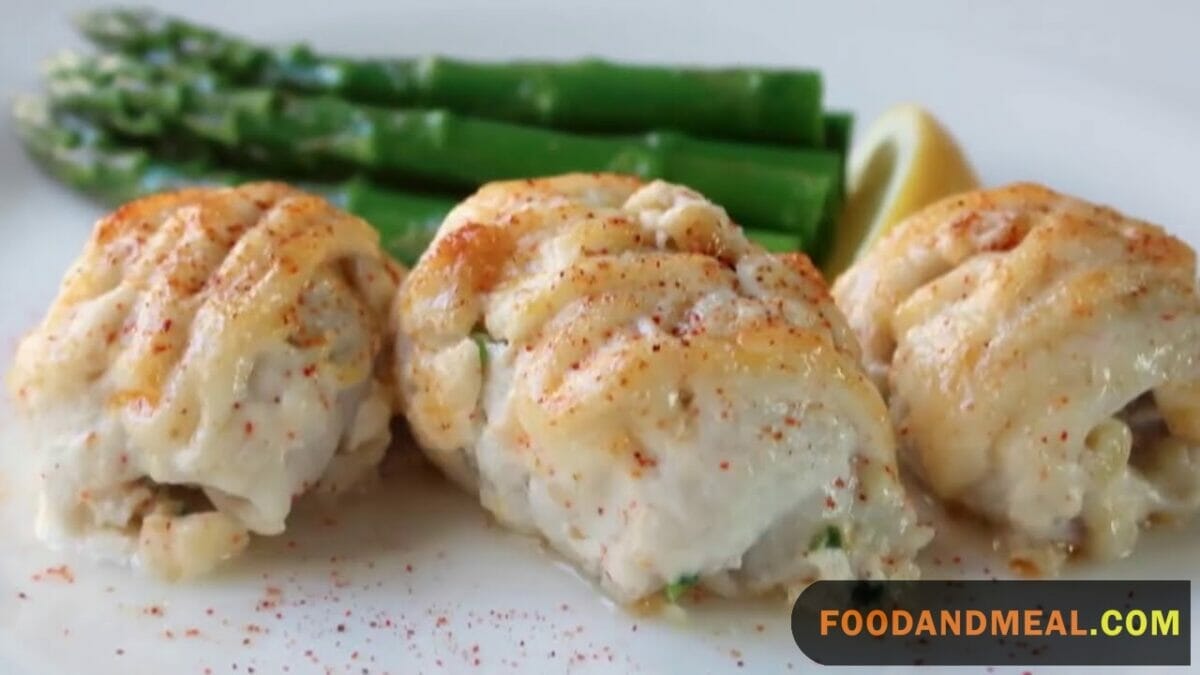 Cooking Tips
Common Mistakes to Avoid:
Overcooking the sole: Overcooking can lead to dry and tough fish. Pay close attention to the baking time to avoid this.
Using too much stuffing: While a generous filling is delicious, be mindful not to overstuff the sole, making it difficult to roll and cook evenly.
Skipping the toothpicks: If you don't secure the rolled sole with toothpicks, the filling may spill out during baking.
Neglecting seasoning: Don't forget to season both the fish and the stuffing with salt and pepper to enhance flavor.
Tips for Success:
Freshness matters: Ensure you're using fresh seafood for the best taste and texture in your stuffed sole.
Gentle rolling: When rolling the sole with the stuffing, do it gently to prevent tearing.
Even placement: Lay the stuffed sole seam-side down in the baking dish for a neat presentation.
Testing for doneness: The fish should flake easily with a fork when it's done. Use a meat thermometer to check if the internal temperature reaches 145°F (63°C).
Serving Suggestions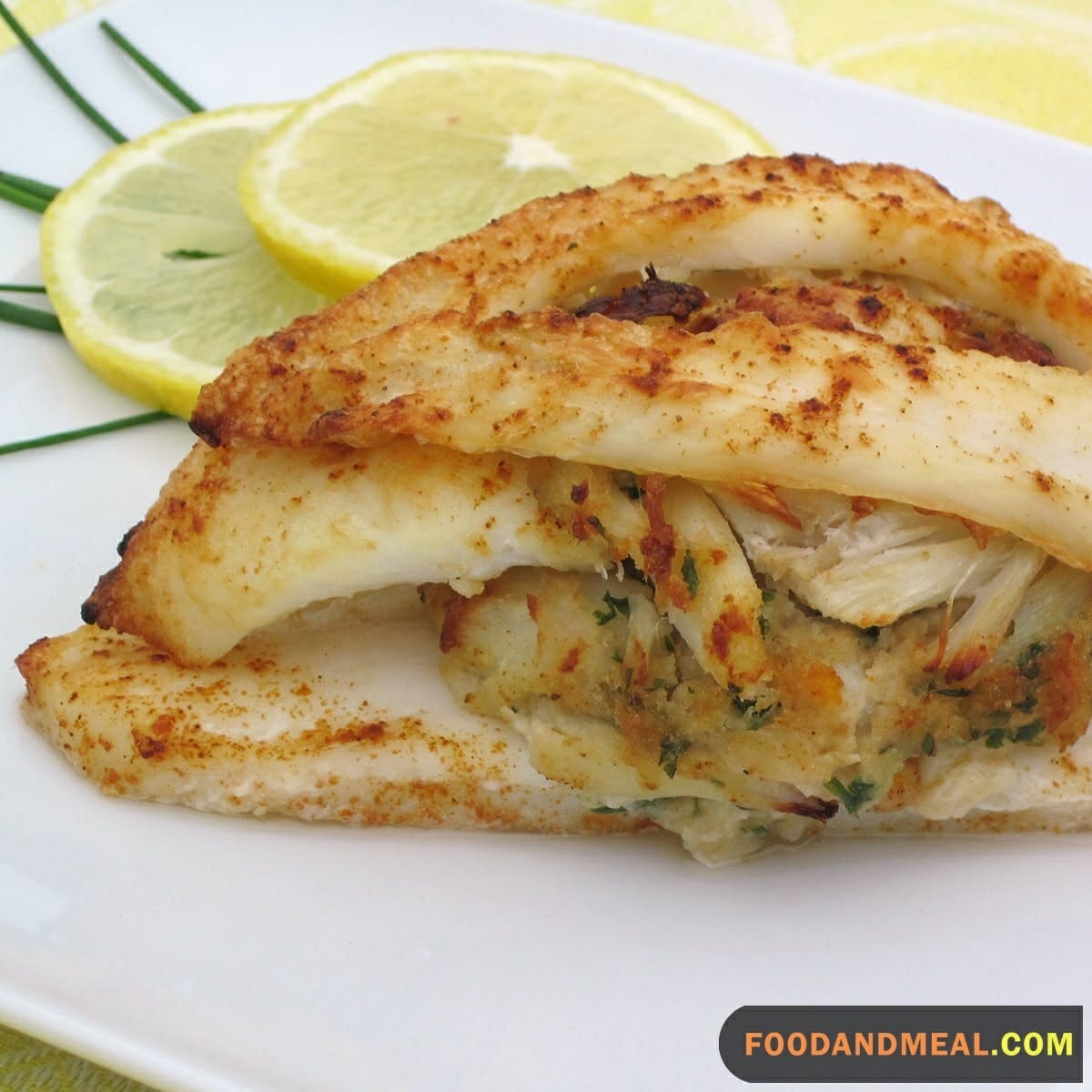 Recommend Sides and Beverages:
Serve your baked stuffed sole with a side of garlic mashed potatoes or lemon herb rice for a complete meal.
A crisp Sauvignon Blanc or Chardonnay pairs wonderfully with the seafood flavors. Alternatively, offer a sparkling water with a twist of lemon for a refreshing non-alcoholic option.
A fresh green salad with a citrus vinaigrette adds a refreshing contrast to the richness of the dish.
Consider sautéed asparagus, steamed broccoli, or a medley of roasted vegetables as additional side options.
Ways to Serve:
Place each stuffed sole fillet on a plate, drizzle with extra lemon juice, and garnish with fresh parsley for an elegant presentation.
For a family-style meal, arrange the stuffed sole on a platter, surround it with your chosen sides, and let everyone serve themselves.
If you prefer individual servings, plate the stuffed sole atop a bed of mashed potatoes or rice and spoon a bit of the pan juices over the top.
Consider doubling the recipe and serving it at your next dinner party, impressing your guests with this gourmet dish.
Leftover stuffed sole can be transformed into a seafood pasta dish by flaking the fish and mixing it with cooked pasta and a creamy Alfredo sauce.
FAQs about Stuffed Sole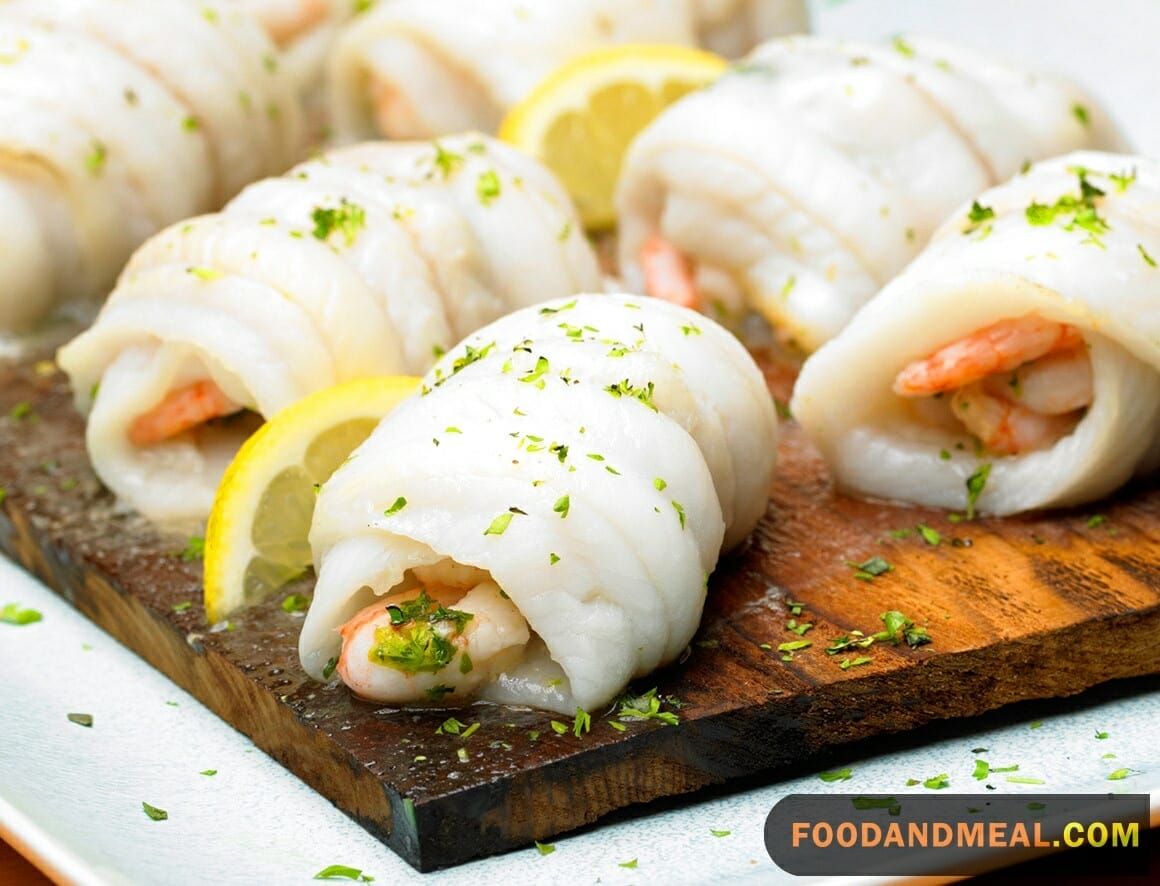 Can I prepare the stuffing in advance and refrigerate it? Yes, you can prepare the stuffing a few hours in advance and refrigerate it until you're ready to assemble and bake the stuffed sole.
Can I use other seafood in the stuffing besides crab and shrimp? Absolutely! Feel free to get creative with your seafood choices. Scallops, lobster, or even diced white fish can be excellent additions or substitutes.
Can I freeze leftover stuffed sole? While it's possible to freeze leftover stuffed sole, the texture may change slightly upon thawing. If you choose to freeze it, wrap the stuffed sole tightly in plastic wrap and aluminum foil before placing it in an airtight container. Thaw it in the refrigerator before reheating.
What should I do if my stuffed sole is getting too brown on top during baking? If you notice the top browning too quickly, cover the baking dish with aluminum foil for the remaining cooking time to prevent excessive browning while ensuring the fish cooks through.
How can I reheat leftover stuffed sole? To reheat leftover stuffed sole, place it in a baking dish, cover it with aluminum foil, and warm it in a preheated oven at 350°F (175°C) for about 15-20 minutes or until heated through.
Discover the gourmet elegance of Stuffed Sole with our delectable recipe. Share it with friends and subscribe to our blog for more culinary inspiration.
I'm Tracy F Hilton, a devoted culinary professional shaped by a mix of natural aptitude and refined skills from a top culinary school. In the dynamic kitchen environment, I'm a catalyst for seamless operations and timely, high-quality dish preparation. My culinary creations are a blend of art and skill, offering visually and gustatorily delightful experiences. A learner at heart, I'm continuously honing my craft, embracing new techniques, and culinary innovations. My positive, collaborative nature is amplified in fast-paced settings, showcasing my commitment to team efficiency and guest satisfaction. Each dish I present is a meticulous blend of tradition and innovation, promising an unforgettable dining experience that marries taste, aroma, and aesthetic appeal in perfect harmony. Join me on a gastronomic journey where each bite encapsulates a rich, evolving narrative of flavors and culinary artistry.
Affiliate DisclaimerAbout The Content
As an affiliate, we may earn a commission from qualifying purchases. We get commissions for purchases made through links on this website from Amazon and other third parties.