Who wouldn't know about the famous shrimp tempura introduced to us by the Japanese?  What you may not know is that this classic dish is actually easy to prepare.  If you want the benefit of learning this dish and applying them, then read on.
Shrimp Tempura Recipe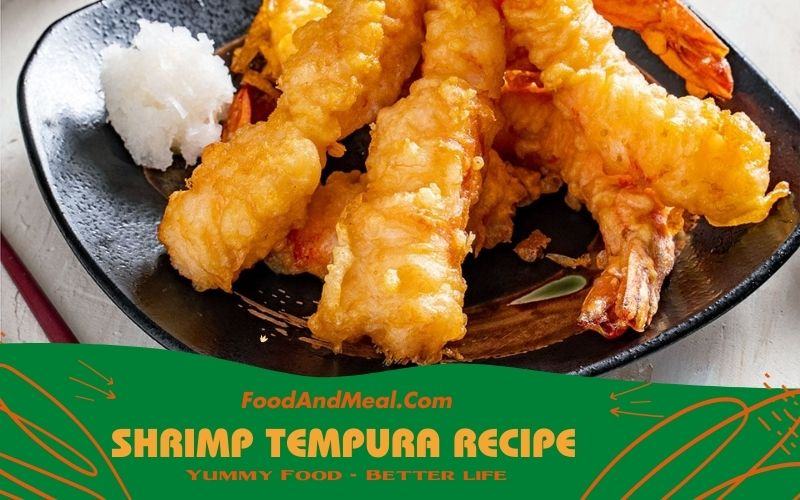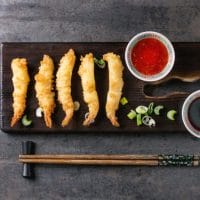 Shrimp Tempura
Tempura is a Japanese dish that involves meat, seafood, or vegetables that are battered and deep-fried. What sets it apart from other similar dishes, though, is its incredibly airy crispy batter, which is possible because of a certain combo of ingredients and a couple of techniques.
Print
Pin Recipe
Add to Collection
Go to Collections
Ingredients
Ingredients
Shrimp

peeled and deveined

Tempura batter
For tempura batter (in case you can't find any):
Instructions
shrimps tempura (battered fried shrimps) with vegetable – japanese food style

For the tempura batter, simply incorporate first the wet ingredients in one bowl and put the flour at the other bowl. Mix the wet ingredients in one bowl and pour them in with the flour later.  Add the vegetable in case you opt to have them in your batter. Whisk the ingredients—dry, wet and veggies—together and set aside.

Heat up saucepan over medium heat and pour an inch of veggie oil. Wait until the oil reaches up the 350⁰F temperature

While the oil heats up, dip the shrimps into the tempura batter.

As the oil attains the ideal heat, drop the shrimps into the oil and fry them till golden brown.

Remove shrimps from the oil using a slotted spoon and transfer into wire rack or plate lined with a paper towel.

Serve with your choice of sauce like vinegar, lemon juice, soy sauce with wasabi…etc.
Notes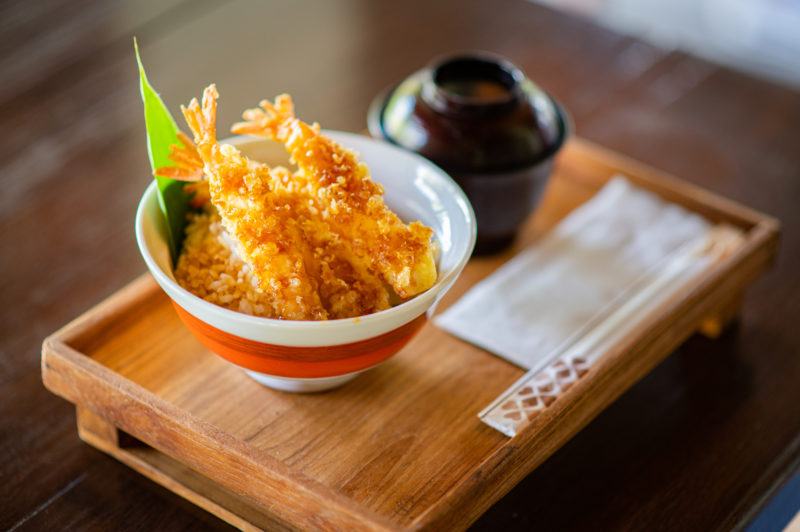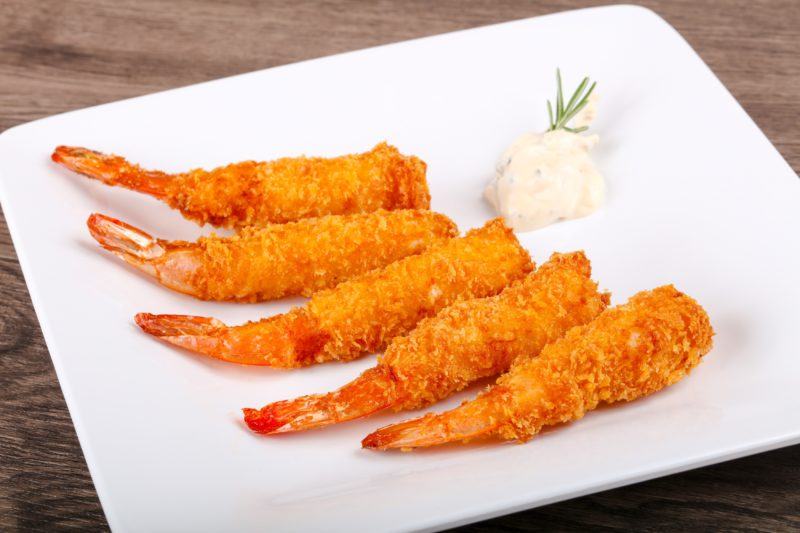 Share by Email
Share on Facebook
Share on Twitter
Nutrition
Serving:
3
pieces
|
Calories:
76
kcal
|
Carbohydrates:
4.5
g
|
Protein:
4.8
g
|
Fat:
4.2
g
© Food And Meal
This website provides approximate nutrition information for convenience and as a courtesy only. Nutrition data is gathered primarily from the Spoonacular Database, whenever available, or otherwise other online calculators.
Pin Recipe
Tips for making Shrimp Tempura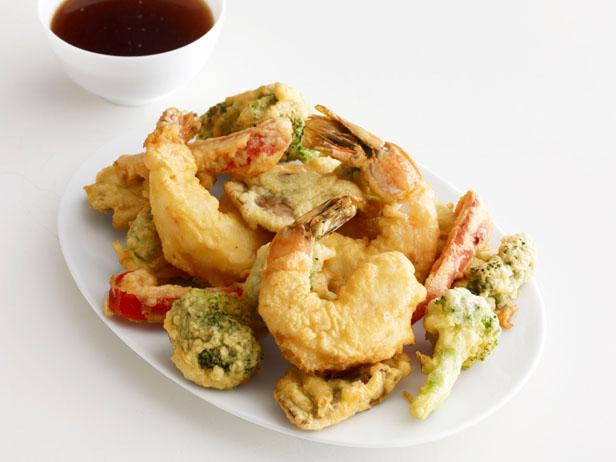 Before you begin, you need to remove the shrimp's shells. You can use a large spoon to dip the shrimp into the batter. Make sure the shrimp's tails are still attached. If they are not, you should cut them off. Then, take a few tablespoons of potato starch and coat the shrimp with it. You can also use chopsticks to dip the shrimp into the batter.
You need to make sure the oil is heated to at least 350 degrees Fahrenheit or 175°C. You will also need a large pot or deep skillet with a minimum of 1.5 inches of oil. To make the batter, you will need to pat the shrimp dry with a paper towel. Next, you will need to dip the shrimp in it. Ensure that the batter is thick and seasoned. After you have done this, you will need to coat the fried shrimp with panko crumbs to prevent curling.
Then, dredge the shrimp in the batter. Be sure to use ice-cold batter to ensure that the fried shrimp won't absorb too much oil. This will ensure that the batter stays crispy. Finally, you will want to keep the oil at the correct temperature. You will need about 3 to 5 minutes to reheat leftover Shrimp Tempura in the oil. If you don't want to wait for the oil to reach that temperature, simply place the remaining shrimp in an airtight container.
When frying Shrimp Tempura, make sure that you use good quality oil. Try to buy one with a high smoke point, so it won't burn. As long as you don't add too much fat, the batter will be lighter and crispier. As you can see, this recipe is fairly easy and fast to prepare. Once you have the right oil, it's time to fry your shrimp. During the process, a cloud of steam will rise up from the cooking process.
When cooking Shrimp Tempura, you can check the temperature of the oil by dropping a small piece of shrimp into the batter and waiting a few seconds. The batter should pop back up. If it sinks, the oil is too hot. If the shrimp floats in the oil, it's too hot. To avoid a soggy shrimp, dip the shrimp in the dipping sauce. Once cooked, transfer it to a cooling rack to keep it from overcooking.
When frying shrimp, you should first cut shallow slits into the inner part of the shrimp. These shallow slits will make the shrimp easier to eat while frying. To ensure that your shrimp is crispy, keep the oil temperature between 350 degrees Fahrenheit and 375 degrees. If the oil is too hot, the batter will burn and turn the shrimp chewy. While it is not recommended to use too much ice water when frying shrimp, it is important to keep the water cold for a long time.
Once the shrimp are cooked, you can prepare the dipping sauce. To serve shrimp tempura, you can serve the sauce with tempura dipping sauce. It can be eaten with rice or in the broth. It is best to use a high-smoke oil to ensure a crispy shrimp. You can also add matcha or sugar to the dipping salts for extra flavor. The rice is very important for this dish, so it is best to cook it in small batches.
How to storage leftovers
If you have extra shrimp, you can make it the next day and freeze it for later use. If you want to prepare some more shrimp, you can reheat them on a baking sheet in the oven at 325 degrees Fahrenheit for about 5 to 10 minutes. If you don't have the time to cook shrimp on a hot pan, you can keep leftovers in the refrigerator. You should keep them straight in the hot oil to avoid soggy shrimp.
As with any fried dish, you can use any kind of batter to create the perfect Shrimp Tempura. You can also serve it with vegetables or even soup. You can add it to Hibachi fried rice, vegetables, or other dishes. For a healthy version, you can bake the shrimp instead of deep-frying it. It tastes just as good! If you want a healthier option, you can add a few tablespoons of panko breadcrumbs to the batter.
Thanks for your visiting our FoodandMeal site. Like and share this recipe if it is beneficial for you.
Affiliate DisclaimerAbout The Author
As an affiliate, we may earn a commission from qualifying purchases. We get commissions for purchases made through links on this website from Amazon and other third parties.