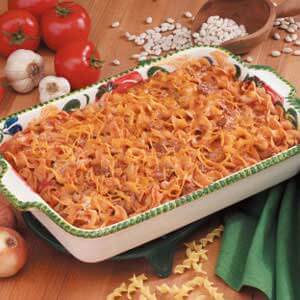 Ingredients
8 oz. of penne or ziti
1¼ -1⅓ lbs. of lean ground beef
1 large (or 2 small) zucchinis, quartered (or halved in case of small zucchinis) and then cut into ¼ inch thick slices
2 cans of 15 oz. tomato sauce, unsalted
1 cup of plain Greek yoghurt
3 oz. cream cheese
1 cup of sharp cheddar cheese, shredded
¼ cup parmesan cheese, grated
½ of medium size onion, chopped
1 clove of garlic, minced
1 teaspoon dried Italian seasoning
kosher salt
freshly ground pepper
Directions
Preheat your oven for a temperature of 450-degree Fahrenheit.
Cook the pasta as per the direction of the manufacturer or cook it al dente.
Coat 9×13 inch casserole dish with oil or cooking spray. You can also use a glass baking dish to substitute the casserole dish if you don't have one.
Put your skillet over a medium flame and place the ground beef, onion, salt and pepper. Cook the beef until it attains a brown hue which means that it's thoroughly cooked.  Drain the beef, removing the excess grease in the process.
Add the zucchini and garlic into the beef and sauté for another 5 minutes.
Pour the tomato sauce and Italian seasoning before bringing it into a simmer. Add salt and pepper if you want an enhanced taste.
Drain the pasta and transfer into a bowl. Add the Greek yoghurt and cream cheese, then transfer the pasta mixture into the coated casserole dish or glass baking dish.
Pour the already made sauce onto the pasta then sprinkle with cheddar and parmesan cheese.
Bake the casserole for about 15-20 minutes into a 450-degree Fahrenheit temperature.
Serve Italian noodle casserole with your favourite red wine or drinks.