There's an unspoken romance between roasted chicken and rice stuffing, a match made in culinary heaven. Each element, tender chicken juxtaposed with flavorful rice, narrates tales from countless kitchens and shared dinners. This recipe, honed through years of experimentation and love, is my ode to this timeless pairing
Roasted Chicken with Rice Stuffing is one signature dish within the countries of the South Mediterranean like Spain, France, Greece and Italy.  The smoky tang of the roasted chicken and the warm, comfortable nourishment of rice is quite a perfect blend for this dish.  Not only that, we're talking the Mediterranean here so we are also bringing out the herbs and spices along
Roasted chicken Recipe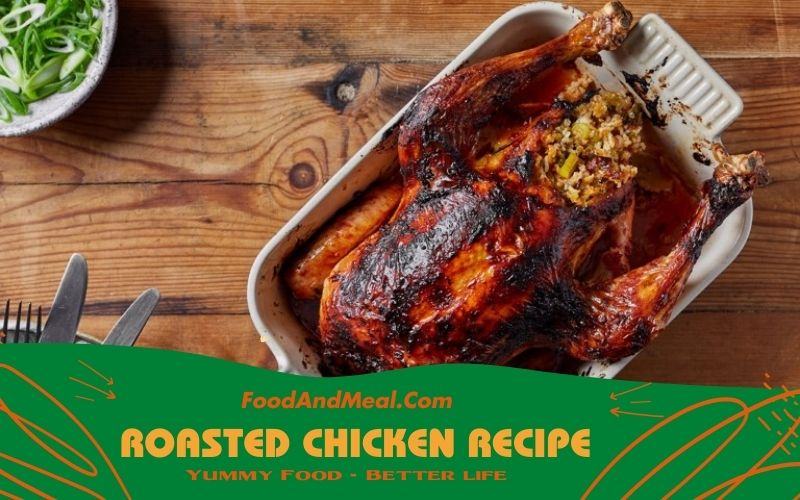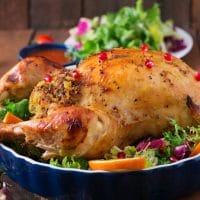 Roasted Chicken with Rice Stuffing
This recipe is perfect for any holiday! If you're looking for a delicious, flavorful dish to accompany your holiday meal, this is it. You're all set to enjoy delicious, healthy, and inexpensive roast chicken! .  If you're serving it to guests, keep the extra rice for another meal! This is a great way to prepare a delicious roasting day.
Print
Pin Recipe
Add to Collection
Go to Collections
Equipment
Instructions
Bring your oven into a 375⁰F heat.

Put a pot over medium-low heat and pour into it 3 cups of liquid chicken broth, chopped onions and celery. Cover the broth and cook for about 5 minutes.

Put the rice, thyme and apricots into the broth and cover again. Leave it be until all the liquid has seeped through the rice.

Get your whole chicken and rub it with 1 tsp. of lemon juice(put the remaining 1 tsp. aside), pepper.

Get the rice stuffing and shove it inside the chicken.

After stuffing the chicken bring the back legs of the bird together and tie them with a decorative bow.

Lay the chicken on a lightly greased rack in the roasting pan with its breast side exposed upwards.

Roast the bird for about an hour (or 1 hr. and 15 mins.) but check on it from time to time.

If you have extra stuffing, put it in a casserole and cook with the chicken for the last half hour of the roasting process.

Remove both the chicken and stuffing casserole from the oven and let it cool down for 15 minutes.

Pour the remaining 1tsp. of lemon juice over the chicken and drizzle some olive oil.

Serve the stuffed roasted chicken with salad such as steamed broccoli rabe or any green salad.

roasted chicken with salad

Roasted chicken with rice stuffing: ultimate recipe guide 3
Notes
If you opt to cook with the optional ingredients, be sure to sauté them first in oil before pouring the broth.
Don't stuff the bird's cavity with too much rice as the air can't circulate within and can reach the right temperature easily.
Share by Email
Share on Facebook
Share on Twitter
Nutrition
Serving:
1
g
|
Calories:
414
kcal
|
Carbohydrates:
31.7
g
|
Protein:
42.5
g
|
Fat:
12.1
g
|
Saturated Fat:
4.5
g
|
Polyunsaturated Fat:
1.4
g
|
Trans Fat:
2.4
g
|
Cholesterol:
178.8
mg
|
Sodium:
219.8
mg
|
Sugar:
0.5
g
© Food And Meal
This website provides approximate nutrition information for convenience and as a courtesy only. Nutrition data is gathered primarily from the Spoonacular Database, whenever available, or otherwise other online calculators.
Pin Recipe
The Pressure Cooker Method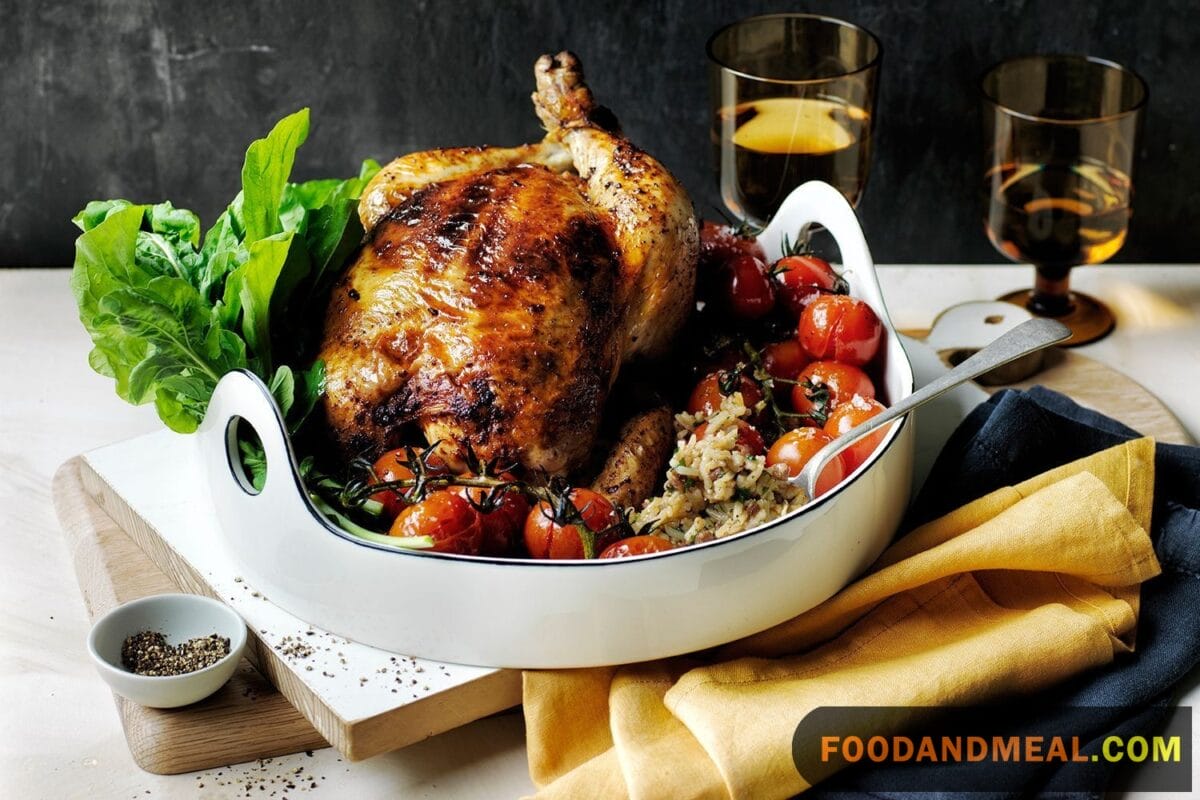 The pressure cooker, often hailed as a game-changer for its rapid cooking abilities and flavor-infusion capabilities, serves as an exceptional tool for our Roasted Chicken with Rice Stuffing dish. This method might deviate from tradition, but it promises a succulent chicken with deeply flavored stuffing in a fraction of the time.
Ingredients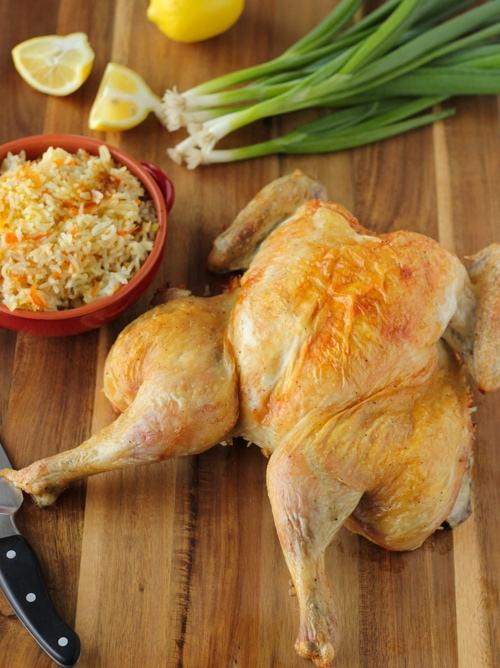 Your usual ingredients for Roasted Chicken with Rice Stuffing
Method
Rice Prep: Begin by sautéing your rice stuffing ingredients in the pressure cooker (most modern ones have a sauté function). This includes your onions, garlic, herbs, and rice. Sauté until the rice is translucent and the aromatics are fragrant.
Chicken Prep: While your rice is sautéing, season your chicken both inside and out with your choice of herbs, spices, and salt.
Stuffing: Once the rice mixture has cooled slightly, stuff it into the cavity of the chicken. Ensure it's not packed too tightly as rice will expand further during cooking.
Pressure Cooking: Place the chicken breast-side up into the pressure cooker. Add in a cup of chicken broth or water for steam. Secure the lid and set the cooker to high pressure for 25 minutes.
Natural Release: Once cooked, allow the pressure to release naturally. This ensures the chicken retains its moisture and stays juicy.
Crisping the Skin: While the pressure-cooked chicken will be flavorful and tender, it might lack the crispy skin of traditional roasted chicken. For this, transfer the chicken to an oven set on broil or a hot grill just for a few minutes until the skin becomes golden and crispy.
Serving: Allow the chicken to rest for about 10 minutes before carving. This lets the juices redistribute. Serve with any additional rice stuffing that might have been cooked separately.
The pressure cooker method introduces a whole new dimension to the Roasted Chicken with Rice Stuffing dish. It captures the essence and flavors of the dish while significantly slashing down the cooking time. For those days when you crave comfort but are pressed for time, this method is your culinary savior.
Our Recommended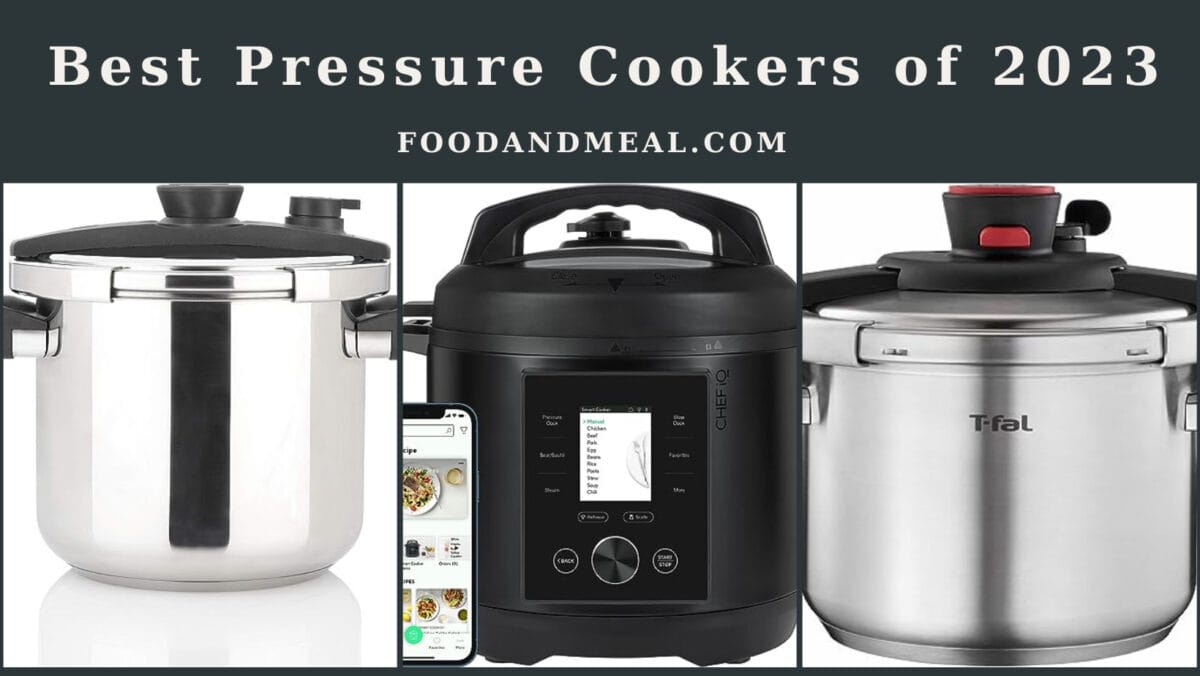 Read more
Tips for making Roasted Chicken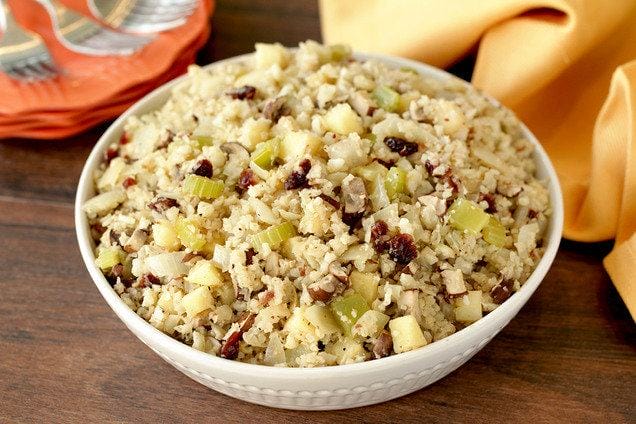 Serving Suggestions
Perfect Pairings for Roasted Chicken with Rice Stuffing:
Vegetable Companions: A side of roasted or steamed vegetables complements the richness of the chicken. Consider classics like green beans almandine, glazed carrots, or even a simple salad.
Sauces & Gravies: A herby chimichurri or classic gravy can elevate the dish. Even a tangy sauce, like a cranberry relish, can add a splash of brightness to the palette.
Bread Selection: Freshly baked dinner rolls or artisan bread can be perfect for soaking up those delicious juices and sauces on the plate.
Beverage Bliss: A glass of chardonnay pairs beautifully, complementing the chicken's roasted flavors. If you're more of a non-alcoholic drinker, a light iced tea with a hint of lemon is refreshing.
Cooking Tips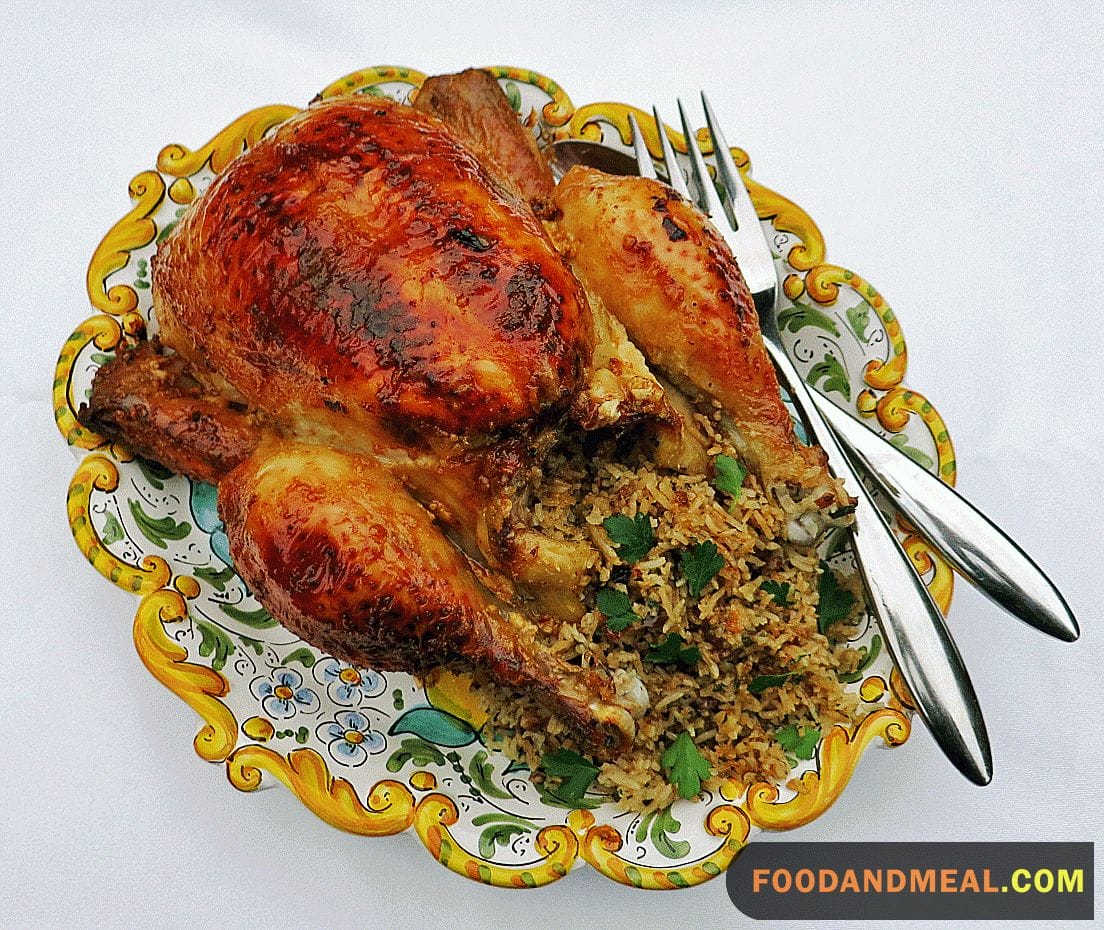 Mastering the Art of Pressure-Cooked Roasted Chicken with Rice Stuffing:
Searing First: For an added depth of flavor, consider searing the chicken on all sides before pressure cooking. This introduces a caramelized flavor profile.
Rice Watch: Be cautious with the amount of rice stuffing; as it expands, overstuffing can cause the chicken to split or the rice to become too compressed.
Herb Infusion: Place some fresh herbs like rosemary, thyme, or bay leaves in the cooking liquid for an added layer of flavor during the pressure cooking phase.
Common Mistake: Avoid using too much liquid. Remember, pressure cookers retain moisture, so you don't need as much as you'd use in traditional roasting.
List of 5 FAQs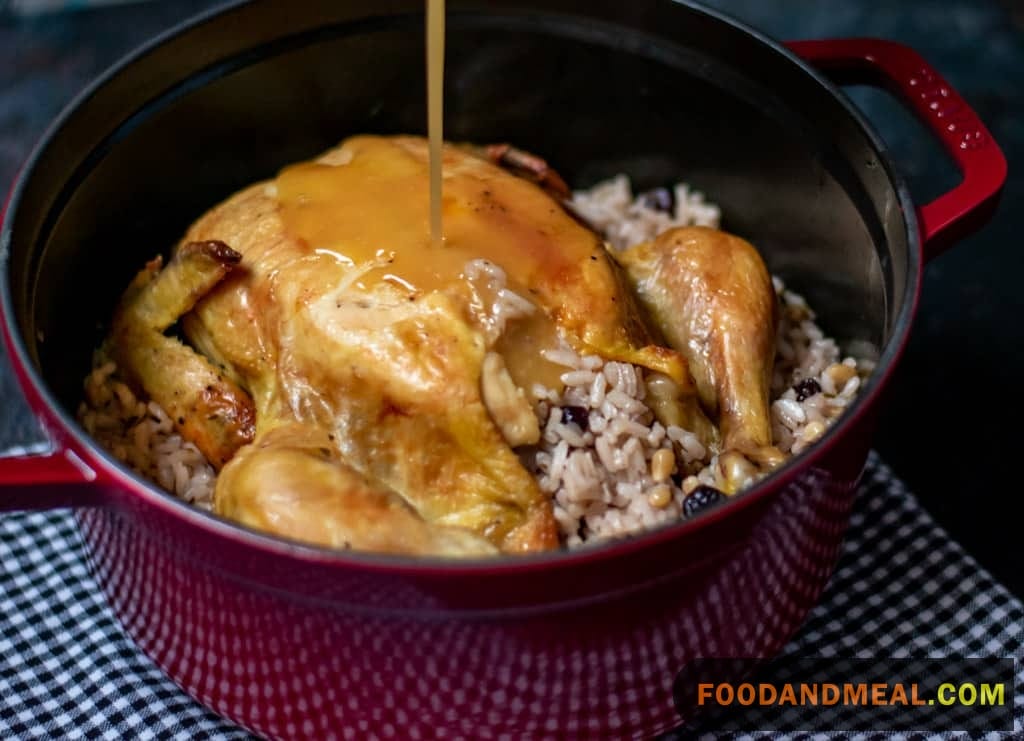 Delving Deeper into the Pressure-Cooked Roasted Chicken Realm:
Can I use wild rice or a rice blend for stuffing? Absolutely. Wild rice or blends can introduce a nuttier, richer flavor and texture. However, adjust cooking times as wild rice may take longer to cook.
How can I ensure the skin gets crispy without an oven or grill? If you don't have access to an oven or grill, consider using a large skillet or pan on high heat to sear the chicken post-pressure cooking.
Why is my rice undercooked after the chicken is done? This might be due to overstuffing or the specific rice variety used. Consider pre-cooking the rice slightly before stuffing or increasing pressure cooking time slightly.
Can I add fruits or nuts to the rice stuffing? Definitely! Dried fruits like cranberries, apricots, or even nuts like almonds or pecans can elevate the stuffing's flavor profile.
How should I store leftovers? Leftovers should be refrigerated within 2 hours of cooking. Separate the stuffing from the chicken and store in airtight containers. They should be consumed within 3-4 days. For longer storage, consider freezing but be mindful of texture changes upon reheating.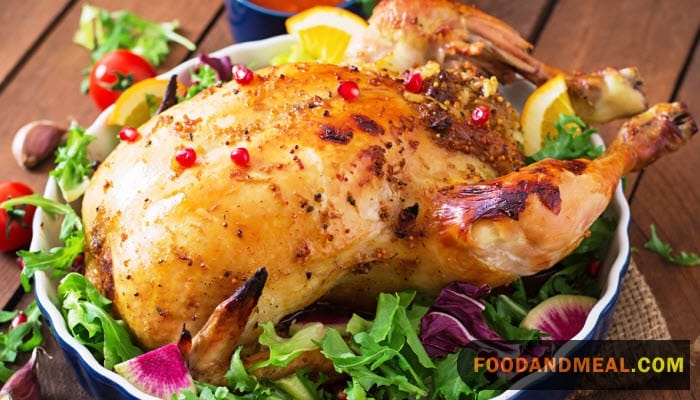 With these serving suggestions, tips, and answers, you're all set to explore and enjoy the culinary masterpiece that is Roasted Chicken with Rice Stuffing, pressure-cooked to perfection!
Roasted Chicken with Rice Stuffing, when prepared with love and precision, transforms into a meal that's more than just food – it's memories, emotions, and pure gastronomic joy. If this recipe has added a touch of warmth to your dining table, spread the joy by sharing it with fellow culinary enthusiasts. Hungry for more kitchen adventures? Subscribe to our blog and let's create memories, one recipe at a time!
Thanks for your visiting our Food and Meal site. Like and share this recipe if it is useful for you.
Experience the culinary brilliance of Chef John at Food And Meal Restaurant. With over 20 years of global expertise, My innovative creations and unwavering dedication to cooking have earned me a well-deserved reputation. My passion for gastronomy is showcased in every dish, combining fresh, local ingredients with harmonious flavors and captivating presentations. My ability to tell a story through my food reflects my profound understanding of culture and emotion.
Affiliate DisclaimerAbout The Content
As an affiliate, we may earn a commission from qualifying purchases. We get commissions for purchases made through links on this website from Amazon and other third parties.