Welcome to my culinary corner, where we'll embark on a journey filled with the warm aroma of freshly baked Chocolate Hazelnut Biscotti. As an experienced chef and devoted food blogger, I can't wait to share this delightful recipe, perfect for both novice bakers and seasoned pros.
Chocolate Hazelnut Biscotti Recipes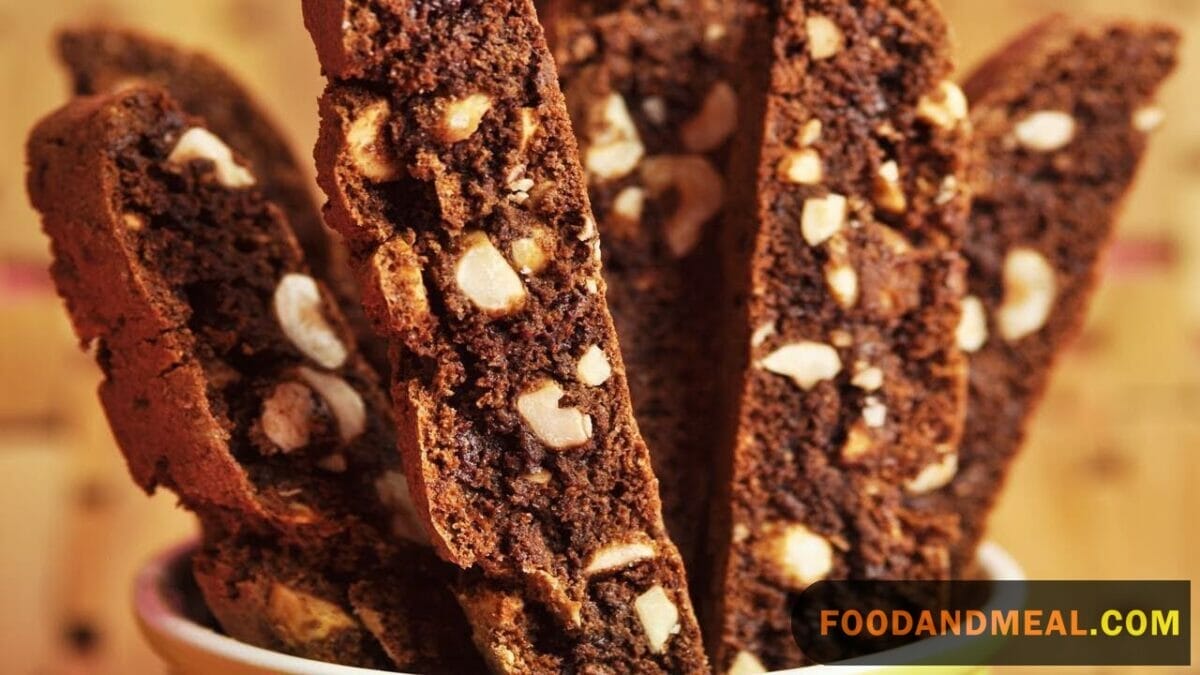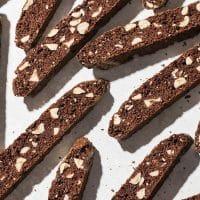 Chocolate Hazelnut Biscotti
If you're looking for a delicious, chocolate-flavored cookie, you should try making Double Chocolate Hazelnut Biscotti. Here's how to make these delicious cookies: Unsweetened cocoa powder, finely ground hazelnuts, and baking instructions. Make sure to follow the instructions carefully and bake the biscotti for at least 25 minutes. You should leave the door slightly open while baking so that the biscotti do not burn.
Print
Pin Recipe
Add to Collection
Go to Collections
Equipment
Instructions
Preheat oven to 350°F. Line heavy large baking sheet with parchment paper. Grind 1/2 cup toasted hazelnuts in processor. Set aside. Whisk flour, cocoa, baking soda, baking powder and salt in large bowl. Beat butter and sugar in another large bowl to blend. Add eggs and vanilla and almond extracts and beat until well blended. Beat in flour mixture. Mix in 1 cup whole toasted hazelnuts, chocolate chips and 1/2 cup ground hazelnuts.

Divide dough into 2 equal pieces. Shape each piece on baking sheet into 2 1/2-inch-wide by 14-inch-long log. Place logs on prepared baking sheet, spacing 2 1/2 inches apart (logs will spread during baking). Bake until logs feel firm when tops are gently pressed, about 35 minutes. Cool logs on baking sheet 15 minutes. Maintain oven temperature.

Transfer baked logs to cutting board. Using serrated knife, cut warm logs crosswise into 1/2-inch-thick slices. Arrange slices, cut side down, on 2 baking sheets. Bake biscotti until firm, about 15 minutes. Transfer to racks and cool completely. (Chocolate-Hazelnut Biscotti can be prepared ahead. Store in airtight container up to 4 days, or wrap in foil and freeze in resealable plastic bags up to 3 weeks.)
Notes
Bake the biscotti until they are crisp. Let them cool, then slice them and enjoy!
Share by Email
Share on Facebook
Share on Twitter
Nutrition
Serving:
4
dozen
|
Calories:
1655
kcal
|
Carbohydrates:
207
g
|
Protein:
24
g
|
Fat:
89
g
|
Saturated Fat:
39
g
|
Polyunsaturated Fat:
6
g
|
Monounsaturated Fat:
35
g
|
Trans Fat:
2
g
|
Cholesterol:
270
mg
|
Sodium:
746
mg
|
Potassium:
695
mg
|
Fiber:
12
g
|
Sugar:
119
g
|
Vitamin A:
1630
IU
|
Vitamin C:
3
mg
|
Calcium:
178
mg
|
Iron:
9
mg
© Food And Meal
This website provides approximate nutrition information for convenience and as a courtesy only. Nutrition data is gathered primarily from the Spoonacular Database, whenever available, or otherwise other online calculators.
Pin Recipe
Alternative Method: Chocolate Hazelnut Biscotti in a Microwave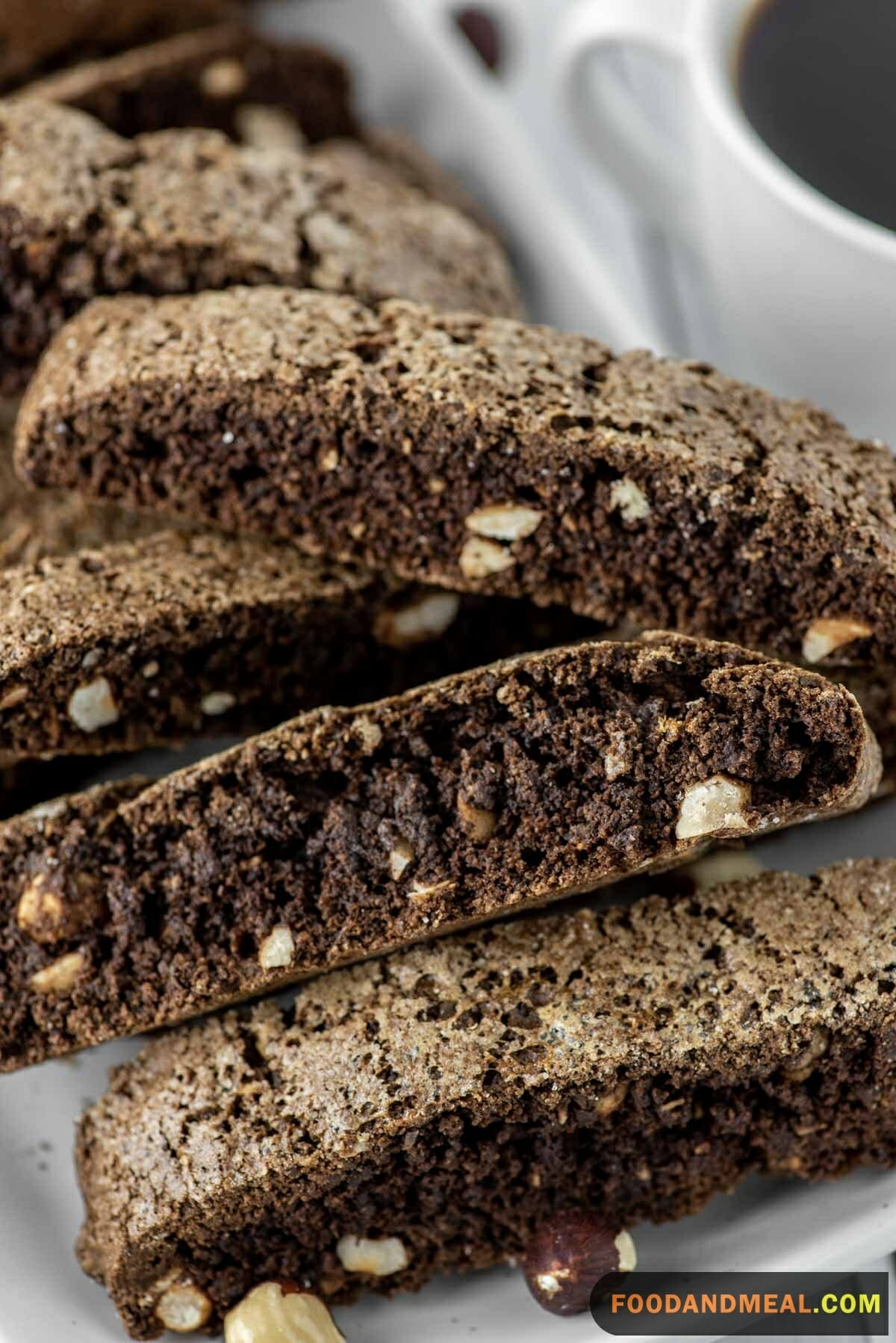 Ingredients:
1/2 cup unsalted butter, melted
1 cup granulated sugar
2 large eggs
2 cups all-purpose flour
1/2 cup unsweetened cocoa powder
1 teaspoon baking powder
1/4 teaspoon salt
1/2 cup chopped hazelnuts
1/2 cup chocolate chips
1 teaspoon vanilla extract
Instructions:
In a microwave-safe bowl, melt the butter in the microwave for about 30 seconds or until fully melted.
Add the granulated sugar to the melted butter and mix until well combined.
Stir in the eggs and vanilla extract until the mixture is smooth.
In a separate bowl, whisk together the all-purpose flour, cocoa powder, baking powder, and salt.
Gradually add the dry ingredients to the wet ingredients, mixing until a dough forms.
Fold in the chopped hazelnuts and chocolate chips, distributing them evenly throughout the dough.
On a microwave-safe plate, shape the dough into a log approximately 12 inches long and 2 inches wide.
Microwave the dough on medium-high (70% power) for 3-4 minutes, rotating the plate every minute to ensure even cooking.
Remove the biscotti log from the microwave when it's firm to the touch and slightly dry on the surface. It will continue to firm up as it cools.
Allow the biscotti log to cool for about 10 minutes, then use a sharp knife to slice it into individual biscotti pieces.
Place the biscotti pieces on a microwave-safe plate and microwave on medium-high (70% power) for an additional 1-2 minutes, or until they become crisp and crunchy.
Let the biscotti cool completely before indulging in their delightful crunch. Enjoy your homemade Chocolate Hazelnut Biscotti, made in no time with the microwave!
Tips for making Chocolate Hazelnut Biscotti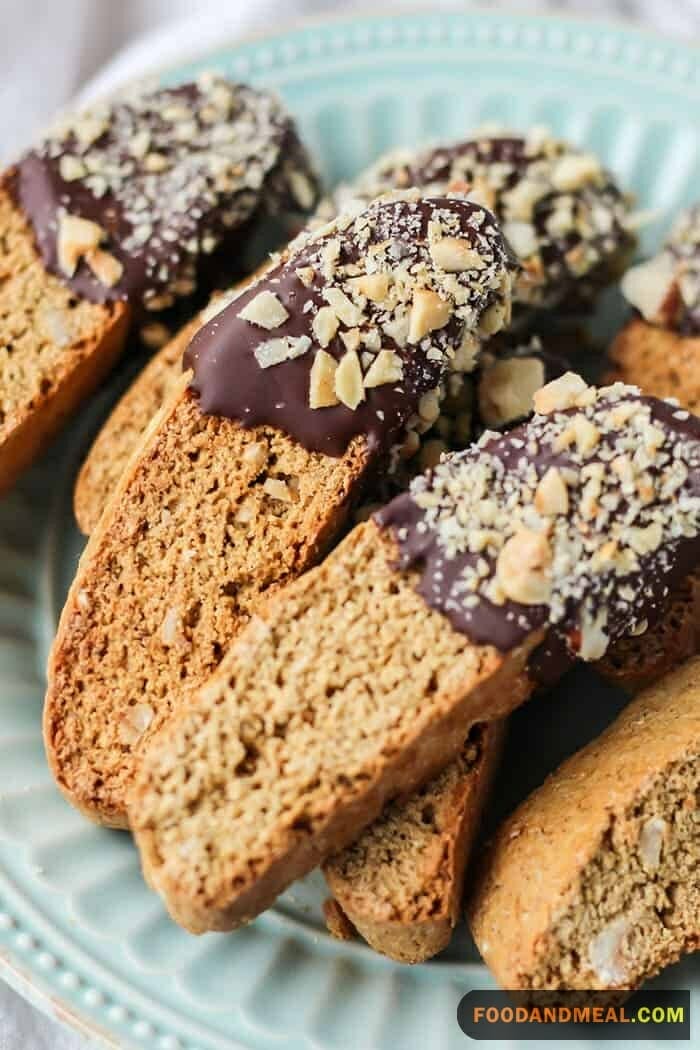 Serving Suggestions
Recommended Sides and Garnishes:
Espresso or Cappuccino: The classic pairing! Dip your biscotti into a cup of freshly brewed espresso or cappuccino for an authentic Italian experience.
Nutella Spread: For an extra dose of hazelnut goodness, spread some Nutella on your biscotti. It's a match made in heaven.
Berry Compote: Serve your biscotti with a side of mixed berry compote for a burst of fruity freshness.
Different Ways to Serve:
Traditional Dunking: As mentioned, dipping biscotti in coffee is a time-honored tradition. Enjoy the slow absorption of flavors as the biscotti softens.
Dessert Platter: Arrange your biscotti on a dessert platter with some fresh fruit, a drizzle of chocolate sauce, and a scoop of vanilla ice cream for a stunning dessert presentation.
Gifts from the Heart: Package your biscotti in decorative bags or boxes and gift them to friends and family. They make delightful homemade gifts.
After-Dinner Treat: Serve biscotti as a post-dinner treat alongside a glass of dessert wine or a fine liqueur.
Cookie Crumbs: Crush biscotti into crumbs and use them as a delicious topping for ice cream or yogurt.
Cooking Tips
Tips and Tricks:
Even Slicing: When cutting the biscotti log, use a sharp knife and make clean, even slices to ensure consistent baking.
Consistent Dough: Aim for a dough that's not too sticky or dry. If it's too sticky, add a bit more flour; if too dry, a touch of milk can help.
Chill the Dough: After the first bake, let the biscotti log cool for easier slicing and cleaner cuts.
Common Mistakes to Avoid:
Overbaking: Be cautious during the second bake; overdoing it can make biscotti too hard. Keep an eye on them, and remember they continue to firm up as they cool.
Inadequate Cooling: Rushing the cooling process can lead to crumbly biscotti. Give them ample time to cool and firm up.
Uneven Mixing: Ensure all ingredients are thoroughly mixed to avoid pockets of dry flour or uneven add-ins.
Frequently Asked Questions about Chocolate Hazelnut Biscotti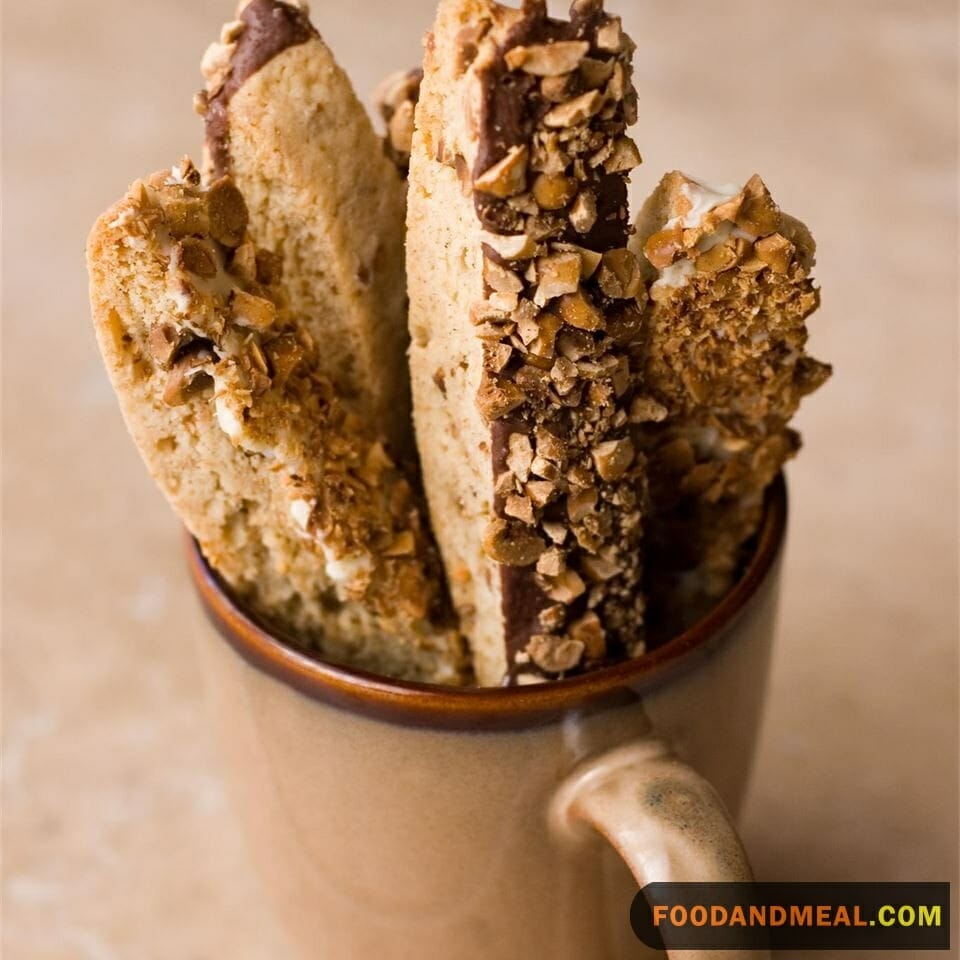 How should I store leftover Chocolate Hazelnut Biscotti? To keep your biscotti crisp, store them in an airtight container at room temperature for up to two weeks. For longer storage, freeze them in an airtight bag or container for up to three months.
Can I use different nuts in this recipe? Absolutely! You can substitute hazelnuts with almonds, pistachios, or your favorite nuts for a unique twist on the classic biscotti.
Can I make this biscotti less sweet? Certainly. Adjust the sugar quantity to your taste. Reducing it slightly won't compromise the biscotti's texture.
What's the best way to achieve a perfect crunch? The key is in the double baking process. Ensure the biscotti log is baked until firm, and the second bake dries them out to achieve that signature crunch.
Can I customize the add-ins? Absolutely! Feel free to experiment with different add-ins like dried fruits, white chocolate chips, or even a hint of orange zest for a personalized twist.
Bake Chocolate Hazelnut Biscotti like a pro with our easy-to-follow recipe. Share it with friends, and subscribe for more delightful culinary adventures!
Affiliate DisclaimerAbout The Content
As an affiliate, we may earn a commission from qualifying purchases. We get commissions for purchases made through links on this website from Amazon and other third parties.