This perfect recipe for chocolate hazelnut biscotti from Bon Appetit makes 4 dozen, which is a good thing, because it is hard to stop once you get started on these. These biscotti start out firm but when softened with a cup of coffee's heat, they just melt perfectly at each bite.
Note: Make sure to space the logs at least 2 1/2 inches apart as the dough spreads during baking. These are easier to slice when still warm. Waiting longer than 15 minutes may result in slices crumbling apart.
Chocolate Hazelnut Biscotti Recipes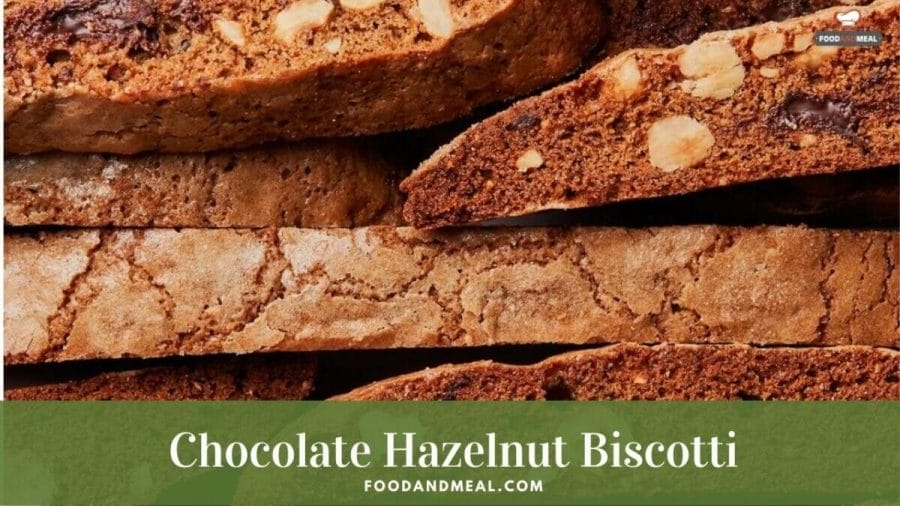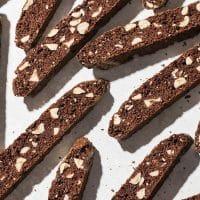 Chocolate Hazelnut Biscotti
If you're looking for a delicious, chocolate-flavored cookie, you should try making Double Chocolate Hazelnut Biscotti. Here's how to make these delicious cookies: Unsweetened cocoa powder, finely ground hazelnuts, and baking instructions. Make sure to follow the instructions carefully and bake the biscotti for at least 25 minutes. You should leave the door slightly open while baking so that the biscotti do not burn.
Print
Pin
Add to Collection
Go to Collections
Equipment
Instructions
Preheat oven to 350°F. Line heavy large baking sheet with parchment paper. Grind 1/2 cup toasted hazelnuts in processor. Set aside. Whisk flour, cocoa, baking soda, baking powder and salt in large bowl. Beat butter and sugar in another large bowl to blend. Add eggs and vanilla and almond extracts and beat until well blended. Beat in flour mixture. Mix in 1 cup whole toasted hazelnuts, chocolate chips and 1/2 cup ground hazelnuts.

Divide dough into 2 equal pieces. Shape each piece on baking sheet into 2 1/2-inch-wide by 14-inch-long log. Place logs on prepared baking sheet, spacing 2 1/2 inches apart (logs will spread during baking). Bake until logs feel firm when tops are gently pressed, about 35 minutes. Cool logs on baking sheet 15 minutes. Maintain oven temperature.

Transfer baked logs to cutting board. Using serrated knife, cut warm logs crosswise into 1/2-inch-thick slices. Arrange slices, cut side down, on 2 baking sheets. Bake biscotti until firm, about 15 minutes. Transfer to racks and cool completely. (Chocolate-Hazelnut Biscotti can be prepared ahead. Store in airtight container up to 4 days, or wrap in foil and freeze in resealable plastic bags up to 3 weeks.)
Video
Notes
Bake the biscotti until they are crisp. Let them cool, then slice them and enjoy!
Share by Email
Share on Facebook
Share on Twitter
Nutrition
Serving:
4
dozen
|
Calories:
1655
kcal
|
Carbohydrates:
207
g
|
Protein:
24
g
|
Fat:
89
g
|
Saturated Fat:
39
g
|
Polyunsaturated Fat:
6
g
|
Monounsaturated Fat:
35
g
|
Trans Fat:
2
g
|
Cholesterol:
270
mg
|
Sodium:
746
mg
|
Potassium:
695
mg
|
Fiber:
12
g
|
Sugar:
119
g
|
Vitamin A:
1630
IU
|
Vitamin C:
3
mg
|
Calcium:
178
mg
|
Iron:
9
mg
© Food And Meal
This website provides approximate nutrition information for convenience and as a courtesy only. Nutrition data is gathered primarily from the Spoonacular Database, whenever available, or otherwise other online calculators.
Double Chocolate Hazelnut Biscotti Recipes
Double Chocolate Hazelnut Biscotti
If you're a lover of coffee and tea, you'll love these double chocolate hazelnut biscotti. These cookies have a delightfully crisp texture that's perfect for dunking in a cup of coffee or hot chocolate. To make your own, combine the dry ingredients and cream butter and sugar. Then, beat in the eggs, one at a time, until combined. Stir in the chocolate chips and flour. Flour a work surface. Bake the biscotti until they are crisp. Let them cool, then slice them and enjoy!
These biscotti are made with dark chocolate and roasted hazelnuts. The dark chocolate and hazelnuts in this recipe create the perfect combination of sweetness and crunch. Then, simply wrap the hazelnuts in a clean towel and remove the skin. After removing the skin, coarsely chop the nuts and combine all the dry ingredients. Bake in a 350°F oven for 15 minutes or until firm and dry.
Unsweetened cocoa powder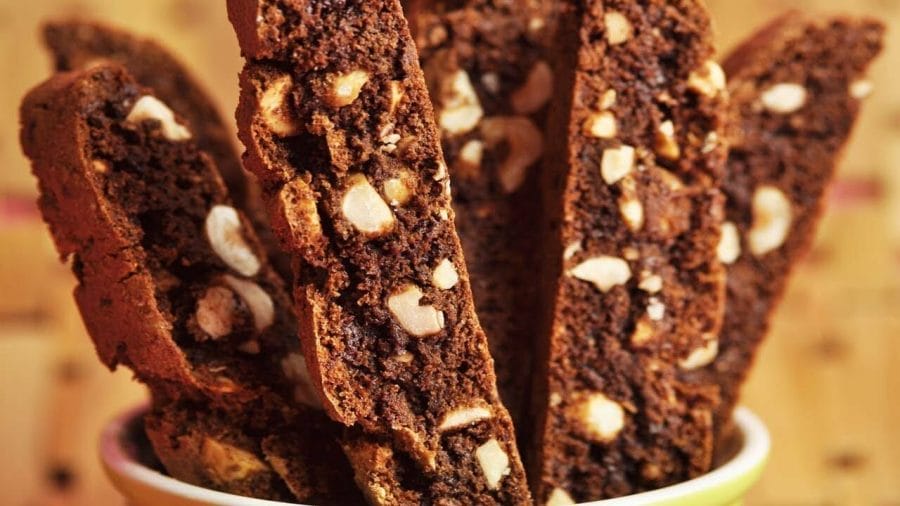 To make chocolate hazelnut biscotti, start by mixing dark chocolate chunks with toasted hazelnuts. Then, divide the dough into quarters. Roll out each half into a thick rectangle and smooth with a fork. To make longer biscotti, divide each quarter into thirds. When pressed between two fingers, the biscotti should be firm to the touch and about 2 inches wide. Let them cool before cutting.
In this recipe, you will add hazelnuts and cocoa powder. Both of these ingredients are delicious, and both will enhance the deep chocolate flavor of these biscotti. You can substitute unsweetened cocoa powder for semi-sweet chocolate, or use any other type of nut, as long as it is toasted. Hazelnuts are the classic choice for this type of cookie, but you can also use almonds or pecans. Unsweetened cocoa powder will give you a darker color and richer taste in these cookies.
Finely ground hazelnuts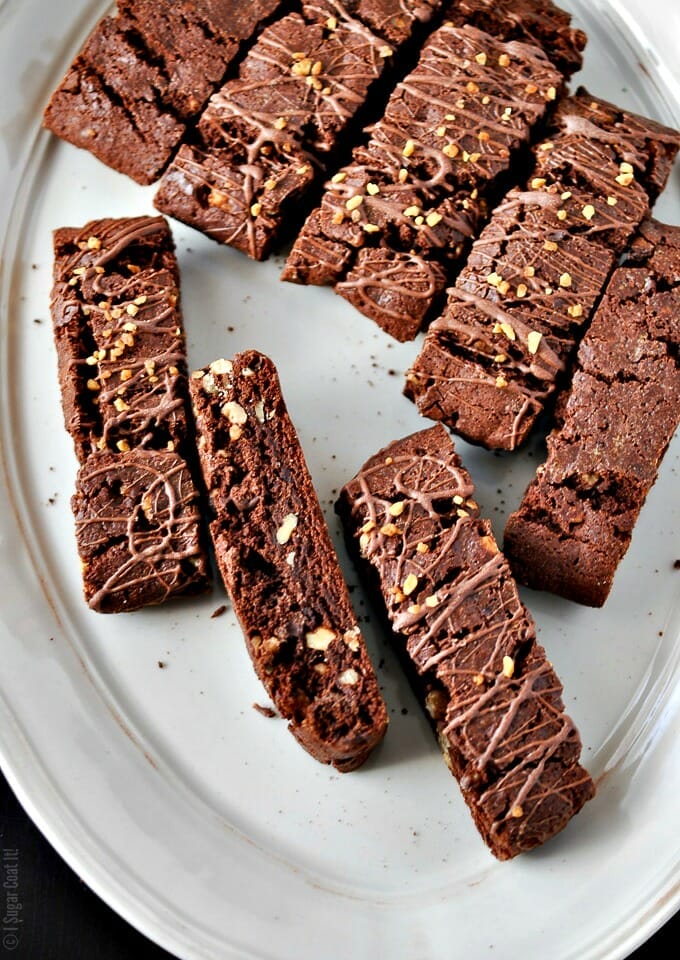 If you love chocolate and hazelnuts, you'll love chocolate hazelnut biscotti. These cookies are a great combination of rich chocolate and toasted hazelnuts. If you want a softer version, use finely ground hazelnuts instead of the nuts themselves. The toasted hazelnuts will give the biscotti a rich aroma.
For the dough, make a sheet of parchment paper at least 12 by 15 inches. Place the dough cylinders on parchment paper, brushing them with reserved egg. Bake the cookies for 25 minutes at 325 degrees. Finely grind the remaining hazelnuts in a food processor. Then transfer the dough to baking sheets. When done baking, remove the cookie sheets from the oven.
Baking instructions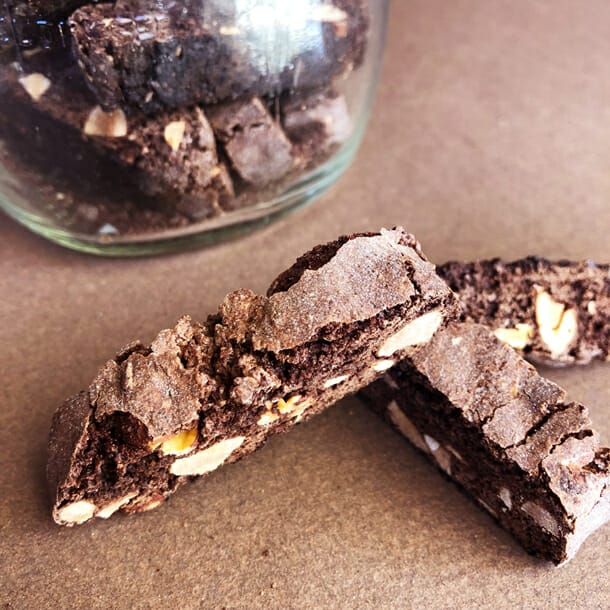 To make Chocolate Hazelnut Biscotti, you will need some basic ingredients, including flour and sugar. The traditional mixture for the cookies includes almonds and roasted nuts. Today, many recipes include other nuts and spices. Almost any biscuit can be made with chocolate, which is usually finely ground and added to the batter. Once cooled, the biscotti can be stored in an airtight container for up to a week.
To make chocolate hazelnut biscotti with almond meal, oats, and sugar, use an electric mixer. Add the eggs, vanilla, and butter, and beat until well combined. Once the dough is thoroughly mixed, pour into a large baking pan. Bake for about 30 minutes, then transfer to a wire rack to cool completely. Biscotti will stay fresh in an airtight container for a week or more, but if you freeze them, they'll turn hard and crumbly.
Ingredients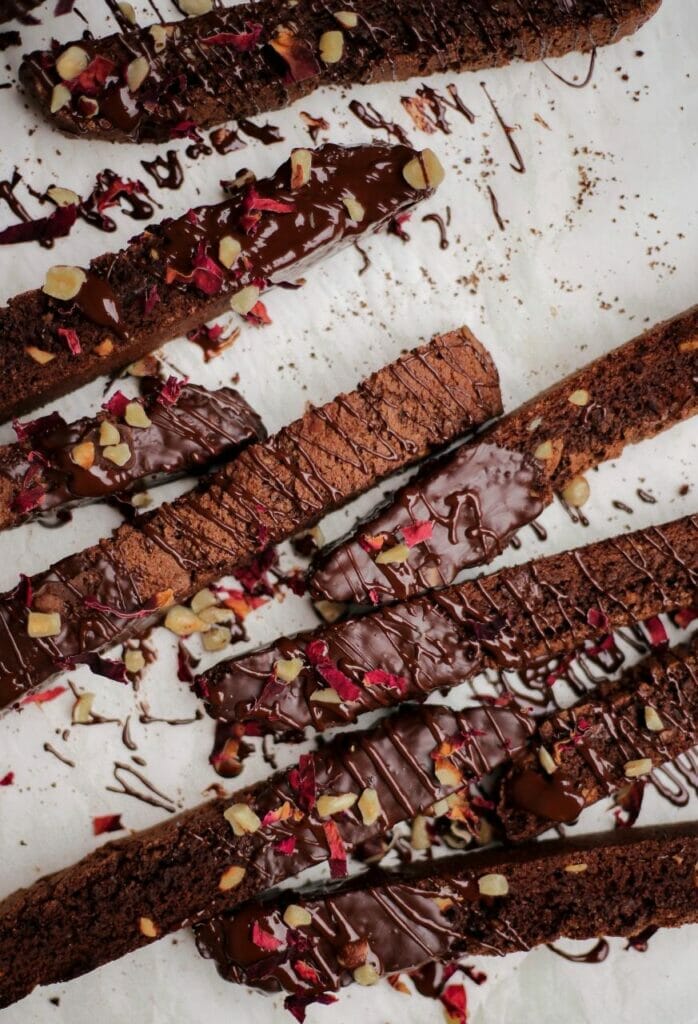 To make chocolate hazelnut biscotti, combine the toasted hazelnuts and the dark chocolate chunks. Form the dough into a log, and use a fork to flatten and smooth it out. Slice the biscotti into 3/4-inch slices, and place them cut-side down on a baking sheet lined with parchment paper. Bake for 35 minutes, or until a toothpick inserted in the center comes out clean. Remove the biscotti from the oven, cool, and then top with a drizzle of chocolate.
Place the chocolate chips and coconut oil in a heat-proof bowl over barely simmering water. Stir until the chocolate is smooth. Once the chocolate is melted, dip each biscotti, one at a time, into the chocolate. Place the biscotti back on the cookie sheet. Sprinkle each one with chopped hazelnuts, and refrigerate until firm. To make the chocolate hazelnut biscotti, follow the directions on the package to prepare and cook them.
Food And Meal website is happy to accompany you on a tour of culinary cultures around the world. Feel free to ask us anything about the recipes because all your kind comments give us the chance to improve our site.