These tasty Mediterranean Vegetable Skewers are great summertime meals, which are perfect for grilling season. You'll love the flavorful marinade and the light, crunchy vegetables. These grilled Mediterranean Vegetable Skewers are a quick and easy meal to prepare in 30 minutes. Just a few simple ingredients are all you need to enjoy this delicious Mediterranean dish. You can make it vegan or vegetarian by following the instructions given on the package.
Mediterranean Vegetable Skewer Recipes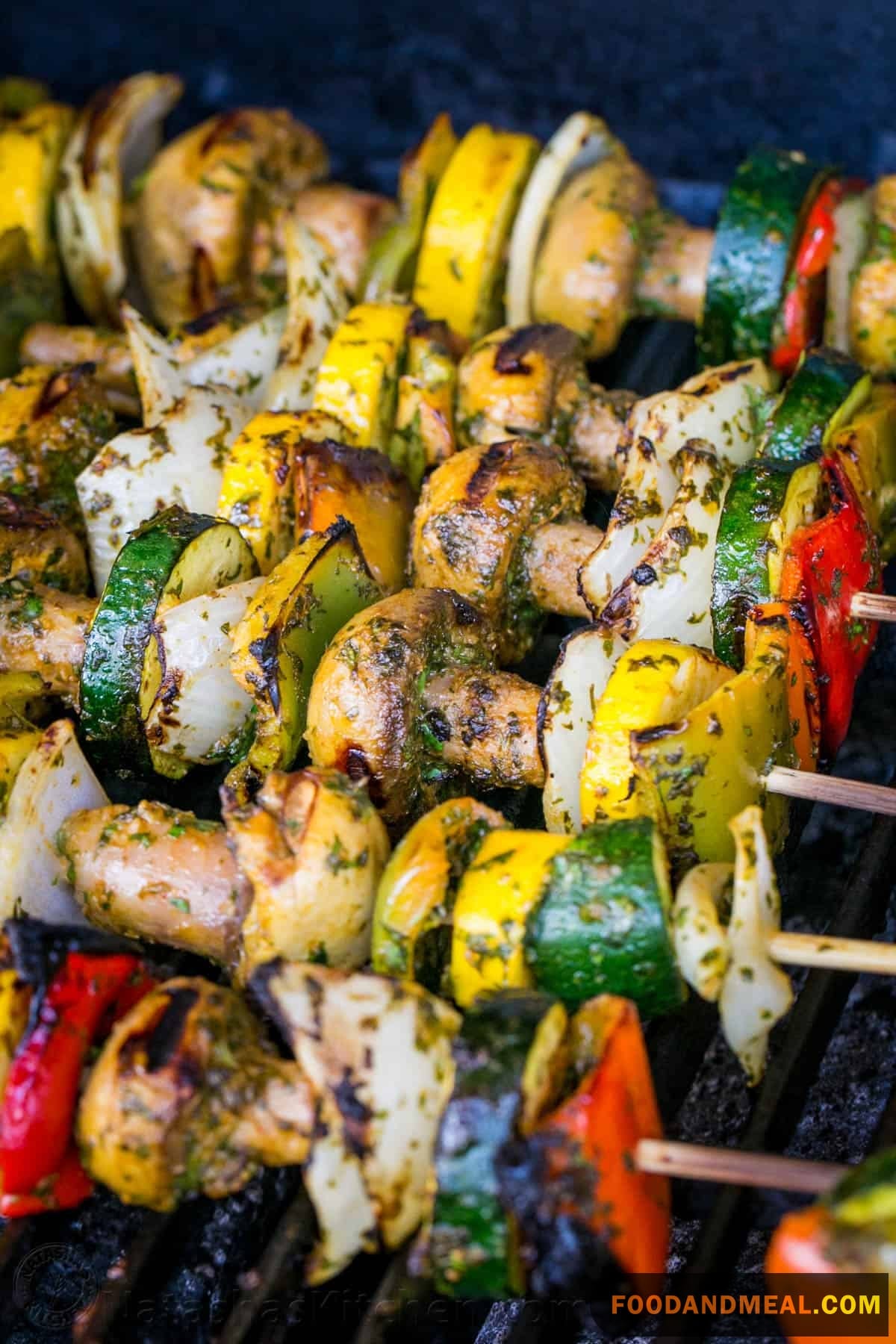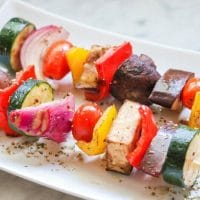 Air Fried Mediterranean Vegetable Skewers
Make these easy Mediterranean Vegetable Skewers in 30 minutes or less with just a few basic ingredients and a grill. You don't need a barbecue grill to make them! You can use an air fryer or oven. Join the Vegan Mediterranean Diet Recipes Facebook group for support, inspiration, and fun! It's easy to get started and delicious food is only minutes away. Here are some tips for preparing them.
Print
Pin Recipe
Add to Collection
Go to Collections
Equipment
Instructions
Cut the zucchinis, red and green bell peppers into 1inch pieces

Rinse the wooden skewers in water for 15 minutes.

Thread the vegetables on skewers; drizzle olive oil all over the vegetable skewers; sprinkle with spices.

Preheat at 400° F and cook for 13 minutes. Serve warm and enjoy!
Notes
Choose a vegetable that can withstand the heat and taste of the marinade. Pepper, aubergine, and courgette are all suitable for skewering. In addition to pepper, you can also use eggplant, tomatoes, and pepper. Then, place them on the kebabs and grill them for about 10 minutes. Flip the kebabs every few minutes and drizzle the remaining marinade over them.
Share by Email
Share on Facebook
Share on Twitter
Nutrition
Serving:
1
serving
|
Calories:
115
kcal
|
Carbohydrates:
11
g
|
Protein:
2
g
|
Fat:
8
g
|
Saturated Fat:
1
g
|
Polyunsaturated Fat:
1
g
|
Monounsaturated Fat:
5
g
|
Sodium:
17
mg
|
Potassium:
482
mg
|
Fiber:
3
g
|
Sugar:
7
g
|
Vitamin A:
2245
IU
|
Vitamin C:
119
mg
|
Calcium:
31
mg
|
Iron:
1
mg
© Food And Meal
This website provides approximate nutrition information for convenience and as a courtesy only. Nutrition data is gathered primarily from the Spoonacular Database, whenever available, or otherwise other online calculators.
Pin Recipe
Alternative Method: Mediterranean Vegetable Skewers in the Oven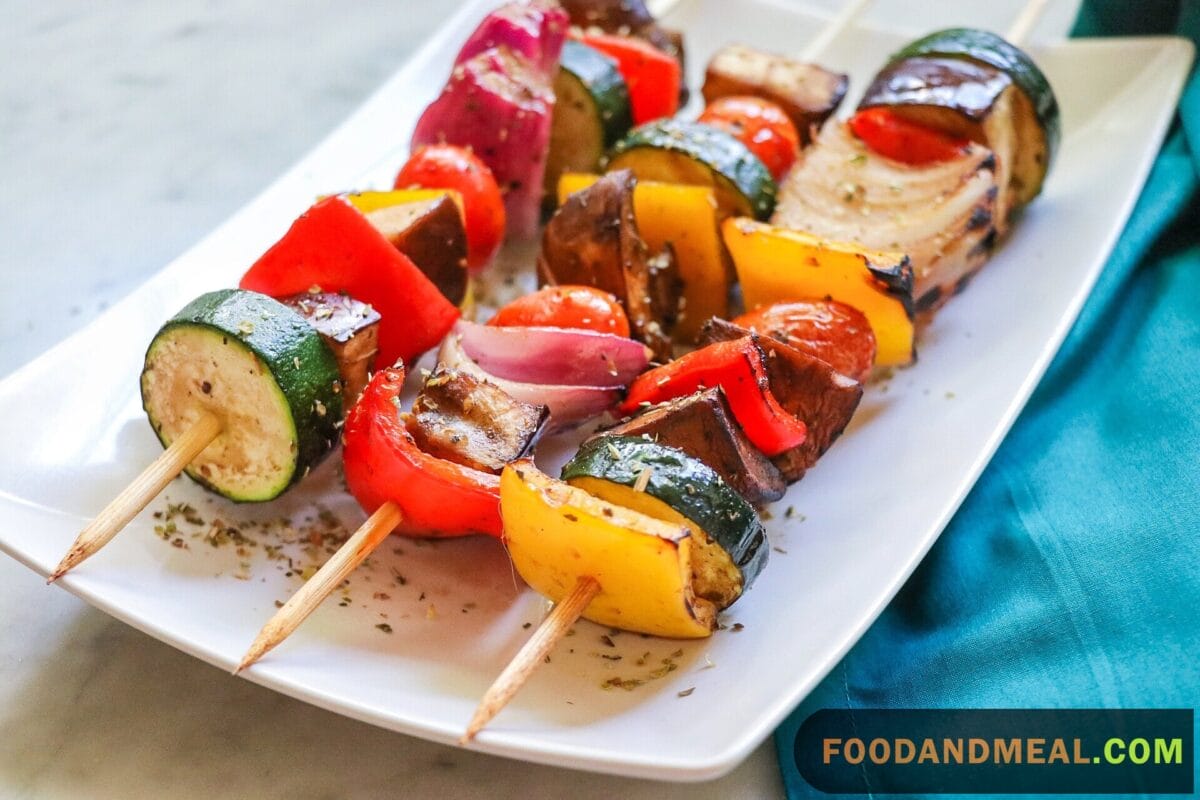 Ingredients:
2 bell peppers, cut into chunks
2 zucchinis, sliced into rounds
1 red onion, cut into wedges
10 cherry tomatoes
1/4 cup olive oil
2 cloves of garlic, minced
1 teaspoon dried oregano
Salt and pepper to taste
Wooden skewers, soaked in water
Instructions:
Preheat your oven to 425°F (220°C) and place a baking sheet lined with aluminum foil on the middle rack.
In a large bowl, combine the olive oil, minced garlic, dried oregano, salt, and pepper. Add the prepared vegetables to the bowl and toss until they are well coated with the seasoned oil.
Thread the marinated vegetables onto the soaked wooden skewers, alternating between the different veggies to create colorful skewers.
Place the skewers on the preheated baking sheet, ensuring they are not touching each other.
Roast the Mediterranean Vegetable Skewers in the oven for about 20-25 minutes, turning them once halfway through the cooking time. They are done when the vegetables are tender and slightly charred.
Serve your oven-roasted Mediterranean Vegetable Skewers with a drizzle of olive oil, a squeeze of fresh lemon juice, and a sprinkle of fresh herbs like basil or parsley for added freshness.
Tips for making Mediterranean Vegetable Skewers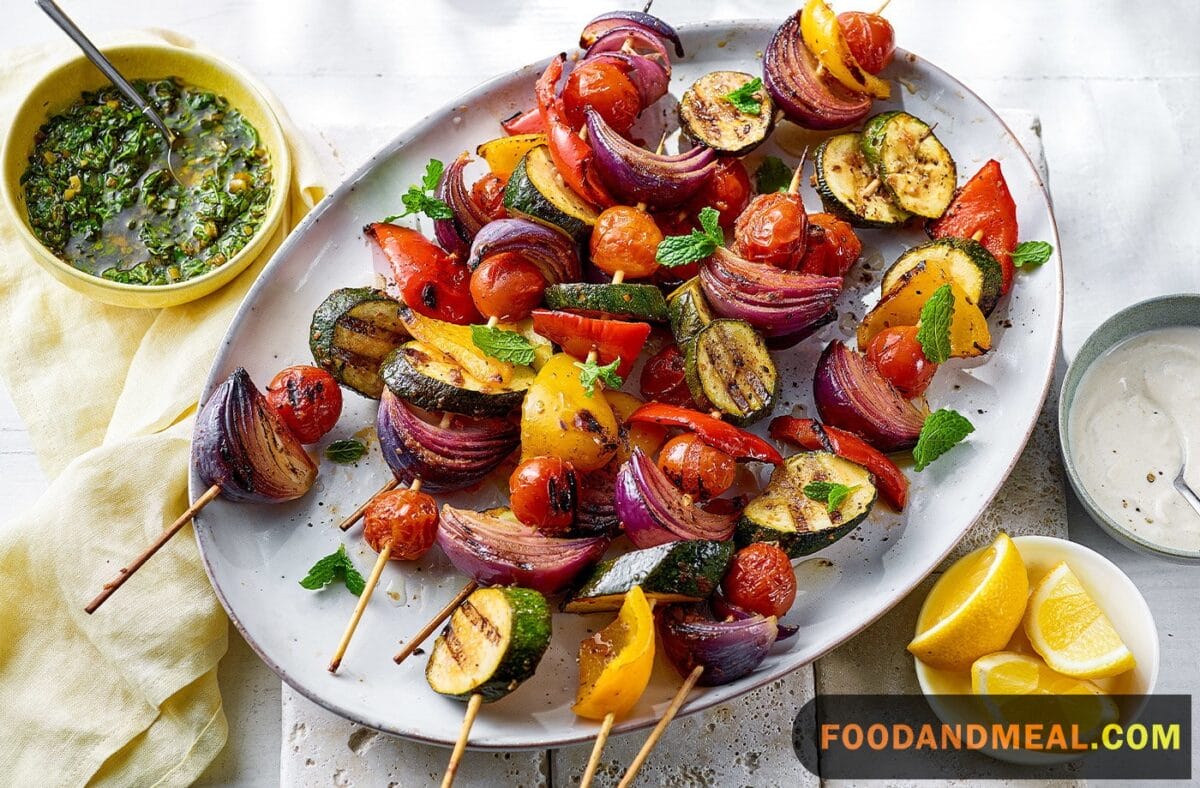 Cooking Tips
Tips and Tricks for Culinary Success
Soak Wooden Skewers: If you're using wooden skewers, soak them in water for at least 30 minutes before threading the vegetables. This prevents them from burning during cooking.
Uniform Size: To ensure even cooking, cut the vegetables into uniform sizes. This ensures that everything is done at the same time.
Oil and Seasoning: Be generous with the olive oil and seasoning when marinating the vegetables. This ensures they are well-coated and packed with flavor.
Watch the Oven: When roasting in the oven, keep a close eye on the skewers to avoid overcooking. You want the veggies tender but not mushy.
Broil for Char: If you want a little extra char, place the skewers under the broiler for the last couple of minutes. Keep a close eye to avoid burning.
Common Mistakes to Avoid
Not Preheating the Oven: Always preheat your oven before roasting. Starting with a hot oven helps achieve that perfect roasting texture.
Overcrowding the Oven: Avoid overcrowding the baking sheet; give the veggies some space to roast evenly.
Skipping Seasoning: Seasoning is key to flavorful skewers. Don't skip this step; it makes a world of difference.
Serving Suggestions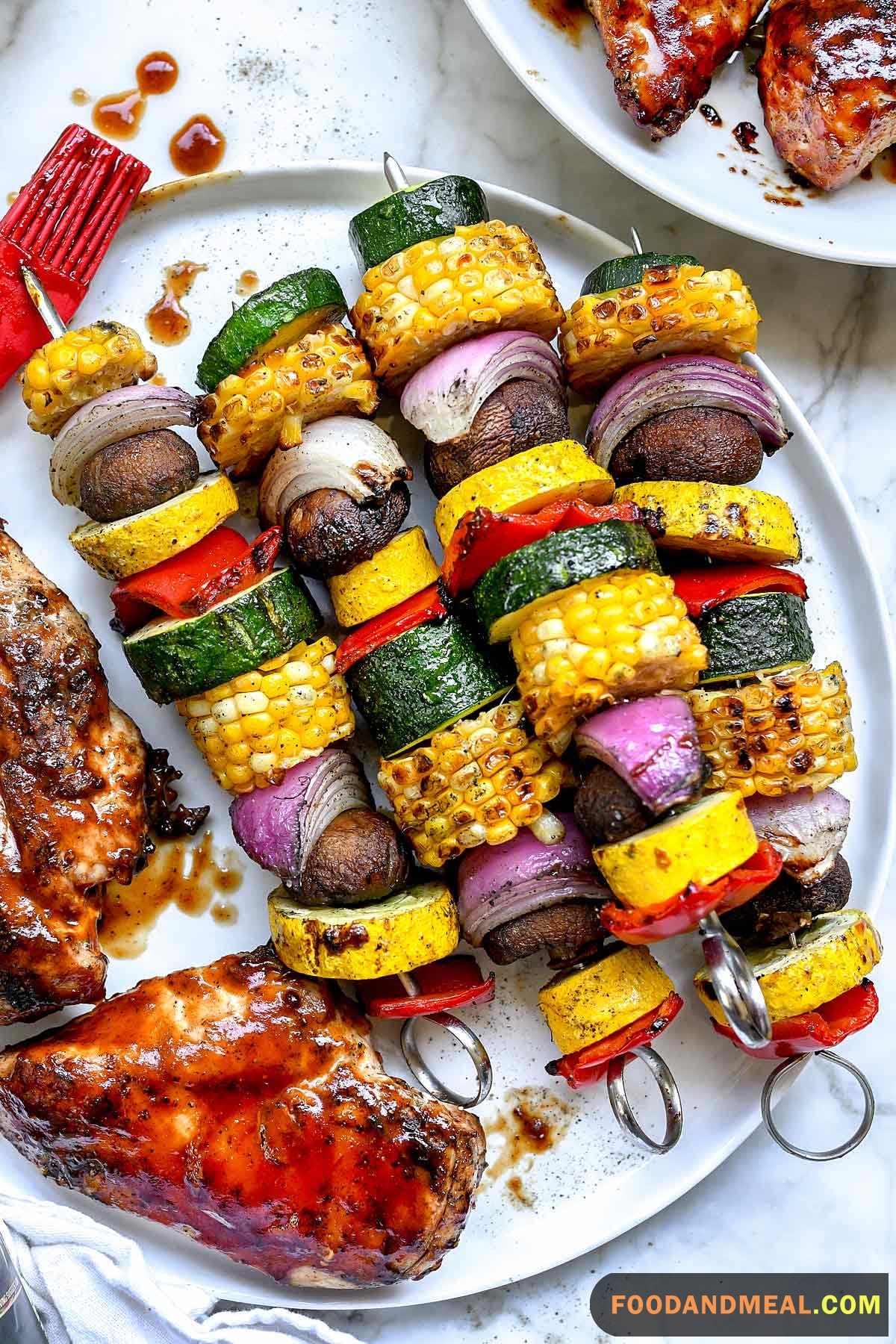 Tzatziki Dip: Serve with a side of creamy tzatziki sauce for a cooling contrast to the heat of the oven-roasted skewers.
Couscous Delight: Accompany your skewers with a fluffy serving of lemon-infused couscous for a satisfying meal.
Pita Perfection: Stuff the grilled vegetables into warm pita bread, add a dollop of hummus, and enjoy Mediterranean wraps.
Mediterranean Platter: Create a Mediterranean platter with olives, feta cheese, and warm flatbreads for a delightful spread.
Lemonade or Mint Tea: Complement the meal with a refreshing glass of homemade lemonade or traditional mint tea.
FAQs about Mediterranean Veggie Skewer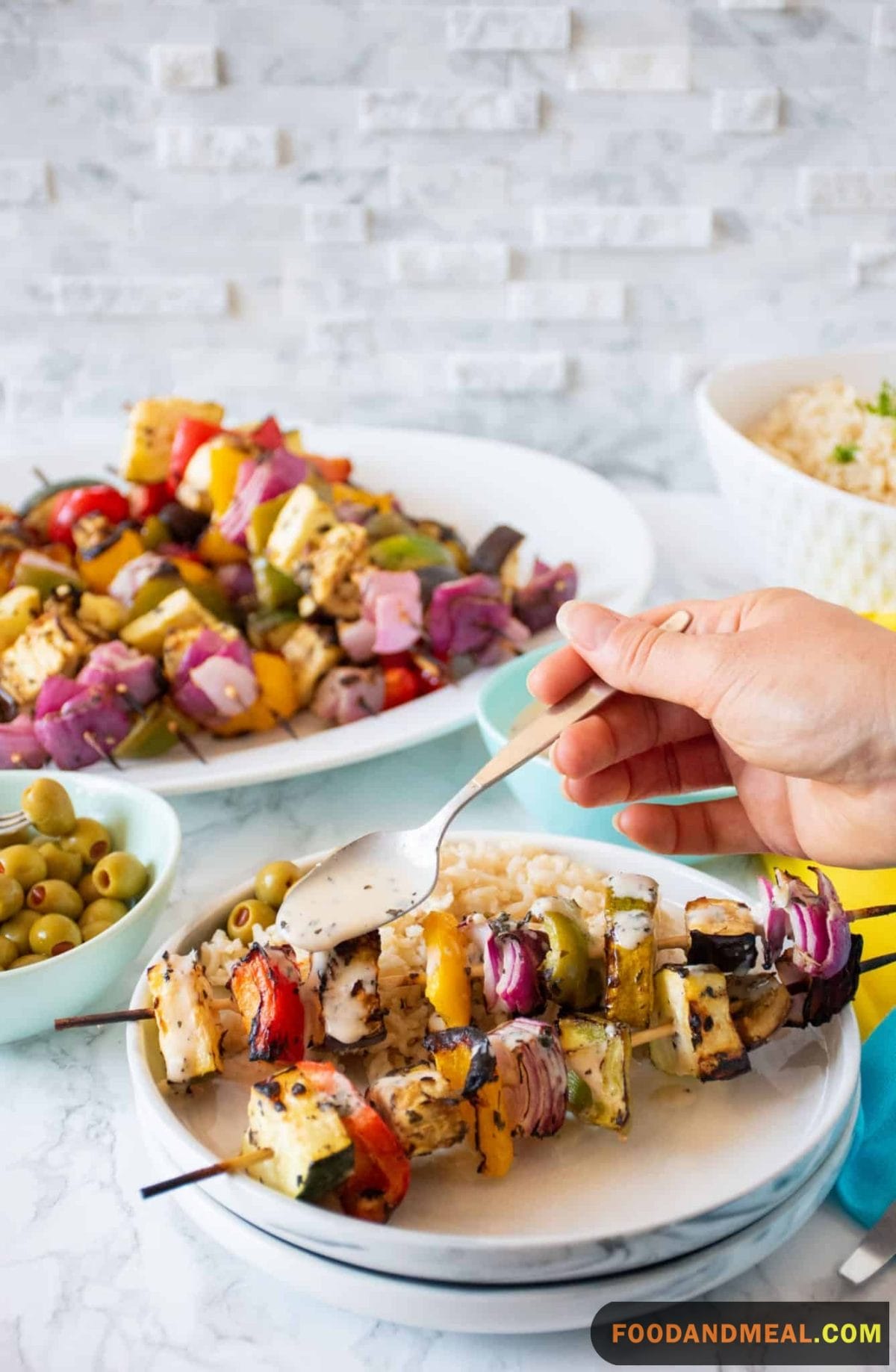 Can I use metal skewers in the oven? Yes, you can use metal skewers in the oven. They won't require soaking and can handle the high oven temperatures.
Can I use other vegetables for the skewers? Absolutely! Feel free to experiment with your favorite vegetables. Eggplant, mushrooms, or even artichoke hearts work well.
How do I store leftover Mediterranean Vegetable Skewers? To store leftovers, remove the vegetables from the skewers and place them in an airtight container in the refrigerator. They can be reheated in the oven or enjoyed cold in salads or wraps.
Can I use fresh herbs for garnish? Fresh herbs like basil, parsley, or oregano make excellent garnishes. They add a burst of freshness to the dish.
Can I prepare the skewers in advance for a party? Yes, you can prepare the skewers in advance. Marinate and thread the veggies onto skewers ahead of time, then roast them just before serving to maintain their fresh-off-the-grill taste.
Grill the flavors of the Mediterranean with our Mediterranean Vegetable Skewers. Share the recipe, subscribe for more gourmet inspiration, and start grilling today.
I'm James F Anderson, a noted sous chef from London and a Le Cordon Bleu alumnus. My career began in a Michelin-starred Parisian eatery, where my blend of classic and contemporary cooking, using seasonal ingredients, earned accolades. Recognized in culinary publications and on cooking shows, I'm committed to mentoring aspiring chefs and delivering memorable dining experiences, marking me as a standout talent in the culinary world.
Affiliate DisclaimerAbout The Content
As an affiliate, we may earn a commission from qualifying purchases. We get commissions for purchases made through links on this website from Amazon and other third parties.