Coconuts…those sun-kissed fruits that remind us of sandy beaches and azure skies. Ever imagined capturing that essence in a glass? Join me as we unravel the age-old secrets of making the creamiest coconut milk.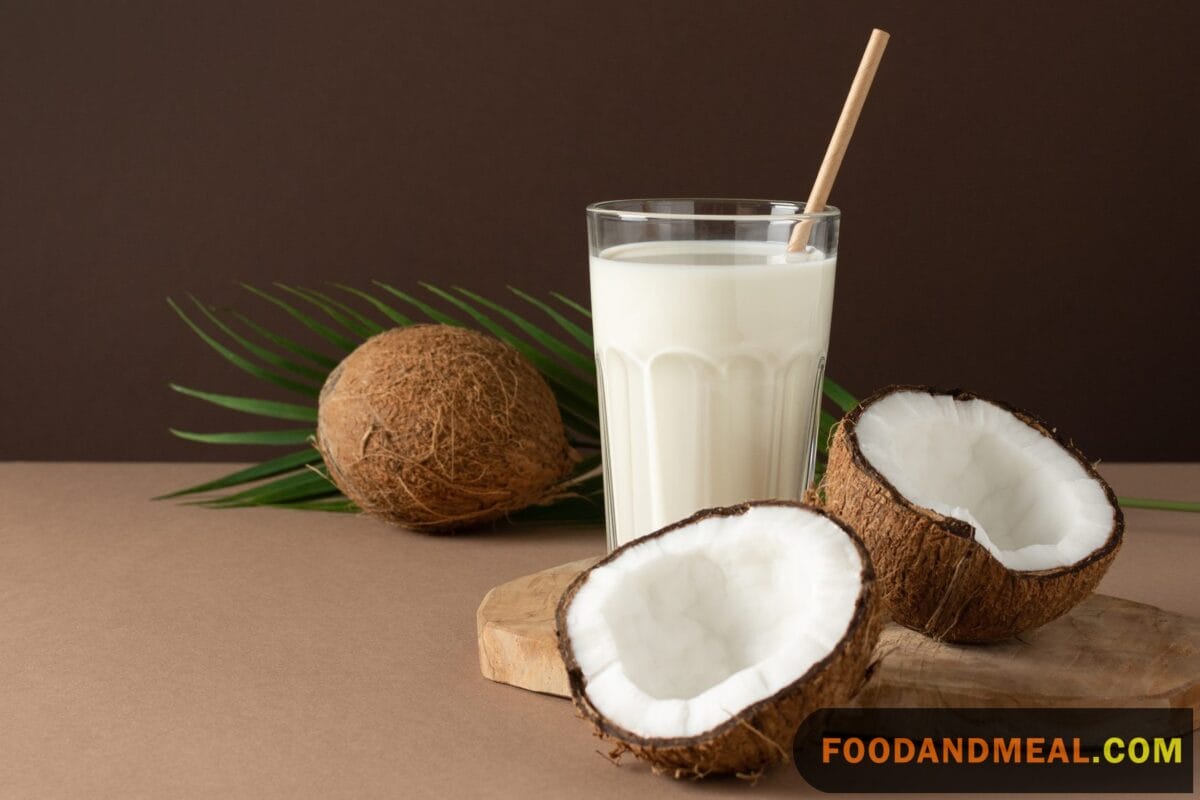 Coconut Milk Recipe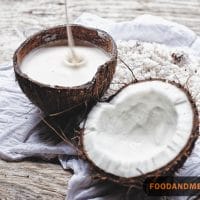 Coconut Milk
Dive into the world of coconut milk, a tropical delight that transforms every dish into a culinary masterpiece. Whether it's a creamy curry or a chilled smoothie, its versatility knows no bounds. Loved the recipe? Share your coconut milk creations with us and subscribe for more lip-smacking delights!
Print
Add to Collection
Go to Collections
Ingredients
1

cup (250 ml)

coconut water

1

tbsp.

raw almonds

1

tsp.

coconut oil

1/4

tsp.

vanilla extract

Himalayan or Atlantic salt, to taste

dash of cinnamon (optional)

1

handful of ice cubes
Instructions
Place all ingredients into a high powered blender and blend on

high for 45 – 60 seconds, until smooth.

Coconut water: boil together 1 cup coconut flakes with 4 cups

water, and then strain.
Notes
Tip: you can add sweetener to taste, or flavors.
In fact you can mix any kind of vegan milk with different flavors to taste you
can add sweeteners and you can combine several kinds of vegan milk of your
preference.
Share by Email
Share on Facebook
Share on Twitter
Nutrition
Calories:
45
kcal
|
Carbohydrates:
4
g
|
Protein:
1
g
|
Fat:
3
g
|
Saturated Fat:
2
g
|
Polyunsaturated Fat:
0.04
g
|
Monounsaturated Fat:
0.2
g
|
Sodium:
124
mg
|
Potassium:
297
mg
|
Fiber:
1
g
|
Sugar:
3
g
|
Vitamin C:
3
mg
|
Calcium:
28
mg
|
Iron:
0.3
mg
© Food And Meal
This website provides approximate nutrition information for convenience and as a courtesy only. Nutrition data is gathered primarily from the Spoonacular Database, whenever available, or otherwise other online calculators.
Cooking Tips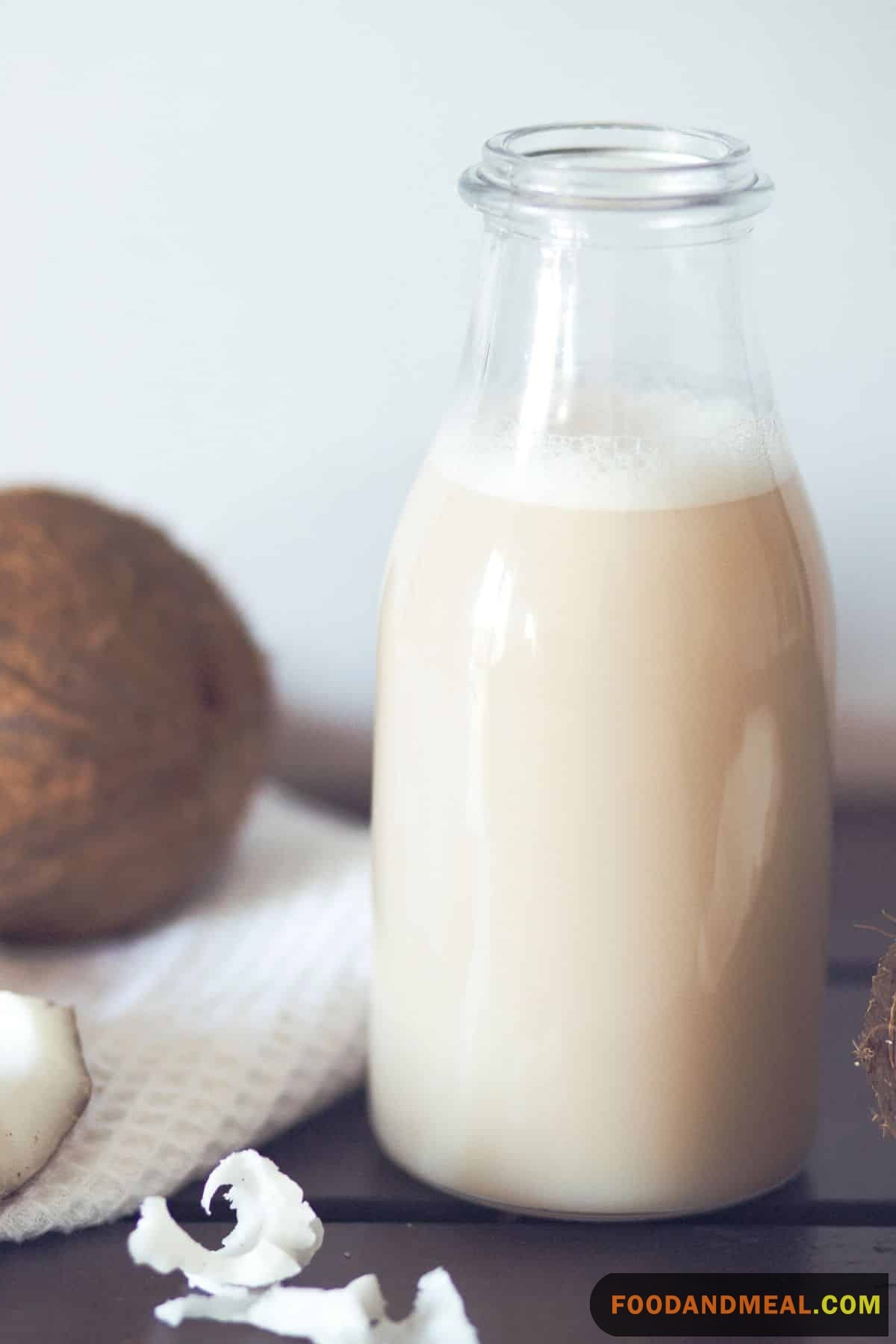 Ah, the kitchen—a place where culinary dreams either take flight or face-plant into disaster. But don't fret! With coconut milk, it's hard to go wrong, especially if you heed these insights:
Fresh is Best: While canned coconut milk is convenient, nothing beats the taste and texture of freshly made coconut milk. The depth of flavor is simply unparalleled.
Watch the Heat: Coconut milk can curdle if exposed to high heat for an extended period. Always add it towards the end of the cooking process and maintain a gentle simmer.
Storage: Leftover coconut milk can solidify in the fridge. Simply heat it gently to return it to liquid form.
Spices are Friends: Coconut milk loves company. Cardamom, cinnamon, turmeric—they all dance beautifully with this tropical delight.
Serving Suggestions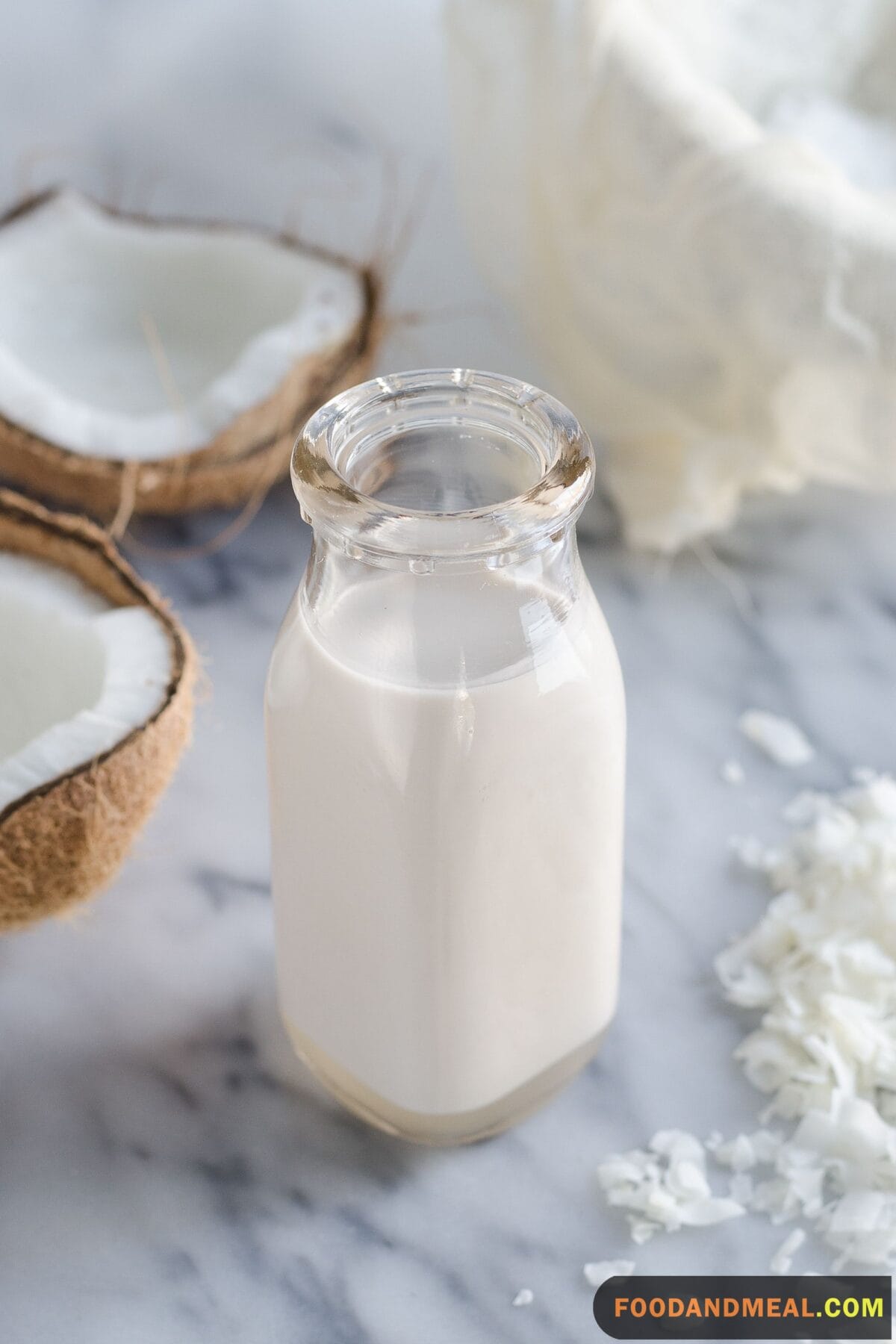 Every meal has its melody, its rhythm, and coconut milk dances gracefully with various partners, making the culinary waltz look oh-so-effortless. From its silky texture to its tropical aroma, here's how to let coconut milk truly shine:
Occasion: Coconut milk is an all-rounder. Serving breakfast? Use it in smoothies or cereals. Dinner parties? A Thai curry with coconut milk as the base is sure to impress. Lazy afternoons? Coconut milk ice cream, anyone?
Audience: Whether it's for kids who love its sweetness or vegans who cherish it as a dairy alternative, coconut milk is universally loved. It's also a hit among those following a keto or paleo diet.
Complements: Tropical fruits like pineapple, mango, and papaya pair delightfully with coconut milk. For a refreshing summer drink, blend coconut milk with a splash of pineapple juice and a dash of lime.
Presentation: Use it as a garnish on tropical fruit salads or in soups. Float a little on top of curries for an extra touch of luxury.
FAQs of Coconut milk
How long does homemade coconut milk last?
Homemade coconut milk is best consumed within 3-4 days when stored in the fridge. Remember to give it a good shake or stir before using, as natural separation may occur.
Can I freeze coconut milk?
Absolutely! Pour it into ice cube trays for easy portioning. Once frozen, transfer the cubes to a freezer bag. They can be directly added to curries or smoothies.
Why has my coconut milk curdled in the curry?
High heat is the culprit. Always add coconut milk towards the end and maintain a gentle simmer to avoid curdling.
Is there a difference in taste between canned and fresh coconut milk?
Indeed. While canned versions are convenient, fresh coconut milk has a depth of flavor that's hard to match. Plus, with fresh milk, you skip the additives and preservatives.
How can I make my coconut milk creamier?
Using mature coconuts and reducing the water ratio will give you a creamier milk. Additionally, letting it sit in the fridge will cause the cream to rise to the top, which can be scooped off for recipes that require thicker coconut cream.
From curries to smoothies, coconut milk reigns supreme. Unlock its culinary magic with our comprehensive guide. Dive in now and taste the tropics!
Affiliate DisclaimerAbout The Author
As an affiliate, we may earn a commission from qualifying purchases. We get commissions for purchases made through links on this website from Amazon and other third parties.