Irish coffee is famed because it's not only an ordinary coffee but a cocktail in its own title. It may be dubbed as floater coffee or an exotic-sounding 'Gaelic coffee.' Usually, this coffee or cocktail is taken as a hearty partner to a dessert.  To make Irish Coffee, it's best that you prepare fresh coffee, a spoonful of sugar, frothy cream and the legendary Irish whiskey.  Serve it for two and make an instant sweet date.
Irish Coffee Recipe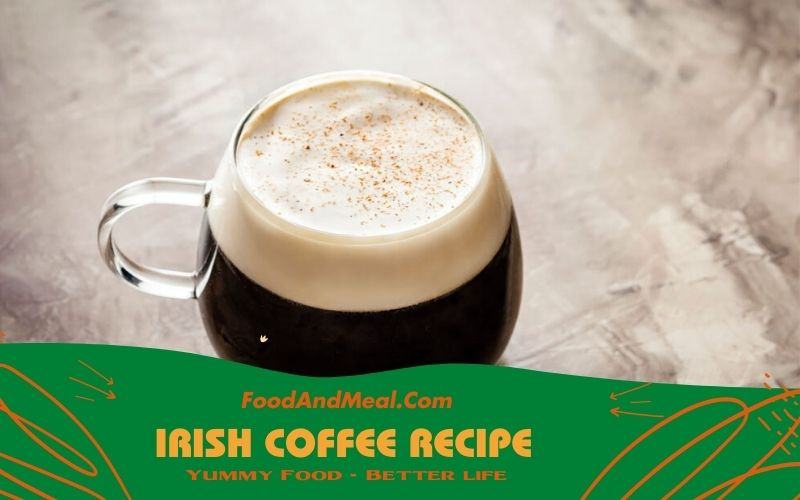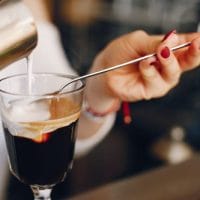 Irish Coffee
What is an Irish Coffe? An Irish coffee is a cocktail that combines hot coffee with Irish whiskey, cream and sugar. The drink is traditionally drunk through the cream. This beverage originated in Ireland and is popular today. 
Print
Add to Collection
Go to Collections
Ingredients
2

cups

brewed coffee

freshly made

3

oz.

an equivalent of 2 shots of Irish whiskey

2

tsp.

brown sugar

or more to suit desired taste

¼

cup

heavy cream

whipped

1 – ½

oz.

Irish cream

optional
Instructions
Fill up the mugs with freshly brewed coffee, maintaining 2 inches from the rim.

Pour 1 ½ oz. of Irish whiskey for each mug. You can simply estimate 1.5 oz. into a rough equivalent of 1 shot.

Add a teaspoon of brown sugar for each mug and stir. Moreover, you can add more sugar to make your coffee sweeter and denser.  If you have a denser consistency for your coffee, you can easily have a cream floater as you add the cream later.

Whisk the heavy cream in a mixing bowl and continue to do so until you achieve a slight frothy consistency. If you deem it desirable, you can also add a shot (or 1.5 oz.) of Irish cream for this step.

Get your tablespoon and carefully scoop a cream onto the top of the coffee by gently coursing the whisked cream against the side of the ream. Remember that the cream must float on the top of the coffee. In case it doesn't, just whisk the cream until it's an all bubbly and little bit denser.

Friends taking selfie at bar restaurant drinking cappuccino and irish coffee - People having fun together at fashion cafeteria - Friendship concept with happy men and women at cafe - Warm filter

How to make irish coffee – 5 easy steps 3
Notes
There are a few other key ingredients in an Irish coffee. The first component is whiskey, which gives the drink a rich, caramel flavor. To make a strong coffee, add a whipped cream. To mask the coffee's flavor, add a little sugar and a light roast of whiskey. For a sweeter drink, use more sugar and cream. If you want your drink to be stronger, increase the amount of whiskey used.
Share by Email
Share on Facebook
Share on Twitter
Nutrition
Serving:
1
serving
|
Calories:
150
kcal
|
Carbohydrates:
6
g
|
Protein:
1
g
|
Fat:
7
g
|
Saturated Fat:
4
g
|
Polyunsaturated Fat:
1
g
|
Monounsaturated Fat:
2
g
|
Cholesterol:
20
mg
|
Sodium:
9
mg
|
Potassium:
73
mg
|
Sugar:
5
g
|
Vitamin A:
219
IU
|
Vitamin C:
1
mg
|
Calcium:
14
mg
|
Iron:
1
mg
© Food And Meal
This website provides approximate nutrition information for convenience and as a courtesy only. Nutrition data is gathered primarily from the Spoonacular Database, whenever available, or otherwise other online calculators.
What is Irish Coffee?
What is Irish coffee? It's a classic cocktail made with hot coffee, Irish whiskey, sugar, and cream. It's a great way to enjoy the tastes of Ireland! This drink is also known as an "Irish stout." The drink is usually drunk through a straw. The name of this drink comes from the fact that it's made in Ireland, and it is named after the county.
The Irish coffee originated in the late 1940s in western Ireland. It was discovered by a newspaper reporter named Stanton Delaplane. He brought his recipe to the Buena Vista Cafe, which began serving Irish Coffee in 1952. Nowadays, there are more than 2,500 cafes and pubs in Ireland serving this delicious beverage, which has become a popular drink in many cities and countries. To get a taste of the drink, you can try it at a local cafe.
The drink was originally introduced in the U.S. in 1952, when a newspaper reporter named Jack Koeppler was working at a restaurant called The Buena Vista in San Francisco. A few years later, a bartender named Jack Koeppler created the drink, serving it with sugar. Although this drink is popular with people who love coffee, it's not for everyone. It's a drink for those with a sweet tooth.
Tips for making Irish Coffee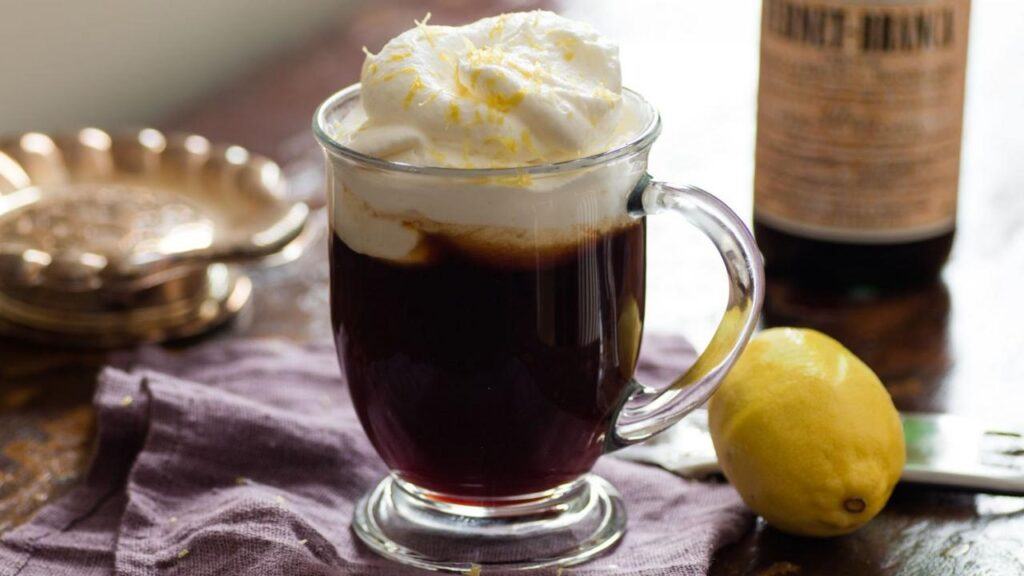 Although the recipe isn't exact, there are many ways to prepare it. The two most important components are brown sugar and whiskey. If you don't like either of these elements, you can substitute cream with Reddi-Whip instead. Another popular way to make an Irish coffee is by making a simple syrup with the sugar and adding whipped cream. Here are a few tips to get the perfect Irish coffee. The best part about this recipe is that you can customize it according to your preferences.
An Irish coffee is not complete without whiskey. It must contain at least one shot of whiskey, two ounces of brown sugar, strong black or dark roast coffee, and whipped cream. In addition to brown sugar, you must have a strong espresso or brewed coffee. To enhance the flavor of your drink, you can add some honey or maple syrup. If you like your drink very strong, you can double the whiskey and use it to sweeten it.
An Irish coffee can have many components. The standard ingredients are whiskey and brown sugar. The most important are whiskey and strong coffee. If you want to add a little bit of sugar, you may want to use a small amount of sugar. A good way to make an Irish coffee is to stir it well to get the desired consistency. If you are a beginner, you should always make sure it's made from fresh milk, which will ensure the perfect taste.
It is very important to use quality Irish whiskey. It can be expensive. It is best to buy Jameson, as it is the most popular type in Ireland. You can also use whiskey with a smooth, mild finish. You can also add cream by slowly pouring it on top of the hot coffee. It is best to drink it cold. The foam should not dissolve the cream. This is why you must keep the spoon in a cup of hot water.
Despite its name, Irish coffee is a beverage with many different names. Depending on the style of coffee you order, you may have a varying amount of whiskey. Typically, you'll find cream in the drink, but you can also find cream and sugar on your coffee. It is possible to get milk and sugar in an Irish coffee if you prefer. If you want a smoother drink, you can opt for a double dose of the milk and cream.
Thanks for your visiting our Food and Meal site. Like and share this recipe if it is beneficial for you.
Affiliate DisclaimerAbout The Author
As an affiliate, we may earn a commission from qualifying purchases. We get commissions for purchases made through links on this website from Amazon and other third parties.