Welcome to my culinary haven, where we embark on a journey to explore the art of Blackened Salmon. As an experienced chef and passionate food blogger, I'm thrilled to share this sensational recipe with you. Join me as we create a symphony of flavors that will leave you craving more.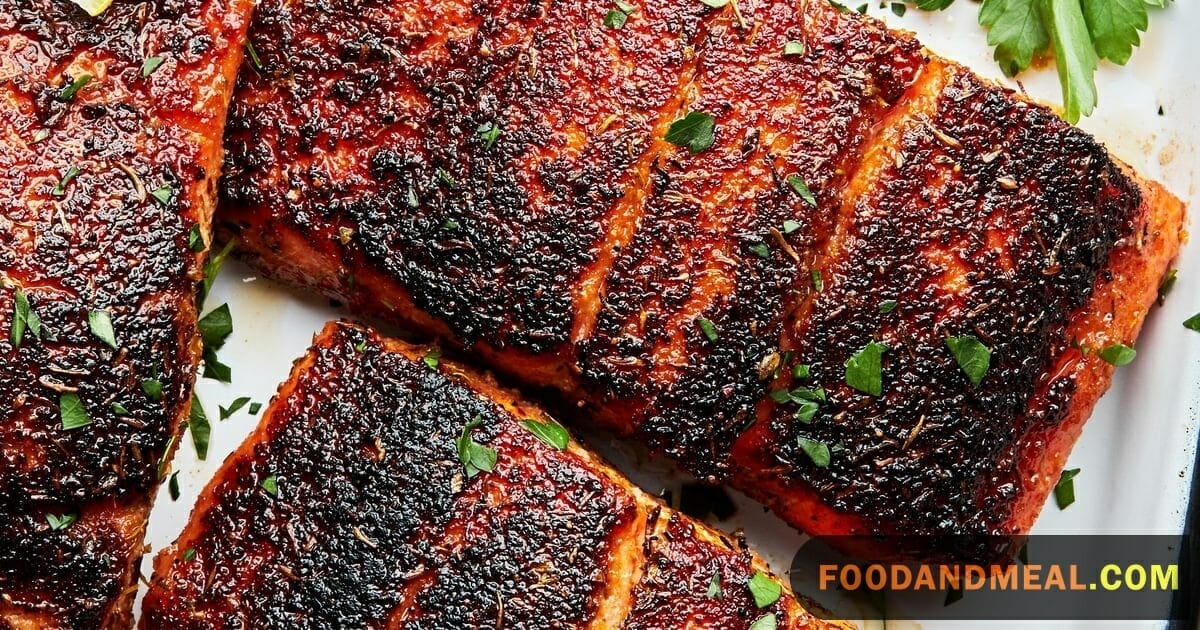 Blackened Salmon Recipes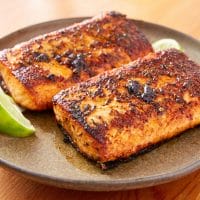 Blackened Salmon
This recipe for Blackened Salmon is an excellent choice for a weeknight dinner that boasts bold flavors. It can easily be prepared for a single serving or for a group. This dish is quick and easy to prepare, and delivers on flavor. It's also easy enough for a busy weeknight, yet special enough to serve to guests. For additional information, watch the instructional video below. For a delicious, healthy dish, use fresh ingredients whenever possible, such as smoked salmon.
Print
Add to Collection
Go to Collections
Equipment
Instructions
Preheat oven to 425F.

Heat the coriander seeds in a small skillet over medium heat, for a few until they are fragrant. Allow to cool for a few minutes and grind in a small grinder. You can also use a mortar and pestle for this purpose. Add the remaining spices, salt and lemon zest, and mix well.

Coat the salmon fillets on both sides with the spice rub.

Heat 3 tablespoons olive oil in large oven proof skillet over medium-high heat. Sear the salmon fillets for about 2 minutes per side. Place the pan in the oven to finish cooking for just 4-6 minutes depending on thickness. You want the salmon to be barely cooked in the center.

Serve with lemon wedges.
Notes
For a delicious Blackened salmon meal, choose fillets that have been bone-free. If you have a sensitive palate, you may want to skip the cayenne pepper. It's best to remove the skin and bones before applying the dry rub. However, if you prefer a milder flavor, the salmon can be coated with a mixture of spices. It should be accompanied by a salad or a green salad.
Share by Email
Share on Facebook
Share on Twitter
Nutrition
Serving:
1
serving
|
Calories:
348
kcal
|
Carbohydrates:
3
g
|
Protein:
34
g
|
Fat:
22
g
|
Saturated Fat:
3
g
|
Polyunsaturated Fat:
6
g
|
Monounsaturated Fat:
11
g
|
Cholesterol:
94
mg
|
Sodium:
950
mg
|
Potassium:
930
mg
|
Fiber:
2
g
|
Sugar:
1
g
|
Vitamin A:
1797
IU
|
Vitamin C:
1
mg
|
Calcium:
40
mg
|
Iron:
3
mg
© Food And Meal
This website provides approximate nutrition information for convenience and as a courtesy only. Nutrition data is gathered primarily from the Spoonacular Database, whenever available, or otherwise other online calculators.
Alternative Method: Oven-Baked Blackened Salmon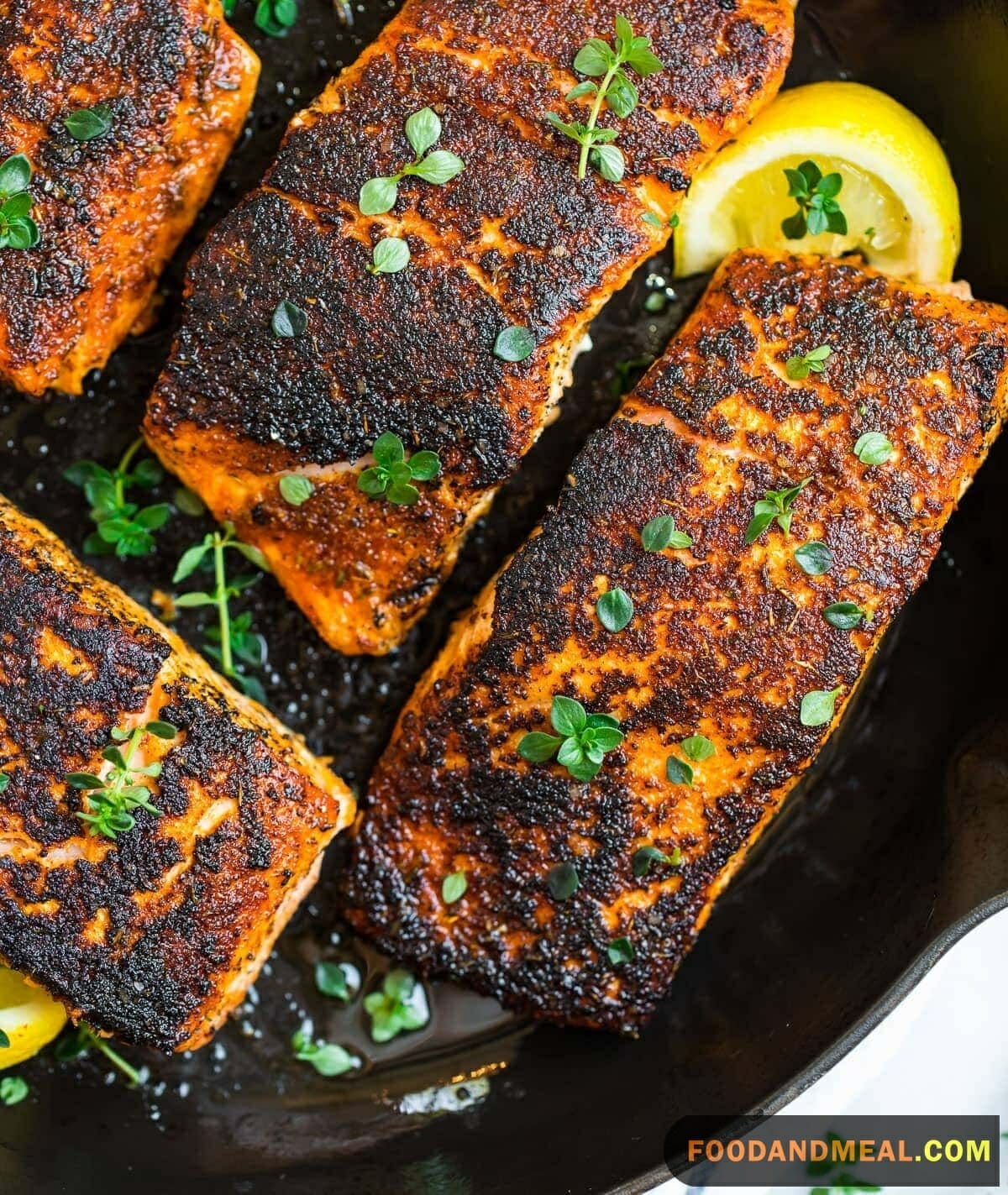 Ingredients:
4 salmon fillets
2 tablespoons olive oil
2 tablespoons blackening spice blend
2 tablespoons melted butter
Lemon wedges, for serving
Instructions:
Preheat your oven to 375°F (190°C) and place the rack in the middle position.
Line a baking sheet with parchment paper or lightly grease it to prevent sticking.
Brush each salmon fillet with olive oil, ensuring they are well coated.
Sprinkle the blackening spice blend evenly over the salmon fillets, pressing the spices gently to adhere.
Place the seasoned salmon fillets on the prepared baking sheet, leaving some space between them.
Drizzle the melted butter over the salmon fillets. This will help keep them moist and flavorful.
Bake the salmon in the preheated oven for 12-15 minutes, depending on the thickness of the fillets. The salmon is done when it flakes easily with a fork and reaches an internal temperature of 145°F (63°C).
Remove the salmon from the oven and let it rest for a few minutes.
Serve your oven-baked Blackened Salmon with lemon wedges for a burst of citrusy freshness.
Tips for making Blackened Salmon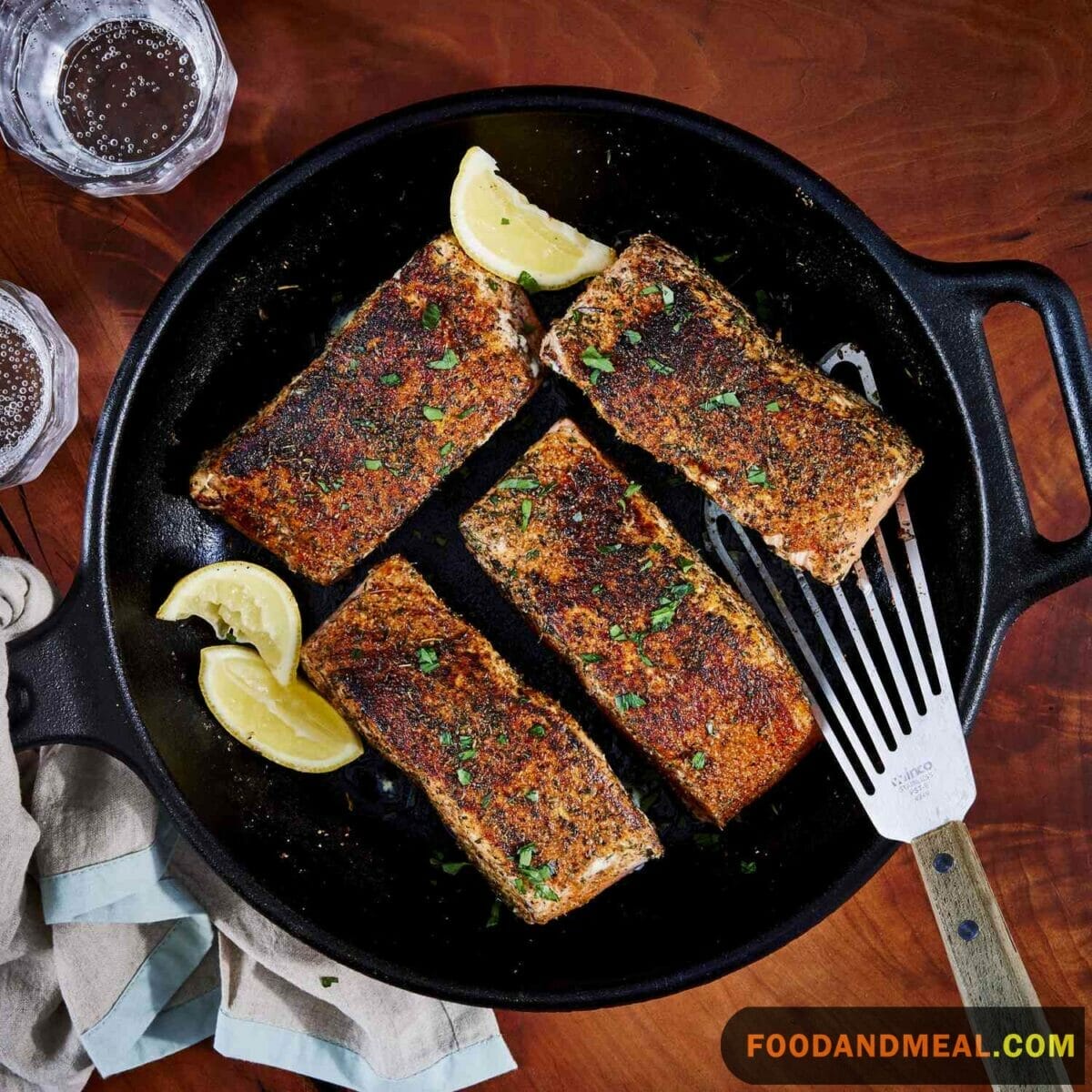 Cooking Tips
Tips and Tricks:
Even Spicing: Ensure an even coating of your blackening spice blend on the salmon. This creates a harmonious flavor profile and a picturesque crust.
Preheat the Pan: Get your skillet screaming hot before adding the salmon. A hot pan prevents the salmon from sticking and aids in creating that delightful sear.
Ventilation is Key: Blackening spice can create a bit of smoke, so make sure your kitchen is well-ventilated by opening windows or using a kitchen fan.
Common Mistakes to Avoid:
Overcrowding the Pan: Overcrowding the pan can lead to uneven cooking. Give your salmon some space in the skillet to ensure it cooks evenly.
Cooking Time: Avoid overcooking the salmon. It should be flaky and moist. Overcooked salmon can become dry and lose its appeal.
Not Adjusting Spice Level: Adjust the spice level to your preference. If you prefer milder flavors, use less cayenne pepper in your blackening spice blend.
Serving Suggestions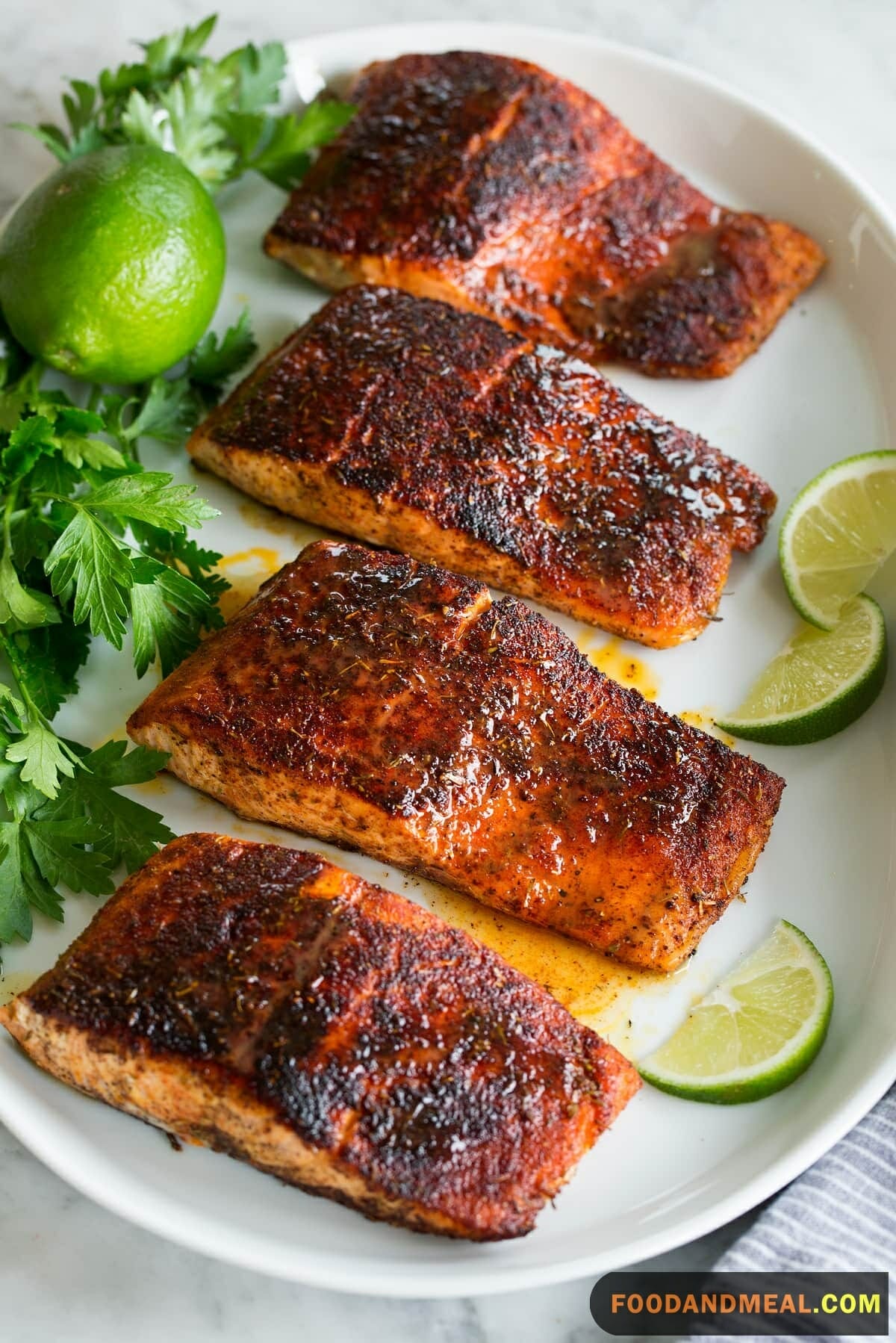 Recommended Sides and Garnishes:
Cilantro-Lime Rice: A zesty rice dish complements the bold flavors of Blackened Salmon perfectly.
Tangy Slaw: A crisp, tangy coleslaw provides a refreshing contrast to the spice.
Garlic Aioli: Drizzle garlic aioli over the salmon for an extra layer of creaminess and flavor.
Different Ways to Serve:
Salmon Tacos: Flake the Blackened Salmon and use it as a filling for soft tacos with fresh salsa and avocado.
Salmon Salad: Top a bed of mixed greens with Blackened Salmon for a healthy and satisfying salad.
Salmon Sandwich: Create a scrumptious salmon sandwich with your favorite bread, lettuce, and a dollop of aioli.
Salmon Bowl: Build a nourishing grain bowl with Blackened Salmon, quinoa, roasted vegetables, and a drizzle of tahini dressing.
Salmon Benedict: Replace traditional ham with Blackened Salmon in eggs Benedict for a spicy twist on a classic brunch dish.
Frequently Asked Questions about Blackened Salmon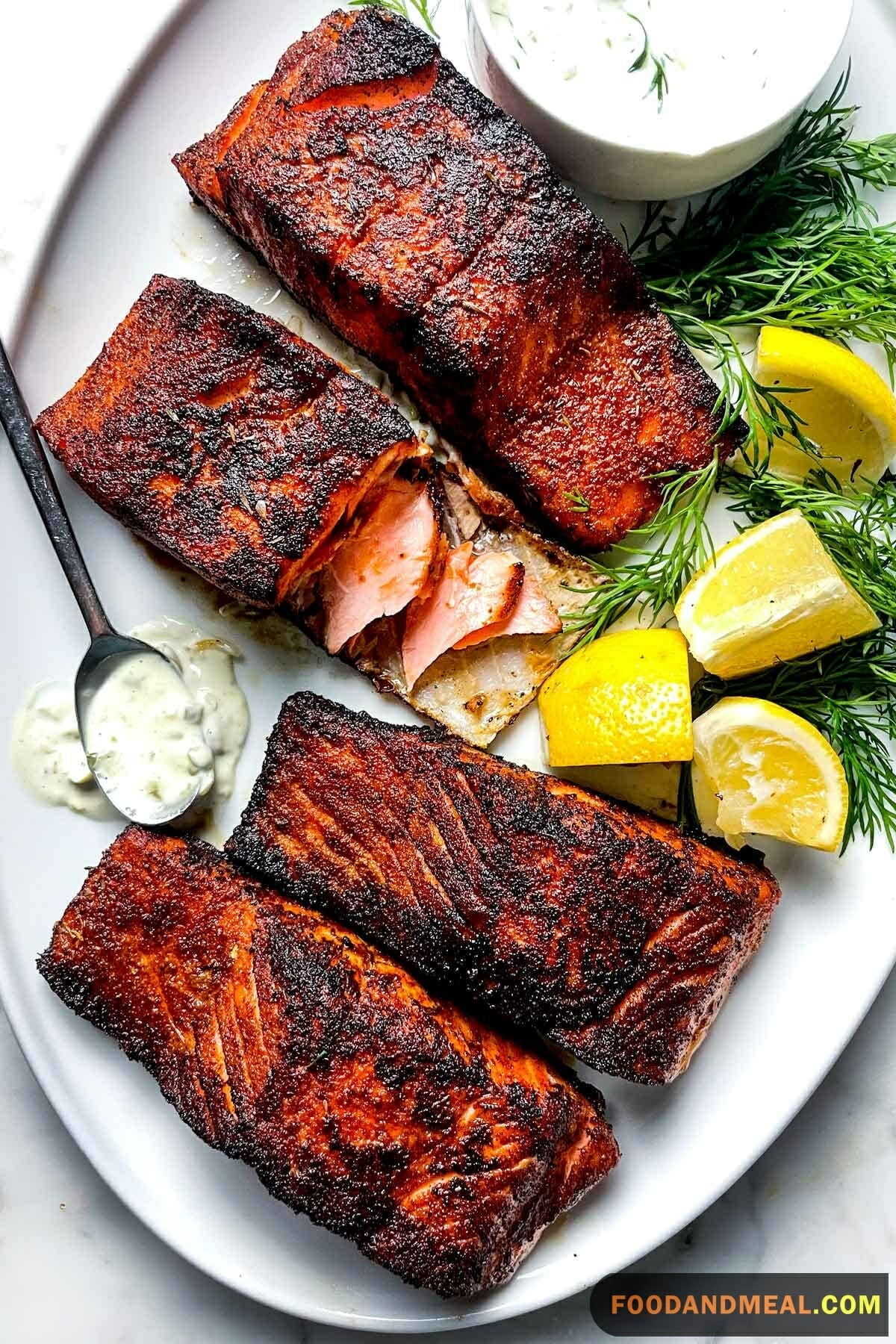 How long can I store leftover Blackened Salmon?Store any leftover Blackened Salmon in an airtight container in the refrigerator for up to two days. Reheat gently in a skillet or microwave for a quick and tasty meal.
Can I use a different type of fish for this recipe?Absolutely! While salmon is the star, you can use other firm-fleshed fish like trout, snapper, or mahi-mahi for a similar blackening experience.
Is it essential to use a cast-iron skillet for Blackened Salmon? A cast-iron skillet is preferred for its heat retention, but you can also use a heavy-bottomed stainless steel or non-stick skillet for good results.
Can I prepare the blackening spice blend in advance? Yes, you can mix the blackening spice blend in advance and store it in an airtight container. It's a time-saver for future Blackened Salmon cravings.
How can I reduce the spiciness of Blackened Salmon? To reduce spiciness, simply decrease the amount of cayenne pepper in your blackening spice blend. Customize it to your heat tolerance.
Elevate your dinner game with our Blackened Salmon. Discover the art of cooking, share the recipe, and subscribe to become a culinary maestro.
I'm Tracy F Hilton, a devoted culinary professional shaped by a mix of natural aptitude and refined skills from a top culinary school. In the dynamic kitchen environment, I'm a catalyst for seamless operations and timely, high-quality dish preparation. My culinary creations are a blend of art and skill, offering visually and gustatorily delightful experiences. A learner at heart, I'm continuously honing my craft, embracing new techniques, and culinary innovations. My positive, collaborative nature is amplified in fast-paced settings, showcasing my commitment to team efficiency and guest satisfaction. Each dish I present is a meticulous blend of tradition and innovation, promising an unforgettable dining experience that marries taste, aroma, and aesthetic appeal in perfect harmony. Join me on a gastronomic journey where each bite encapsulates a rich, evolving narrative of flavors and culinary artistry.
Affiliate DisclaimerAbout The Content
As an affiliate, we may earn a commission from qualifying purchases. We get commissions for purchases made through links on this website from Amazon and other third parties.