Health-conscious individuals may find chana palak or "spinach and chickpeas curry" an interesting dish to prepare.  The mild spiciness of this Punjabi recipe and the health benefits of both spinach and chickpeas is a win-win blend considering that you can enjoy both the flavor and the nutrition.
Chana Palak Recipe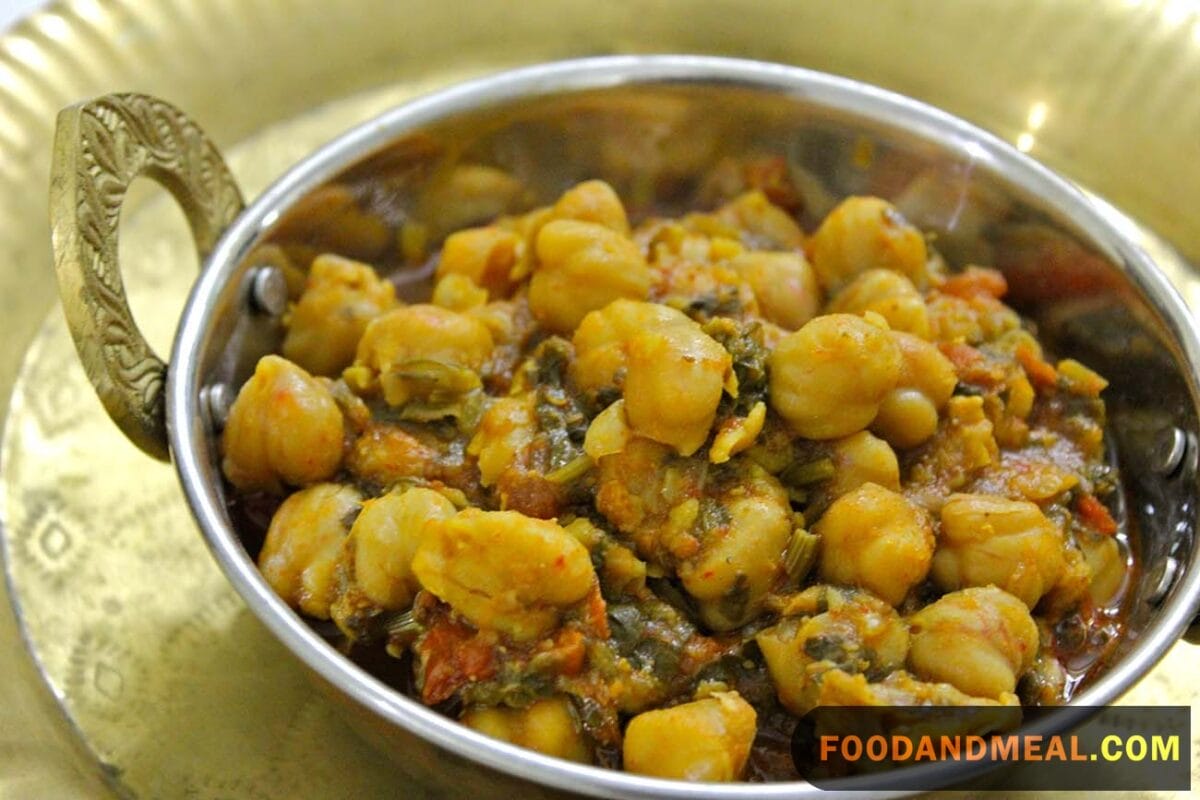 Chana Palak or Spinach Chickpeas Curry
What is Chana Palak? It is a popular vegetarian dish that can be made with both split and whole chickpeas. It is often cooked with leafy greens, such as spinach or mustard greens, and is very nutritious. Unlike saag, which is made from tomatoes and other vegetables, chana palak is a whole food. It is usually served with roti or plain paratha and butter.
Print
Pin Recipe
Add to Collection
Go to Collections
Equipment
Electric Cooker
You can prepare this dish using an electric cooker if you're short on time.
Instructions
Wash both the spinach and chickpeas under cool running water until they are both completely clean. Soak the chickpeas overnight or for at least 8-10 hours. Set aside the spinach in a cool storage or where its quality won't diminish.

Drain the chickpeas and boil it in a pressure cooker over medium low heat for about 20 minutes. Use the first measure of water in boiling—1 ½ cups—and add a dash of salt.

While pressure-cooking the peas, blanch the spinach by boiling about 5-6 cups of water. Add salt into the water then bring in the spinach. Cook the green leaves for about 3 minutes and drain the water.  Immediately put the veggie under cold water to stop the cooking process.

Bring water into a boil again to blanch the tomato. Make a cross cut at the bottom of the tomato and blanch it into the boiling water for about 4-5 minutes. Get it and immediately plunge it in a cold water to stop the cooking process. Make tomato puree by simply mashing or blending the tomato using a blender.

Puree the spinach and green chillies by putting them into the blender. Make sure that you blend the greens separately from the tomato.

Get your cashew powder; add the tomato puree and spinach-chili puree.

Put skillet over medium heat and heat up oil. Put the cumin seeds and let them sizzle for a while.

Add the onion, salt and sauté until the onion turns into light brown.

Put the ginger and garlic paste and continue to sauté until the raw aroma coming from the ginger and garlic paste goes away.

Add the tomato puree and let the mixture simmer until the moisture evaporates.

Next, put coriander powder, kasoorimethi and garam masala into the mixture. Stir the mixture well and let it simmer for another minute.

Add the pureed spinach and chilli then stir again. Let it boil for a couple of minutes and add the cashew nut powder, then stir again.

You can then add the cooked chana and enough water to bring out a gravy consistency on your mixture. Let it simmer for another 5 minutes and turn off the heat.

Scoop the already made chanapalak into a sauce bowl and serve with roti, paratha or plain rice.
Notes
This North Indian dish is delicious and healthy, packed with all of the nutrition found in spinach. The main ingredients are chana, wilted spinach, and spices. It can be made quickly with the help of fresh ingredients. Chole palak is traditionally made with sauteed tomatoes and onions. The recipe for chana palak is similar to chole, but requires a little less preparation time. The spinach and chickpeas are both incredibly nutritious, and can make a great side dish with any type of rice or naan.
Share by Email
Share on Facebook
Share on Twitter
Nutrition
Serving:
1
serving
|
Calories:
364.9
kcal
|
Carbohydrates:
58.4
g
|
Protein:
13.7
g
|
Fat:
10.2
g
|
Saturated Fat:
1.3
g
|
Polyunsaturated Fat:
1.9
g
|
Trans Fat:
5.8
g
|
Sodium:
1.272
mg
|
Fiber:
12.1
g
|
Sugar:
0.4
g
© Food And Meal
This website provides approximate nutrition information for convenience and as a courtesy only. Nutrition data is gathered primarily from the Spoonacular Database, whenever available, or otherwise other online calculators.
Pin Recipe
Alternative method for preparing the Chana Palak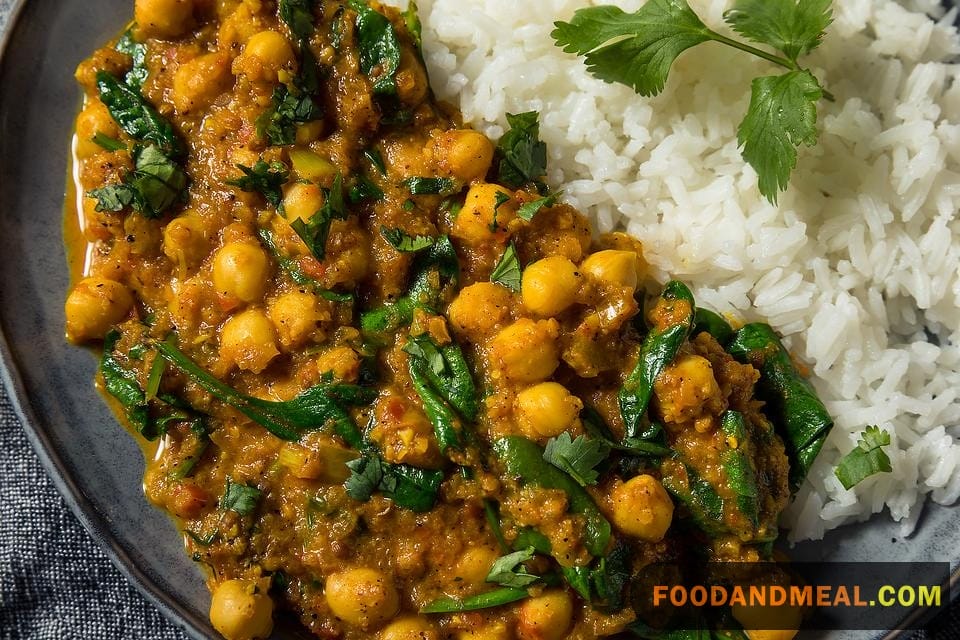 Absolutely, I'd be thrilled to share an alternative method for preparing the Chana Palak. This time, let's switch things up a bit and use a slow cooker. The slow cooker is a fantastic kitchen appliance that allows flavors to develop over a longer period of time, resulting in a rich and deeply flavorful dish.
First, you'll need to prepare your ingredients as usual. Rinse and soak 1 cup of chickpeas overnight. Drain them the next day and set aside. Chop 1 large onion, 2 tomatoes, and 2 cups of spinach. Mince 2 cloves of garlic and a small piece of ginger.
Now, let's move on to the slow cooker magic. Add the soaked and drained chickpeas, chopped onions, tomatoes, spinach, minced garlic, and ginger into the slow cooker. Now, it's time to add the spices. Add 1 teaspoon each of cumin powder, coriander powder, turmeric powder, and garam masala. Also, add salt to taste.
Pour in enough water to cover the ingredients, about 3-4 cups should do. Give everything a good stir to ensure the spices are well distributed. Cover the slow cooker with its lid, set it on low, and let it cook for about 6-8 hours.
Once the cooking time is up, check if the chickpeas are tender and the flavors well combined. Adjust the seasoning if needed. Finally, garnish with some freshly chopped coriander leaves.
And there you have it, a delicious Chana Palak made easier and more flavorful with the help of a slow cooker! Remember, the joy of cooking lies in experimentation. So don't hesitate to try new methods and appliances. Happy cooking!
Tips for making Chana Palak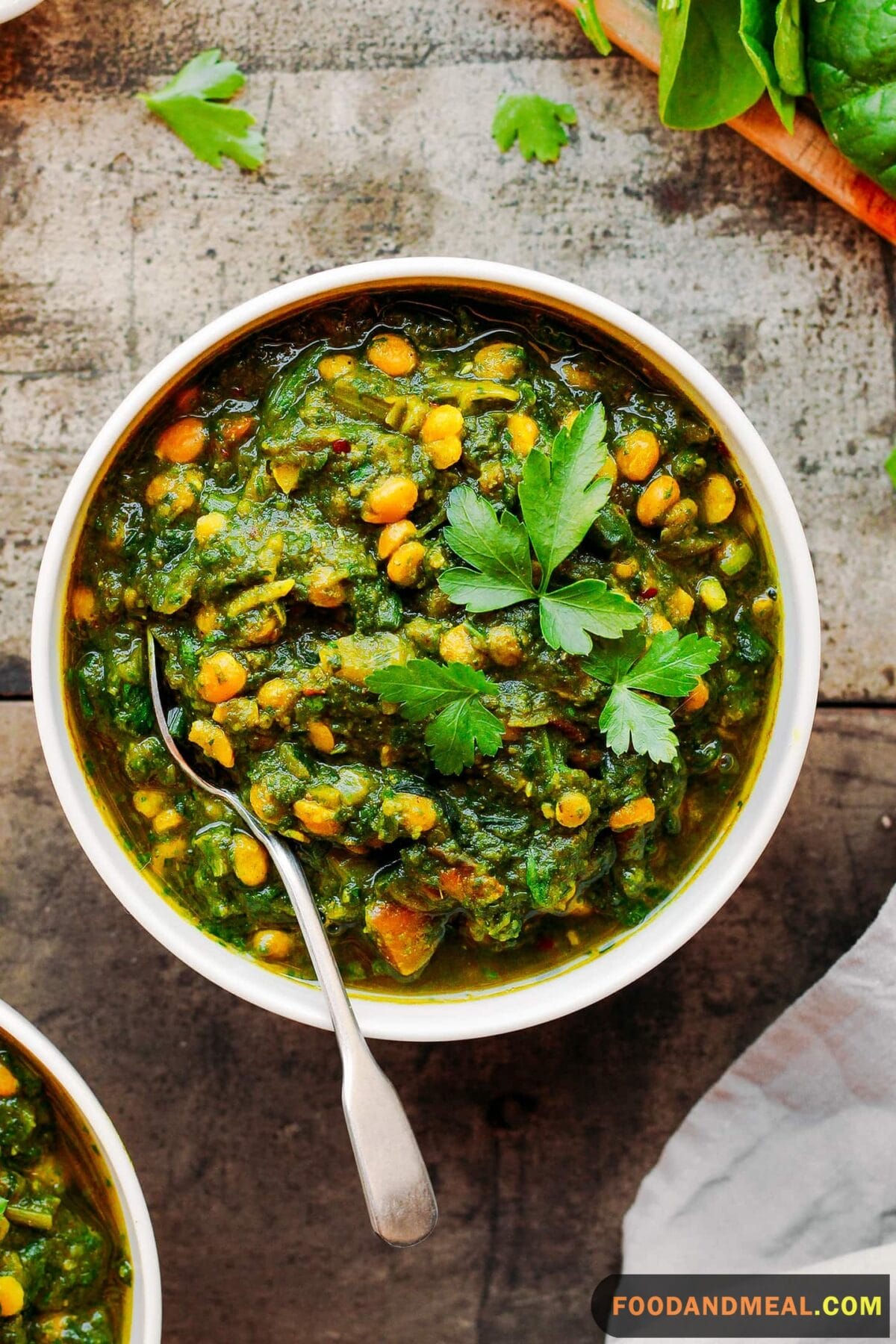 Cooking Tips for Chana Palak
Soak the chickpeas overnight. This ensures they cook evenly and become tender.
Use fresh spinach for the best flavor. If you're using frozen spinach, make sure to thaw and drain it properly to avoid a watery curry.
Cook the spices well in the oil. This process, known as 'blooming', helps to release their full flavor.
Don't rush the cooking process. Let the curry simmer on low heat to allow the flavors to meld together.
Common mistakes to avoid include overcooking the spinach (which can make it mushy) and adding the salt too early (which can toughen the chickpeas).
Serving Suggestions for Chana Palak
Chana Palak pairs beautifully with both rice and Indian breads like roti or naan.
A side of cucumber raita or plain yogurt can help balance the spices.
For garnish, consider a sprinkle of fresh coriander leaves or a squeeze of lemon juice to brighten the flavors.
As for beverages, a cold lassi or a warm cup of masala chai would complement the meal nicely.
Frequently Asked Questions about Chana Palak
Can I use canned chickpeas for this recipe? Yes, you can use canned chickpeas. Just remember to rinse them thoroughly before using.
Can I make Chana Palak in advance? Absolutely! In fact, it tastes even better the next day as the flavors have more time to meld together.
How can I store leftover Chana Palak? Store it in an airtight container in the refrigerator. It should last for about 3-4 days.
Can I freeze Chana Palak? Yes, you can freeze it for up to a month. Just thaw and reheat before serving.
How can I reheat my Chana Palak? You can reheat it on the stovetop over medium heat or in the microwave.
Explore our Chana Palak recipe! Share the joy of cooking and subscribe for more delicious recipes.
Experience the culinary brilliance of Chef John at Food And Meal Restaurant. With over 20 years of global expertise, My innovative creations and unwavering dedication to cooking have earned me a well-deserved reputation. My passion for gastronomy is showcased in every dish, combining fresh, local ingredients with harmonious flavors and captivating presentations. My ability to tell a story through my food reflects my profound understanding of culture and emotion.
Affiliate DisclaimerAbout The Content
As an affiliate, we may earn a commission from qualifying purchases. We get commissions for purchases made through links on this website from Amazon and other third parties.