As I trace back the paths of my culinary adventures, the rustic landscapes of the American Southwest envelop me with a sense of nostalgia. The local markets, the scent of roasting chilies in the air, and the comforting rhythm of simmering pots—it's an experience that transcends mere taste. Over time, my kitchen has seen the birth of countless recipes, but the earthy allure of Beans with Chicos stands unmatched. Today, I'm poised to unveil the intricacies of this age-old delicacy, offering you not just a recipe, but a passage through time, and a generous dollop of heritage.
Beans with Chicos, a staple in many Southwestern homes, embodies the essence of simple yet profound cooking. If you're aiming for authenticity, sourcing traditional chicos is crucial. Should you find it challenging to locate them, contemporary variants work as a substitute, though with a slight twist in flavor. When you embark on this cooking expedition, starting with the beans is pivotal. Once they're tender and flavorful, integrating the chicos and other ingredients seamlessly weaves the dish together, resulting in a comforting bowl of history and culinary artistry.
Beans with Chicos Recipe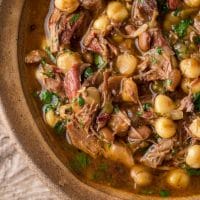 How to Cook Beans with Chicos – 4 Easy Steps
Beans with chicos are a delicious, nutritious, and easy to prepare meal. This dish can be served as a side dish or as a main course. The beans are often accompanied by rice and a vegetable dish. Using fresh ingredients will make this meal even more exciting. Here's how to prepare it. It takes about 6 to 8 hours to cook. In addition to buying the beans, you can also find el chico at specialty stores, farmers markets, and online.
Print
Pin Recipe
Add to Collection
Go to Collections
Equipment
Ingredients
Chicos

Dried beans

Aromatics—garlic

onions, bell pepper and bay leaves (can be optional)
Instructions
Clean the chicos and dried beans by sorting them out, getting rid of any dirt or debris. Place them in a large bowl and clean with water.  Get rid of the water and fill the bowl again, this time you are going to soak both overnight (or for about 10-14 hours).

After the given period, get rid of the water and rinse under cold water.

Place the beans and chicos into a large pot. You can then add also the aromatics should you want to do this.

Pour the right amount of water into the pot by getting at least an inch of water to cover the Beans with Chicos. Cover the pot partially and bring the beans into boil for about 2-3 hours. You can add water from time-to-time to avoid burning the beans.  Season with salt and you are ready to serve the dish.

Collage various beans mix peas agriculture of natural healthy food for cooking ingredients / Set of different whole grains beans and legumes seeds lentils and nuts colorful snack texture background

Dive into the ultimate guide to beans with chicos mastery 3
Notes
To make this dish more nutritious, add more chicos. These corn-based legumes are soaked for a few hours in plenty of water. To serve them, add some onion and cilantro for added flavor. Once the chicos are cooked, garnish with cilantro and onions. It's time to enjoy this meal! But be sure to read the ingredients list. There are a few things you should know about this dish before you start preparing it.
Share by Email
Share on Facebook
Share on Twitter
Nutrition
Serving:
294
g
|
Calories:
111
kcal
|
Carbohydrates:
19
g
|
Protein:
6
g
|
Fat:
1
g
© Food And Meal
This website provides approximate nutrition information for convenience and as a courtesy only. Nutrition data is gathered primarily from the Spoonacular Database, whenever available, or otherwise other online calculators.
Pin Recipe
Crafting Beans with Chicos Using a Slow Cooker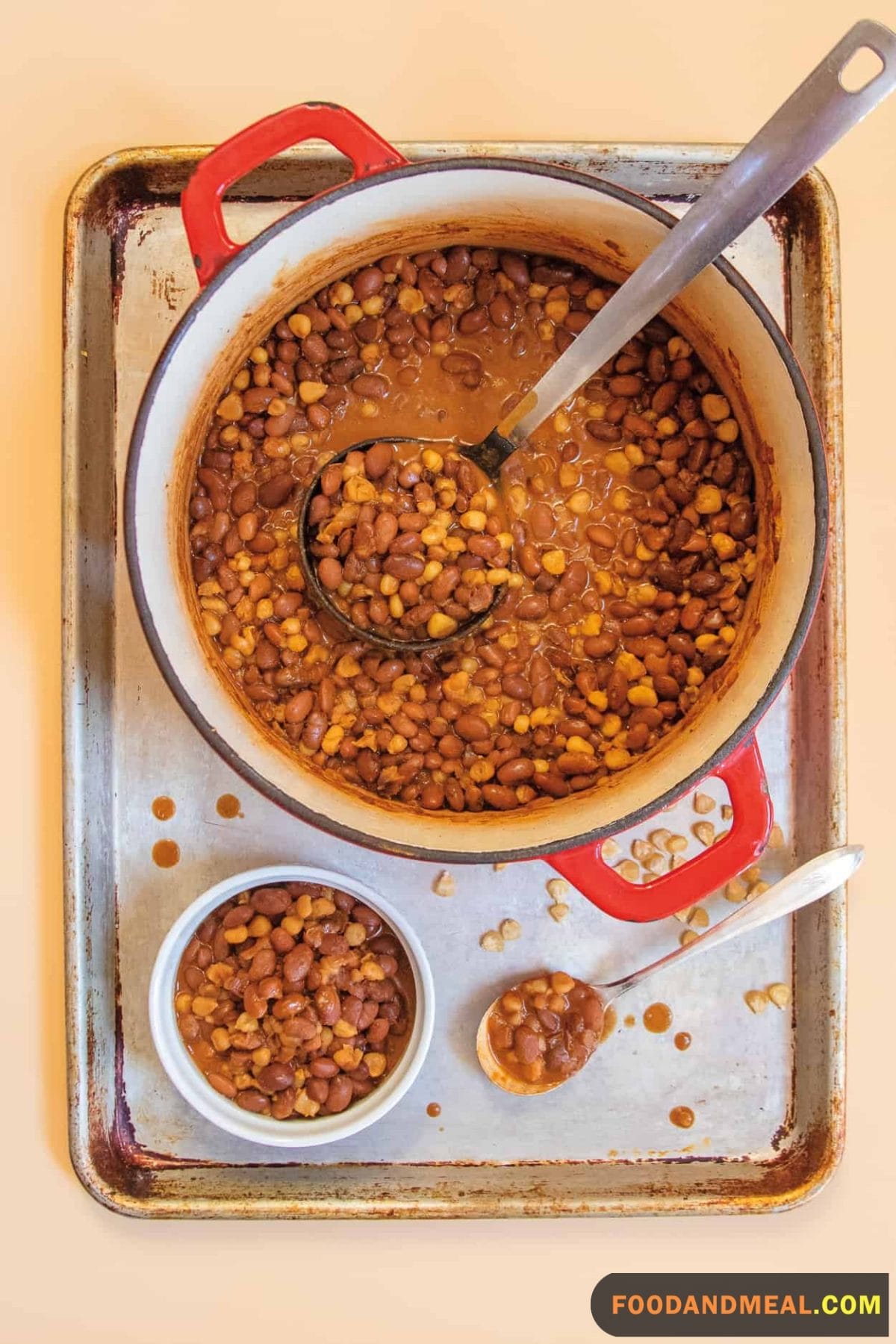 Ingredients:
1 cup dried beans (pinto or black beans work well), soaked overnight
1/2 cup dried chicos
4 cups water or vegetable broth
1 medium onion, finely chopped
2 cloves garlic, minced
1 tsp ground cumin
Salt and pepper, to taste
Fresh cilantro, for garnish (optional)
Method:
Preparation: Begin by rinsing the soaked beans and chicos under cold water. This ensures any residual dirt or impurities are removed.
Layering Ingredients: In your slow cooker, add the beans, chicos, chopped onion, minced garlic, and ground cumin.
Setting the Cooker: Pour in the water or vegetable broth, ensuring that the beans and chicos are submerged. Season with salt and pepper. Cover the slow cooker with its lid.
Cooking: Set your slow cooker to the low setting and allow the Beans with Chicos to cook for about 6-8 hours. The extended cooking time allows the beans to become tender and the chicos to soak in the flavors, enhancing the dish's overall taste.
Checking for Doneness: Around the 6-hour mark, check the beans and chicos for tenderness. If they're not tender enough, allow them to cook for another 1-2 hours.
Serving: Once done, give the Beans with Chicos a good stir, ensuring the flavors are well blended. Transfer to a serving dish and, if desired, garnish with fresh cilantro for a pop of color and added aroma.
Tips for making Beans with Chicos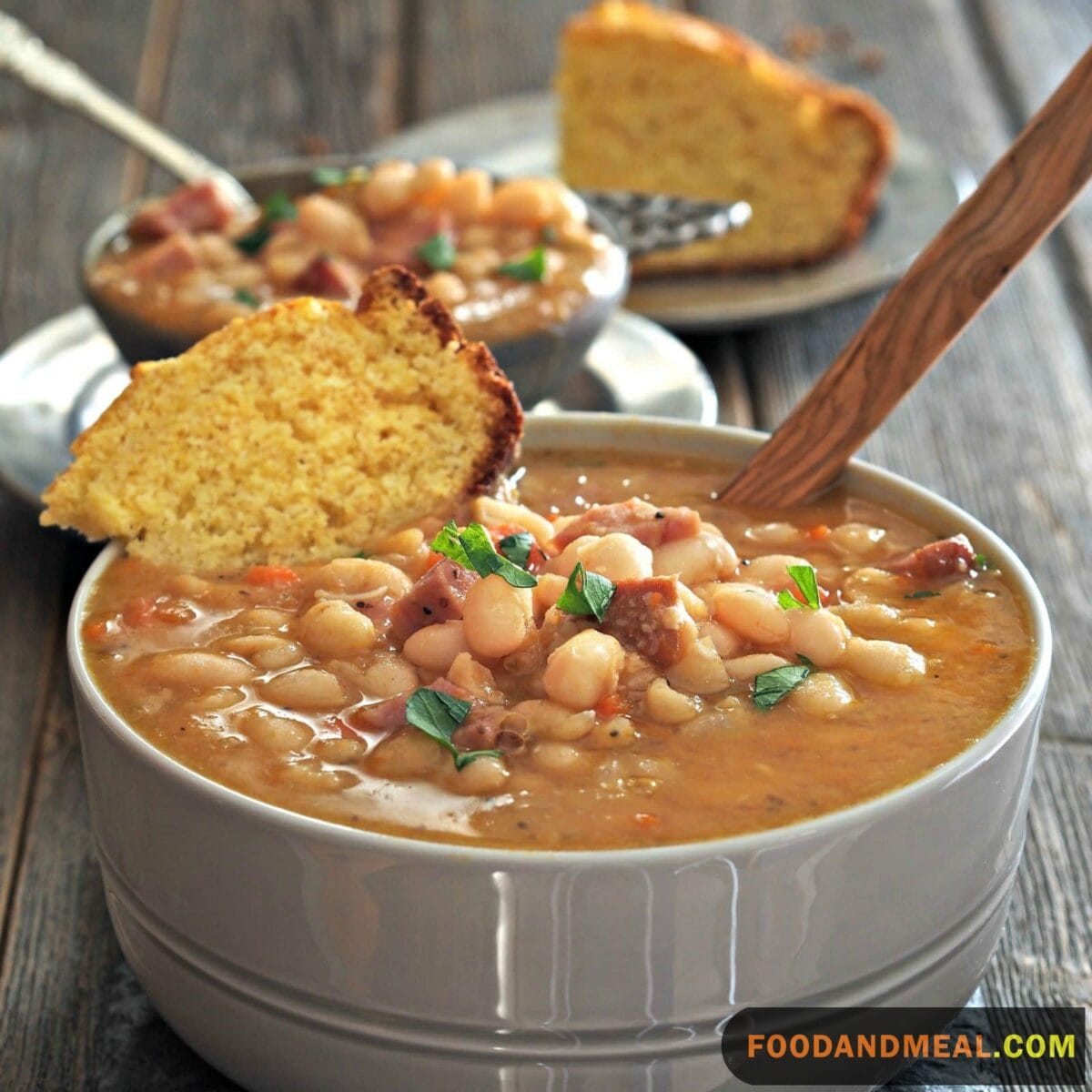 Cooking Tips for Perfect Beans with Chicos
Bean Type Matters: While pinto beans are popular, black beans or red kidney beans can also be used. Each brings its distinct texture and flavor.
Soak Ahead: Dried beans benefit from an overnight soak. It ensures even cooking and a creamier texture.
Flavor Boosters: Consider adding bay leaves, dried oregano, or even a dash of smoked paprika for an extra layer of flavor.
Avoid Overcooking: Beans should be tender but not mushy. Keep an eye out to ensure they maintain their shape.
Serving Suggestions for Beans with Chicos
Audience & Occasion: Perfect for chilly evenings, family gatherings, or potluck dinners. Its hearty nature makes it a favorite across age groups.
Complementary Sides: Consider warm tortillas, a fresh green salad, or roasted vegetables. A side of spicy salsa can also add a zing.
Beverages: A cold lager or a glass of red wine accentuates the dish's flavors. For non-alcoholic choices, a lemon iced tea or a tangy tamarind drink pairs well.
Ways to Serve: While traditionally served as a main dish, you can also use it as a filling for burritos or tacos. Another variation is to serve it as a thicker stew atop rice.
FAQs on Beans with Chicos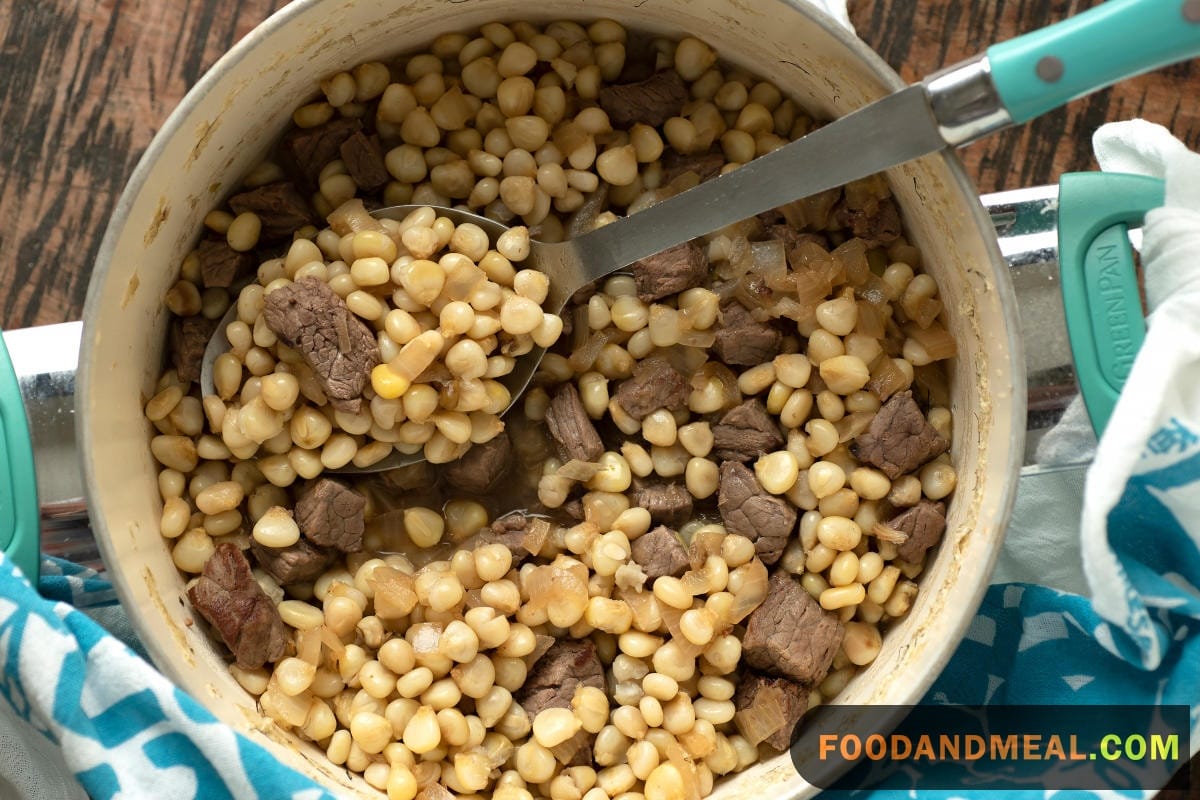 Can I use canned beans instead of dried ones? Certainly! Canned beans can be a time-saver. However, rinse them thoroughly to remove any preservatives or salt. Adjust the cooking time accordingly, as canned beans are already soft.
What are chicos exactly? Chicos are dried corn, traditionally prepared by roasting green corn in an oven or kiln. They bring a unique, smoky flavor to dishes, particularly stews and soups.
Is there a vegetarian version of Beans with Chicos? Absolutely! Simply use vegetable broth or water as the base for the dish and omit any meat-based ingredients.
Why is my Beans with Chicos dish too watery? The consistency varies based on cooking time and method. If it's too watery, you can cook it uncovered for a bit longer, allowing some of the liquid to evaporate.
How should I store leftover Beans with Chicos? Cool the dish to room temperature, then transfer it to an airtight container. It can be refrigerated for up to 4-5 days. When reheating, add a splash of water or broth to regain its original consistency.
Beans with Chicos is more than a dish; it's a bridge connecting generations, a testament to culinary heritage. As we savor each spoonful, we're not merely tasting food, but reliving memories and traditions. Here's to honoring the past, celebrating the present, and anticipating the future feasts this timeless dish promises. Cheers to shared flavors and stories!
Affiliate DisclaimerAbout The Author
As an affiliate, we may earn a commission from qualifying purchases. We get commissions for purchases made through links on this website from Amazon and other third parties.