Hello, my food-loving fam! Have you ever tasted a dish that tells a story? That's the case with this decadent Fattoush salad I've been perfecting over the years. With the zest of pomegranates and the indulgence of halloumi, every bite is a journey. Dive into my culinary secrets and make this dish a staple on your table.
Fattoush salad with pomegranates and halloumi cheese is a perfect start to a delicious Mediterranean meal. Soaking the ground sumac in warm water for 10 minutes really extracts all of the citrus and tartness of the spice and infuses the salad with great flavour.
Fattoush Salad recipes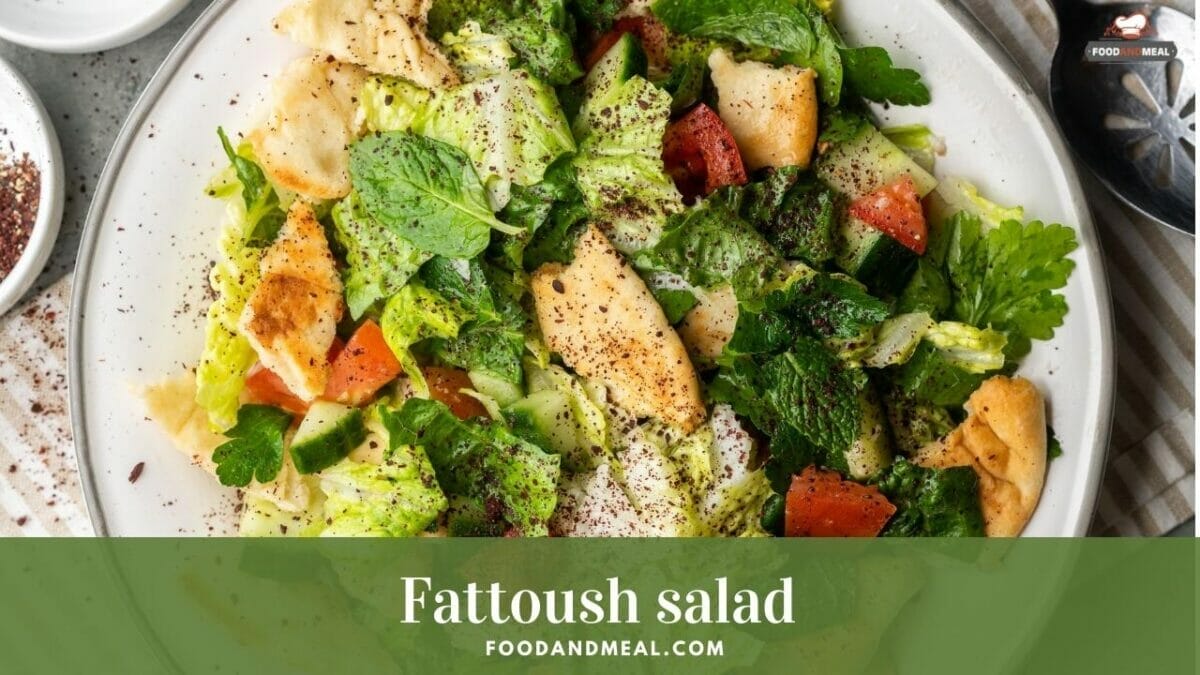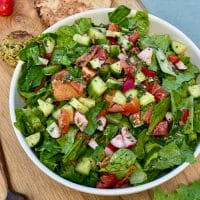 Fattoush salad with pomegranates and halloumi cheese
Fattoush is a traditional Levantine salad, made from fried or toasted khubz, mixed greens, and other vegetables. It is a popular dish in communities throughout the Levant. You can find recipes for Fattoush in most Arabic cookbooks, but the traditional recipe is the best one. In this article, you'll discover how to make Fattoush with a few simple ingredients. Here are some tips and tricks to make it easy for you!
Print
Pin Recipe
Add to Collection
Go to Collections
Instructions
For dressing:
Combine sumac with soaking liquid, lemon juice, pomegranate molasses or honey, garlic, white wine vinegar, apple cider vinegar, and dried mint in a medium bowl. Gradually add oil, whisking constantly, until well blended. Season with salt; add more lemon juice, pomegranate molasses, and vinegar to taste, if desired.

In a non stick frying pan, heat one tablespoon oil over medium-high heat. Place slices of halloumi and fry on both sides till golden brown.
For salad:
Mix tomatoes and next 6 ingredients in a large bowl. Add dressing slowly; toss to coat, adding more dressing by tablespoonfuls as needed. Season with salt. Add pita; toss once. Sprinkle sumac over, and halloumi cheese, if desired.
Notes
Always toss the salad right before serving. This way, the croutons maintain their crunch, and the pomegranates keep their juiciness. Craving more such tips? Subscribe to my newsletter and never miss an update!
Share by Email
Share on Facebook
Share on Twitter
Nutrition
Serving:
1
serving
|
Calories:
78
kcal
|
Carbohydrates:
8
g
|
Protein:
2
g
|
Fat:
5
g
|
Saturated Fat:
1
g
|
Polyunsaturated Fat:
1
g
|
Monounsaturated Fat:
3
g
|
Sodium:
39
mg
|
Potassium:
304
mg
|
Fiber:
3
g
|
Sugar:
3
g
|
Vitamin A:
3012
IU
|
Vitamin C:
47
mg
|
Calcium:
84
mg
|
Iron:
3
mg
© Food And Meal
This website provides approximate nutrition information for convenience and as a courtesy only. Nutrition data is gathered primarily from the Spoonacular Database, whenever available, or otherwise other online calculators.
Pin Recipe
Roasted Fattoush Salad using an Oven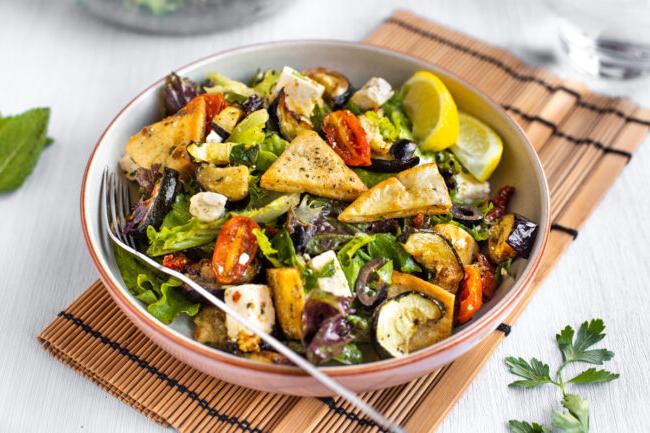 Incorporating the utility of one of the best Air Fryer Toaster Ovens in my kitchen has truly changed the game, and this roasted twist on the traditional Fattoush salad stands testament to that. This method not only lends a unique flavor but also achieves a crispy, delightful texture to the ingredients, especially the halloumi cheese.
Ingredients:
Lettuce, chopped
Cucumbers, sliced
Tomatoes, halved
Red onions, thinly sliced
Pomegranate arils
Halloumi cheese, sliced into 1/2 inch thickness
Pita bread or any flatbread
Olive oil
Salt and pepper, to taste
Lemon juice
Ground sumac (optional)
Instructions:
Prepare the Air Fryer Toaster Oven: Preheat to 400°F (200°C).
Roast the Halloumi: Lay the halloumi slices on the tray. Drizzle a little olive oil over them and season with some salt and pepper. Use the oven mode and roast for about 10 minutes or until the halloumi gets a light golden hue. Once done, set them aside.
Crisp the Bread: Tear the pita or flatbread into bite-sized pieces. Spread them on the tray. Drizzle with olive oil and sprinkle a pinch of salt. Use the air fryer mode this time, and "fry" for 5-7 minutes or until they're crisp and golden. Keep an eye on them to prevent over-browning.
Assemble the Salad: In a large mixing bowl, combine the lettuce, cucumbers, tomatoes, and red onions. Add in the roasted halloumi slices. Sprinkle pomegranate arils generously.
Dressing: In a small bowl, whisk together olive oil, lemon juice, a pinch of salt, pepper, and sumac (if using). Drizzle this over the salad.
Serve: Just before serving, toss in the crispy bread pieces from your Air Fryer Toaster Oven, ensuring they maintain their crunchiness. Serve immediately.
The crispy halloumi and the freshness of the veggies, combined with the tangy pomegranate arils, make for a treat to the senses. Perfect for those days when you want a gourmet touch with minimal effort. Enjoy!
About Fattoush Salad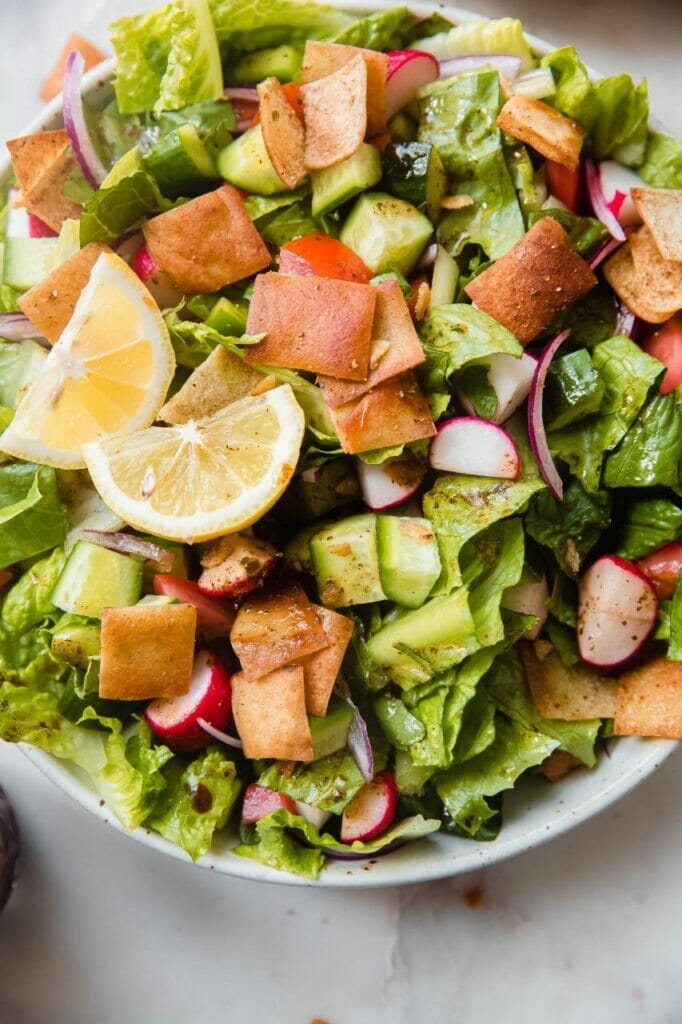 Recipe
A fattoush salad is a traditional Levantine dish made with toasted or fried khubz and mixed greens. This dish is popular in all communities throughout the Levant. Here are some tips for making your own fattoush salad recipe. This recipe will make a wonderful starter or side dish for any Levantine meal. It's a delicious way to get the essential vegetables and protein into your diet.
The dressing for Fattoush salad is vibrant and herbaceous. Pomegranate molasses balances the dressing's tartness. The salad is served with fried pita bread. Fattoush salad is a must-have on any mezza table. It is a perfect lunch or dinner salad! And it's great for the whole family! Try it soon! It's sure to become a favorite with family and friends.
Seasoning blend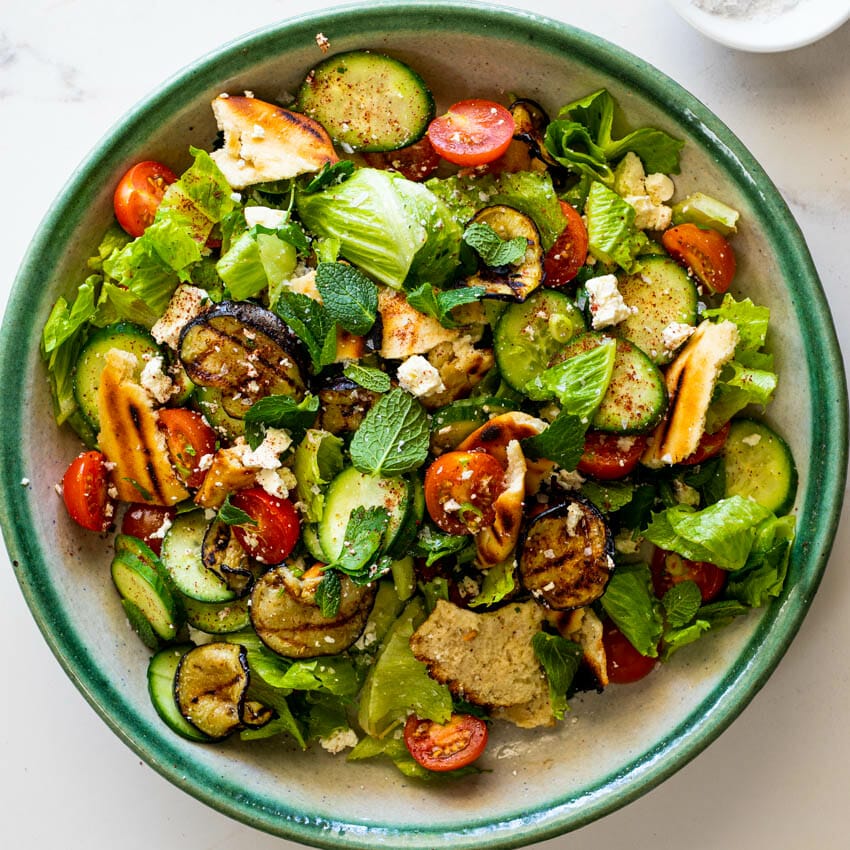 The herbs in a fattoush salad add a distinctive flavor and a boost of nutrition. Chopped vegetables and herbs are combined in a blender to form a salad dressing. Fattoush is best served with a large flat pita pocket. However, a regular-sized pita can be used instead, as long as it provides the salad with thin, crispy chips. This recipe can be adapted to your favorite vegetables and tastes.
In addition to the olive oil, you will also need some of the spices in the Seasoning blend for Fattoush Salad. The key ingredient is Sumac, which gives this salad its sour flavor. You can buy this spice blend at a Middle Eastern supermarket or order it online. It can be stored in small jars. Once mixed, shake off any excess oil and allow to dry. Add more olive oil and a dash of lemon juice if needed.
Vegetables
A popular Levantine dish, Fattoush Salad is made with toasted or fried khubz and mixed greens. It is an extremely popular salad throughout all communities in the Levant. If you're wondering what makes it so unique, here's a look at some of the ingredients. To prepare Fattoush Salad, follow these simple steps. Here are a few more ideas to try.
Cut the veggies into bite-sized pieces. Then, place them on a plate. You can add some goat cheese if you wish. You can also add fresh parsley or chives. When you're ready to serve the salad, add the dressing. Make sure to serve the salad as soon as possible. This dish can be prepared in advance but is best enjoyed right away. Make sure to serve the salad immediately after mixing it to avoid it becoming limp.
Pita bread
This delicious salad can be prepared in advance and kept in the fridge for a few days, or even a month. For best results, use fresh vegetables and a high-quality oil. During winter, fresh vegetables may be difficult to find, but they'll produce the best results. The following recipe uses pita bread. It's a healthy and delicious salad that's sure to be a hit with your friends and family.
The salad is made from toasted pita bread croutons, flavorful vegetables and tangy sumac dressing. The salad is traditionally served with pita bread and sumac, a Middle Eastern spice mixture that's typically made with lemon and olive oil. It's also a great side dish for a mezze platter, and makes a tasty appetizer for any gathering. To prepare it, you'll need pita bread that's toasted and seasoned.
Storage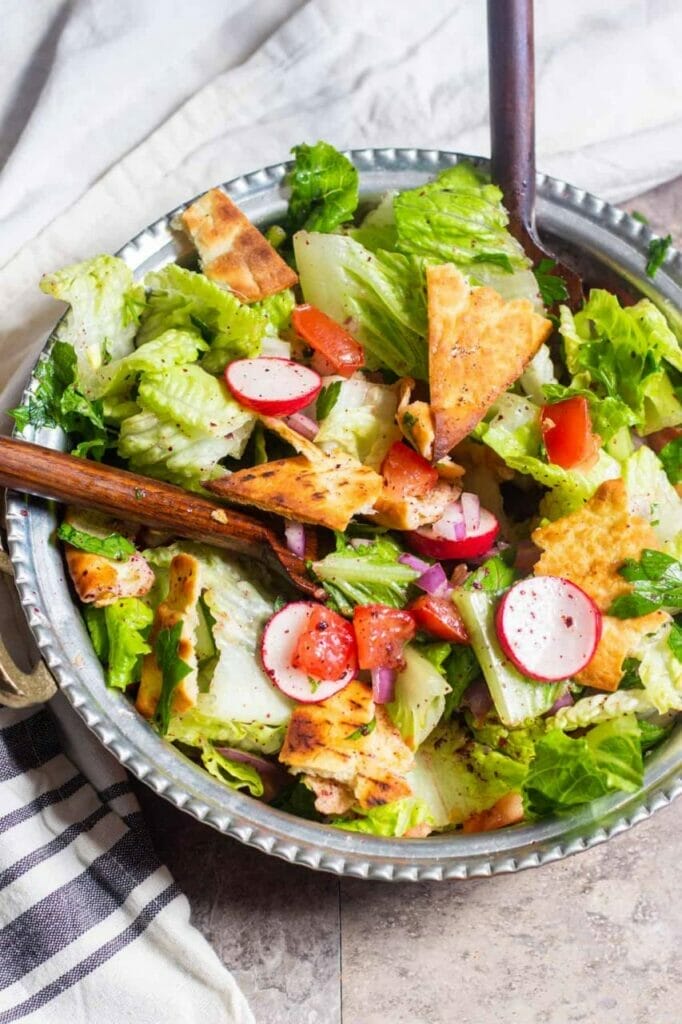 A well-made Fattoush Salad keeps for several days in the refrigerator. To maintain the freshness of the salad, it is recommended to keep the ingredients separate in their packaging. Store the vegetables, bread, and dressing separately. When you are ready to serve it, you can assemble the salad just before serving. If you wish to share your creation with the world, post a photo of your finished recipe on Instagram with the hashtag #hintofhealthy.
When preparing the salad, you should keep it separately from the tortilla. This salad is best served with a slightly tangy dressing and may be stored in the refrigerator for three to four days. Always store it in an airtight container, and don't use defrosted tomatoes because they tend to get soggy when they are raw. For better results, avoid freezing the salad or reheating it. It's best to refrigerate it the night before serving, but you should also serve it immediately.
Serving Suggestions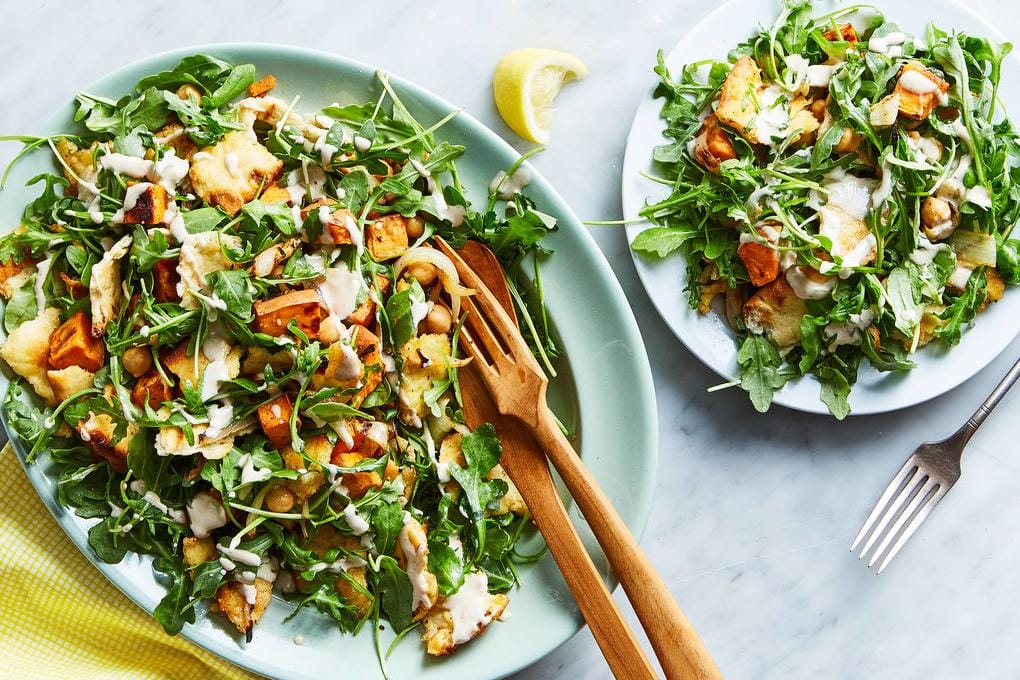 There's an art to serving a dish like the roasted Fattoush Salad with Pomegranates and Halloumi. Beyond the primary dish itself, the occasion, the accompanying dishes, and even the presentation play a pivotal role in elevating the experience.
Occasions and Audiences: This salad is versatile. It works wonders at a summer picnic, making for a refreshing meal under the sun. However, it's equally fitting for a sophisticated dinner party, appealing to an audience that appreciates gourmet delights.
Complementary Sides and Garnishes: A side of hummus or baba ganoush with some warm pita can add a Mediterranean flair to the meal. Additionally, a sprinkle of fresh mint or parsley can enhance its freshness.
Beverage Pairings: A chilled glass of white wine, especially a Sauvignon Blanc or a Pinot Grigio, complements the tanginess of the pomegranate and the saltiness of the halloumi. For a non-alcoholic option, try a sparkling pomegranate lemonade.
Alternative Serving Methods: Consider serving the salad in individual bowls, topped with an extra slice of roasted halloumi, for a personalized touch. Alternatively, for a more rustic presentation, lay it out on a large wooden platter letting everyone help themselves.
Cooking Tips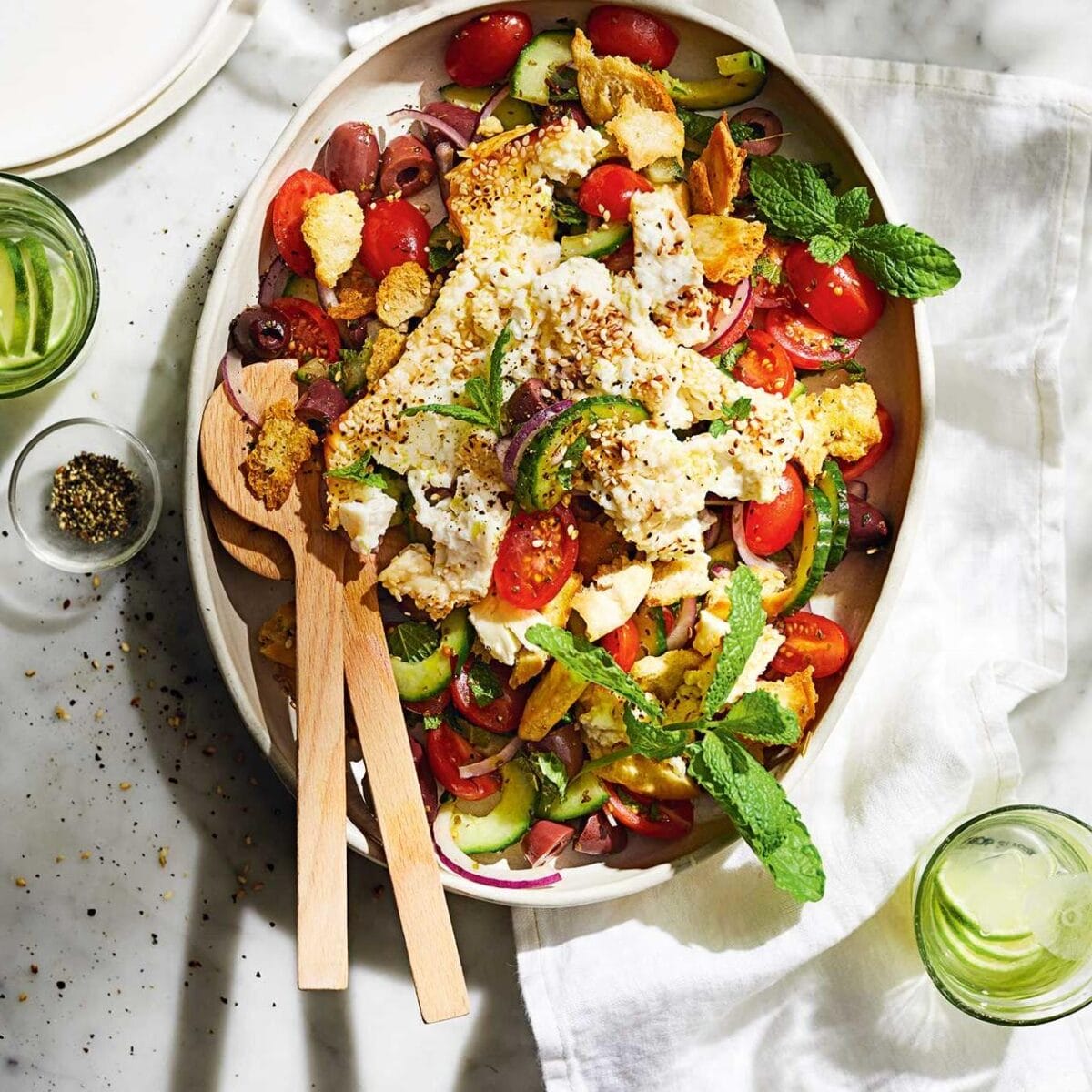 The art of crafting this salad goes beyond simply mixing ingredients. Here are some pro-tips and common pitfalls to avoid:
The Right Crunch: Achieving the perfect crunch for your pita is essential. Make sure not to over-oil them, as this can make them soggy instead of crispy in the Air Fryer Toaster Oven.
Freshness Matters: Always opt for fresh pomegranate arils. They offer a burst of flavor, while canned or preserved versions can sometimes be too sweet or lack the natural juiciness.
Halloumi Hints: When roasting halloumi, ensure it doesn't overcook. It should have a slight give when pressed, indicating a soft center with a crispy exterior.
Mistake to Avoid: Don't dress the salad too early. This can make the pita soggy and the veggies wilted. Always add the dressing just before serving to retain the freshness.
List of 5 FAQs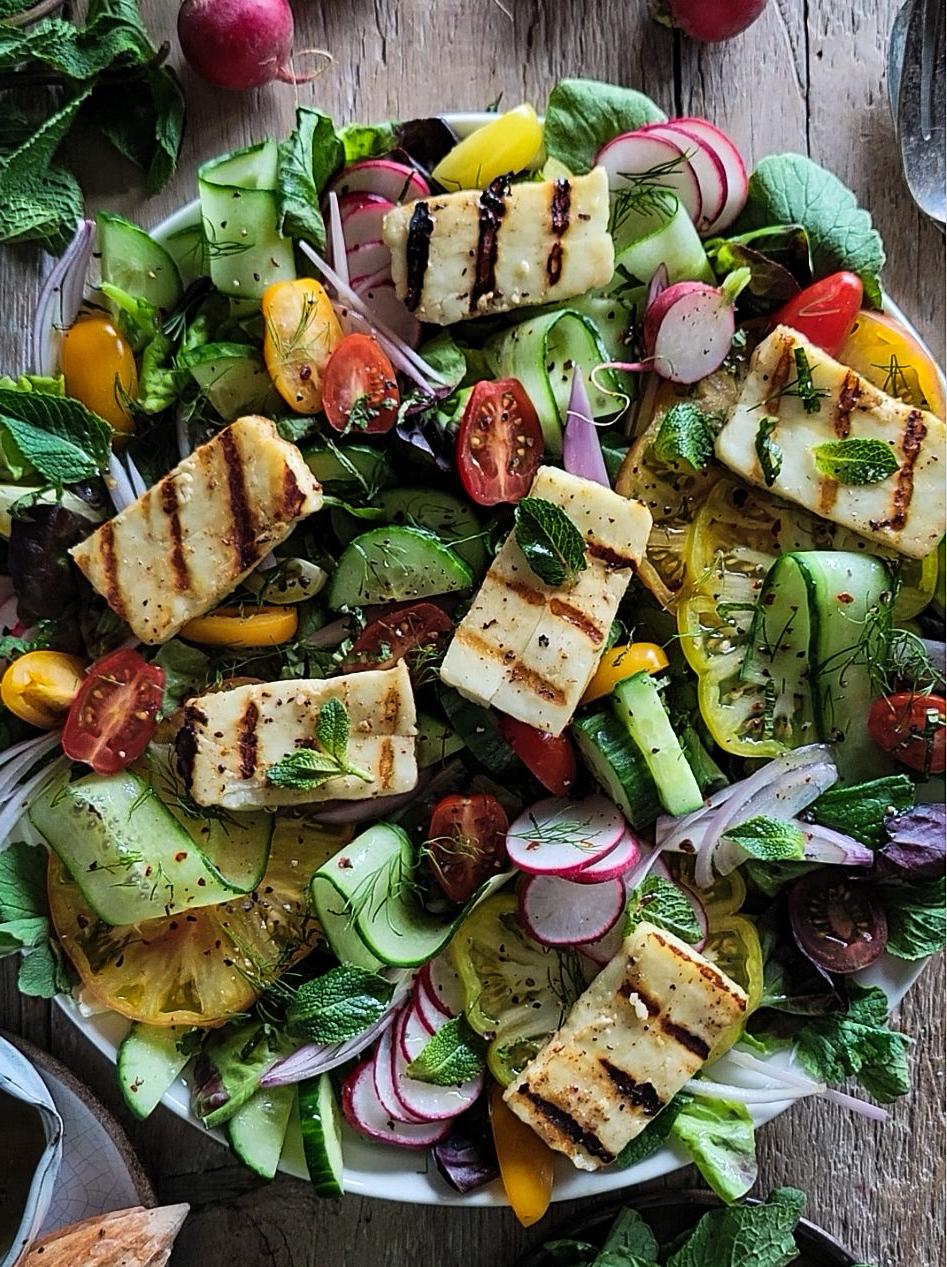 How do I store any leftovers? Leftovers should be stored in an airtight container in the refrigerator. They'll last for about 1-2 days. However, for the best experience, consume it fresh.
Can I substitute another cheese for halloumi? Certainly! Feta cheese is a popular alternative, offering a crumbly texture and tangy flavor. Though you won't get the same roasted texture, it still pairs wonderfully with the salad ingredients.
I don't have an Air Fryer Toaster Oven; can I still make this dish? Absolutely. While the Air Fryer Toaster Oven adds a unique touch, you can achieve a similar effect using a conventional oven, though cooking times may vary slightly.
Is there an alternative to pomegranate arils if I can't find them? Yes, you can substitute dried cranberries or fresh diced strawberries for a slightly different, yet delightful, tang.
Can I add other vegetables to this salad? Of course! This salad is versatile. Consider adding radishes, bell peppers, or even olives for added flavor and texture.
Elevate your culinary skills with our oven-roasted Fattoush Salad, embellished with pomegranates and halloumi. It's not just a salad; it's an experience! Passionate about food as we are? Share this exceptional recipe with your circle and hit that subscribe button for more of our exquisite creations.
I'm Tracy F Hilton, a devoted culinary professional shaped by a mix of natural aptitude and refined skills from a top culinary school. In the dynamic kitchen environment, I'm a catalyst for seamless operations and timely, high-quality dish preparation. My culinary creations are a blend of art and skill, offering visually and gustatorily delightful experiences. A learner at heart, I'm continuously honing my craft, embracing new techniques, and culinary innovations. My positive, collaborative nature is amplified in fast-paced settings, showcasing my commitment to team efficiency and guest satisfaction. Each dish I present is a meticulous blend of tradition and innovation, promising an unforgettable dining experience that marries taste, aroma, and aesthetic appeal in perfect harmony. Join me on a gastronomic journey where each bite encapsulates a rich, evolving narrative of flavors and culinary artistry.
Affiliate DisclaimerAbout The Content
As an affiliate, we may earn a commission from qualifying purchases. We get commissions for purchases made through links on this website from Amazon and other third parties.