Print
How to make South Africa Chakalaka and Chakalaka chicken
---
Author:

Prep Time:

20 minutes

Cook Time:

20 minutes

Total Time:

40 mins
Description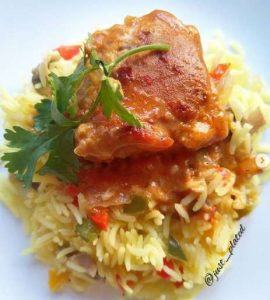 This hearty CHAKALAKA CHICKEN is saucy, delicious and goes a long way. Serve with your favourite savoury rice and chips or alternatively, pita bread and salad.
---
1 TSP

of Salt

1 teaspoon

of cumin seeds
Chicken Parts
Garlic
Mexican chili
Black pepper
Carrot
Baked beans
Onion
Tomato seed
Green pepper
Curry powder
Optional
---
Instructions
PREPARATION
Wash the chicken and your veggies.
Grate the carrot and put it in a bowl.
Add 1 TSP of salt, 1 teaspoon of cumin seeds (these
seeds are usually used for Indian based dishes, but it works for this
dish as well), Mexican chili spice, and bio spice. Also, some black
pepper and garlic to taste
You can use any spice for this recipe; it all depends on
you. Many people use these spices because they love the flavor with
the chicken.
Mix all the spices together with the chicken. Make sure it
is marinated perfectly. Let it chop and marinate for a few minutes.
Dice the onion, tomato, and green pepper. (Be mindful of
the knife).
Make sure you wash all your vegetables before you chop
them up.
You can use either one or two onions and tomatoes for
this recipe.
(You can use a green, red, or yellow pepper or all of
them for this recipe just for a bit of color).
COOKING
Place the chicken into a hot pan with oil.
Make sure that the pan is nice and hot.
Turn the chicken pieces around and make sure both sides
of the chicken get brown.
Note: The chicken shouldn't stay too long into this pan. It
should be at least 5 to 10 minutes just until that golden brown color.
Bring down and leave to cool.
Add the diced onions to a hot pan.
Let the onion simmer for about a minute
Don't let them cook too much to retain its crunchiness.
Then, add your green pepper, tomato, and fresh red chili.
You can use any chili with this recipe.
Make sure you mix everything together.
Add the grated carrots to the onion mix and stir everything
well together.
Make sure this mixture is not too fatty.
Let the carrots simmer and then add your baked beans to
the carrot mix and a quarter of a teaspoon of tomato paste.
Mix everything together. Add a little bit of chugga-lugga
spice and some curry powder and water and mitt itself.
Place the chicken in an oven tray and add the mix on top
of the chicken. Make sure you've got all of it for that amazing taste.
Place the chicken in a preheated oven of 180 degrees for
20 to 25 minutes
Place in a plate and add parsley or coriander to garnish
your dish.
Read more African Easy Recipes
Cuisine:

South Africa, African
Nutrition
Calories:

215

Sugar:

13g

Sodium:

468 mg

Fat:

9 g

Carbohydrates:

31 g
Keywords: Chakalaka, south africa chakalaka, chakalaka recipe, Chakalaka chicken,