This dish has a simple dressing, which has just the right amount of sour, salty, and spicy flavors. The Vietnamese beef salad is a quick and easy main course that will wow your guests! It can be made at any time of the year. Just change up the vegetables to suit the season. This dish also makes for a delicious lunch. The fresh produce adds a fresh, colorful touch to the salad.
Vietnamese Beef Salad Recipes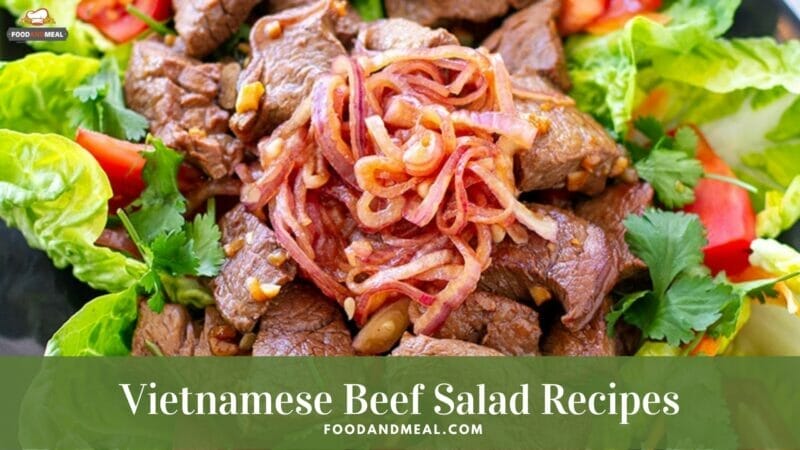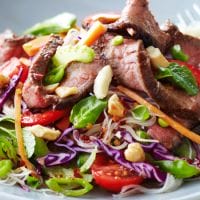 Vietnamese Beef Salad
Vietnamese Beef Noodle Salad is an excellent main dish for parties or a casual dinner. If you want to impress guests, this salad will make a great presentation for a dinner party. To make the Vietnamese Beef Noodles Salad, use fresh seasonal produce. If watercress isn't available, substitute with another vegetable. To make the salad more appealing, add a small amount of five-spice powder.
Print
Add to Collection
Go to Collections
Equipment
Instructions
Mix all ingredients except meat and ingredients without measurement until sugar is dissolved. Let stand for at least 10 minutes, up to overnight.

Add beef and 3/4 of dressing to a bowl and ensure all slices are in contact with dressing. Let stand about 10-15 minutes.

Drain beef and arrange on a chilled platter. Drizzle with remaining dressing.

Serve immediately.
Notes
Vietnamese Beef Salad is a delicious, easy to make salad that is both a family favorite and a great lunch for the office. The dish has the perfect balance of spicy, sweet, sour, and salty flavors. This recipe is versatile and can be served at any time of year. It can be adapted for any season by switching the ingredients. It is also a great lunch option. If you love the flavor of Vietnamese Beef, you will love the flavor of this recipe.
Share by Email
Share on Facebook
Share on Twitter
Nutrition
Serving:
5
servings
|
Calories:
299
kcal
|
Carbohydrates:
13
g
|
Protein:
18
g
|
Fat:
20
g
|
Saturated Fat:
8
g
|
Polyunsaturated Fat:
1
g
|
Monounsaturated Fat:
8
g
|
Cholesterol:
64
mg
|
Sodium:
957
mg
|
Potassium:
390
mg
|
Fiber:
1
g
|
Sugar:
9
g
|
Vitamin A:
107
IU
|
Vitamin C:
25
mg
|
Calcium:
28
mg
|
Iron:
3
mg
© Food And Meal
This website provides approximate nutrition information for convenience and as a courtesy only. Nutrition data is gathered primarily from the Spoonacular Database, whenever available, or otherwise other online calculators.
Other ways to making Beef Salad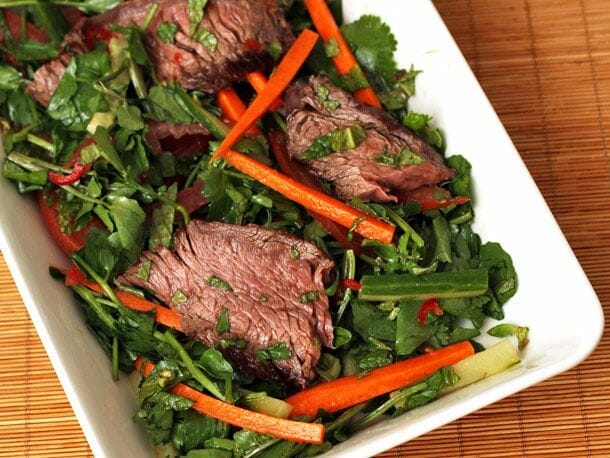 To prepare the Vietnamese Beef Salad, you need to cook beef. Using olive oil, chop garlic and red shallots and cook until soft. Next, add the beef and cook for another 5 minutes. Then, slice the tomatoes and add watercress. Top with dressing of your choice. The beef should be marinated overnight for the flavor to fully penetrate. You can also use roasted peanuts instead of watercress.
About Vietnamese Beef Salad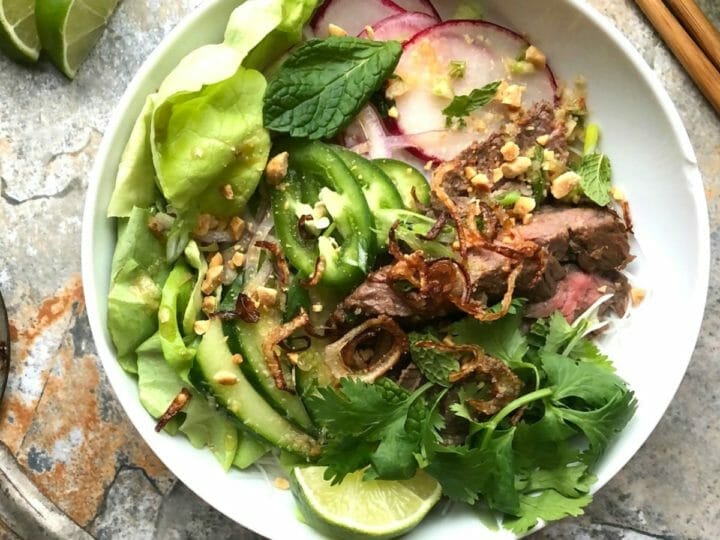 This delicious Vietnamese beef salad is perfect for lunch or dinner. This recipe uses fresh herbs for flavor. To make the dressing, combine water, sugar, lime juice, and salt. Place beef in a zip-lock bag and marinate for about 30 minutes. In a medium bowl, combine all ingredients and season with pepper. Serve chilled. This salad is delicious served at room temperature. A few hours before serving, slice the beef into thin strips and serve.
The Vietnamese Beef Salad is best served cold. The lime juice is a good way to remove the beef's strong flavor. Then, simply serve the beef salad over fluffy rice. Then, let guests help themselves to the rest of the meal. This dish is a great appetizer or main course to impress guests. It is an ideal starter dish for parties and family gatherings. It's also a great dish to serve during warm weather.
Vietnamese Beef Salad is a great midweek family meal. It is full of flavour and the dressing has the perfect balance of sweet, spicy, and sour. You can serve it at any time of year, and it will still be delicious no matter what season you're in. A Vietnamese Beef Salad is also a great lunch. However, if you're looking for a more healthy meal, you'll have to adjust the ingredients.
This recipe has a great balance of flavors and is perfect for a family meal. The dressing is a great blend of spicy, sweet, and sour. It's the perfect dish for a midweek family dinner. For a party, try it with fresh seasonal produce and a small amount of oyster sauce. If you don't have oyster sauce, you can substitute other roasted peanuts. It is a refreshing salad, and you'll love it for lunch.
This dish is easy to make and can be a delicious main dish for any party. It's great for the summer since it's so refreshing. A little lime juice can be added to the salad before serving. This recipe also has many other variations, so feel free to use any vegetables you'd like. Once you've chosen the right ingredients, it's time to get cooking. You'll be amazed at how quickly and easily this salad comes together.
This dish is easy to make and is the perfect side dish for any meal. It takes only 15 minutes to prepare and is packed with vibrant flavors. This salad can be served as a weeknight meal or as part of a delicious Asian banquet. It's also a great recipe for parties as it can be served anytime you like. Once you've finished preparing it, you can enjoy your Vietnamese Beef Salad.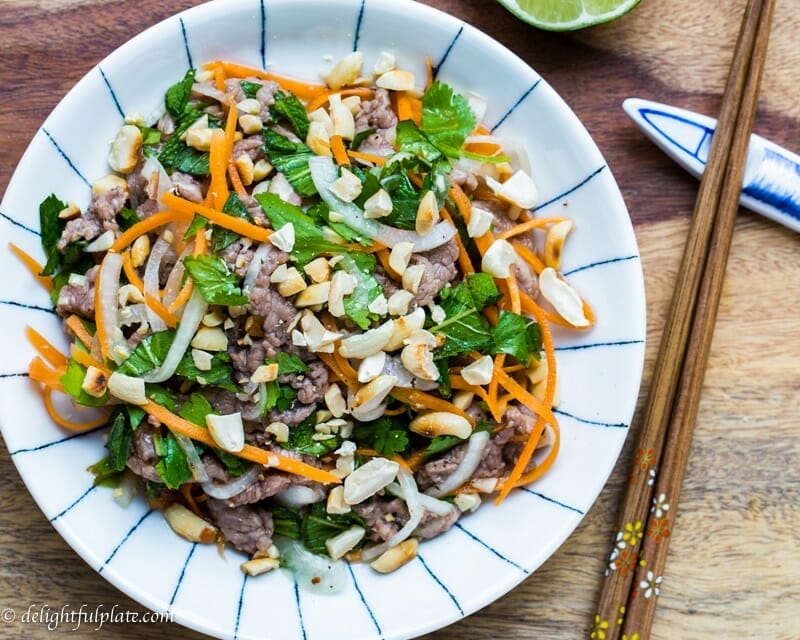 Hope you enjoy the special beef salad recipe and don't forget to read more interesting articles about culinary knowledge on FoodandMeal website ! If you feel this recipe is useful, please leave your kind comments below and take time to read other blogs to be an international chef at your home.
Affiliate DisclaimerAbout The Author
As an affiliate, we may earn a commission from qualifying purchases. We get commissions for purchases made through links on this website from Amazon and other third parties.