This recipe for Asparagus and Almond Salad is easy to prepare and is perfect for parties or as a light side dish. It only takes 30 minutes to make and is served with a lemon-almond dressing. It is served in a bowl and can be enjoyed with a glass of wine or a cup of coffee. It is also suitable for vegetarians and gluten-free eaters.
Asparagus and Almond Salad Recipes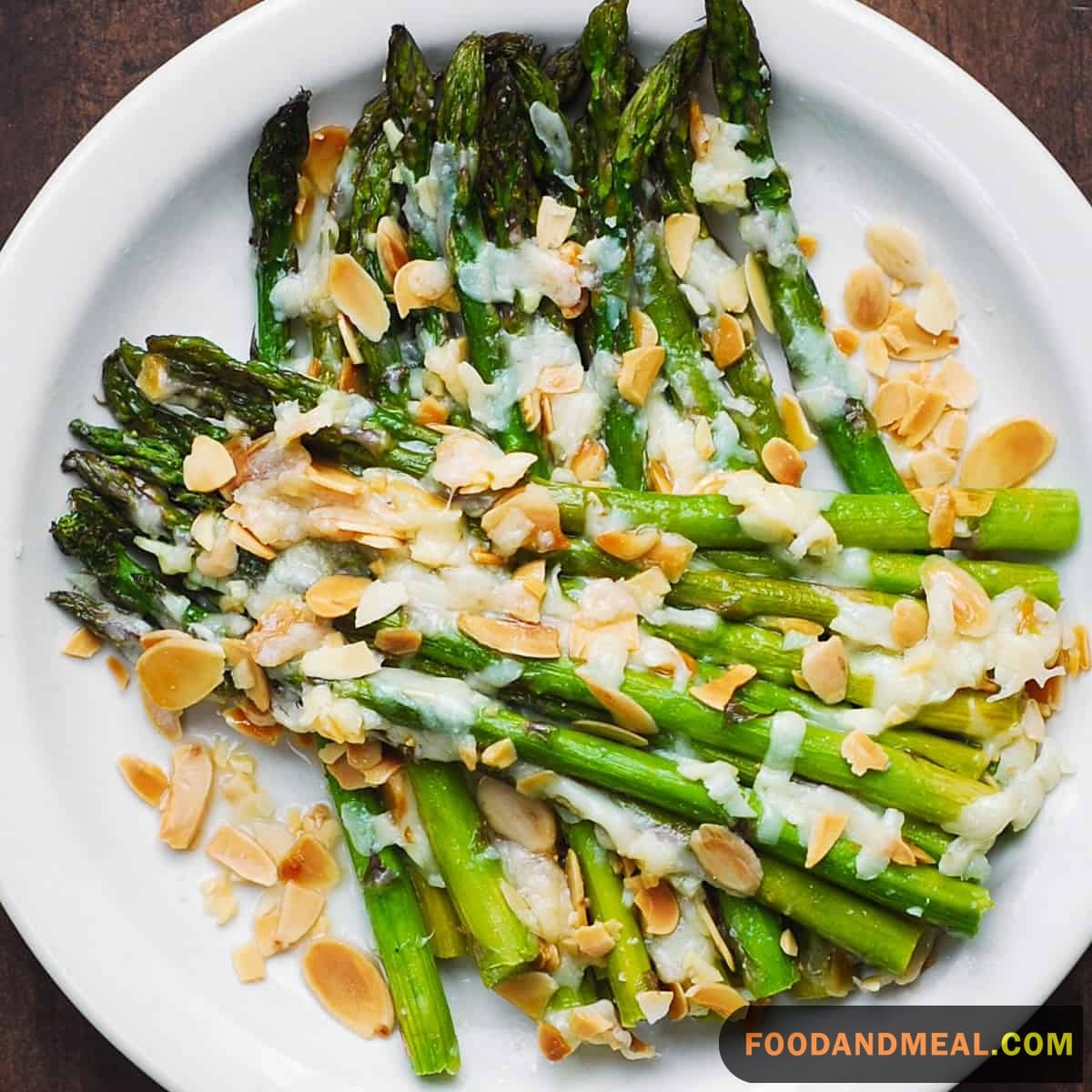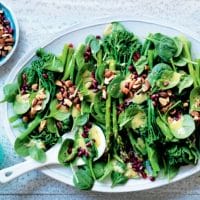 Asparagus and Almond Salad
This dish is vegan and dairy-free and is an ideal side dish for your next party. It is a complete dinner salad and can be complemented with grilled salmon or balsamic-roasted chicken. It is easy to make and can be served within 30 minutes. Asparagus and Almond Salad is also a great option for a brunch or lunch. Aside from being a great side dish, Asparagus and Almond Salad also tastes fantastic when paired with other vegetables and fruits.
Print
Add to Collection
Go to Collections
Equipment
Ingredients
Dressing
2

teaspoons

macadamia nut oil

1

teaspoon

English mustard Salt and pepper

1

teaspoon

red wine vinegar
Base Ingredients
1/2

pound

asparagus

trimmed 1 inch from ends

2

tablespoons

almonds

sliced

2

tablespoons

parsley leaves

fresh, finely chopped 2 tablespoons red onion, chopped
Instructions
Prep/ Cook
Combine all of the dressing ingredients except the oil.

Slowly drizzle the oil until it becomes creamy.

Bring a pot of salted water to a boil and steam the asparagus for 4 min.

Let it cool down.

Toast the almonds on medium heat for 2 min. or until you smell the aroma and let it cool down.

To make the dressing, combine all of the dressing ingredients except the oil in a food processor or by hand if there are no solid chunks.

Slowly add the oil in small streams while mixing/whisking until it has a creamy consistency.

Divide the ingredients evenly among the mason jar/s.

Layer them in order based on the ingredient list above in a mason jar starting with the dressing.

Make sure the dressing does not touch the greens yet.

Place the lid and close tightly.
To Serve
Shake the jar well to coat the ingredients with the dressing and enjoy!
Notes
In addition to its wholesome and healthy ingredients, Asparagus and Almond Salad is dairy- and gluten-free. It can be served as a complete dinner salad or as a side dish. You can add roasted chicken or balsamic-glazed salmon to the salad. To make it more attractive and delicious, you can also add almonds, goat cheese, and peas to the salad.
Share by Email
Share on Facebook
Share on Twitter
Nutrition
Serving:
1
serving
|
Calories:
60
kcal
|
Carbohydrates:
3
g
|
Protein:
2
g
|
Fat:
5
g
|
Saturated Fat:
1
g
|
Polyunsaturated Fat:
1
g
|
Monounsaturated Fat:
3
g
|
Sodium:
17
mg
|
Potassium:
163
mg
|
Fiber:
2
g
|
Sugar:
1
g
|
Vitamin A:
598
IU
|
Vitamin C:
6
mg
|
Calcium:
30
mg
|
Iron:
2
mg
© Food And Meal
This website provides approximate nutrition information for convenience and as a courtesy only. Nutrition data is gathered primarily from the Spoonacular Database, whenever available, or otherwise other online calculators.
Alternative Preparation Method: Grilled Asparagus and Almond Salad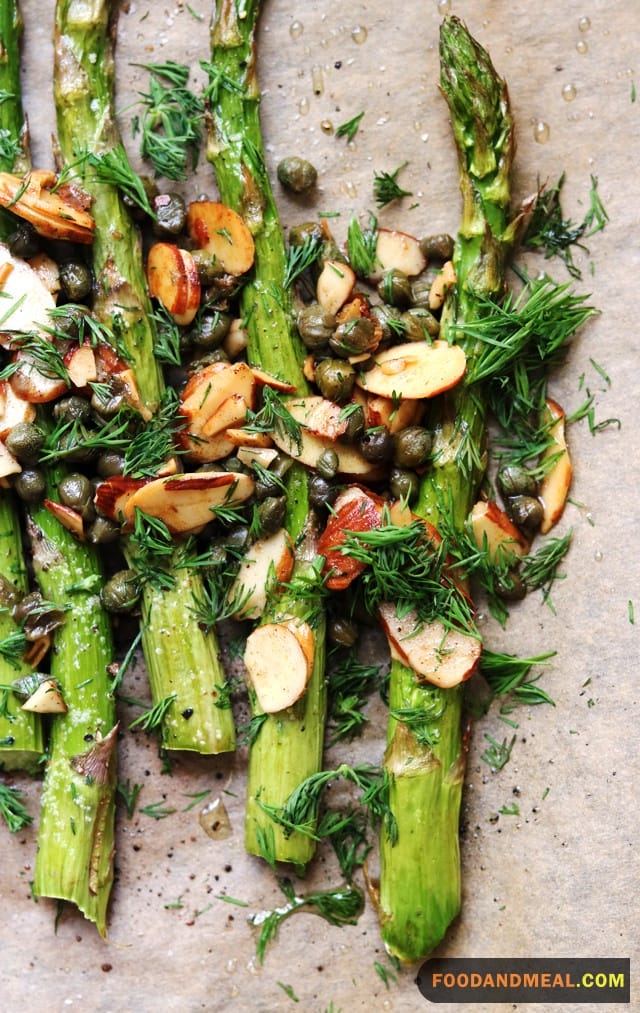 Ingredients:
1 bunch of fresh asparagus
1/2 cup whole almonds
2 tablespoons extra-virgin olive oil
Salt and freshly ground black pepper, to taste
Zest of 1 lemon
2 tablespoons fresh lemon juice
2 tablespoons grated Parmesan cheese
Fresh basil leaves for garnish
Instructions:
Prepare the Grill: Preheat your grill to medium-high heat, around 400°F (200°C). Make sure to clean and oil the grates to prevent sticking.
Marinate the Asparagus: In a bowl, combine the asparagus with one tablespoon of olive oil and season with salt and pepper. Toss to coat the asparagus evenly.
Grill the Asparagus: Place the asparagus spears directly on the grill grates. Grill for about 2-3 minutes on each side, turning them occasionally, until they have grill marks and are slightly charred but still crisp. Cooking time may vary, so keep a close eye on them.
Toast the Almonds: While grilling the asparagus, you can also toast the almonds. In a grill-safe pan or foil packet, toss the almonds with the remaining olive oil. Place them on the grill and stir occasionally until they're lightly toasted, which should take about 5 minutes. Remove from the heat.
Assemble the Salad: Once the asparagus is grilled to your liking, remove it from the grill and let it cool slightly. Cut the asparagus into bite-sized pieces.
Combine the Ingredients: In a large bowl, combine the grilled asparagus, toasted almonds, lemon zest, lemon juice, and Parmesan cheese. Toss everything together until well mixed. Adjust the salt and pepper to taste.
Garnish and Serve: Before serving, garnish with fresh basil leaves for a burst of aroma and color.
Tips for making Asparagus and Almond Salad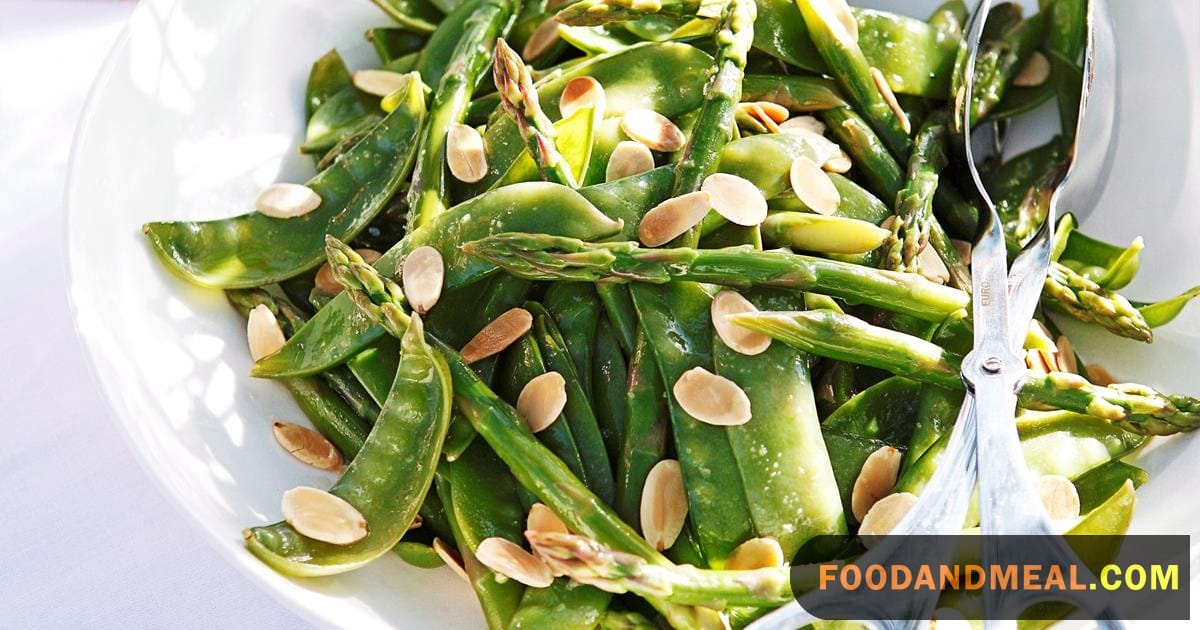 Cooking Tips
Preheat and Oil the Grill: Before you begin, make sure your grill is preheated to the right temperature. Brush the grates with oil to prevent the asparagus from sticking.
Select Fresh Asparagus: Choose fresh, firm asparagus spears. Thinner spears tend to grill more evenly and quickly.
Watch Closely: Asparagus cooks quickly on the grill, so don't walk away. Keep an eye on it and turn the spears frequently to achieve those beautiful grill marks without overcooking.
Don't Overcrowd the Grill: Avoid overcrowding the grill. Give each asparagus spear enough space to cook evenly.
Check for Doneness: The asparagus is done when it's tender and slightly charred. Test it with a fork; it should still have a bit of crunch.
Customize Flavors: Feel free to experiment with additional seasonings like smoked paprika, balsamic glaze, or a sprinkle of red pepper flakes for some extra zing.
Serving Suggestions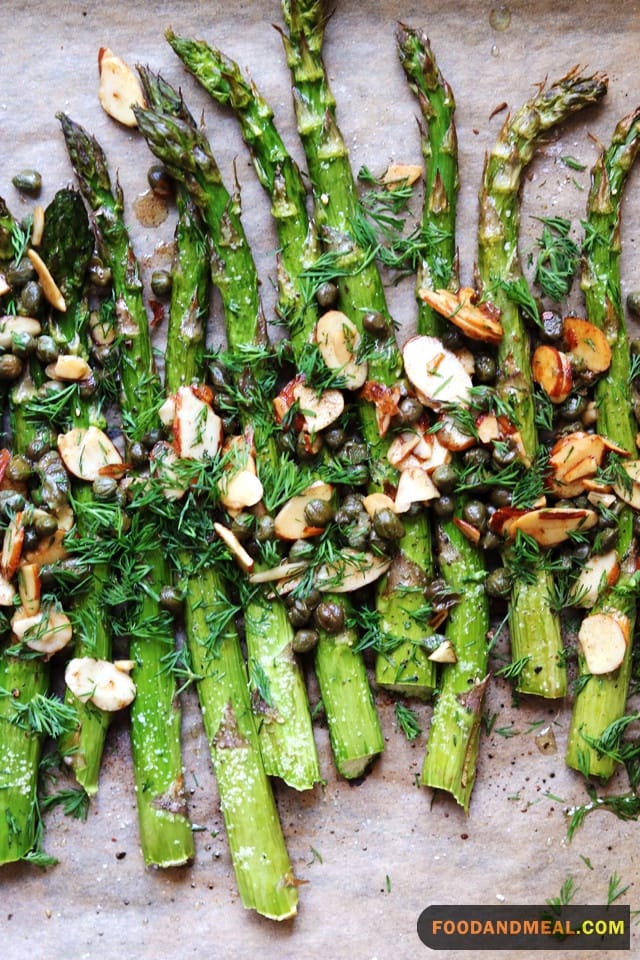 Add Protein: To turn this salad into a hearty main course, consider adding grilled chicken, shrimp, or tofu.
Pair with Soup: Serve it alongside a bowl of creamy tomato soup for a satisfying and well-rounded meal.
Complementary Sides: Serve your salad with crusty garlic bread, a selection of cheeses, or a chilled cucumber gazpacho for a refreshing contrast.
Dress to Impress: Drizzle the salad with a honey-Dijon vinaigrette or a simple balsamic reduction for added depth of flavor.
Beverage Choices: This salad pairs wonderfully with a crisp white wine like Sauvignon Blanc or a light beer, and it's equally delightful with sparkling water infused with lemon or cucumber.
FAQs (Frequently Asked Questions) about Asparagus and Almond Salad
Can I prepare the asparagus and almonds ahead of time for a quicker salad? Yes, you can grill the asparagus and toast the almonds in advance. Store them separately in airtight containers. When ready to serve, assemble the salad and add the other ingredients.
How can I adjust the salad for dietary preferences? This salad is versatile. For a vegan version, omit the Parmesan cheese or use a plant-based alternative. You can also adjust the dressing based on your dietary requirements.
Is there a way to add more crunch to the salad? Certainly! You can include croutons or crispy bacon bits for extra texture.
Can I grill the asparagus indoors using a grill pan? Yes, you can achieve similar results using a stovetop grill pan. Make sure it's well-oiled and heated before grilling the asparagus.
How should I store leftovers? If you have leftovers, store them in an airtight container in the refrigerator. Consume within 1-2 days for the best taste and texture.
Elevate your salad game with our Asparagus and Almond Salad recipe. Learn grilling techniques, serving suggestions, and culinary secrets. Share the recipe and subscribe for more.
I'm James F Anderson, a noted sous chef from London and a Le Cordon Bleu alumnus. My career began in a Michelin-starred Parisian eatery, where my blend of classic and contemporary cooking, using seasonal ingredients, earned accolades. Recognized in culinary publications and on cooking shows, I'm committed to mentoring aspiring chefs and delivering memorable dining experiences, marking me as a standout talent in the culinary world.
Affiliate DisclaimerAbout The Content
As an affiliate, we may earn a commission from qualifying purchases. We get commissions for purchases made through links on this website from Amazon and other third parties.