Print
How to Make Cheesy Leftover Mashed Potato Pancakes
---
Description
We all know that right after Thanksgiving, it's an inevitable fact that most of the turkey and mashed potatoes are left untouched. When this happens, there are usually three options. The first one is to give it, the second is throw it away (it spoils, you know) and the third one is you make a new dish out of it. Well…the third one is somewhat easy, especially if you have a very creative mind.
There are many things you can do with turkey. There are actually lots of recipes for turkey leftovers. However, it's also very good if you pair it with cheesy leftover mashed potato leftover pancakes. This recipe is very easy to make, as long as you can follow the instructions that are listed below.
---
Scale
Ingredients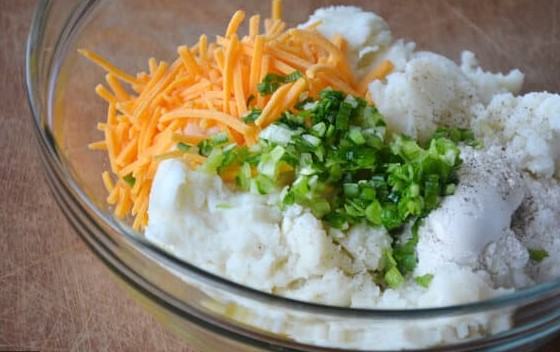 3 cups

Chilled Mashed Potato Leftovers

2/3 cup

Cheddar Cheese, shredded

2 tbsp

. Scallions, chopped

1

pc. Egg, slightly beaten

3 tbsp

. +

½ cup

All-purpose Flour
Vegetable Oil for frying
Sour Cream for serving
---
Instructions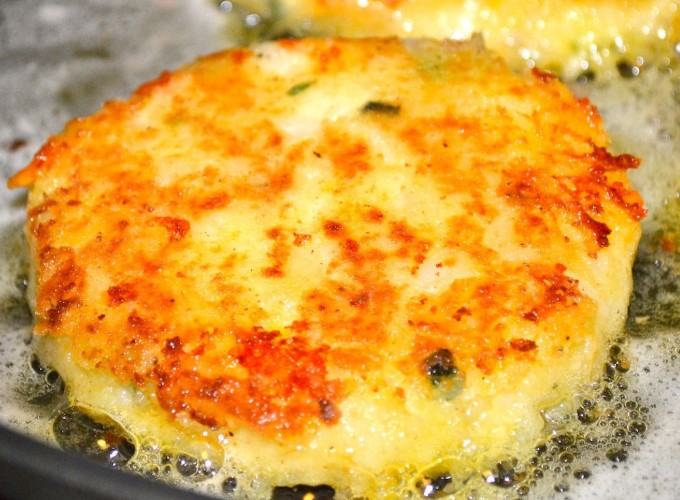 Mix chilled mashed potato leftovers, scallions, cheese, egg and 3 tablespoons of flour in a large mixing bowl. Mix until everything is blended thoroughly.
By using your two hands, divide the mashed potato mixture into twelve equal parts. Make sure that you have washed your hands before this, though.
Roll every mashed potato portion into a large, compact ball before flattening it by means of a rolling pin. Just flatten the pancake into a disc about a ½-inch thick.
Next, place the remaining ½ cup of flour in a dish and drench the mashed potato discs in it.
Next, heat at least three to four tablespoons of vegetable oil in a large saute pan over medium heat. Make sure that the bottom of the pan is all coated with it.
Fry the pancakes for about three to four minutes until the pancakes are golden-brown in color and crispy on both sides. If in case that the oil runs out during frying, just add more of it until the whole batch is done. Once cooked, transfer the pancakes in a paper towel-lined plate to drain the excess oil and add some salt in it.
Serve the finished Cheesy Leftover Mashed Potato Pancakes and top it with sour cream and some chopped scallions.
Notes
While frying, don't turn the pancakes unless the side turns golden-brown or else it will not become crispy.
 Incoming search terms:
Keywords: Cheesy Leftover Mashed Potato Pancakes