Moroccan Lentil salad is a delicious, protein-packed vegetarian meal prep. This salad is made with green lentils and cloves, plus small onions, olive oil, dried mint, and lemon juice. This vegetarian dish is a breeze to prepare and can be kept in the fridge for a week or two. It is also great as a lunch box item. This recipe is perfect for any time you want to pack a light lunch, but you don't have to give up all of your favorite foods.
Moroccan Lentil Salad Recipe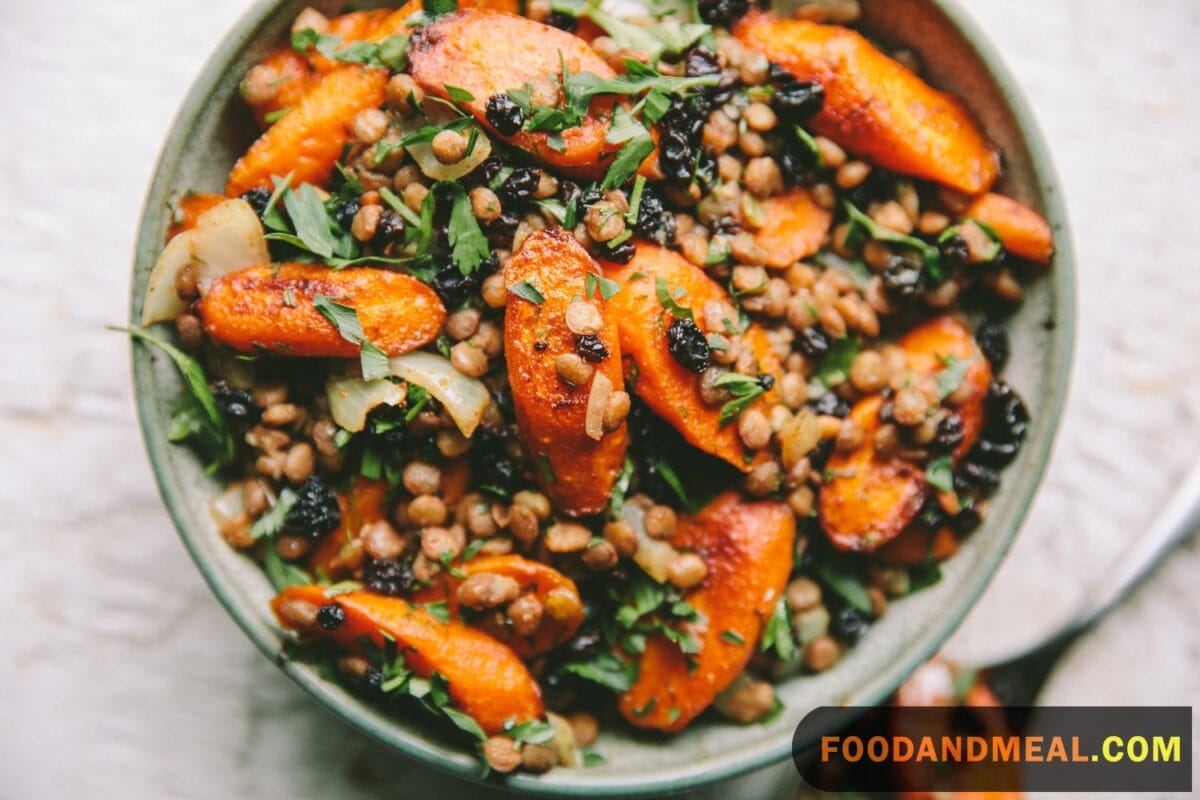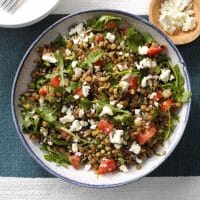 Moroccan Lentil Salad
This authentic Moroccan lentil salad is rich and full of flavor. Made with tomatoes, typical Moroccan spices, and delicious, high-quality organic olive oil. It's the perfect dinner or side dish.
Print
Pin Recipe
Add to Collection
Go to Collections
Instructions
Select the lentils to remove the stones and rinse well.

Place the cloves in half an onion.

Combine the lentils, ½ onion and the cloves in a large skillet.

Bring to a boil over medium heat.

Lower the heat and uncover and simmer until the lentils are tender (about 20 minutes).

Throw away the onion with the cloves.

Drain the lentils and let them cool slightly.

Combine lemon juice, mint, olive oil, cumin, salt, cilantro, and garlic in a bowl.

Add the lentils and stir to mix.

Chop the remaining halves of the onion and add them to the lentils with the roasted peppers.

Let cool for at least 30 minutes for the flavors to blend well.

Serve chilled or at room temperature.
Notes
Aside from being a great main dish for busy weekday lunches, you can also serve this dish as a colorful appetizer or as a side to your main course. This Moroccan Lentil Salad will pair well with a portion of grilled chicken breast. To have a true vegan experience, try out the meatless burger with this lentil salad recipe as well.
Share by Email
Share on Facebook
Share on Twitter
Nutrition
Calories:
246
kcal
|
Carbohydrates:
40
g
|
Protein:
16
g
|
Fat:
3
g
|
Saturated Fat:
1
g
|
Polyunsaturated Fat:
1
g
|
Monounsaturated Fat:
2
g
|
Sodium:
312
mg
|
Potassium:
657
mg
|
Fiber:
19
g
|
Sugar:
3
g
|
Vitamin A:
627
IU
|
Vitamin C:
33
mg
|
Calcium:
57
mg
|
Iron:
5
mg
© Food And Meal
This website provides approximate nutrition information for convenience and as a courtesy only. Nutrition data is gathered primarily from the Spoonacular Database, whenever available, or otherwise other online calculators.
Pin Recipe
Oven-Baked Moroccan Lentil Salad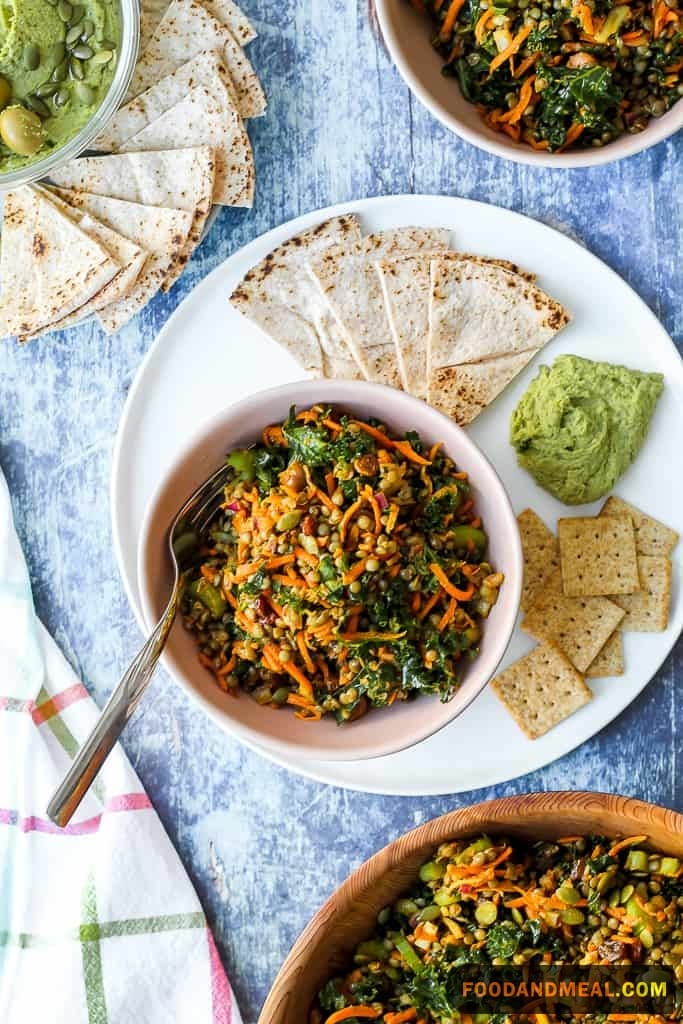 Ingredients:
1 cup dried green or brown lentils
3 cups water
1 red bell pepper, chopped
1 yellow bell pepper, chopped
1 red onion, diced
2 tomatoes, diced
3 cloves garlic, minced
1/4 cup olive oil
1 teaspoon ground cumin
1 teaspoon ground coriander
1/2 teaspoon smoked paprika
Salt and pepper to taste
Juice of 1 lemon
Fresh cilantro leaves for garnish
Instructions:
Prepare Lentils: Rinse the lentils thoroughly and place them in a baking dish. Add 3 cups of water and a pinch of salt. Cover with foil and bake in a preheated oven at 350°F (175°C) for about 25-30 minutes or until the lentils are tender but not mushy. Drain any excess water.
Roast Vegetables: While the lentils are baking, you can prepare the roasted vegetables. In a separate baking dish, combine the red and yellow bell peppers, red onion, and minced garlic. Drizzle with olive oil and season with salt, pepper, ground cumin, ground coriander, and smoked paprika. Toss to coat the vegetables evenly. Roast in the oven at 375°F (190°C) for 20-25 minutes or until the vegetables are tender and slightly caramelized.
Combine and Cool: Once both the lentils and roasted vegetables are ready, let them cool to room temperature. You can speed up the cooling process by spreading them on a baking sheet. It's important for the salad to be at room temperature before adding the other ingredients.
Final Touch: In a large mixing bowl, combine the baked lentils, roasted vegetables, diced tomatoes, and fresh lemon juice. Toss gently to mix everything together. Taste and adjust the seasoning if needed with extra salt, pepper, or lemon juice.
Serve: Transfer your oven-baked Moroccan Lentil Salad to a serving platter, garnish with fresh cilantro leaves, and serve it as a warm or room temperature salad. Enjoy the unique flavors and textures of this alternative preparation method!
Tips for making Moroccan Lentil Salad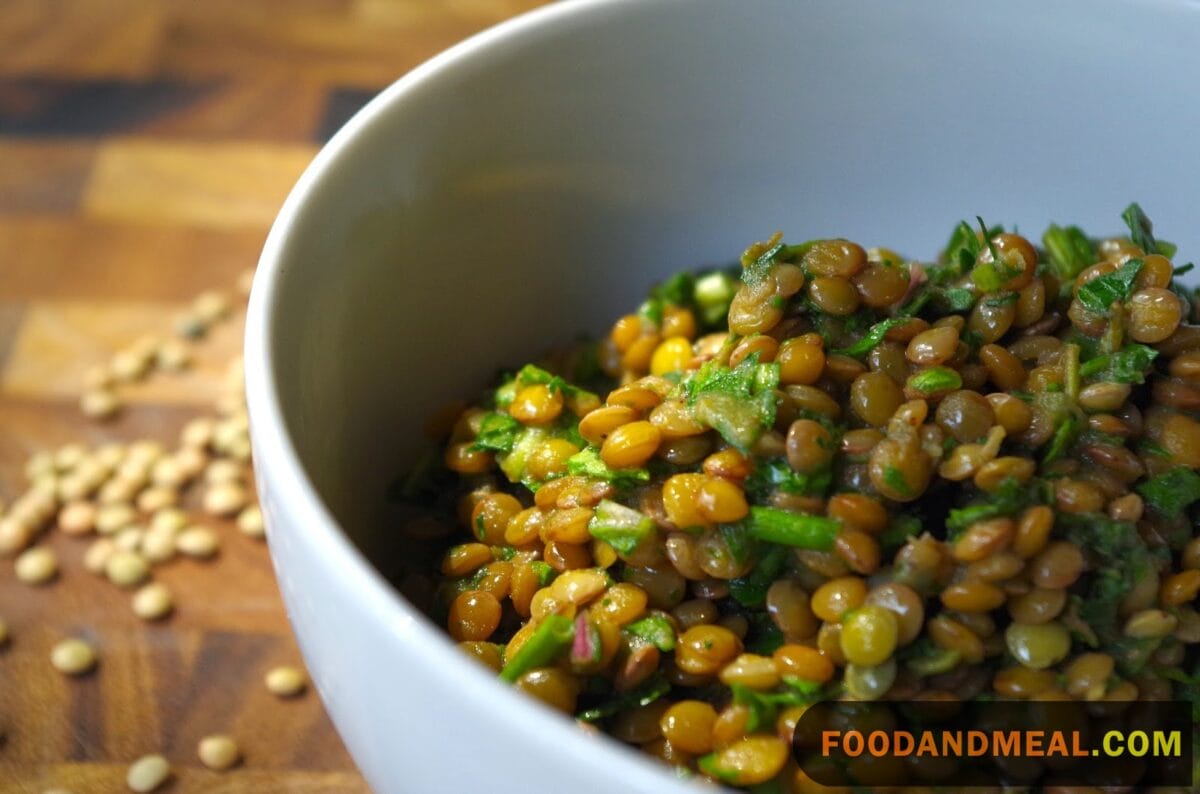 Cooking Tips
Unlock the Full Flavor: To get the most flavor out of your Moroccan Lentil Salad, consider allowing it to marinate in the refrigerator for a few hours or even overnight before serving. This allows the spices and flavors to meld together, creating a more harmonious and delicious dish.
Perfectly Cooked Lentils: Achieving perfectly cooked lentils is crucial. Be sure not to overcook them; you want them tender but with a slight bite. Overcooked lentils can turn mushy, which might affect the salad's texture.
The Power of Spices: Moroccan cuisine is known for its bold spices. Don't be shy with the cumin, coriander, and smoked paprika. These spices are the heart of the dish, so don't skimp on them. Taste as you go and adjust to your preference.
Fresh Herbs: While cilantro is the classic choice, you can also experiment with fresh mint as a garnish. The freshness of herbs adds a delightful contrast to the earthy flavors of the dish.
Customization: Feel free to customize your Moroccan Lentil Salad by adding ingredients like diced cucumber, crumbled feta cheese, or pomegranate seeds for a personal touch.
Serving Suggestions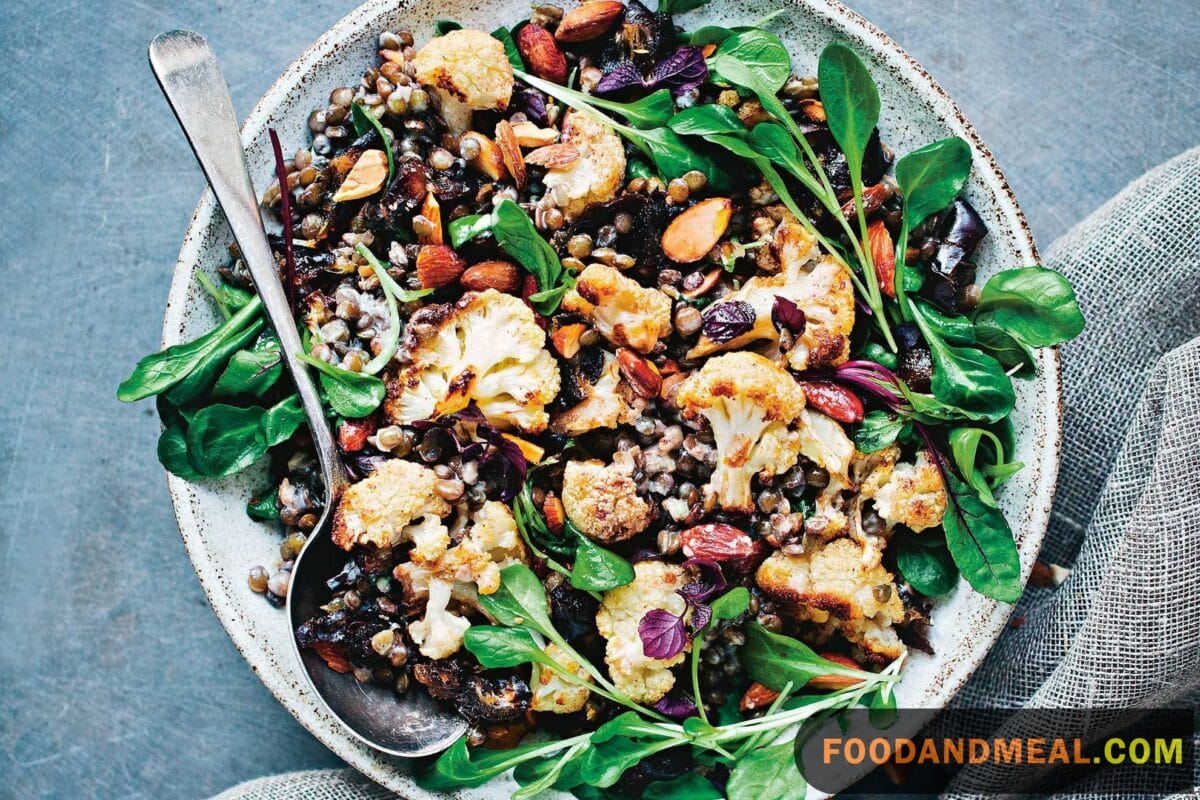 Pair with Pita Bread: Serve your Moroccan Lentil Salad with warm, fluffy pita bread. It's perfect for scooping up those delicious lentils and vegetables.
Yogurt Dip: A side of cool, tangy yogurt dip with a hint of mint or cucumber is an excellent accompaniment. It complements the bold flavors of the salad.
Lemon Wedges: Provide lemon wedges on the side. Squeezing a bit of fresh lemon juice over the salad just before eating can elevate the dish's flavors.
Grilled Meats: If you're looking to turn this salad into a heartier meal, consider serving it alongside grilled chicken or lamb for a complete Moroccan feast.
Chilled Beverage: This salad pairs wonderfully with a cold glass of Moroccan mint tea, or you can keep it simple with a crisp white wine.
FAQs (Frequently Asked Questions) about Moroccan Lentil Salad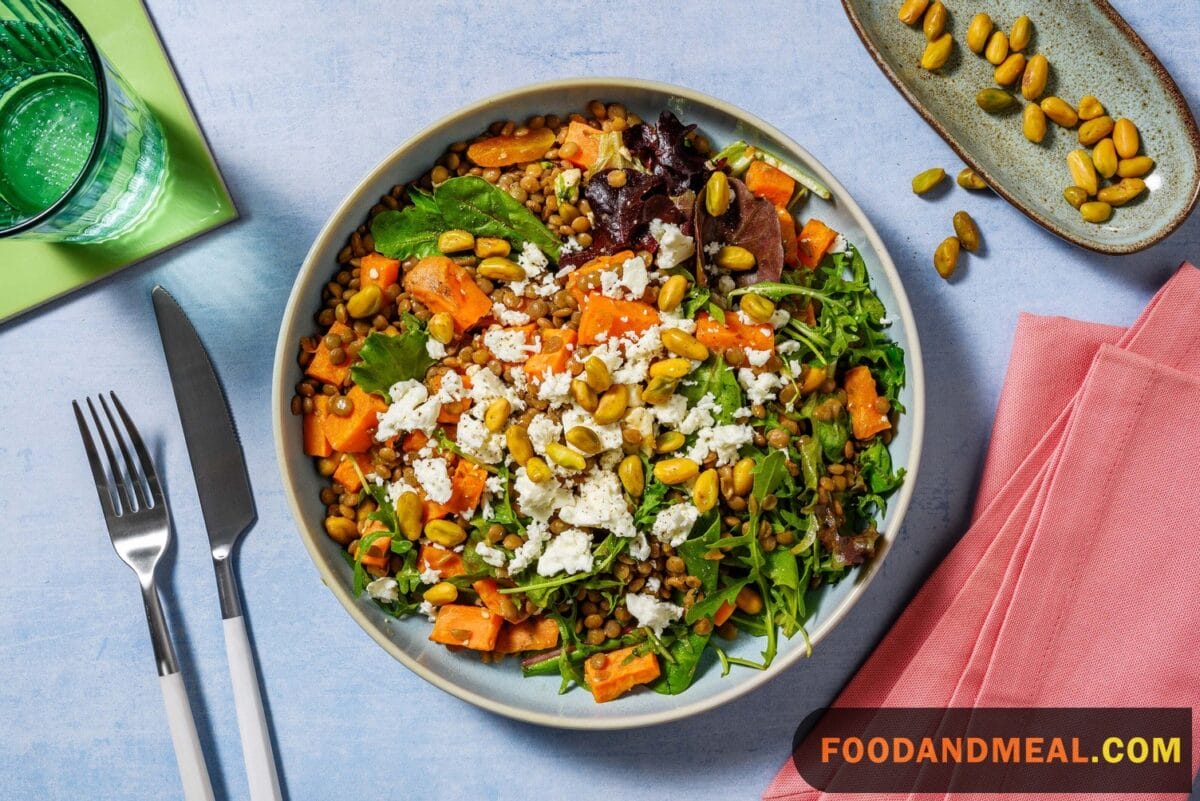 Can I make Moroccan Lentil Salad in advance? Yes, you can. In fact, it often tastes better after marinating in the fridge for a few hours or overnight. Just hold off on adding any fresh herbs until you're ready to serve.
How long can I store leftovers? Leftover Moroccan Lentil Salad can be refrigerated for up to 2-3 days in an airtight container. Remember to store it without the garnishes.
Can I use canned lentils? While dried lentils are preferred for their texture, you can use canned lentils to save time. Just rinse and drain them thoroughly before use.
What's a good protein addition? Grilled chicken, shrimp, or even tofu can be added for a protein boost. Season them with Moroccan spices for an authentic twist.
Is this salad vegan and gluten-free? Yes, the basic Moroccan Lentil Salad is both vegan and gluten-free. However, check any additional ingredients or spices you use to ensure they align with your dietary preferences.
Immerse yourself in Moroccan culture with our Moroccan Lentil Salad recipe. Spice up your life and subscribe for more global culinary adventures.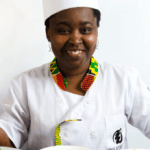 Hello! I'm Black Pie, your culinary guide at Food And Meal, Hana Hotel Travel Company Limited. I'm passionate about unveiling the rich and diverse flavors of African cuisine to the world. Each recipe we explore is a celebration of culture, tradition, and exquisite taste. Join me on this delightful culinary journey, where we'll discover and share the hidden gems of African cooking together!
Affiliate DisclaimerAbout The Content
As an affiliate, we may earn a commission from qualifying purchases. We get commissions for purchases made through links on this website from Amazon and other third parties.