Squash peanut soup can be made in a variety of ways. The basic soup recipe calls for adding two cups of broth and one pound of chopped pumpkin. Squash and pumpkin can both be used in the soup. Squash and pumpkin are great together and make a delicious, creamy dish. You can also use other vegetables, such as zucchini or kabocha squash. Roasted squash is a healthy choice for winter months and can be made in a single pot.
Squash peanut soup recipe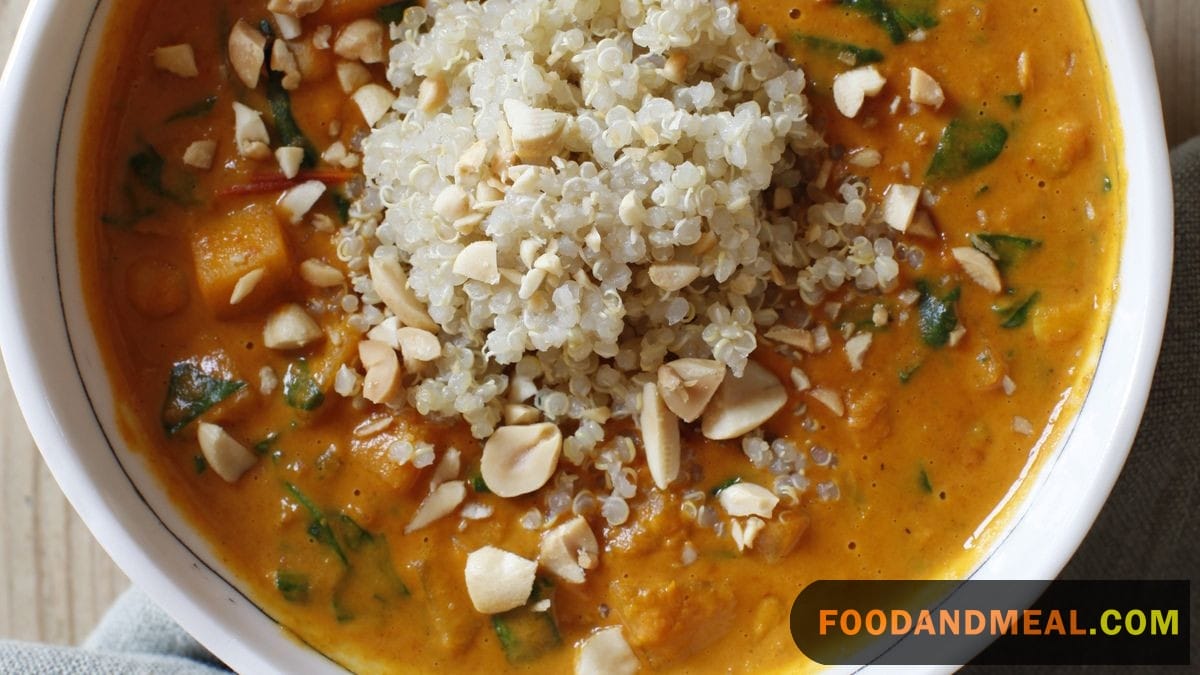 Squash Peanut Soup Recipe
Instead of using peanut butter that likes other conventional recipes, this recipe uses roasted peanuts to enhance the delicious flavor of the dish. So you don't need to cost to buy peanut butter. Compared to other versions, this version is both more economical and simpler.
Print
Add to Collection
Go to Collections
Equipment
Instructions
Pour enough water into a pot. Allow it to boil.

Add the squash to it and cook until it's soft but unbroken. Remove the squash from the pot and discard the water.

Place a skillet over medium heat. Add the oil and let it heat up.

Add the squash and simmer for five minutes. Stir so often that the squash can break up.

Add the peanuts, sugar, and salt, and stir thoroughly.

Cook for 5 minutes on very low heat.

Serve hot!
Notes
There are many ways to create new versions for squash peanut soup, such as you can also use sweet potatoes instead of squash. However, please notice that squash contains a significantly lower carb than potatoes. Thus, if you are on a carb diet, you should consider this replacement.  
Share by Email
Share on Facebook
Share on Twitter
Nutrition
Calories:
373
kcal
|
Carbohydrates:
27
g
|
Protein:
15
g
|
Fat:
26
g
|
Saturated Fat:
4
g
|
Polyunsaturated Fat:
9
g
|
Monounsaturated Fat:
12
g
|
Trans Fat:
1
g
|
Sodium:
217
mg
|
Potassium:
910
mg
|
Fiber:
7
g
|
Sugar:
4
g
|
Vitamin A:
16072
IU
|
Vitamin C:
32
mg
|
Calcium:
121
mg
|
Iron:
2
mg
© Food And Meal
This website provides approximate nutrition information for convenience and as a courtesy only. Nutrition data is gathered primarily from the Spoonacular Database, whenever available, or otherwise other online calculators.
Alternative Method: Slow Cooker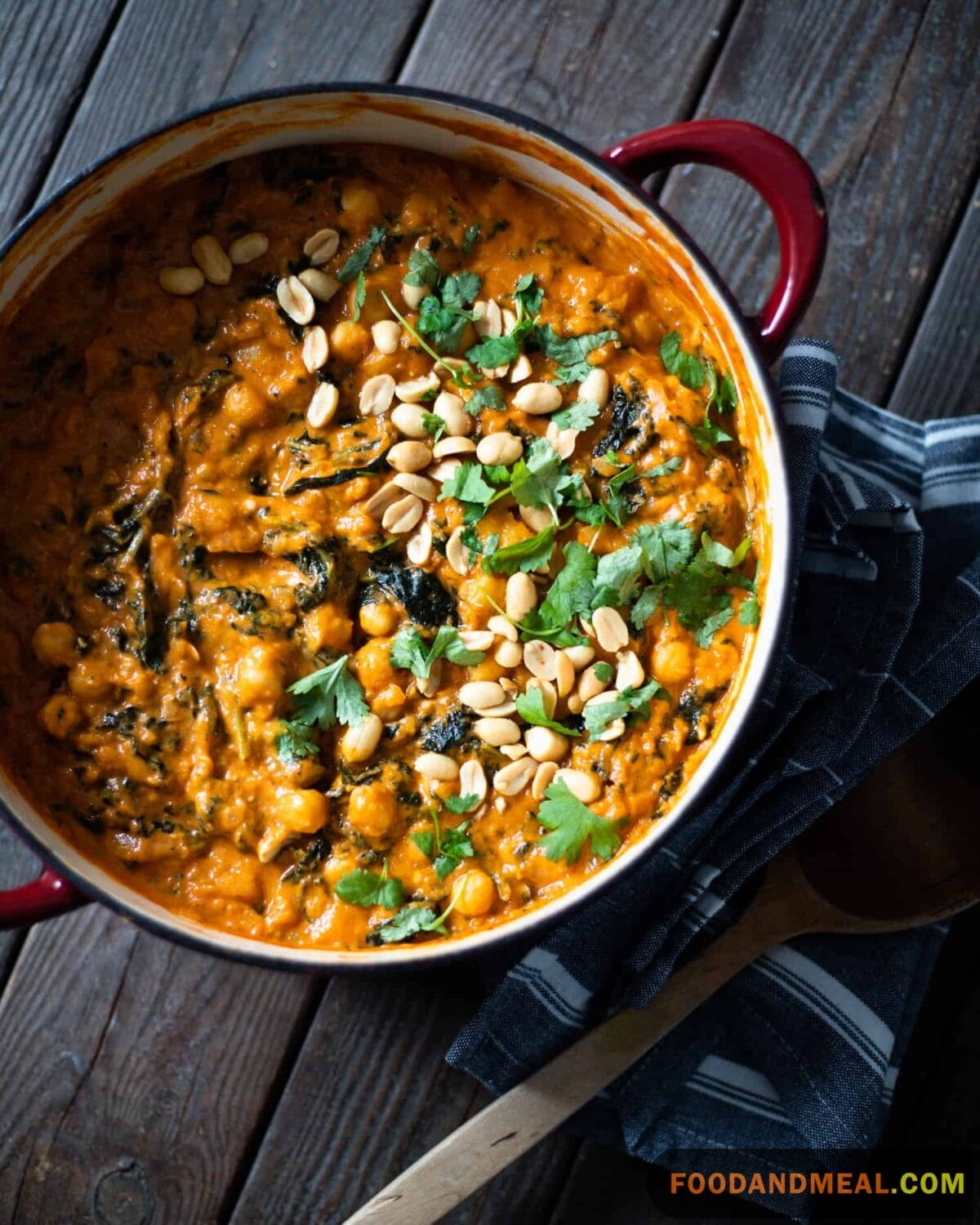 Ingredients:
1 butternut squash, peeled, seeded, and cubed
1 onion, chopped
3 cloves garlic, minced
1 cup unsalted peanuts, roasted
4 cups vegetable broth
1 teaspoon ground cumin
1/2 teaspoon ground coriander
1/2 teaspoon smoked paprika
Salt and pepper to taste
2 tablespoons olive oil
Chopped fresh cilantro, for garnish
Crushed peanuts, for garnish
Instructions:
Sauté the Aromatics: Heat the olive oil in a pan over medium heat. Sauté the chopped onions and minced garlic until they become translucent and fragrant. This will take about 3-5 minutes.
Layer Ingredients in the Slow Cooker: Transfer the sautéed onions and garlic to your slow cooker. Add the cubed butternut squash, roasted peanuts, ground cumin, ground coriander, and smoked paprika.
Pour in Vegetable Broth: Pour the vegetable broth into the slow cooker, ensuring that it covers all the ingredients. Stir everything together.
Set the Slow Cooker: Cover the slow cooker and set it to cook on low for 6-8 hours or on high for 3-4 hours. The longer, the better as it allows the flavors to meld together.
Blend the Soup: Once the cooking time is complete and the squash is tender, use an immersion blender to purée the soup until smooth. If you don't have an immersion blender, you can carefully transfer the soup in batches to a regular blender.
Adjust Consistency: Depending on your preference, you can add more vegetable broth to adjust the soup's thickness.
Season to Taste: Taste the soup and add salt and pepper as needed.
Serve: Ladle the soup into bowls and garnish with chopped fresh cilantro and crushed peanuts for that extra crunch and flavor.
Tips for making Squash Peanut Soup
Cooking Tips
Roast the Peanuts: Roasting your peanuts adds depth and flavor to the soup. Dry-roast them in a pan or bake in the oven for a few minutes until they're fragrant and slightly browned. It's a small step that makes a significant difference.
Peel and Cube the Squash: When prepping your butternut squash, be sure to peel and cube it evenly. This ensures that the squash cooks uniformly, leading to a smoother blending process.
Layer Flavors: Layering flavors is crucial in building a complex taste profile. Don't skip sautéing the onions and garlic, and be sure to season with a balanced mix of cumin, coriander, and smoked paprika.
Blend Thoroughly: Whether using an immersion blender or a traditional one, make sure to blend the soup thoroughly until it's silky-smooth. Nobody wants a lumpy soup!
Adjust Consistency: If your soup turns out too thick, you can easily adjust the consistency by adding more vegetable broth until it reaches your desired thickness.
Taste and Season: Taste your soup before serving and adjust the seasoning with salt and pepper if necessary. Don't underestimate the impact of proper seasoning on the overall taste.
Garnish Artfully: The final presentation is vital. Garnish your Squash Peanut Soup with a sprinkle of fresh cilantro and crushed peanuts for a professional touch.
Serving Suggestions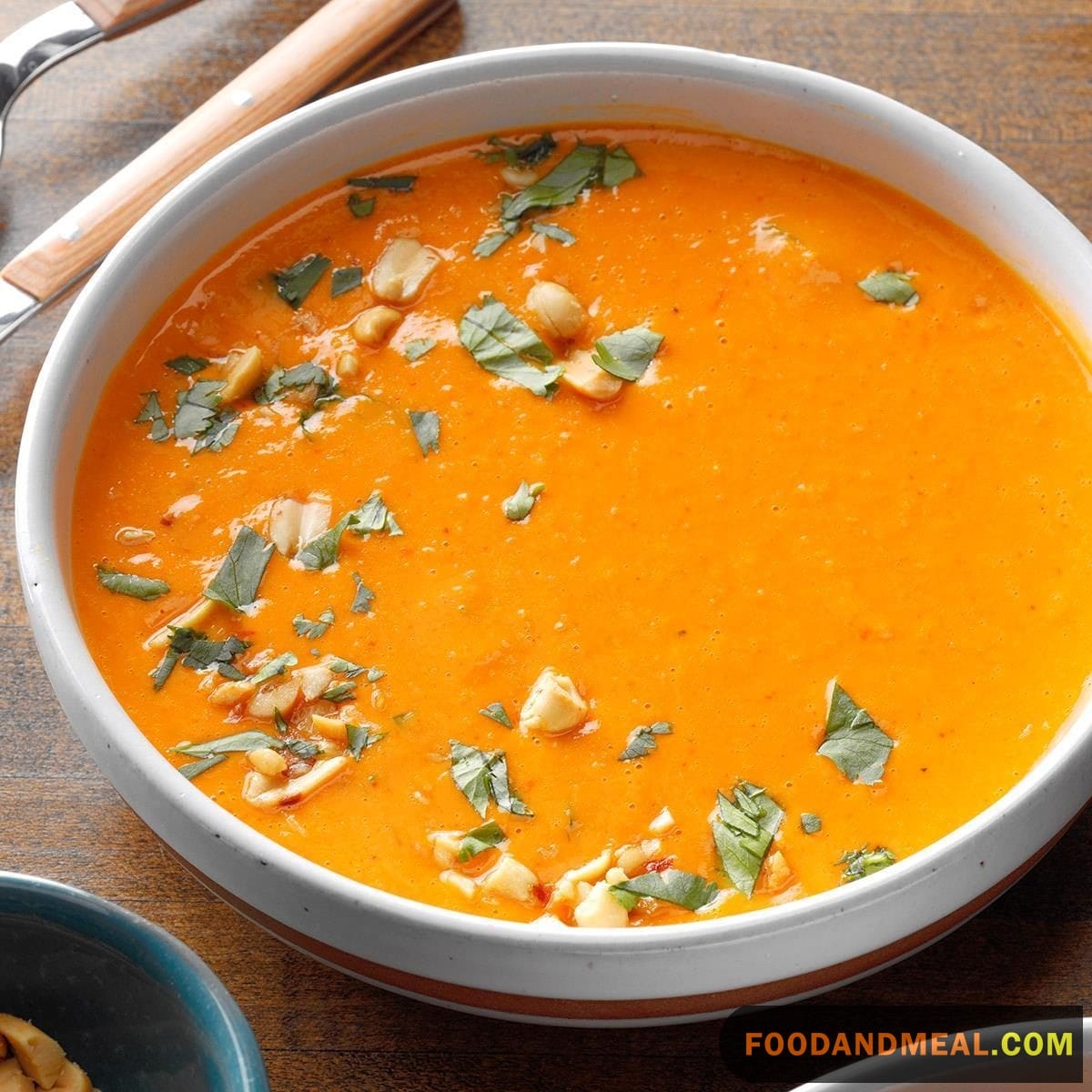 Crusty Bread: Serve your soup with a slice of warm, crusty bread for that perfect combination of creamy and crunchy.
Rice or Quinoa: For a heartier meal, consider serving the soup over a bed of rice or quinoa. The grains soak up the rich flavors beautifully.
Squeeze of Lime: A squeeze of fresh lime juice just before serving can brighten up the flavors and add a zesty kick.
Avocado Slices: A few slices of ripe avocado provide a creamy, buttery contrast to the soup's nutty richness.
Hot Sauce: If you like a bit of heat, a dash of hot sauce adds a spicy element to the soup. Drizzle it on and stir for a fiery kick.
Yogurt Swirl: A dollop of plain yogurt swirled into the soup adds creaminess and a touch of tanginess.
Fresh Herbs: In addition to cilantro, experiment with other fresh herbs like basil or mint for a unique twist.
FAQs (Frequently Asked Questions) about Squash Peanut Soup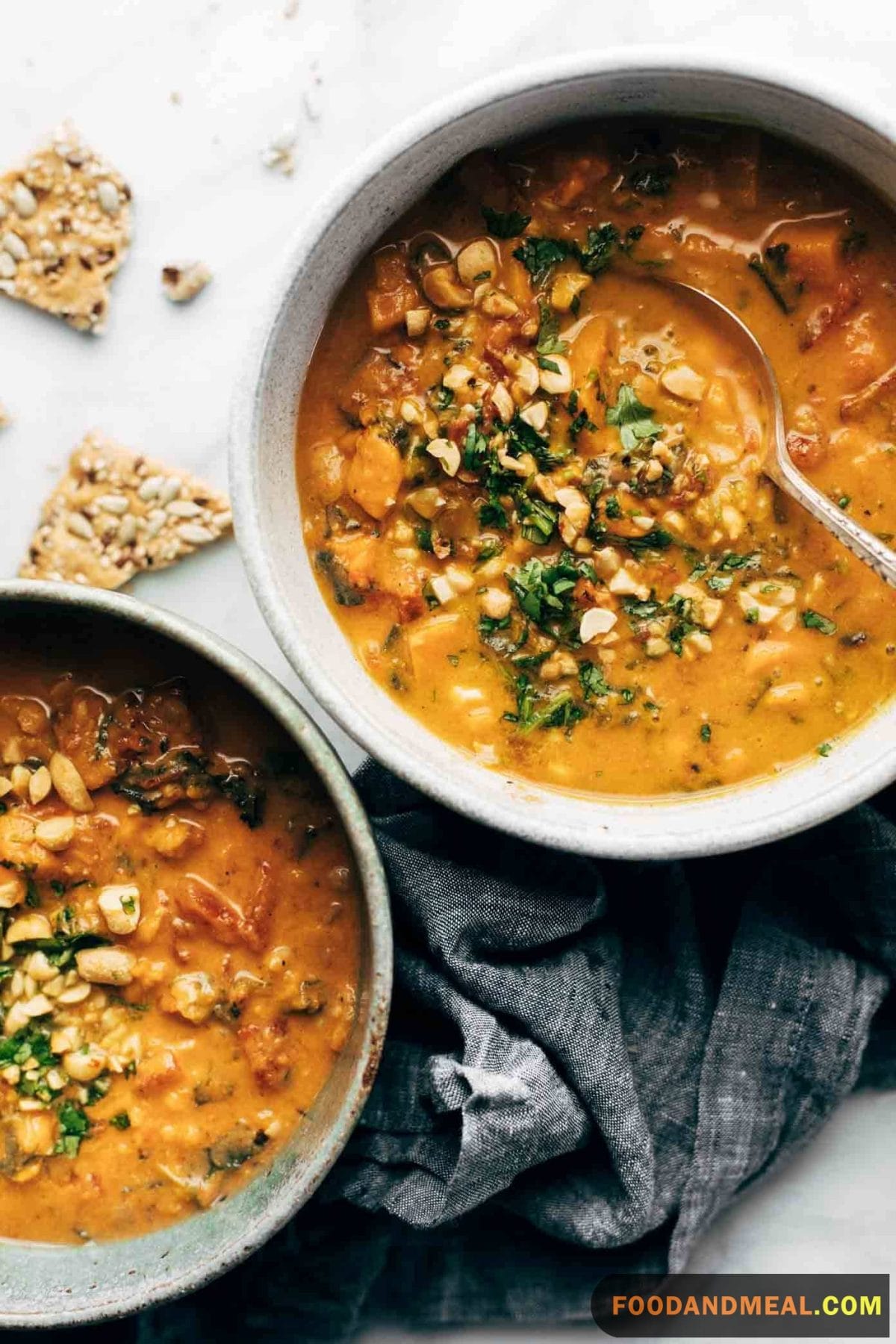 Can I Freeze Squash Peanut Soup? Yes, Squash Peanut Soup freezes well. Store it in airtight containers or freezer bags for up to 3 months. Thaw in the fridge before reheating.
How Do I Reheat Leftover Soup? Gently reheat on the stovetop over low to medium heat, stirring occasionally. You may need to add a bit of vegetable broth to reach your desired consistency.
What's a Good Vegan Alternative to Yogurt Garnish? If you're vegan or dairy-free, replace yogurt with coconut milk or a cashew-based vegan yogurt for a creamy garnish.
Can I Use Different Types of Squash? Absolutely! While butternut squash is commonly used, you can experiment with other varieties like acorn or kabocha squash.
Why Did My Soup Turn Out Watery? If your soup is too watery, it might be due to excess vegetable broth. To thicken it, simmer uncovered until it reaches your preferred consistency.
Indulge in the velvety delight of Squash Peanut Soup – a perfect blend of warmth and comfort. Try our recipe now.
Affiliate DisclaimerAbout The Content
As an affiliate, we may earn a commission from qualifying purchases. We get commissions for purchases made through links on this website from Amazon and other third parties.