Ah, Vegetarian Sukiyaki – where delicate umami meets fresh garden goodness. For all you vegetarian enthusiasts out there, this is a recipe that promises authenticity without compromising on flavor. Dive in!
Japanese Vegetarian Sukiyaki Recipe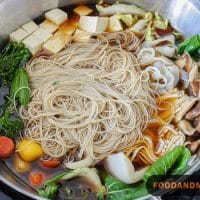 Japanese Vegetarian Sukiyaki
Imagine a pot simmering with a medley of vegetables, tofu, and mushrooms, all soaking up a rich, savory-sweet broth. That, my friends, is the magic of Japanese Vegetarian Sukiyaki. Whether you're a seasoned vegetarian or just dipping your toes, this recipe is a flavor-packed journey worth taking.
Print
Pin Recipe
Add to Collection
Go to Collections
Equipment

Ingredients
4

cups of

water, filtered

3⁄4

cup of

tamari sauce

3⁄4

cup of

cooking wine, rice (mirin)

1⁄2

cup of

sake

3

tablespoons of

sugar, palm or white

8

oz. of

noodles, your favorite – cellophane, shirataki, udon, etc.

1

cup of

Bok choy, chopped

2

cups of

Napa cabbage, chopped

1

cup of

stemmed, sliced mushrooms, shiitake

1

cup of

broccoli, Asian

1

cup of

carrots, sliced

1 cup of 4"

cut green onions

1 x 14-oz. pkg. of

tofu, extra firm

A bit of oil or veggie broth for sautéing the vegetables
Instructions
Rinse, then soak noodles in hot, filtered water if they need softening. Udon and cellophane especially need soaking in water for softening. Drain well.

Wash, then chop tofu and vegetables.

In large sized pot, sauté mushrooms and green onions with a bit of vegetable broth or oil till browned slightly. Remove. Set aside.

Add filtered water, mirin, tamari, sugar and sake to pot. Simmer till sugar dissolves. Add carrots and broccoli. Simmer for several minutes. Add cabbage and Bok choy.

Simmer for several minutes. Reduce heat to low. Add noodles, tofu, green onions and mushrooms. Allow to warm for several additional minutes, till all ingredients have cooked. Turn heat off. Serve in small bowls with dipping sauce.
Notes
Customize with Vegetables: Remember, Vegetarian Sukiyaki is versatile. Feel free to toss in your favorite seasonal veggies for a personalized touch. Love the recipe? Share your version using #MySukiyakiTwist and subscribe for more unique dishes!
Broth Depth: For a deeper flavor, let the broth simmer a bit longer. The longer it cooks, the richer the taste. Impressed by the depth of flavors? Share the recipe and join our community for more secrets by subscribing!
Noodle Choices: Traditionally, sukiyaki pairs well with glass noodles. However, udon or ramen can add a delightful twist. Experimented with the noodles? Share your creation, and don't forget to subscribe for more innovative tweaks to traditional dishes!
Share by Email
Share on Facebook
Share on Twitter
Nutrition
Calories:
2158
kcal
|
Carbohydrates:
148
g
|
Protein:
215
g
|
Fat:
2
g
|
Saturated Fat:
0.2
g
|
Polyunsaturated Fat:
1
g
|
Monounsaturated Fat:
0.3
g
|
Sodium:
112349
mg
|
Potassium:
4441
mg
|
Fiber:
16
g
|
Sugar:
34
g
|
Calcium:
438
mg
|
Iron:
49
mg
© Food And Meal
This website provides approximate nutrition information for convenience and as a courtesy only. Nutrition data is gathered primarily from the Spoonacular Database, whenever available, or otherwise other online calculators.
Pin Recipe
Vegetarian Sukiyaki in a Slow Cooker
Ingredients:
Same as the original recipe.
Method:
Preparation: As with the traditional method, start by preparing all your vegetables. Slice them uniformly to ensure even cooking.
Searing: In a separate pan, sear your tofu cubes slightly, ensuring a light golden crust. This will not only improve the texture but also prevent them from breaking apart in the slow cooker.
Layering: Place the seared tofu at the bottom of your slow cooker. This ensures they stay intact. Layer your vegetables on top, with the hardy ones (like carrots and radishes) at the bottom and the softer ones (like mushrooms and cabbage) on top.
Pouring the Broth: In a separate pot, prepare your Sukiyaki broth as per the original recipe. Once done, gently pour this over the vegetables and tofu in the slow cooker.
Cooking: Set your slow cooker to 'Low'. Let the Vegetarian Sukiyaki cook for about 4-6 hours. Check occasionally to ensure the vegetables are not becoming too mushy.
Final Touches: An hour before serving, you can add in the glass noodles or your noodle of choice to let them soak in the flavors.
Serving: Once cooked, serve hot directly from the slow cooker. Pair with steamed rice or enjoy it as a stand-alone dish.
Cooking Tips for the Perfect Vegetarian Sukiyaki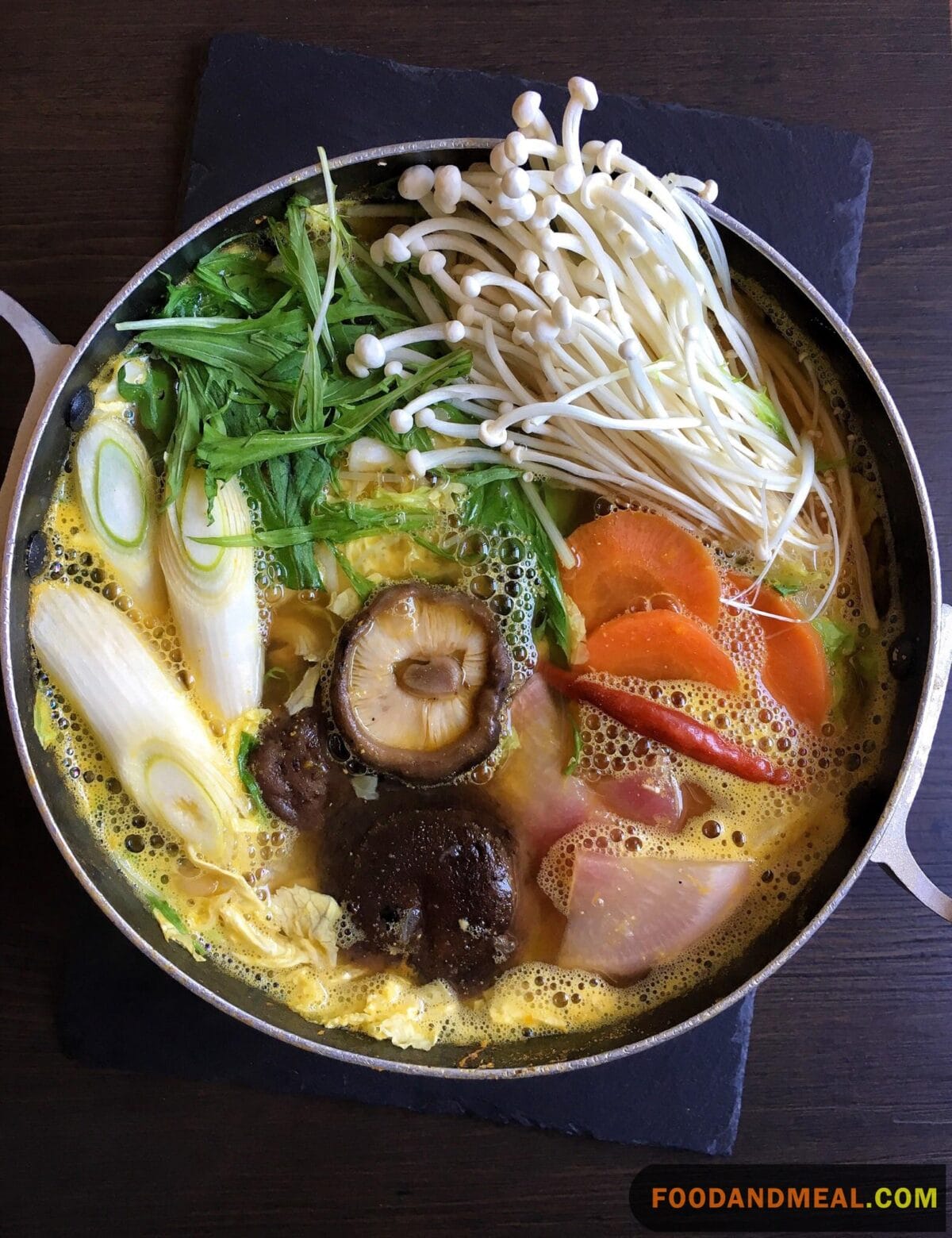 The Broth's Balance: The Sukiyaki broth should have the right balance of sweet and savory. Always taste and adjust before pouring it over your vegetables.
Tofu Tips: Freeze tofu overnight and then thaw to give it a meatier texture. This makes it absorb flavors better and gives it a lovely bite.
Layering is Key: Vegetables that take longer to cook should always be at the bottom. This ensures even cooking and prevents the delicate veggies from turning mushy.
Searing: Never skip the searing of tofu. It locks in the flavors and prevents the tofu from falling apart.
Noodle Know-how: If using noodles, add them towards the end to ensure they don't become too soft or overcooked.
Serving Suggestions for Vegetarian Sukiyaki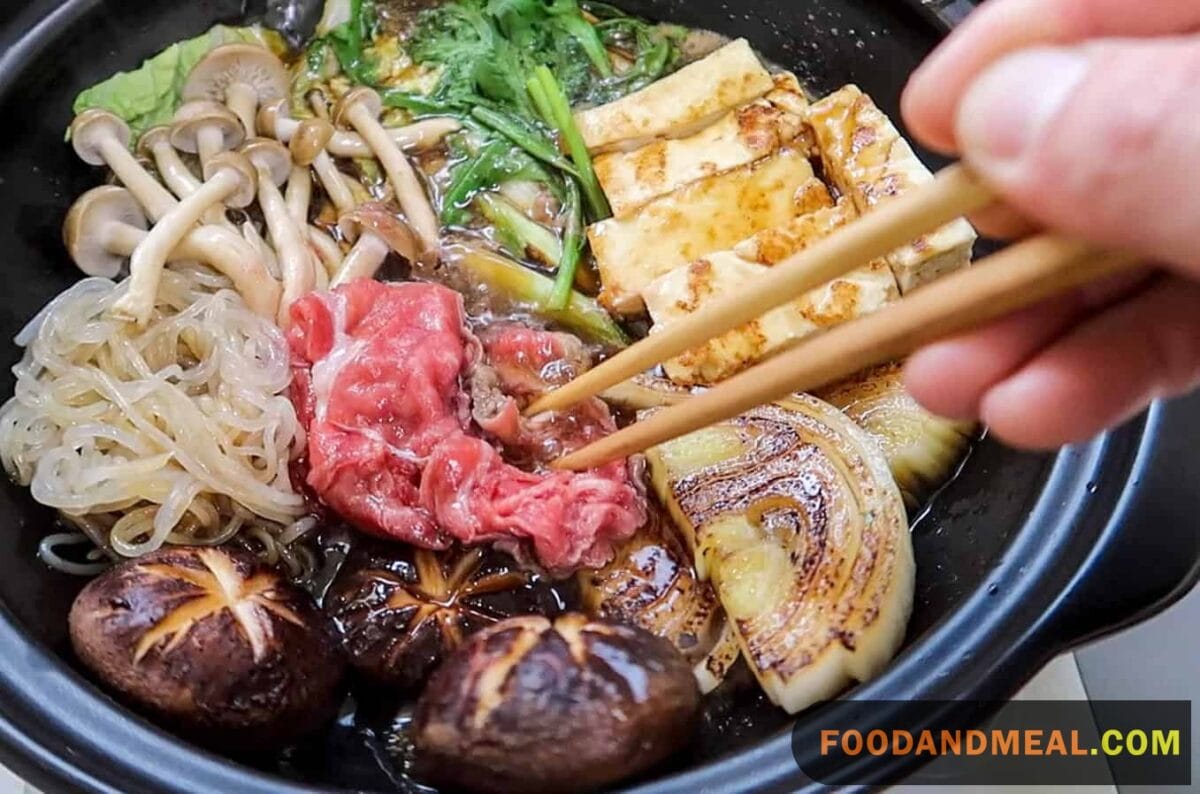 Occasions: This dish shines best during cold nights or intimate family gatherings. Its warmth and depth of flavors make it perfect for cozy winter dinners or even a themed Japanese night.
Audience: The vegetarian version is a hit among vegetarians and vegans. It's also ideal for those who prefer lighter meals. Remember, you're not just serving food, but an experience.
Accompaniments:

Sides: Steamed jasmine or short-grain rice is a classic. Consider also pairing with a cold soba noodle salad for contrast.
Garnishes: A sprinkle of finely sliced green onions or a dash of sesame seeds can add both flavor and aesthetics.
Beverages: A cup of warm sake or green tea complements the richness of Sukiyaki. For those avoiding alcohol, a barley tea or a refreshing cucumber-mint cooler would work wonders.

Alternate Serving Methods: If you're up for an adventure, serve the Sukiyaki inside hollowed-out bread bowls. The bread soaks up the delectable broth and adds a delightful twist to the traditional.
FAQs on Vegetarian Sukiyaki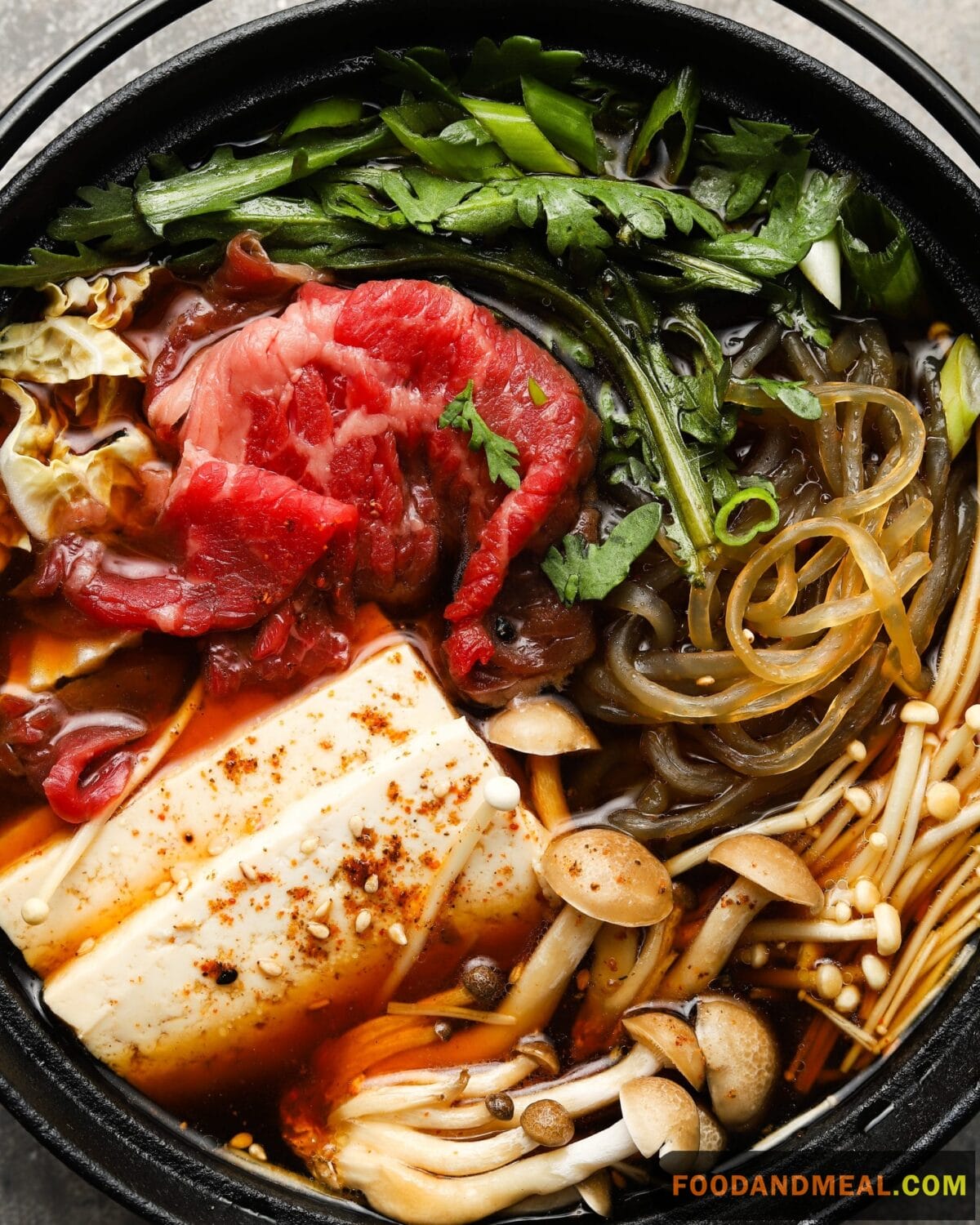 Can I make Vegetarian Sukiyaki ahead of time? Absolutely! The flavors meld even better when allowed to sit. Just ensure you warm it up well before serving. If it thickens, you can add a bit of broth or water during reheating.
How do I store leftovers? Cool the Sukiyaki to room temperature, transfer it into an airtight container, and refrigerate. It should be consumed within 2-3 days for the best taste and freshness.
Can I freeze Vegetarian Sukiyaki? Yes, but it's advisable to freeze only the broth. Vegetables may lose their texture upon thawing. When ready to enjoy, simply thaw the broth, heat, and add fresh vegetables and tofu.
What if I can't find some of the traditional vegetables? The beauty of Sukiyaki is its versatility. Feel free to use any vegetables you have on hand or those that are in season. Just adjust the cooking times accordingly.
My Sukiyaki tastes too bland. How do I fix it? Sukiyaki's charm is in its broth. If it's bland, adjust with a touch more soy sauce, mirin, or sugar. Remember, it's all about that beautiful balance of sweet and savory.
Dive into our Vegetarian Sukiyaki recipe, an ode to Japanese traditions. Discover, cook, and fall in love. Don't miss out, try it now!
Affiliate DisclaimerAbout The Author
As an affiliate, we may earn a commission from qualifying purchases. We get commissions for purchases made through links on this website from Amazon and other third parties.