Hello there, JaimeInez here! I'm thrilled to welcome you back to Food and Meal, where we celebrate the joy of cooking and the love for food. Today, I'm excited to share with you my recent culinary adventure with a delightful Filipino dish – the Pampanga Morcon. This journey has been nothing short of amazing, and I can't wait to dive into the details with you. So, let's embark on this gastronomic exploration together!
Pampanga Morcon Recipe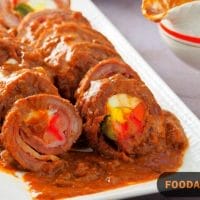 Pampanga Morcon
Giant Lanterns Festival of San Fernando, Pampanga (Saturday before Christmas Eve). Christmas is celebrated almost everywhere else in the world but it is never as glittery and as colorful as it is in the city of San Fernando. The locals' main source of income is drawn from making lanterns and huge ones at that, displayed almost every where in the country and are sometimes even exported to the other parts of the world. This special evening is dedicated to a competition for making the most wonderful giant lantern.
Print
Add to Collection
Go to Collections
Equipment
Ingredients
2

lbs.

beef bottom round

sliced flat

4

hardboiled eggs

peeled and halved lengthwise

12

pcs

bacon slices

fried lightly

2

pcs

hotdogs

lengthwise sliced into strips

1

pc

carrot

peeled and sliced

4

pcs

sweet pickles

sliced into strips

4

oz

cheddar cheese

lengthwise sliced into strips

Juice of 1 lemon

1/2

cup

flour

1/4

cup

vegetable oil

1/2

cup

soy sauce

For the Sauce:

Reserved marinade

1

pc

onion

chopped

2

garlic cloves

minced

1

pc

bay leaf

1/2

cup

liver spread

1

cup

tomato sauce

2

cups

beef broth
Instructions
Pound beef until it is about 1⁄2 inch thick. Trim to shape into rectangles.

Marinade beef with soy sauce, lemon juice, and pepper. Let it sit for at least half an hour.

Remove beef from the marinade (reserve marinade for the sauce) and pat dry to remove excessive moisture.

To assemble, lay the beef slices on a flat surface, then, start arranging the filling.

Roll meat, keeping the stuffing secure, and seal with a kitchen twine one by one.

Dredge meat in flour, then, heat oil in a pan over medium fire and fry the meat roll to brown. Transfer to a paper towel lined plate to remove excessive oils.

Empty the pan with oil, except for a tablespoon, and sauté onions and garlic over medium fire.

Stir in reserved marinade and boil, deglazing the sides of the pan.

Add tomato sauce, bay leaf, and broth. Season with salt and pepper.

Place the meat roll in the pan and simmer until sauce is slightly thickened and the meat roll is tender, about an hour or more.

Remove the meat rolls from the pan, remove the twine, and when they are cool enough to handle, slice them into 1-inch thick pieces.

Continue cooking the sauce on low heat and stir in liver spread to blend.

When the sauce is reduced and thickened, turn off heat.

Pour sauce over Morcon slices. Serve.
Notes
Morcon is a certified Filipino delight. Although many regions all over the
country offer this dish at their fiesta buffet spreads, nothing beats the one that
the Kapampangans make. They are widely known for their Morcon, usually
served during the holidays, festivals, and other special occasions. It's basically a meat roll stuffed with hardboiled egg, hotdogs, bacon, carrots,
pickles, and cheese.
Share by Email
Share on Facebook
Share on Twitter
Nutrition
Calories:
214
kcal
|
Carbohydrates:
10
g
|
Protein:
10
g
|
Fat:
15
g
|
Saturated Fat:
5
g
|
Polyunsaturated Fat:
5
g
|
Monounsaturated Fat:
4
g
|
Trans Fat:
0.05
g
|
Cholesterol:
109
mg
|
Sodium:
1316
mg
|
Potassium:
213
mg
|
Fiber:
1
g
|
Sugar:
2
g
|
Vitamin A:
438
IU
|
Vitamin C:
2
mg
|
Calcium:
128
mg
|
Iron:
2
mg
© Food And Meal
This website provides approximate nutrition information for convenience and as a courtesy only. Nutrition data is gathered primarily from the Spoonacular Database, whenever available, or otherwise other online calculators.
About Pampanga Morcon
Pampanga Morcon is a cherished dish from the province of Pampanga, located in the Central Luzon region of the Philippines. This dish features a roll of marinated beef filled with various ingredients such as sausages, eggs, and pickles, then braised until tender. The result is a savory, hearty, and visually appealing dish that truly embodies the culinary creativity of Kapampangan cuisine.
Cooking Tips for Pampanga Morcon
Quality of Ingredients: Always opt for fresh beef and high-quality fillings. The quality of your ingredients can significantly impact the taste of your Morcon.
Preparation of Beef: Properly marinate the beef to ensure it absorbs all the flavors. Also, make sure to roll and secure it tightly to keep the fillings intact.
Cooking Process: Slowly braise the Morcon in a flavorful sauce until the beef becomes tender. This process may take a few hours but is crucial for achieving the right texture and flavor.
Serving Suggestions for Pampanga Morcon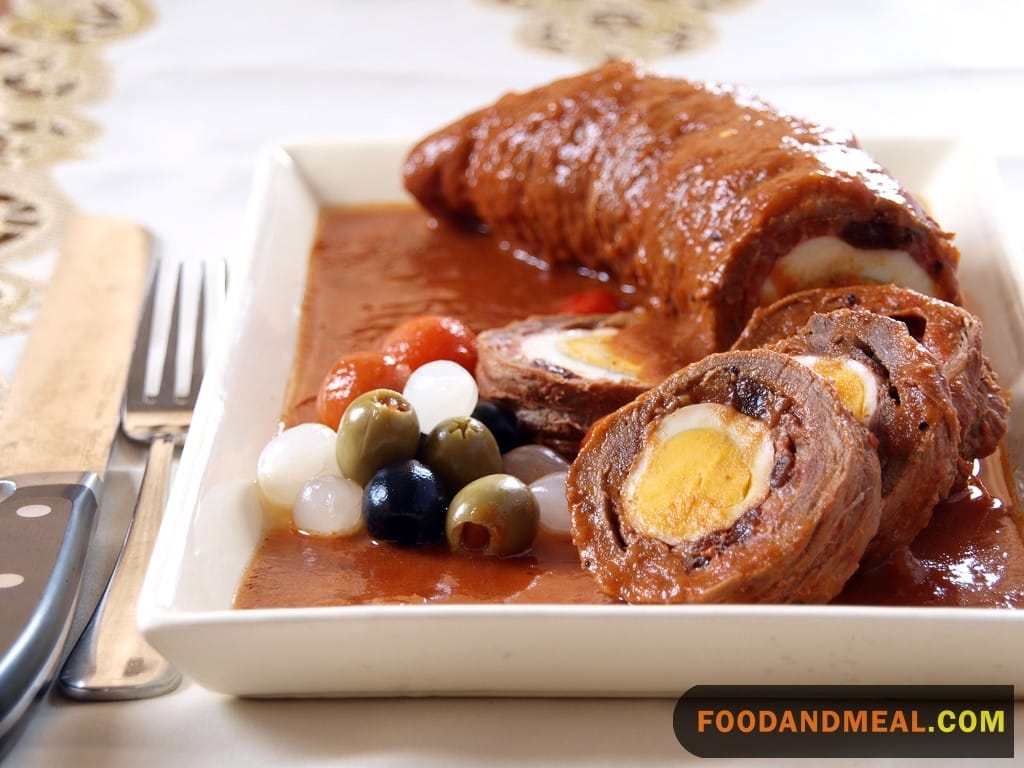 Rice Companion: Serve your Morcon with a side of steamed rice to complement its savory flavors.
Sauce Pairing: The sauce used for braising can also serve as a delicious gravy for the Morcon.
Drink Pairing: A cold drink like a calamansi juice or a red wine can complement the flavors of this hearty dish.
FAQs About Pampanga Morcon
What Makes Pampanga Morcon Special? Pampanga Morcon is special due to its unique preparation method, which involves rolling and braising the beef, resulting in a distinct, savory flavor and visually appealing presentation.
Can I Use Other Types of Meat? While you can experiment with other types of meat, using beef is traditional and recommended for Morcon.
How Can I Store Leftovers? Leftovers can be stored in an airtight container in the refrigerator for up to 3 days. Reheat on the stove or in a microwave.
Can I Make It Less Savory? Yes, you can adjust the amount of seasoning according to your preference. Remember, the dish should still have a savory profile!
In conclusion, Pampanga Morcon is more than just a dish; it's a culinary tradition that reflects the unique culture and flavors of Pampanga. The process of making it involves careful preparation and patience, resulting in a dish that's both flavorful and visually appealing. Whether you're a seasoned cook or a beginner, I hope these tips and suggestions inspire you to try making your own Pampanga Morcon at home. Happy cooking!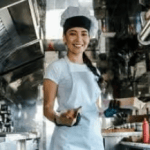 Cooking Like A Pro
Author Name : Jaime Inez
Address: Times Street, West Triangle, 1103, Quezon City, Metro Manila, Philippines
Phone:  96-2-4108596
Email: Contact@cookinglikeapro.net
Affiliate DisclaimerAbout The Content
As an affiliate, we may earn a commission from qualifying purchases. We get commissions for purchases made through links on this website from Amazon and other third parties.