Ignite your taste buds and kickstart your day with our Spicy Thai Breakfast Noodles recipe. As a passionate food blogger and experienced chef, I'm thrilled to introduce this vibrant morning dish that infuses the bold and irresistible flavors of Thai cuisine into your breakfast routine. Join me in discovering how a bowl of zesty noodles can redefine your morning culinary journey.
Spicy Thai Breakfast Noodles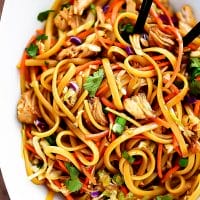 Spicy Thai Breakfast Noodles Recipe
Spice up your mornings with the Spicy Thai Breakfast Noodles—a bowl of bold Thai flavors that transforms breakfast into a culinary adventure. Join our food-loving community by subscribing to our blog, and share this recipe with fellow spice enthusiasts to ignite their day as well.
Print
Add to Collection
Go to Collections
Ingredients
2

Thai chilies

1

Jalapeno

1/2

cup

Sliced green onions

1

teaspoon

White peppercorns

1

cup

Cilantro

1

teaspoon

Fresh ginger

1

tablespoon

Fish sauce

1

tablespoon

Soy sauce

1/2

teaspoon

Chinese 5 spice

2

tablespoon

Chili garlic sauce

1/2

cup

Fresh cilantro leaves

3/4

cup

Thai basil leaves

1

can

Beef broth

1

teaspoon

Minced lemon grass

1

Egg

Cooked noodles
Instructions
Add all the ingredients of the sauce into a pan.

Add the beef broth and sauces into the mixture.

Cook your dish for ten minutes.

Add the cooked noodles into the mixture once the sauce is ready.

Mix the noodles well and cook it for five minutes.

Add the egg into the pan by pushing the rest of the ingredients to a side.

Cook the egg and then mix the rest of the ingredients into it.

Cook your dish for five more minutes.

Add the cilantro into the dish.

Mix your noodles and then dish it out.

Your dish is ready to be served.
Notes
The Spicy Thai Breakfast Noodles are a harmonious blend of texture, heat, and bold flavors that define the essence of Thai street food. Prepare for a taste experience that awakens your senses and energizes your day.
Share by Email
Share on Facebook
Share on Twitter
Nutrition
Calories:
50
kcal
|
Carbohydrates:
5
g
|
Protein:
4
g
|
Fat:
1
g
|
Saturated Fat:
0.5
g
|
Polyunsaturated Fat:
0.3
g
|
Monounsaturated Fat:
1
g
|
Trans Fat:
0.01
g
|
Cholesterol:
41
mg
|
Sodium:
1447
mg
|
Potassium:
181
mg
|
Fiber:
1
g
|
Sugar:
2
g
|
Vitamin A:
629
IU
|
Vitamin C:
9
mg
|
Calcium:
36
mg
|
Iron:
1
mg
© Food And Meal
This website provides approximate nutrition information for convenience and as a courtesy only. Nutrition data is gathered primarily from the Spoonacular Database, whenever available, or otherwise other online calculators.
Cooking Tips
Chili Paste Precision: Adjust the amount of chili paste to your spice preference. Start with a small amount and gradually add more for a bolder kick. Remember, you can always add more, but it's hard to tone down excessive heat.
Vibrant Veggies: Incorporate an array of colorful vegetables to enhance both texture and visual appeal. Bell peppers, snap peas, carrots, and bean sprouts all contribute to the dish's vibrancy.
Noodle Love: Choose thin rice noodles that cook quickly and soak up the flavorful sauce. Follow the package instructions for soaking or cooking to achieve the perfect al dente texture.
Balanced Flavor: Achieve a harmonious balance of flavors by combining salty, sweet, sour, and umami elements. Use soy sauce, a touch of sugar, lime juice, and a dash of fish sauce to create complexity.
Tofu or Protein: If you're adding tofu or protein, marinate it in a blend of soy sauce and your preferred seasonings before cooking. This infuses flavor and adds a delicious contrast to the spice.
Efficient Stir-Frying: Stir-fry your ingredients in batches, starting with aromatics like garlic and ginger. Cook vegetables until they're tender yet slightly crisp to maintain their vibrant colors and textures.
Serving suggestions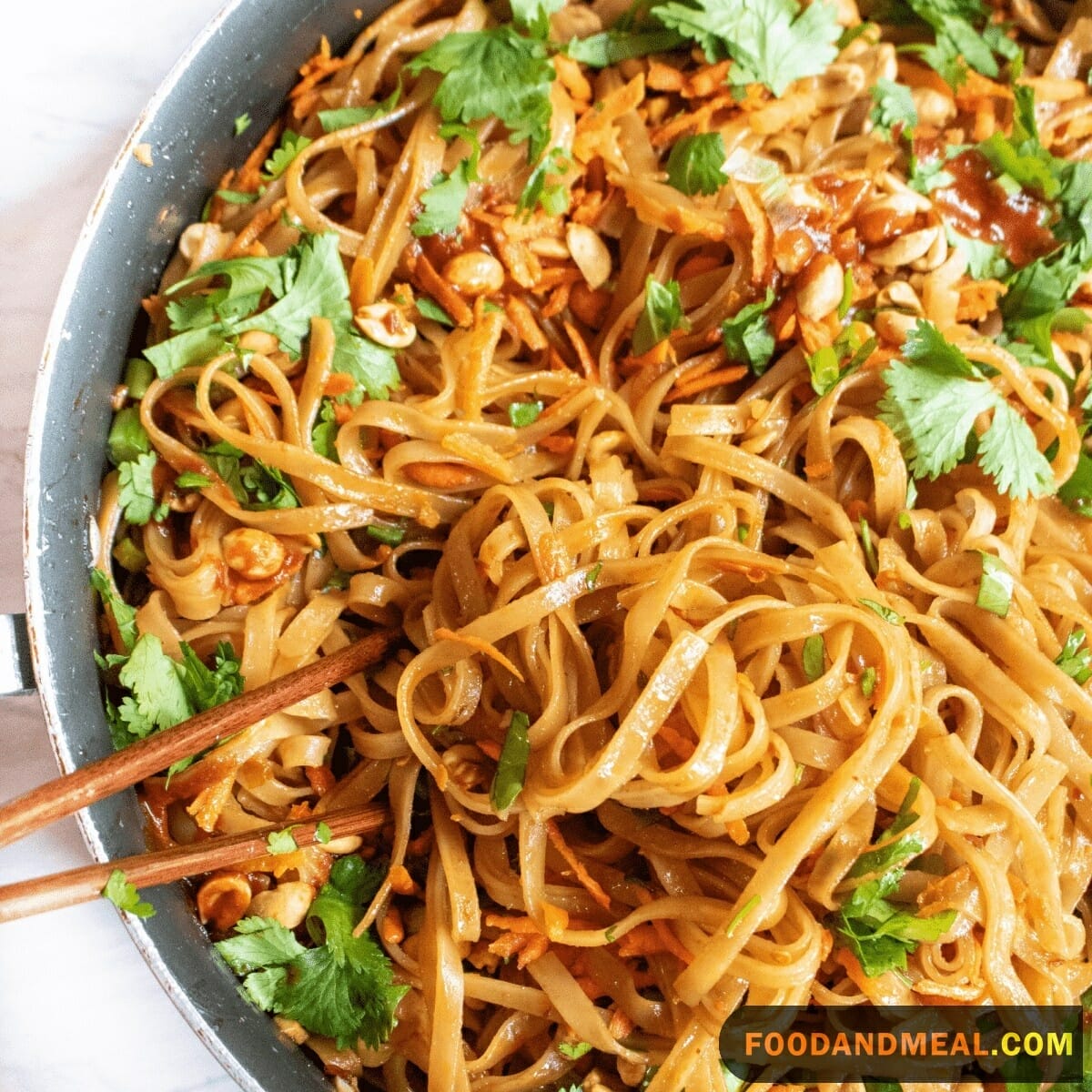 Flavorful Morning Ritual: Make the Spicy Thai Breakfast Noodles a delicious and adventurous part of your morning routine. The bold flavors will wake up your taste buds and set a vibrant tone for the day.
Zest for Spice Lovers: For those who appreciate a kick of heat, these noodles are an ideal choice. The combination of Thai spices and aromatic ingredients guarantees a breakfast with a fiery twist.
Weekend Brunch: Serve the Spicy Thai Breakfast Noodles as the star attraction of a weekend brunch. Complement them with other Thai-inspired dishes, such as coconut milk pancakes or Thai-style omelets.
On-the-Go Energy: Prepare the noodles as a quick and energizing meal when you're on a tight schedule. This portable delight is perfect for those busy mornings that demand a flavorful pick-me-up.
Energizing After a Workout: Refuel after a morning workout by indulging in the Spicy Thai Breakfast Noodles. Their invigorating flavors provide the perfect post-exercise boost.
Sharing Spice: Invite friends or family over for a weekend breakfast gathering and surprise them with the zesty Spicy Thai Breakfast Noodles. Their boldness adds an exciting element to the meal.
FAQs of Spicy Thai Breakfast Noodles Recipe
What are Spicy Thai Breakfast Noodles? Spicy Thai Breakfast Noodles are a zesty morning delight, featuring thin rice noodles drenched in a spicy sauce infused with Thai flavors. It's a delightful way to start your day with a burst of energy.
How spicy is this dish? The level of spiciness can be adjusted to your preference. For a milder experience, use less chili paste, and for a bolder kick, increase the amount. Remember, it's all about finding your perfect spice level.
Can I add vegetables or protein? Absolutely! Customize your Spicy Thai Breakfast Noodles by adding colorful vegetables, tofu, shrimp, or even sliced chicken. This enhances the dish's nutritional profile and texture.
Can I make it less spicy for my family? Certainly! If you're serving this dish to a variety of palates, you can create a milder version by reducing the amount of chili paste and adjusting the spices accordingly.
How can I store leftovers? To store any leftover Spicy Thai Breakfast Noodles, cool them down and transfer them to an airtight container. Refrigerate for up to 2-3 days and reheat gently on the stovetop before enjoying.
Start your day on a fiery note with Spicy Thai Breakfast Noodles—a flavorful adventure for fearless food lovers. Craft the recipe, savor the spice, and join our community of spice enthusiasts.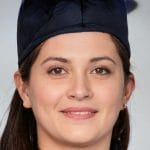 Hi! I'm Nazia of 'Nazia Cooks', a self-taught baker and cook residing in Chennai. Rooted in the rich South Indian culinary landscape, my palate has expanded to embrace global flavors. I revel in crafting fusion dishes, melding traditions to birth unique tastes.
Affiliate DisclaimerAbout The Content
As an affiliate, we may earn a commission from qualifying purchases. We get commissions for purchases made through links on this website from Amazon and other third parties.