Hello there, fellow food enthusiasts! It's me, JaimeInez, your culinary guide and the face behind Food and Meal. Today, I am thrilled to share with you one of my favorite dishes, a well-kept secret from the beautiful province of Aklan in the Philippines – the Inubarang Manok.
Picture this: you're sitting at a rustic wooden table, the warm tropical breeze dancing lightly on your skin as you gaze out onto a vibrant green rice field. A simple woven basket is placed before you, and as the lid is lifted, an intoxicating aroma wafts towards you, making your mouth water in anticipation. This is the magic of Aklan's Inubarang Manok, a dish so delightful that it captures the spirit of the region in every bite.
Manila Chicken Afritada Recipe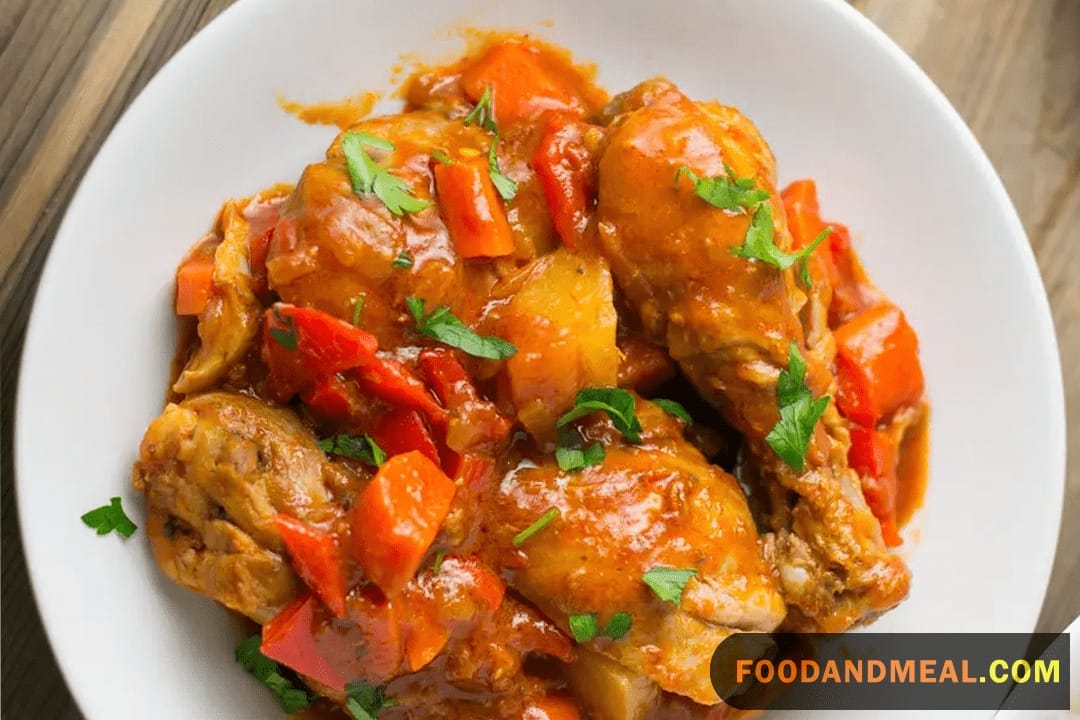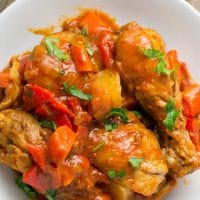 Manila's Chicken Afritada
Caracol Festival of Makati (3rd Sunday of January). If you think fiestas are only celebrated on the provinces, think again. The metro has its own version of the merriment and this Caracol Festival, held annually in Makati City shows that city residents know how to party as well. This is held in honor of Mother Nature and seeks to inspire people to preserve her wonderful gifts to mankind.
Print
Add to Collection
Go to Collections
Equipment
Instructions
Heat oil in a pan over medium fire and sauté garlic and onions until fragrant.

Stir in chicken and cook until slightly browned.

Whisk in water and tomato sauce and boil, then, reduce heat to low and simmer for about 35 minutes.

Add quartered potatoes and sliced carrots. Continue cooking for about 10 minutes or until tender.

Stir in the remaining ingredients, season with sugar, salt, and pepper. Cook for a few more minutes until the sauce slightly thickens.

Serve with steaming hot white rice.
Notes
Food in the country capital is sourced from varying influences across the
regions due to the diversity of people thriving there. During fiestas, they
mostly go back to the traditional family meals they grew to love and Chicken
Afritada is one of those family favorites. It's chicken bathed in a delightful
tomato stew with some vegetables. Apart from chicken, pork may also be
used.
Share by Email
Share on Facebook
Share on Twitter
Nutrition
Calories:
248
kcal
|
Carbohydrates:
12
g
|
Protein:
8
g
|
Fat:
19
g
|
Saturated Fat:
4
g
|
Polyunsaturated Fat:
9
g
|
Monounsaturated Fat:
5
g
|
Trans Fat:
0.1
g
|
Cholesterol:
30
mg
|
Sodium:
436
mg
|
Potassium:
422
mg
|
Fiber:
3
g
|
Sugar:
6
g
|
Vitamin A:
725
IU
|
Vitamin C:
22
mg
|
Calcium:
31
mg
|
Iron:
2
mg
© Food And Meal
This website provides approximate nutrition information for convenience and as a courtesy only. Nutrition data is gathered primarily from the Spoonacular Database, whenever available, or otherwise other online calculators.
Cooking Manila Chicken Afritada with a Pressure Cooker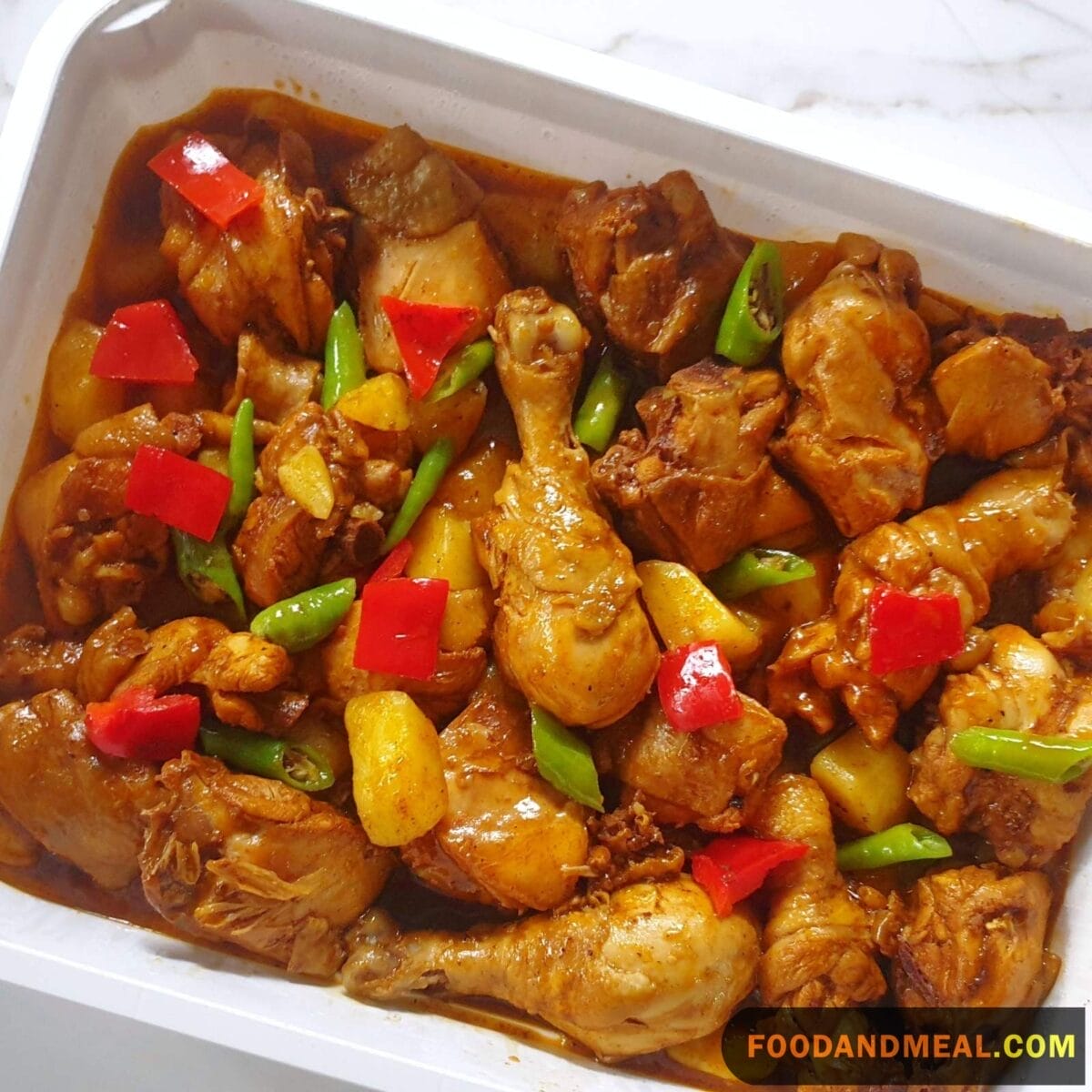 If you're a fan of convenience and efficiency like me, you'll be happy to know that you can cook Manila's Chicken Afritada using a pressure cooker.
Sauté Your Aromatics Start by sautéing your garlic, onions, and tomatoes in the pressure cooker until they're fragrant.
Add Your Chicken and Sauce Next, add your chicken pieces and tomato sauce to the pressure cooker.
Pressure Cook Set your pressure cooker to high and cook for about 15 minutes. This method ensures that the flavors are well-infused into the chicken in a shorter amount of time.
Add Your Vegetables Once the chicken is cooked, release the pressure, add your vegetables, and cook for an additional few minutes until they're tender.
Serve and Enjoy! Serve your Chicken Afritada with your choice of side and enjoy the comforting flavors of this Filipino classic.
Cooking Manila's Chicken Afritada in a pressure cooker not only saves time but also locks in the flavors beautifully. It's a great example of how traditional dishes can adapt to modern cooking methods. So go ahead, give it a try!
Tips for making Manila Chicken Afritada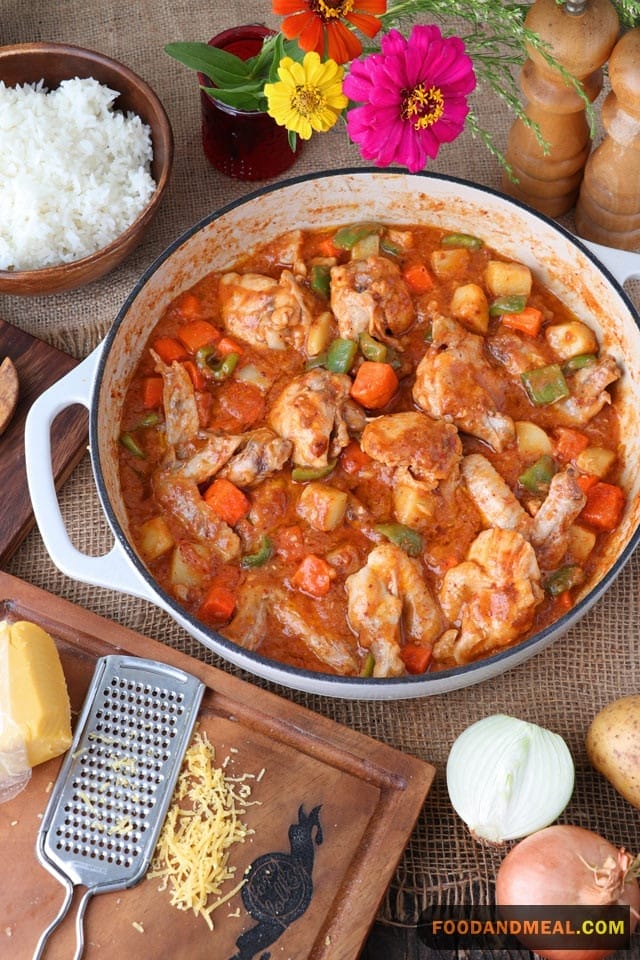 Cooking Tips for Manila Chicken Afritada
Quality Chicken Makes a Difference When preparing Chicken Afritada, the quality of your chicken matters. Opt for organic or free-range chicken for the best flavor.
Don't Rush the Sautéing Process Take your time sautéing the garlic, onions, and tomatoes. This process helps to develop the flavors that make Chicken Afritada so delicious.
Simmer Slowly and Gently Allow your Afritada to simmer gently until the chicken is tender and the flavors have melded together. Patience is key here!
Serving Suggestions for Manila Chicken Afritada
Chicken Afritada is traditionally served with steamed white rice. But if you're like me and love to experiment, try serving it with garlic fried rice or even quinoa for a healthier twist. And don't forget a side of pickled green papaya (atchara) for that perfect tangy contrast!
FAQs about Manila Chicken Afritada
Can I use other types of meat for Afritada? Yes, you can! Pork and beef are also commonly used in Afritada.
What can I use if I don't have fresh tomatoes? Canned diced tomatoes can be a good substitute.
Can I add other vegetables to my Afritada? Absolutely! Carrots, green beans, and even olives are great additions.
How long does Chicken Afritada last in the fridge? When stored properly, it can last for up to 3-4 days.
Can I freeze Chicken Afritada? Yes, you can freeze it for up to 3 months. Just make sure to cool it completely before freezing.
So there you have it – Manila Chicken Afritada, a dish that offers a comforting taste of Filipino home cooking. Give it a try and let me know how it turns out. Happy cooking!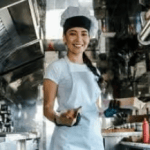 Cooking Like A Pro
Author Name : Jaime Inez
Address: Times Street, West Triangle, 1103, Quezon City, Metro Manila, Philippines
Phone:  96-2-4108596
Email: Contact@cookinglikeapro.net
Affiliate DisclaimerAbout The Content
As an affiliate, we may earn a commission from qualifying purchases. We get commissions for purchases made through links on this website from Amazon and other third parties.