Have you ever longed for the embrace of a warm dish that not only fills your stomach but also your heart? Let me guide you through the symphony of flavors in the classic Japanese Tofu Beef Hot Pot. As an experienced chef, I've tweaked and perfected this recipe, ensuring it radiates the genuine warmth of Japanese tradition.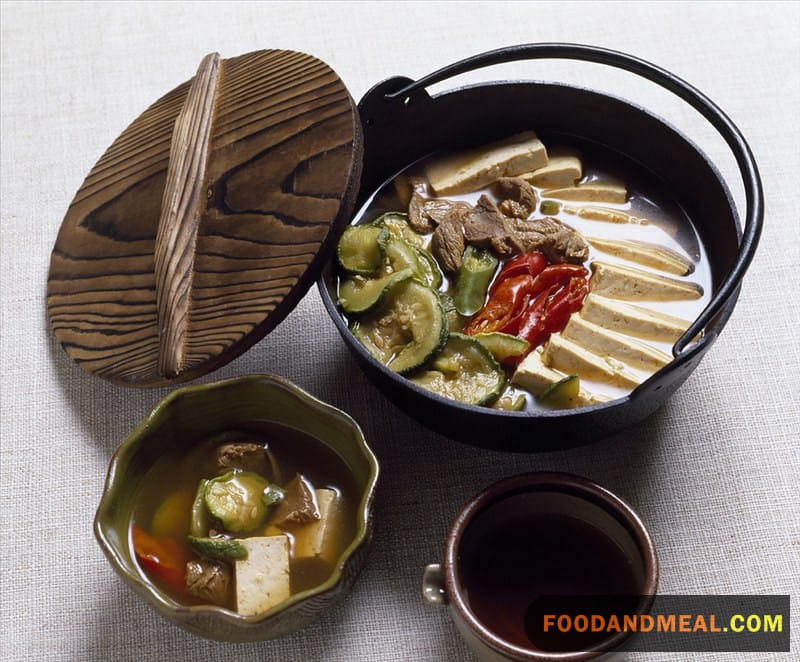 Tofu Beef Hot Pot Recipe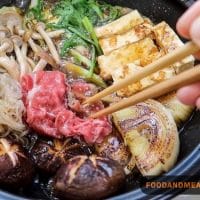 Japanese Tofu Beef Hot Pot
Dive into the soul-soothing world of Tofu Beef Hot Pot, a culinary gem from the heart of Japan. Master the nuances of this classic dish with our in-depth guide. Loved what you read? Don't forget to share this recipe with fellow food enthusiasts and subscribe to our blog for more such delights!
Experience the har
Print
Add to Collection
Go to Collections
Ingredients
Instructions
Wash, cut, slice ingredients and soften noodles ahead of time.

Put some oil in large sized skillet. Heat on med-high. Add onions, mushrooms and scallions. Brown a bit. Remove from heat. Set aside.

Place sugar, sake, mirin and soy sauce in hot pot. Bring to simmer on med. Stir for a couple minutes till sugar dissolves.

Remove from heat and place hot pot on burner in middle of table. Place ingredients on table.

Provide diners with individual bowls, skewers and ladles and allow them to cook their own bowls of hot pot soup as they desire.
Notes
Beef Selection Matters: Opt for thinly sliced beef. This not only ensures quicker cooking but also absorbs the broth's flavors, enhancing the overall taste.Tofu Tips: Always use firm tofu for hot pots. It retains its shape better during the prolonged cooking process.
Share by Email
Share on Facebook
Share on Twitter
Nutrition
Calories:
432
kcal
|
Carbohydrates:
39
g
|
Protein:
31
g
|
Fat:
17
g
|
Saturated Fat:
6
g
|
Polyunsaturated Fat:
3
g
|
Monounsaturated Fat:
7
g
|
Cholesterol:
52
mg
|
Sodium:
1962
mg
|
Potassium:
658
mg
|
Fiber:
4
g
|
Sugar:
24
g
|
Vitamin A:
5259
IU
|
Vitamin C:
15
mg
|
Calcium:
208
mg
|
Iron:
4
mg
© Food And Meal
This website provides approximate nutrition information for convenience and as a courtesy only. Nutrition data is gathered primarily from the Spoonacular Database, whenever available, or otherwise other online calculators.
Alternative Preparation: Tofu Beef Hot Pot using a Pressure Cooker
Pressure Cooker Method for Tofu Beef Hot Pot:
Ingredients: Same as the original recipe.
Procedure:
Preparation: Ensure all ingredients, especially beef and tofu, are cut into appropriate sizes for even cooking.
Searing the Beef: Set the pressure cooker to the 'Sauté' mode. Add a little oil and sear the beef slices until they're lightly browned. This enhances the beef's flavor. Remove and set aside.
Broth: In the same pot, pour in your dashi broth, ensuring there's enough to cover the beef and tofu but not overfilling the pressure cooker.
Ingredients: Gently place the beef back into the pot. Add tofu, vegetables, mushrooms, and other desired ingredients.
Pressure Cooking: Securely close the pressure cooker lid. Set the cooker on 'High' and cook for 15 minutes.
Release Pressure: Once cooking time is complete, let the pressure release naturally for 10 minutes, then use the quick release for any remaining pressure.
Serve: Carefully open the lid. Transfer the contents to a serving bowl, ensuring you get a good mix of beef, tofu, and vegetables in every serving. Pour over some broth and garnish as desired.
Enjoy: Serve hot, ideally with a side of steamed rice or noodles.
Cooking Tips for the Perfect Tofu Beef Hot Pot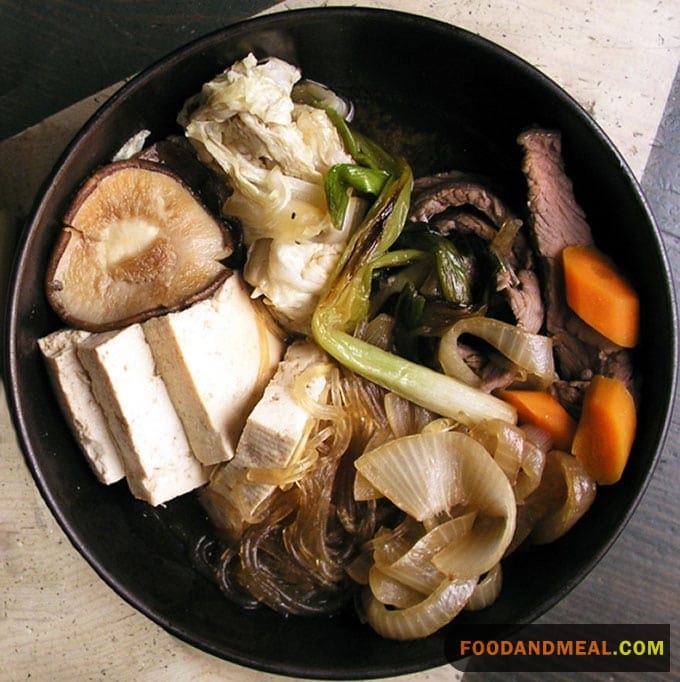 Beef Selection: Opt for thinly sliced beef, preferably with some marbling. This ensures tenderness and flavor.
Tofu Type: Firm tofu holds its structure better in a hot pot. If using soft tofu, be gentle while stirring to avoid breakage.
Heat Management: Begin with a rolling boil and then maintain a simmer. A consistent temperature helps in even cooking.
Layering: Start with ingredients that take longer to cook, like certain vegetables, and end with quicker-cooking ones like tofu and beef.
Avoid Overcooking: Especially the beef slices; they cook quickly and are best enjoyed tender.
Serving Suggestions for Tofu Beef Hot Pot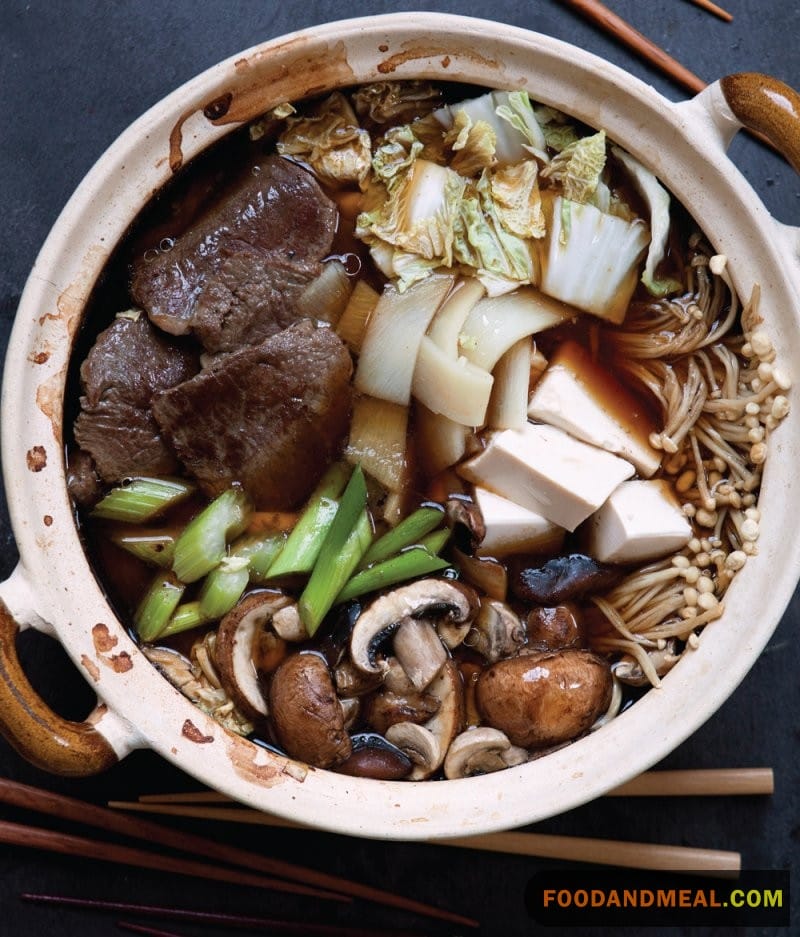 Occasion: This hot pot is ideal for cold nights and family gatherings. Its communal nature fosters bonding and sharing.
Audience: The neutral yet savory profile of tofu combined with the rich taste of beef makes it suitable for both adults and children.
Complementary Sides: Consider steamed jasmine rice or udon noodles to soak up the flavorful broth. A side of pickled radish or kimchi can offer a tangy contrast.
Garnishes: Fresh spring onions, cilantro, or shiso leaves can add a refreshing note. Don't shy away from adding a sprinkle of toasted sesame seeds for that extra crunch.
Beverages: Green tea or a light-bodied white wine pairs beautifully, balancing the hearty flavors of the hot pot.
FAQs About Tofu Beef Hot Pot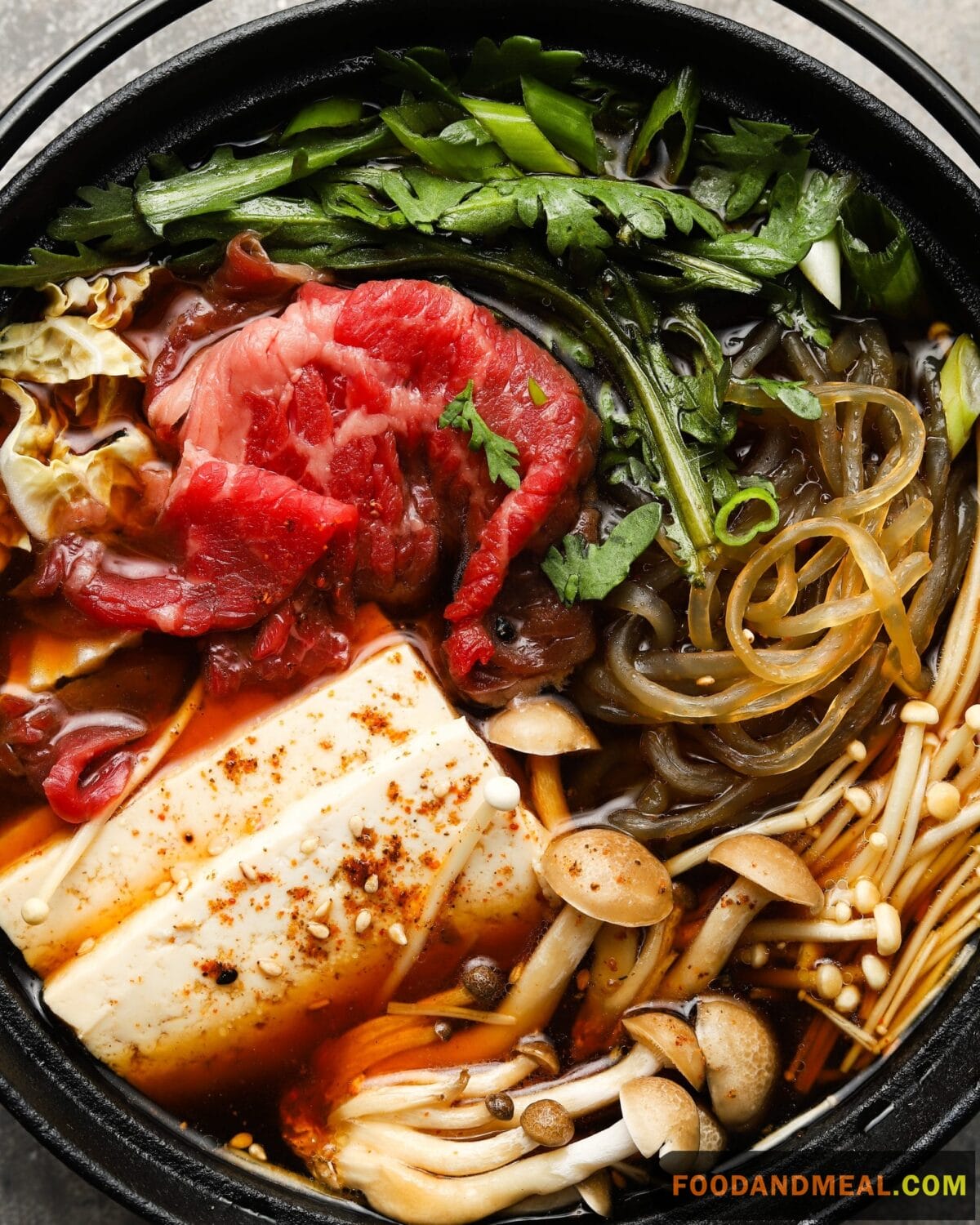 How can I enhance the broth's flavor? Infuse the broth with aromatics like garlic, ginger, or lemongrass for a more profound flavor depth. However, ensure these don't overpower the primary ingredients.
Can I use chicken instead of beef? Absolutely! Chicken, especially thigh pieces, can be a delicious substitute. Adjust the cooking time as chicken may cook faster than beef.
Is there a vegetarian version? Yes, replace beef with more varieties of tofu or add tempeh. You might also want to switch to a vegetable broth instead of dashi.
How spicy is this hot pot? The spiciness can be adjusted to preference. Feel free to add more or less chili, or even some spicy bean paste, to modulate the heat.
What's the best way to store leftovers? Cool the hot pot to room temperature. Then, transfer the broth and ingredients to separate airtight containers and refrigerate. Consume within 2-3 days for the best taste and quality.
Discover the art of Tofu Beef Hot Pot. Dive into our detailed recipe and let the flavors transport you straight to Japan. Click for an authentic experience!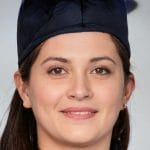 Hi! I'm Nazia of 'Nazia Cooks', a self-taught baker and cook residing in Chennai. Rooted in the rich South Indian culinary landscape, my palate has expanded to embrace global flavors. I revel in crafting fusion dishes, melding traditions to birth unique tastes.
Affiliate DisclaimerAbout The Content
As an affiliate, we may earn a commission from qualifying purchases. We get commissions for purchases made through links on this website from Amazon and other third parties.