These cookies are vanilla scented, buttery yet crisp enough that you can dip in milk or coffee. Sprinkle the tops with sugar right before baking, it gives the cookies a lovely, sparkly texture.  When planning on shaping these or covering with royal icing, make sure they go in the freezer before baking, so that they maintain their shape.
Notes: An offset spatula is the best tool to pick up the cookies and place them onto the parchment covered cookie sheet. These cookies will keep for at least 3-5 days at room temperature in a sealed container. You can make this dough up to two weeks ahead. Roll out between two sheets of parchment, wrap in plastic and freeze. Also, feel free to double the recipe.
Vanilla Sugar Cookies Recipes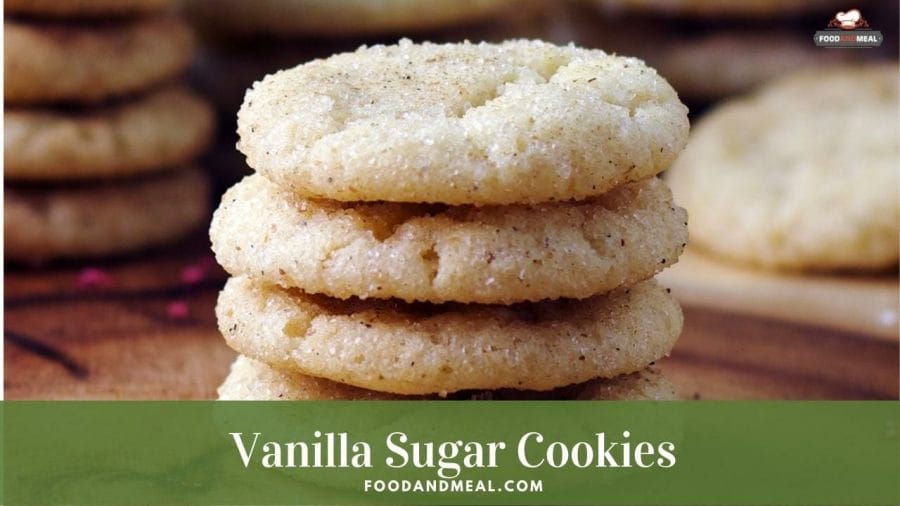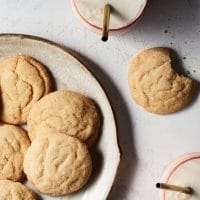 Vanilla Sugar Cookies
If you want to try this Vanilla Sugar Cookies recipe, then it is a good idea to read this article first. The article will cover the steps of making these cookies, including reducing the amount of vanilla extract, using too much flour, baking the cookies too long, and avoiding overbaking. You may also like to read the tips for rolling the dough into 1-inch balls. These tips will help you create the perfect cookies for your next cookie-making session.
Print
Pin
Add to Collection
Go to Collections
Instructions
Sift the flour, baking powder, and salt together in a bowl.

In a stand mixer with the paddle attachment, mix the butter and 1/2 cup plus 2 tablespoons sugar together at medium speed until the mixture is fluffy and light. Add the egg and vanilla and mix until just combined.

Add the flour mixture in batches, making sure to scrape down the bowl. Do not over mix.

When combined, place the dough on a floured surface. Shape into a disk, and cover with cling wrap. Place in the refrigerator for 30 minutes.

Preheat over to 350 F, and cover 2 cookie sheets with parchment paper.

Place the cookie dough onto a large piece of parchment paper. Cover with another large sheet of parchment paper, and roll out the dough with a rolling pin to 1/4 inch thickness.

Using a round cookie cutter, cut out cookies. Using an offset spatula, place the cookies on the prepared sheets, about 1 inch apart.

Sprinkle sugar on top of the cookies.

(f you plan on decorating these cookies with royal icing, chill the cookies for at least 15 minutes before baking them or until they are stiff. Also do not sprinkle with sugar)

Bake for 10 minutes, or until light golden brown.

Cool on a rack.
Video
Notes
If you want to avoid using too much vanilla extract, you can use honey instead. 
Share by Email
Share on Facebook
Share on Twitter
Nutrition
Serving:
4
servings
|
Calories:
755
kcal
|
Carbohydrates:
97
g
|
Protein:
10
g
|
Fat:
37
g
|
Saturated Fat:
22
g
|
Polyunsaturated Fat:
2
g
|
Monounsaturated Fat:
9
g
|
Trans Fat:
1
g
|
Cholesterol:
138
mg
|
Sodium:
421
mg
|
Potassium:
114
mg
|
Fiber:
2
g
|
Sugar:
38
g
|
Vitamin A:
1131
IU
|
Calcium:
88
mg
|
Iron:
4
mg
© Food And Meal
This website provides approximate nutrition information for convenience and as a courtesy only. Nutrition data is gathered primarily from the Spoonacular Database, whenever available, or otherwise other online calculators.
How to Make the Perfect Vanilla Sugar Cookies Recipe
Reduce the vanilla extract if you're using vanilla sugar cookies
If you're looking for a more subtle flavor, you can always substitute a different ingredient in your sugar cookie recipe. Maple syrup is a great choice since it has a mild flavor and compliments nearly any sweet treat. When substituting vanilla extract, be sure to use 100% pure maple syrup. It will add more flavor and moisture to the cookie, so it's a great idea to use extra egg whites or yolks for a chewy texture. Vanilla extract is a classic flavoring ingredient in cookies, but there are many different varieties and brands available in the market. Pure vanilla extract is the best type of extract, while imitation versions of it are also available. However, if you're unsure of the brand that you're purchasing, try substituting maple syrup for vanilla extract.
If you want to avoid using too much vanilla extract, you can use honey instead. Honey not only provides a rich flavor but also cuts down on the amount of sugar that you add to the cookie. One tablespoon of honey can replace one teaspoon of vanilla extract. If you're looking to reduce the vanilla extract in your sugar cookies, consider using half as much as you normally would. However, it's worth noting that honey has the same health benefits as vanilla extract.
Using too much flour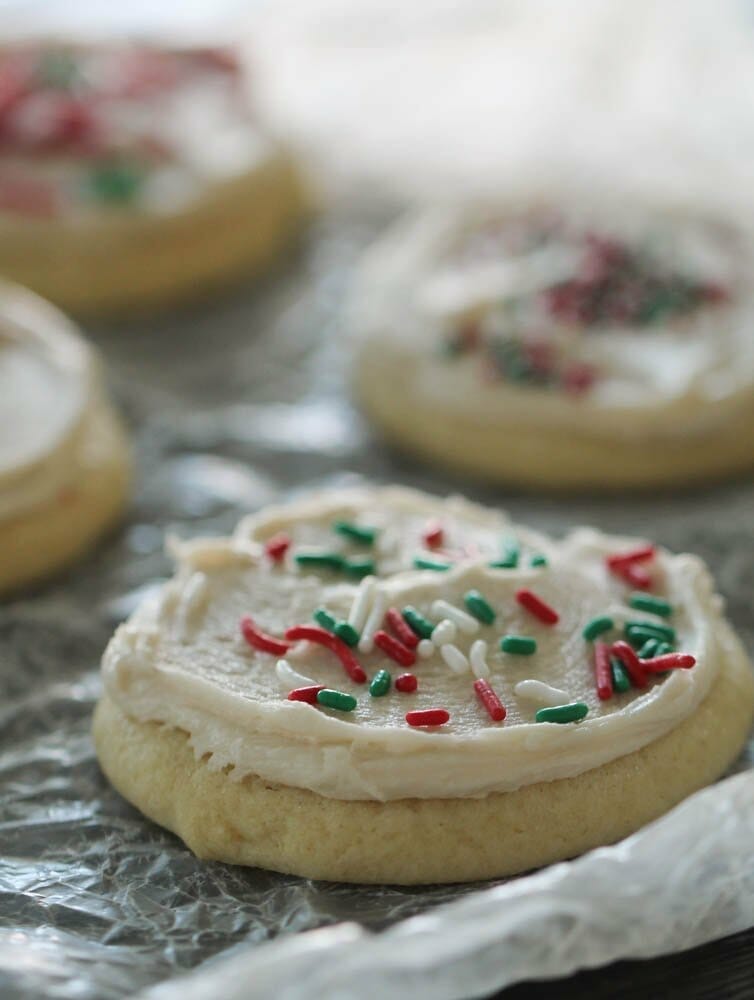 Too much flour in a Vanilla Sugar Cookies recipe is the most common problem encountered when baking cookies. It makes the cookies crumbly. It also makes the cookies spread out when they are not recut immediately. Also, if you use cold butter, you will need to keep the butter room temperature. When mixing the ingredients together, you should combine the ingredients with a fork. Make sure that all ingredients are room temperature to avoid problems with spreading.
To avoid this problem, make sure to aerate the flour before measuring. Sifting the flour in a strainer or fluffing the flour will remove excess air and prevent the cookies from spreading too much. Using a spoon straight from the bag will result in an overmeasurement of flour. Always remember to level the baking sheet before using it again, as cookies will spread when they are warm.
Baking overbaked cookies
If your vanilla sugar cookies are overbaked, it's likely you used too much flour. If this is a problem for you, here are a few steps to remedy it. First, always weigh your ingredients accurately. In addition to all-purpose flour, you'll need baking powder, a pinch of salt, and vanilla extract. This last ingredient is essential for the perfect sugar cookie. You can substitute vanilla extract for store-bought or homemade.
Brown sugar adds moisture to your cookies, and it helps them spread. If you add an extra egg yolk, the cookies will become softer and more moist. Be sure to leave them to cool slightly on the baking sheet before storing them. You can store sugar cookies for up to three weeks on the counter or three months in the freezer. A small amount of butter is enough to make one-half cup of cookies.
Rolling the dough into 1-inch balls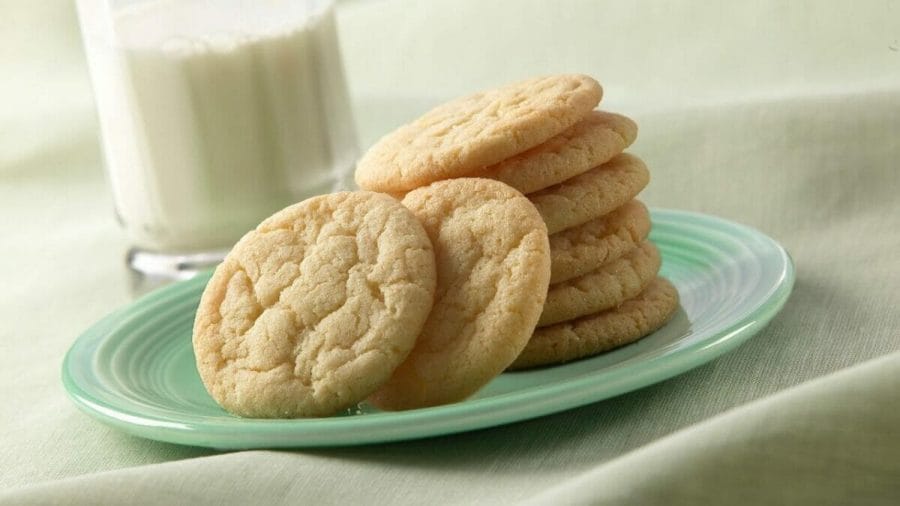 To make vanilla sugar cookies, roll the dough into 1-inch balls and place on a baking sheet, spacing them about 2 inches apart. Then, roll each ball in sugar until it is about 3/4-inch thick. Bake for nine to eleven minutes, or until lightly golden on the edges. Let them rest for at least 10 minutes before eating. You don't need to chill or roll the dough before baking; the cookie dough will spread when baking, so it's fine to not chill the dough.
Rolling the dough into 1-inch balls for your vanilla sugar cookies is a simple step, but a necessary one. If you're baking for the first time, make sure you chill the dough balls for 15 minutes before baking. Otherwise, they will flatten while baking, and the sugar will stick to the surface of the cookies. Once they're baked, they will be crisp on the edges and soft on the inside.
Using Grade A vanilla beans
If you love the flavor of vanilla, you should try using Grade A vanilla beans for your next batch of vanilla sugar cookies. While Grade B beans are perfectly adequate for vanilla sugar cookies, they aren't as sweet as Grade A. Grade A beans have more moisture and can clump up over time. Shaking the beans can help them loosen up. Either kind of vanilla bean will work, as long as you know what you're doing.
Using Grade A vanilla beans for vanilla sugar cookie recipes requires a little more prep work. First, you must dry the vanilla beans. You can do this in a 150 degree oven, but be careful not to burn them. Once they've been removed from the oven, the beans will begin to become brittle. This brittleness is the key to a fine powder. Once cooled, you can cut the beans into smaller pieces and grind them in a coffee grinder.
Using special sugar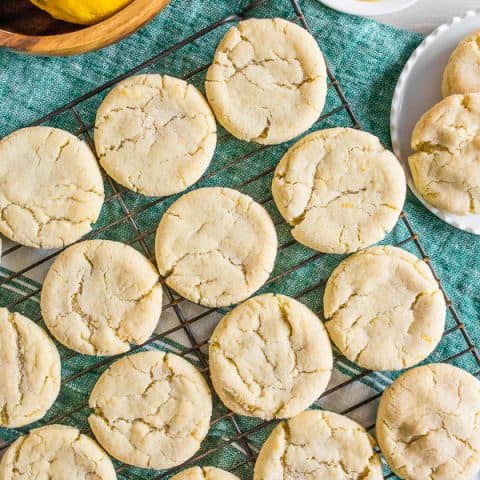 A great vanilla sugar cookie recipe uses pure vanilla extract, which makes them ultra-light and crispy around the edges. It is also infused with pure vanilla flavor, and tastes better than cookies from the fancy bakery down the street. The addition of vanilla sugar, vanilla bean paste, and 1/4 teaspoon of almond extract will enhance the flavor and texture of vanilla sugar cookies. Here are a few tips for creating the best cookies. If you have trouble finding the right sugar, try using almond extract or a natural vanilla bean paste instead.
To use vanilla sugar in baking recipes, first, find a suitable brand. I used Rodelle's vanilla paste, but you can also use vanilla extract. You can even buy it online. The product page includes links to local retailers. Vanilla extract can also be substituted for Rodelle's sugar, but the cookies won't have the cute flecks of vanilla paste. However, you'll still be able to achieve a perfect texture.
Want to read more? Don't hesitate to follow us! And you will have them for free. Foodandmeal gives you culinary and cultural trips around the world that you couldn't find anywhere. Feel free to accompany us so that all the cooking secrets and techniques are to your fingers.