Print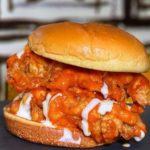 How to Make Buffalo Chicken Sandwich – 4 easy Steps
---
Description
Typically, Buffalo wings are taken as an individual snack but we can make a different snack out of it by simply adding some ingredients.  Buffalo chicken sandwich can be a hearty meal or healthy snack that you can enjoy with every bite.
---
Chicken breasts, raw
Buffalo wing sauce (for marinade)
Rolls
Butterhead lettuce
Tomato
Red onion
Blue cheese (or ranch dressing)
Recommend: How to make steak at home
---
Instructions
You're going to marinate the chicken breasts first in Buffalo wing sauce. Simply put the chicken in a bowl and pour in the sauce.  Make sure that the chicken is evenly coated and then cover the bowl.  Put the marinade inside the fridge for about 30 minutes or up to 3 hours.  The longer you marinate, the tastier the chicken becomes.
There are two ways which you can cook your chicken. You can use one of these two methods to acquire your desired taste on your chicken.  But first, take out the chicken from the fridge and let it stand at normal temperature for several minutes.

You can use a skillet and pan-fry the chicken breasts. Put on the burner into medium heat and place skillet over it.  Place the chicken when it is hot and flip it once it attains the brownish shade it must have.  Cooking might take up to 10 minutes or until the meat is no longer pinkish.
If you're going to grill the chicken, put it on a medium flame and flip the meat once in a while.
You can decide whether you want to slice up your rolls or not. Cut the tomatoes and red onions as well.  If you're slicing the roll, make sure you cut enough onions and tomatoes for both sandwiches.
Put the buffalo chicken breast over the bottom bun and top it with tomato and onion slices. Place the lettuce over the onion and tomato slices. Next, spread blue cheese (or the optional ranch dressing) on one of the surfaces of the top bun. Put the top rollover the lettuce and serve with your desired drinks.
Notes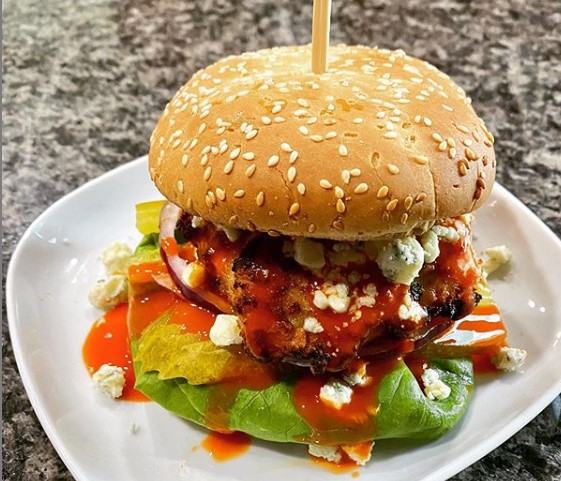 Grilled Buffalo Chicken Sandwich
If you want to explore more exciting non-vegetarian recipes, please click here
Keywords: Buffalo Chicken Sandwich