Sheet pan dinners are lifesavers during a busy workweek for their easy prep and quick cleanup. This Lemon Butter Sheet Pan Shrimp recipe is a fun way to introduce your baby to shellfish, a common allergen. Plus, shrimp is great for self-feeding because it naturally comes with a convenient little handle, which is perfect for babies.
Lemon Butter Sheet Pan Shrimp Recipes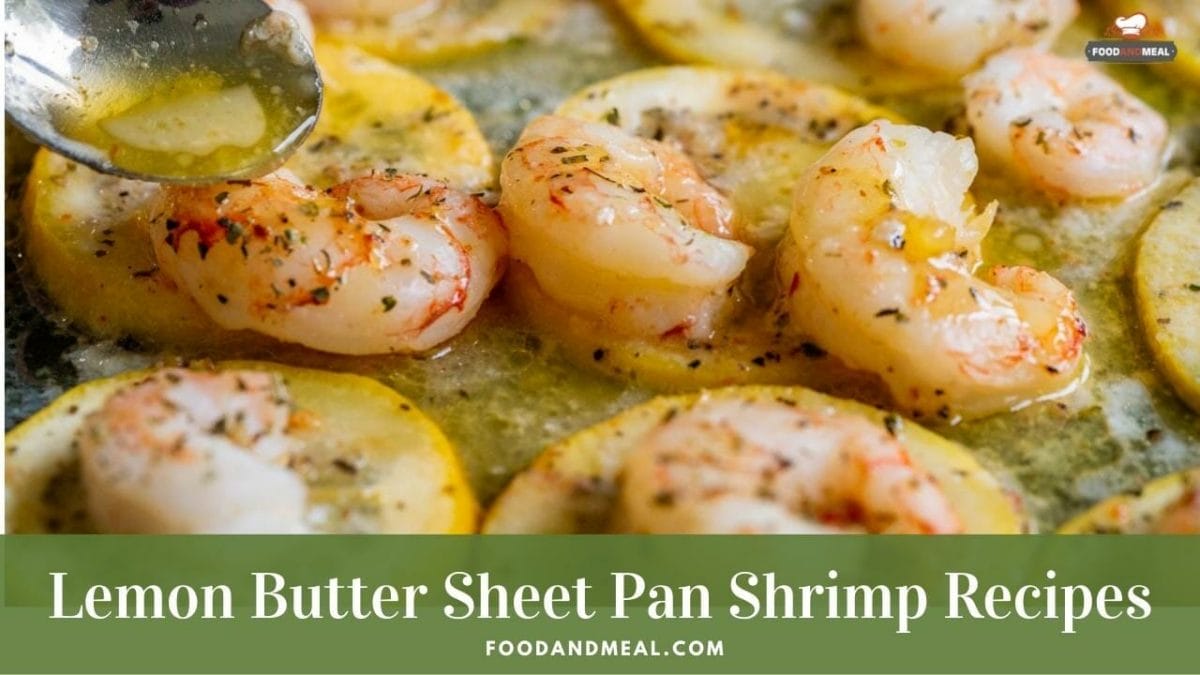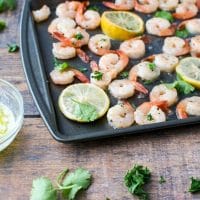 BLW Lemon Butter Sheet Pan Shrimp
Lemon Butter Sheet Pan Shrimp is an easy, quick main course for baby. It is made with just five simple ingredients and comes together in a snap. This recipe is also low in calories and carbs, and can be served over pasta or vegetables. The shrimp cook up fast, so you can prepare it ahead of time. Once the sheet pan is full, serve the shrimp immediately. If you're feeding a young child, keep the lemon butter sauce on hand.
Print
Pin Recipe
Add to Collection
Go to Collections
Equipment
Instructions
Preheat oven to 400°F. Lightly grease a rimmed sheet pan with olive oil.

In a medium bowl, whisk together the melted butter, garlic, lemon juice, Italian seasoning, salt, and pepper.

Add the shrimp to the mixture and gently toss to combine. Spread the shrimp in a single layer on the prepared baking sheet.

Bake until the shrimp begin to firm and turn slightly pink, 8 to 10 minutes.

Garnish with parsley and/or sliced lemons (if using). Serve warm with shrimp sliced lengthwise.

Refrigerate leftovers in a sealed container for up to 2 days.
Notes
TIP: For a complete meal with easy cleanup, use a larger sheet pan and throw on some fresh veggies to roast alongside the protein. Broccoli or asparagus both taste great with this citrus Italian marinade. Veggies may need more bake time than the tender shrimp, so start those for 10 minutes, then throw on the shrimp.
Share by Email
Share on Facebook
Share on Twitter
Nutrition
Serving:
1
shrimp
|
Calories:
29
kcal
|
Carbohydrates:
1
g
|
Protein:
5
g
|
Fat:
1
g
|
Saturated Fat:
1
g
|
Polyunsaturated Fat:
1
g
|
Monounsaturated Fat:
1
g
|
Trans Fat:
1
g
|
Cholesterol:
44
mg
|
Sodium:
228
mg
|
Potassium:
51
mg
|
Fiber:
1
g
|
Sugar:
1
g
|
Vitamin A:
72
IU
|
Vitamin C:
1
mg
|
Calcium:
27
mg
|
Iron:
1
mg
© Food And Meal
This website provides approximate nutrition information for convenience and as a courtesy only. Nutrition data is gathered primarily from the Spoonacular Database, whenever available, or otherwise other online calculators.
Pin Recipe
Other ways to making Lemon Butter Sheet Pan Shrimp
If you're making this meal for a newborn, make sure that the shrimp are frozen raw. This will help them get the proper texture and flavor. This recipe will only work with shrimp that are raw, so make sure they're fresh. You can also use precooked shrimp but be sure to keep them covered in water to prevent them from drying out. While this recipe is easy to make, it's best to prepare the ingredients ahead of time to avoid any unnecessary hassles.
To make this recipe, you'll need to prepare four tablespoons of butter. Add the garlic and dried herbs to the butter and cook for a minute. Stir in the shrimp. Let the shrimp cook for 4 to 6 minutes, turning them occasionally. When the shrimp is cooked, add some lemon juice. You can serve immediately or allow them to rest for a few minutes. Then serve them. This recipe is one of my favorites and is perfect for a busy weeknight meal.
When cooking lemon butter Sheet Pan Shrimp, always remember to plan ahead for baby's first meals. You may need to adjust the cooking time for each ingredient to ensure that they cook evenly. Asparagus and shrimp should be cooked separately. You can freeze the remaining portions for later use. You can also reheat them for another dinner, if you'd like. It's an easy and healthy meal for a busy family!
While Lemon Butter Sheet Pan Shrimp is a great meal for a baby, it can also be made for adults as well. If you're cooking it for a large crowd, you can add shrimp and asparagus at the same time. The asparagus and shrimp will cook quickly and the lemon butter will keep the shrimp moist and delicious for the whole family. If you're cooking for a baby, it's important to use a pan that's safe to handle.
Shrimp for baby lead weaning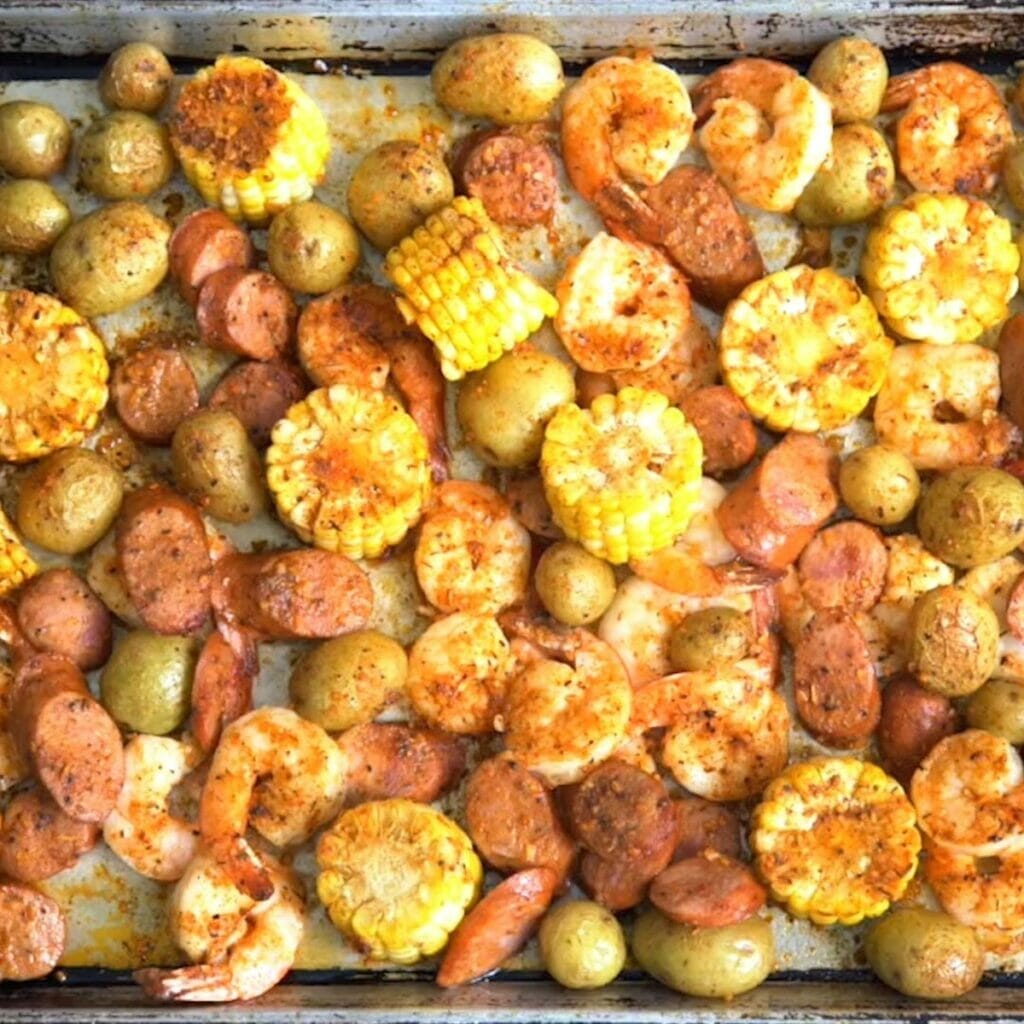 If you want to introduce seafood to your baby, you should try introducing shrimp right from the start. They are a great choice for your lead-weaning baby. It is important to remember that they are high in sodium and can be hard for your little one to break down. Also, shrimp have a high sodium content, which is not good for your baby. However, there are many benefits to introducing shrimp to your baby.
When starting the process, make sure to consult your pediatrician. While you can begin introducing shrimp to your baby by yourself, it is best to include the ingredient in other foods such as stews, soups, and mashed veggies. It is also best to prepare shrimp minced and serve it in small amounts so that your baby is not able to bite it into pieces. While you are preparing the meal, make sure to stay within your arms' reach of your child and monitor his or her eating habits.
When introducing shrimp, it is important to keep in mind that your baby's first food is likely to be another food that is a little too tough for him or her to swallow. If you choose to give shrimp to your child, try to mix it into another food. If the texture is too hard, it can result in a choking hazard, so make sure you mince the shrimp before serving it.
When introducing shrimp to your baby, it is important to be careful not to over-prepare them. You can start by serving them in bite-sized pieces until your baby is able to spit them out and chew them well. If you do this, you can gradually introduce more shellfish to your baby, and your child will grow to love them. There are a few different steps you should take for the shrimp to be a success with baby-led weaning.
It is important to introduce shellfish to your baby early. When you are introducing this food to your baby, be sure to prep it carefully. It is important to make your baby aware of the choking risk. This is the only way to make sure that your baby will eat it safely. The key is to keep an eye on your child's development while introducing the food. You need to keep an eye on your child at all times.
Would you like to collect the handfuls of precise recipes? Click the follow button right now! And you will have them at no cost. Foodandmeal gives you culinary and cultural trips around the world that you couldn't find anywhere. Feel free to accompany us so that all the cooking tips and techniques are in your hands.
Cooking Tips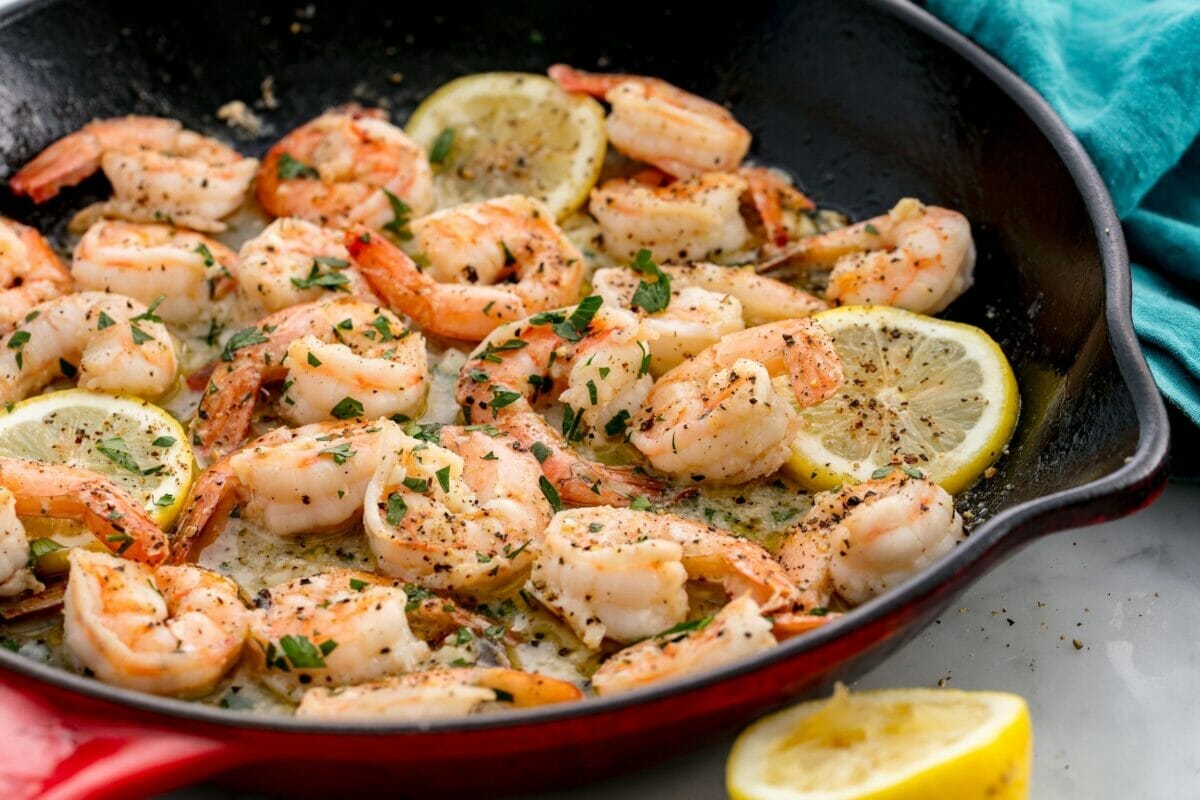 Welcome to the heart of the kitchen, where we unravel the secrets to crafting a delectable Lemon Butter Sheet Pan Shrimp for your precious one. Here are some expert tips and insights to ensure this dish becomes a cherished memory in your baby's culinary journey:
Tips for Best Results:
Choose Quality Shrimp: Opt for fresh, deveined, and peeled shrimp to save time and ensure the best texture for your baby.
Gentle Marination: Marinate the shrimp briefly in the lemon-butter mixture to infuse flavor without overpowering the delicate taste of seafood.
Watch the Oven: Keep a watchful eye as you cook. Shrimp cooks quickly, and you'll want to avoid overcooking, which can lead to a tough texture.
Common Mistakes to Avoid:
Over-Marinating: While marination adds flavor, don't leave the shrimp in the mixture for too long, as it can result in a tangy and overpowering taste.
Overcooking: Shrimp becomes rubbery when overcooked. Be vigilant, and remove them from the oven as soon as they turn pink and opaque.
Serving Suggestions
When to Serve: Lemon Butter Sheet Pan Shrimp is a perfect choice as you venture into introducing solid foods to your 6-8 month-old. The gentle flavors and tender texture make it an ideal option for transitioning to more complex tastes.
Recommended Sides and Complements: Pair the Lemon Butter Shrimp with soft mashed sweet potatoes or creamy cauliflower puree. These sides provide contrasting textures and add a nutritious dimension to your baby's meal. A sprinkle of chopped fresh parsley or chives adds a touch of vibrancy.
Beverage Options: For your little one, opt for breast milk, formula, or water as beverages. These will keep them well-hydrated while enjoying their culinary exploration.
Different Serving Styles:
Mini Munchies: Serve the shrimp as finger foods for older babies who are practicing self-feeding. The small pieces are perfect for tiny hands.
Baby's Blend: Puree the cooked shrimp with a splash of water or baby's regular milk for a smooth and rich texture, suitable for younger palates.
FAQs (Frequently Asked Questions)
1. Can I use frozen shrimp for this recipe? Certainly! Thaw the shrimp thoroughly before marinating and cooking. Frozen shrimp offers convenience without compromising on flavor.
2. Can I adjust the lemon flavor to make it milder? Absolutely! Reduce the amount of lemon juice in the marinade to achieve a milder tang that's more suitable for your baby's palate.
3. How do I store any leftovers? To store leftovers, place them in an airtight container and refrigerate within two hours of cooking. Consume within 1-2 days. For longer storage, freeze in a labeled container for up to 2 months.
4. Can I use other types of seafood for this recipe? Certainly! You can adapt this recipe with other baby-friendly seafood like mild-flavored fish fillets or scallops. Adjust cooking times accordingly.
5. Is it safe for babies to eat shrimp at this age? Absolutely, as long as the shrimp is properly cooked and prepared. Shrimp is a good source of protein and nutrients. Just ensure it's introduced following the 4-day wait rule for new foods.
Now that you're armed with knowledge, embark on this exciting culinary journey with your little one. The Lemon Butter Sheet Pan Shrimp is not just a dish, but a delightful memory in the making.
Affiliate DisclaimerAbout The Author
As an affiliate, we may earn a commission from qualifying purchases. We get commissions for purchases made through links on this website from Amazon and other third parties.