Print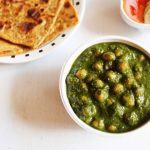 How to Cook Chana Palak or Spinach Chickpeas Curry
---
Author:

Prep Time:

10 mins

Cook Time:

40 mins

Total Time:

50 mins
Description
Health-conscious individuals may find chana palak or "spinach and chickpeas curry" an interesting dish to prepare.  The mild spiciness of this Punjabi recipe and the health benefits of both spinach and chickpeas is a win-win blend considering that you can enjoy both the flavor and the nutrition.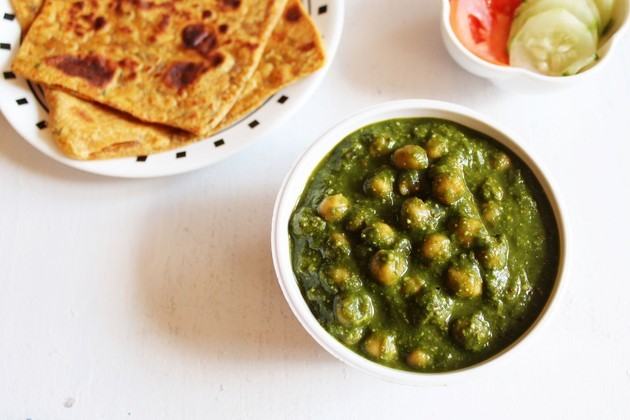 ---
5

–

6

cups of spinach or palak, washed

¾ cup

of dried chickpeas or chole

1 ½ cups

and ½ cup of water

¼

cashew nut powder

3

–

4

green chillies

1

medium size tomato

½ tsp

. of cumin seeds

½ cup

of onion, finely chopped

1 tsp

. of ginger paste

1 tsp

. of garlic paste

½ tsp

. of garam masala

1 tsp

. of kasoorimethi

1 tbsp

. of oil
Salt
---
Instructions
Wash both the spinach and chickpeas under cool running water until they are both completely clean. Soak the chickpeas overnight or for at least 8-10 hours. Set aside the spinach in a cool storage or where its quality won't diminish.
Drain the chickpeas and boil it in a pressure cooker over medium low heat for about 20 minutes. Use the first measure of water in boiling—1 ½ cups—and add a dash of salt.
While pressure-cooking the peas, blanch the spinach by boiling about 5-6 cups of water. Add salt into the water then bring in the spinach. Cook the green leaves for about 3 minutes and drain the water.  Immediately put the veggie under cold water to stop the cooking process.
Bring water into a boil again to blanch the tomato. Make a cross cut at the bottom of the tomato and blanch it into the boiling water for about 4-5 minutes. Get it and immediately plunge it in a cold water to stop the cooking process. Make tomato puree by simply mashing or blending the tomato using a blender.
Puree the spinach and green chillies by putting them into the blender. Make sure that you blend the greens separately from the tomato.
Get your cashew powder; add the tomato puree and spinach-chili puree.
Put skillet over medium heat and heat up oil. Put the cumin seeds and let them sizzle for a while.
Add the onion, salt and sauté until the onion turns into light brown.
Put the ginger and garlic paste and continue to sauté until the raw aroma coming from the ginger and garlic paste goes away.
Add the tomato puree and let the mixture simmer until the moisture evaporates.
Next, put coriander powder, kasoorimethi and garam masala into the mixture. Stir the mixture well and let it simmer for another minute.
Add the pureed spinach and chilli then stir again. Let it boil for a couple of minutes and add the cashew nut powder, then stir again.
You can then add the cooked chana and enough water to bring out a gravy consistency on your mixture. Let it simmer for another 5 minutes and turn off the heat.
Scoop the already made chanapalak into a sauce bowl and serve with roti, paratha or plain rice.
Nutrition
Serving Size:

1

Calories:

364.9

Sugar:

0.4 g

Sodium:

1,272.4 mg

Fat:

10.2 g

Saturated Fat:

1.3 g

Unsaturated Fat:

1.9 g

Trans Fat:

5.8 g

Carbohydrates:

58.4 g

Fiber:

12.1 g

Protein:

13.7 g

Cholesterol:

0.0 mg
Keywords: Chana Palak, Spinach Chickpeas Curry,