Mentsuyu is the base for noodle soups. It is essential to the taste of hot and cold noodle soups. In addition, mentsuyu can also be used as a dipping sauce for noodle soup. This delicious condiment is easily made at home and can be stored in the fridge for up to a few weeks. Make sure to purchase it at a Japanese market if you can.
Mentsuyu Recipes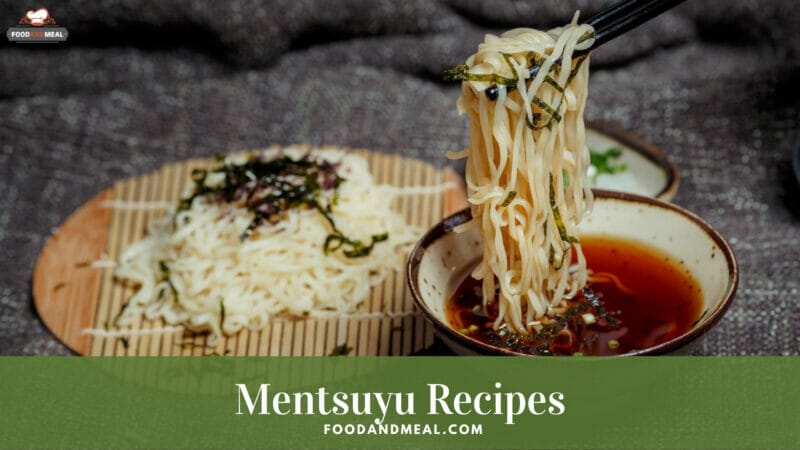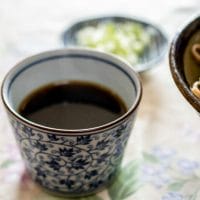 Mentsuyu
Mentsuyu is a versatile ingredient in Japanese cooking. It can be used as a condiment or as a dipping sauce. Its versatility makes it a popular condiment throughout Japanese cuisine. In addition to dipping sauces, mentsuyu can be used to make soups as well. Its flavor is salty and sweet. It is not suitable for children under two years old, and should be avoided by pregnant women and nursing mothers.
Print
Pin Recipe
Add to Collection
Go to Collections
Equipment
Instructions
Place everything in a pot or saucepan and bring it to a boil.

Remove from the heat as soon as it starts to boil, and allow it to cool completely.

Strain out the bonito flakes.

To use as a dipping sauce, dilute 1:1 sauce to water.

For cooking, adjust the amount according to taste.

Good for making sauces for noodle dishes or as an alternative dip for tempura.

Keeps for 2 weeks in the refrigerator.
Notes
Mentsuyu is used as a soup base. It is usually prepared with dashi stock and soy sauce. This condiment enhances the flavor of many different dishes. A popular Japanese noodle soup is Kaketsuyu-yu (kaketsuyuyu), which is a diluted version of Mentsuyu. Its dashi base is a great base for a sauce that is a good dipping sauce for noodle dishes.
Share by Email
Share on Facebook
Share on Twitter
Nutrition
Serving:
4
servings
|
Calories:
81
kcal
|
Carbohydrates:
15
g
|
Protein:
3
g
|
Fat:
1
g
|
Saturated Fat:
1
g
|
Polyunsaturated Fat:
1
g
|
Monounsaturated Fat:
1
g
|
Sodium:
1846
mg
|
Potassium:
65
mg
|
Fiber:
1
g
|
Sugar:
7
g
|
Calcium:
7
mg
|
Iron:
1
mg
© Food And Meal
This website provides approximate nutrition information for convenience and as a courtesy only. Nutrition data is gathered primarily from the Spoonacular Database, whenever available, or otherwise other online calculators.
Pin Recipe
About Mentsuyu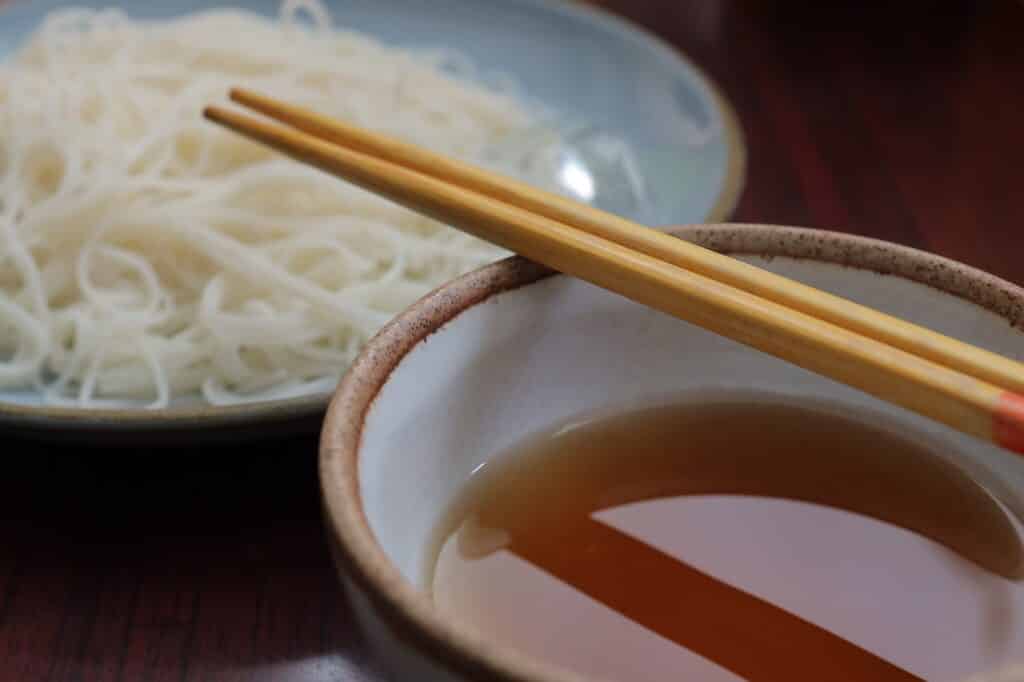 While it may sound complicated, mentsuyu is a common ingredient in Japanese cooking. It can be used as a salad dressing, a sauce for steamed fish, and a soup base. You can also add it to other dishes as a dipping sauce. Just be sure to dilute it with three to four parts water for every one part Mentsuyu. And because it can be extremely spicy, you may want to add a little bit of water to make it more manageable.
A basic mentsuyu taste is a salty-sweet blend of sugar, soy sauce, and dashi stock. Its composition can vary depending on the type of dashi used. A concentrated version has a strong flavor, while diluted mentsuyu has a milder flavor. The most convenient way to use mentsuyu is to make it at home. However, the concentration version is very expensive. It is not recommended for people with celiac disease.
Most mentsuyu sold in Japan contain bonito, kombu, shiitake mushrooms, and mirin. A few other ingredients are added as well. A good mentsuyu can be refrigerated for a month. It also keeps well for a week or so. It is best to make a large batch and freeze the rest for another day. Its versatility is one of its most attractive aspects.
As a base for noodle soup, mentsuyu can be served cold or hot. In addition to serving as a dipping sauce, mentuyu can also be used as a basic sauce. In addition to being a noodle soup base, it also serves as a dipping sauce for fish, vegetables, and seafood. This sauce is used as a base for other dishes and can be prepared with a variety of Japanese ingredients.
Mentsuyu can be used as a condiment or as a dipping sauce. It can be used cold or hot as a dipping sauce or as a base for a noodle soup. Moreover, it can also be eaten as a dipping sauce. Besides using it as a dipping sauce, it can also be served as a sauce. Its many uses make mentsuyu a valuable ingredient in Japanese cooking.
The basic ingredients of Mentsuyu include bonito Ichiban-dashi and kelp. It is made with premium grade ingredients like bonito flakes, soy, and squid. It is gluten-free and can be eaten by people with celiac disease. It is recommended to thin Mentsuyu with water before adding it to a soup. This ensures that it is not too thick.
Mentsuyu can be used as a dipping sauce or soup base. It can be served hot or cold and is an excellent accompaniment to fried items. It is also an essential component of many Japanese soups. Nevertheless, it can be used in many other dishes, including sushi. The ingredients in Mentsuyu make it an ideal condiment for various Japanese dishes. You can use it as a dipping sauce, a soup base, or even a soup broth.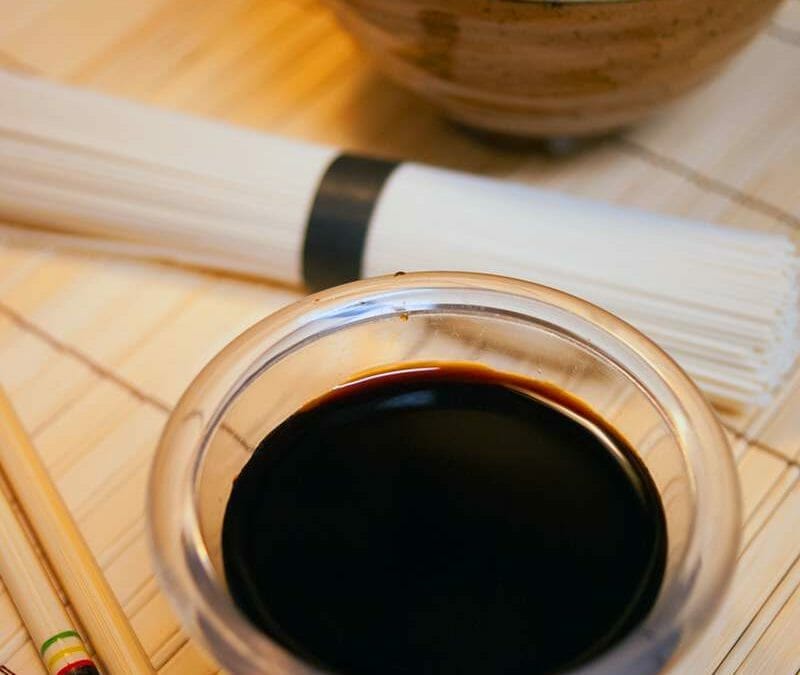 Want to read more? Don't hesitate to follow us! And you may have them at no cost. Foodandmeal gives you culinary and cultural trips around the world that you couldn't find anywhere. Feel free to accompany us so that all the cooking tips and techniques are to your fingers.
Affiliate DisclaimerAbout The Author
As an affiliate, we may earn a commission from qualifying purchases. We get commissions for purchases made through links on this website from Amazon and other third parties.