Embarking on a culinary journey takes us through the diverse paths of global cuisine. A noteworthy stop on this voyage is Tandoori Chicken – an emblem of Indian gastronomy you wouldn't want to miss. Welcome to today's article where we delve deep into the secrets of crafting the perfect Tandoori Chicken. This isn't just a cooking recipe; it's a narrative of blending intricate spices, traditions, and a passion for cooking to curate a distinctive dish. Join us in commencing this culinary expedition, and uncover all the mysteries hidden within each delectable bite of Tandoori Chicken.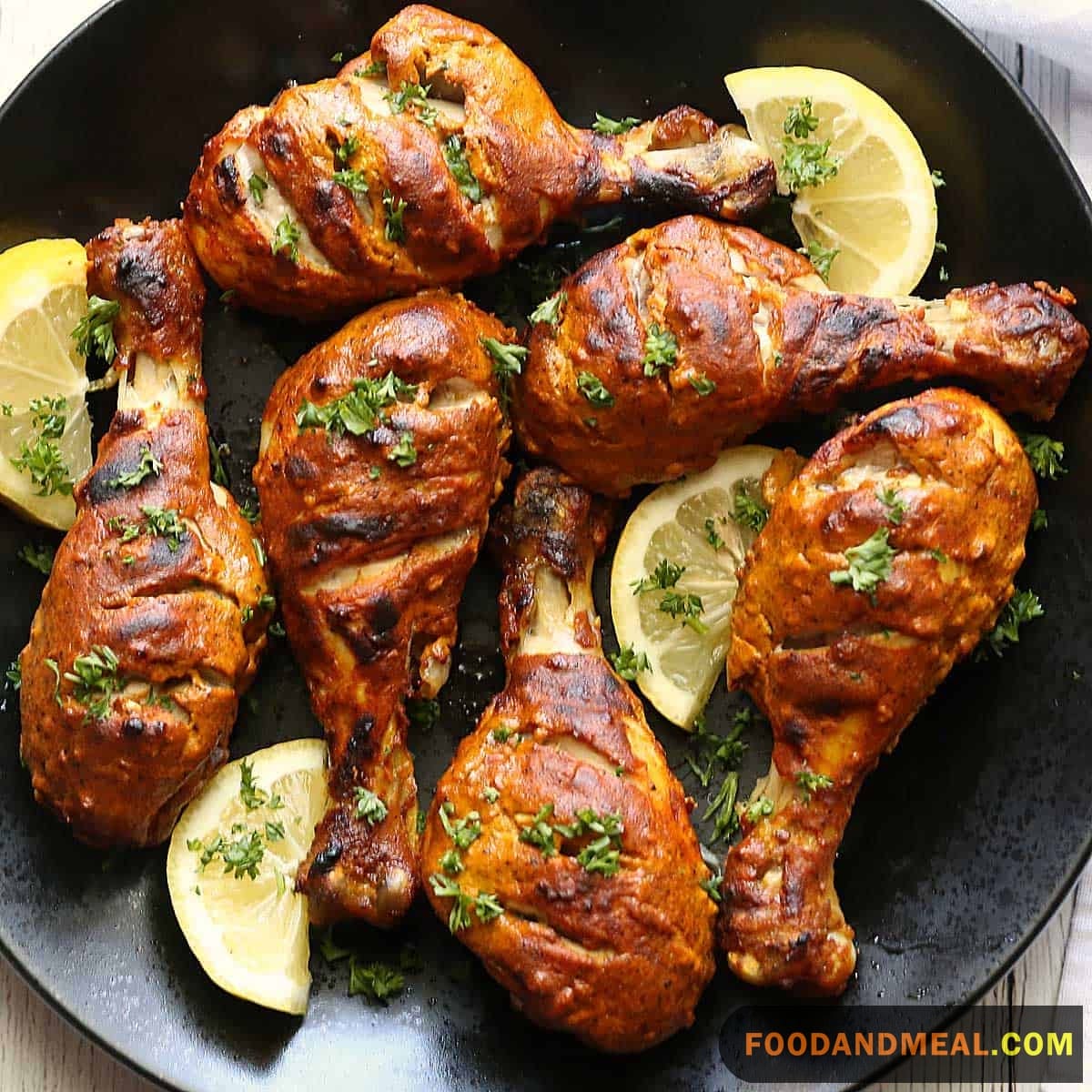 Tandoori Chicken Recipe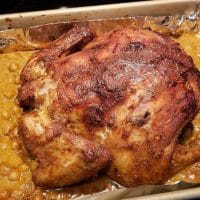 Tandoori Chicken or Tandoori Murghi
Traditionally, Tandoori Chicken is a spicy dish that is made by marinating chicken in spices and yogurt. It was originally created in the Indian subcontinent, but has since gained popularity around the globe. This Indian specialty is now common in many countries.
You can order Tandoori chicken from any restaurant in your area. But what exactly is this dish? And why is it so popular? Keep reading to find out. If you want to learn more, continue reading.
Print
Pin Recipe
Add to Collection
Go to Collections
Equipment
Ingredients
Ingredients
6

pcs.

chicken

breasts or drumsticks—washed, skinned and trimmed of fats
For marinating
1

tbsp.

lemon juice

or optional malt vinegar

1 ½

cups

yoghurt

unflavored and softened

1

tbsp.

tandoori masala

1

tbsp.

ginger paste

¼

tsp.

red chilli powder

½

tsp.

paprika

1

tbsp.

coriander powder

Green chilli

ground

2

drops of red food colouring

optional
For baste
½

cup

lemon juice

½

tsp.

tandoori masala

2

drops

red food colouring

Salt

optional
Instructions
How to Cook Tandoori Chicken

Get the chicken pieces (make sure they are already washed, skinned and trimmed of fats) and using a knife, slit the meat with 1-inch cuts.

Put the chicken inside the ovenproof dish and pour in the lemon juice (or malt vinegar). To ensure that the lemon juice seeps through the meat, you can rub it in the incisions you just made.

Cover the dish and let it be for about 30 minutes. In a separate bowl, mix in all the remaining marinade ingredients and put in a little salt.

After 30 minutes, get the chicken and add a mixture of spices and yoghurt. Mix them together very well, making sure that each chicken piece is fairly coated.

Cover the dish again and stock in the refrigerator overnight or within 8 hours for more flavorful results.

Prepare the barbecue grill by preheating it into a medium-high heat.

Get your baste ready as well by simply incorporating all the ingredients together.

When the grill is already okay, spray some cooking oil on the grills. This step allows the chicken meat to not to get stuck on the grills.

Lay the chicken pieces over the grills and close the lid for about 5 minutes.

Do the flip-and-baste steps by flipping the chicken and basting it, then doing the same again. You need to barbecue the chicken for about 20 minutes.

Get the chicken onto the plate or platter and let it sit for a couple of minutes. This allows the juices to settle inside the chicken, making it juicy inside.

Tandoori chicken is best served with mint chutney and pickled onions.
Notes
In India, tandoori chicken is made by marinating the chicken in yogurt. Then, the chicken should be grilled. Then, you can add a little garlic. After the chicken is cooked, you can serve it hot. If you're hosting a party, you can serve this delicious dish as part of an Indian buffet. If you're arranging a party, you should prepare everything ahead of time.
Share by Email
Share on Facebook
Share on Twitter
Nutrition
Serving:
1
tandoori
|
Calories:
97
kcal
|
Carbohydrates:
10
g
|
Protein:
5
g
|
Fat:
5
g
|
Saturated Fat:
2
g
|
Polyunsaturated Fat:
1
g
|
Monounsaturated Fat:
1
g
|
Trans Fat:
1
g
|
Cholesterol:
13
mg
|
Sodium:
51
mg
|
Potassium:
235
mg
|
Fiber:
4
g
|
Sugar:
5
g
|
Vitamin A:
206
IU
|
Vitamin C:
15
mg
|
Calcium:
141
mg
|
Iron:
1
mg
© Food And Meal
This website provides approximate nutrition information for convenience and as a courtesy only. Nutrition data is gathered primarily from the Spoonacular Database, whenever available, or otherwise other online calculators.
Pin Recipe
Alternative Method: Oven-Baked Tandoori Chicken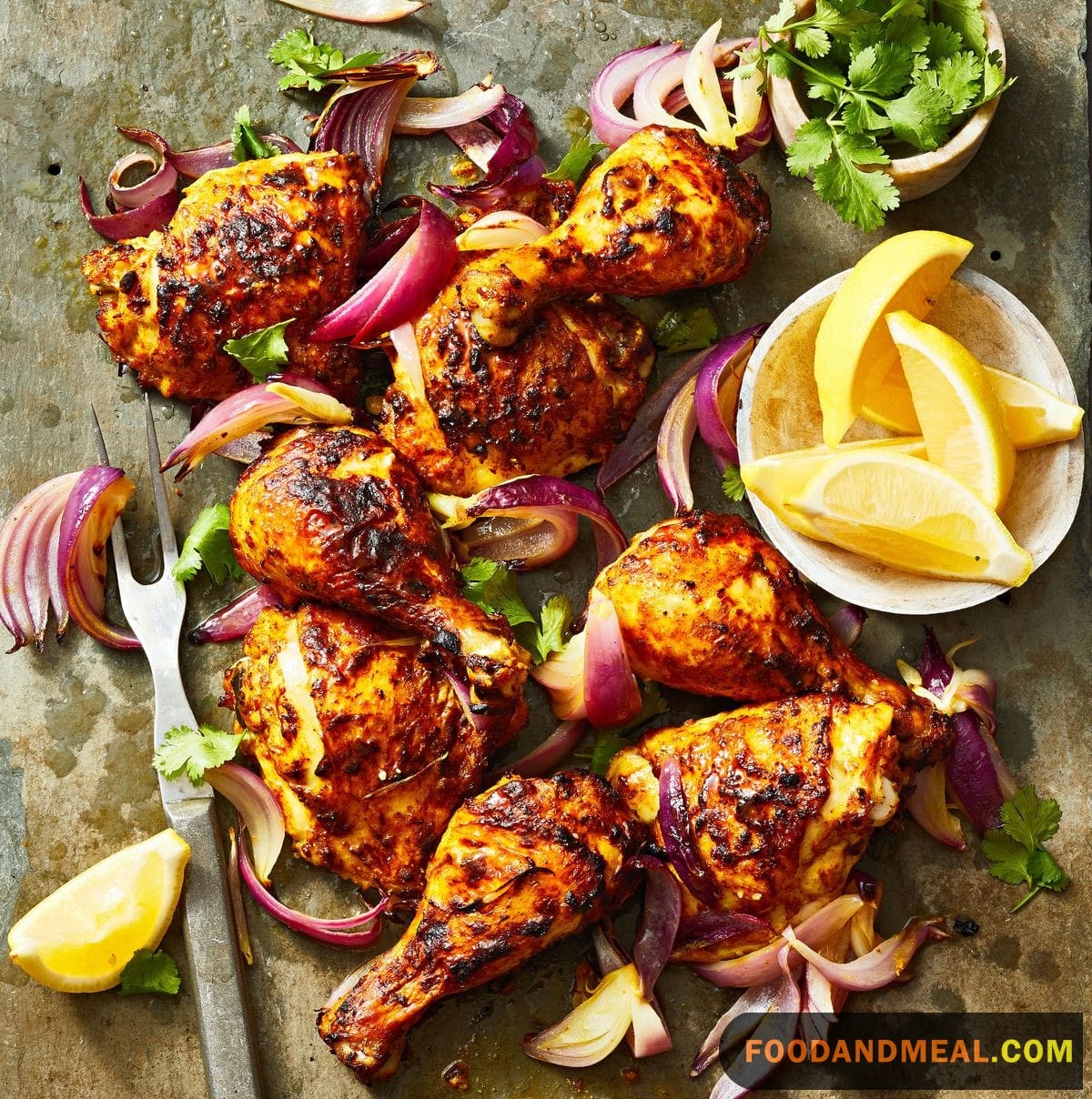 Ingredients:
4 boneless, skinless chicken breasts or 8 chicken drumsticks
1 cup plain yogurt
2 tablespoons ginger-garlic paste
2 tablespoons lemon juice
2 tablespoons Tandoori masala spice mix
1 teaspoon ground cumin
1 teaspoon ground coriander
1/2 teaspoon ground turmeric
1/2 teaspoon red chili powder (adjust to your spice preference)
Salt to taste
Cooking oil or cooking spray for greasing
Method:
Marination: In a large mixing bowl, combine yogurt, ginger-garlic paste, lemon juice, Tandoori masala, ground cumin, ground coriander, ground turmeric, red chili powder, and salt. Mix well to form a smooth marinade.
Prepare the Chicken: Make deep cuts or slashes on the chicken pieces to allow the marinade to penetrate. This also helps in even cooking.
Marinate: Add the chicken pieces to the marinade, ensuring they are well coated. Cover the bowl with plastic wrap or a lid and refrigerate for at least 6 hours, or ideally, overnight.
Preheat the Oven: Preheat your oven to the highest temperature setting (usually around 475°F or 245°C). Place a wire rack on a baking tray and grease it with cooking oil or cooking spray.
Skewer or Rack: Thread the marinated chicken pieces onto skewers or place them on the greased wire rack. Make sure to leave some space between each piece for even cooking.
Bake: Put the chicken skewers or wire rack with chicken on the top oven rack. Bake for about 20-25 minutes, turning them once halfway through. The chicken should be charred at the edges and cooked through.
Broil (Optional): If you want to get that smoky flavor, you can broil the chicken for an additional 2-3 minutes, keeping a close eye to prevent burning.
Serve: Once done, remove the chicken from the oven. Garnish with fresh cilantro leaves and lemon wedges. Serve hot with naan bread, rice, or a side salad.
Tips for making Tandoori Chicken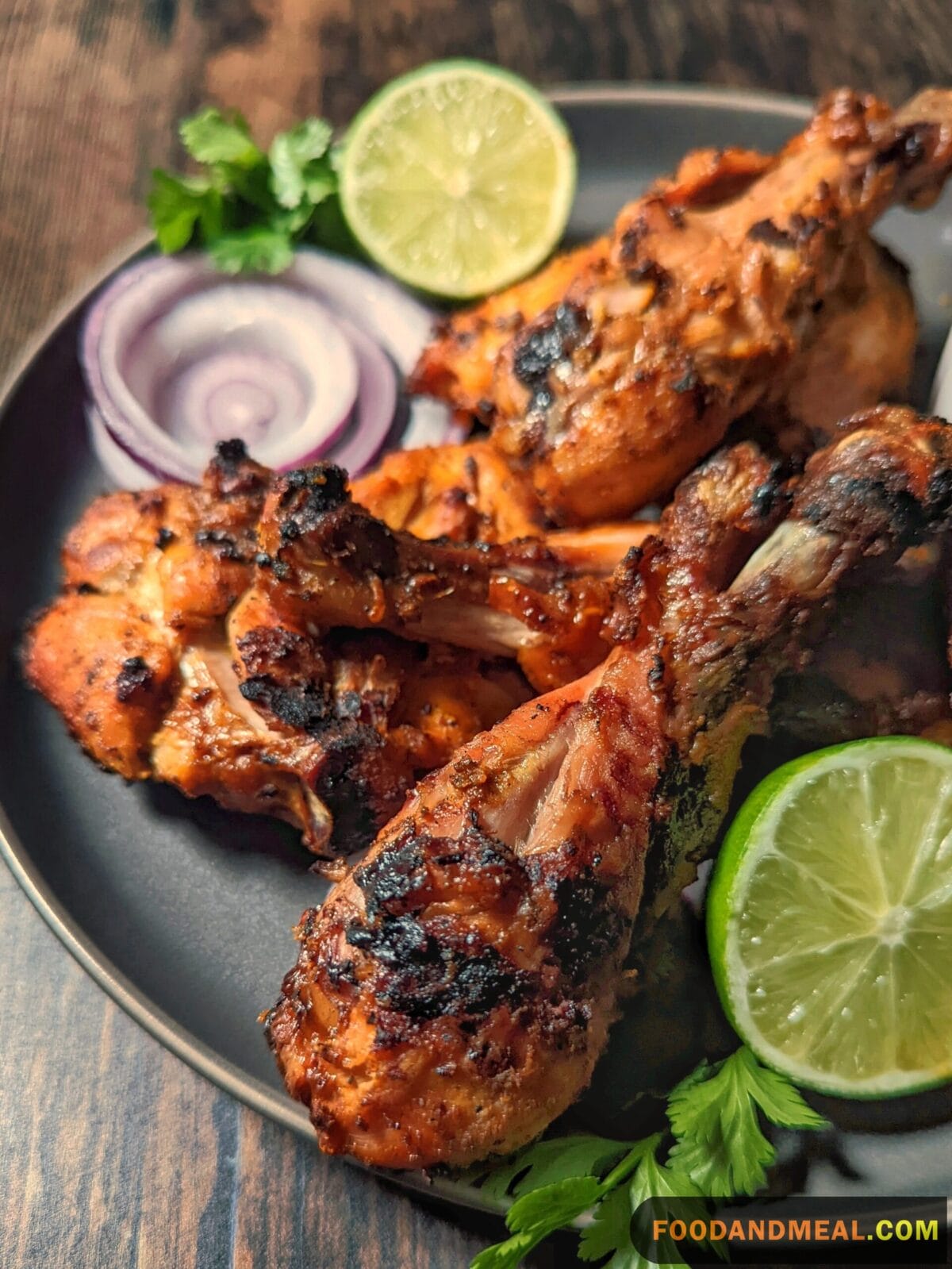 Serving Suggestions for Tandoori Chicken
Classic Pairing: Serve your Tandoori Chicken with warm naan bread or fragrant basmati rice. The combination is unbeatable.
Fresh Side Salad: Balance the spices with a crisp cucumber and tomato salad drizzled with a lemony dressing.
Minty Yogurt Dip: Prepare a cooling mint and yogurt dip to soothe the palate and add a refreshing touch.
Indian Condiments: Include traditional accompaniments like mango chutney or pickled onions for an authentic feel.
Beverage Choices: Pair with a glass of sweet mango lassi or a cold Indian beer for a truly immersive experience.
Wrap It Up: Transform leftovers into flavorful wraps with some flatbreads and fresh veggies.
Cooking Tips for Perfect Tandoori Chicken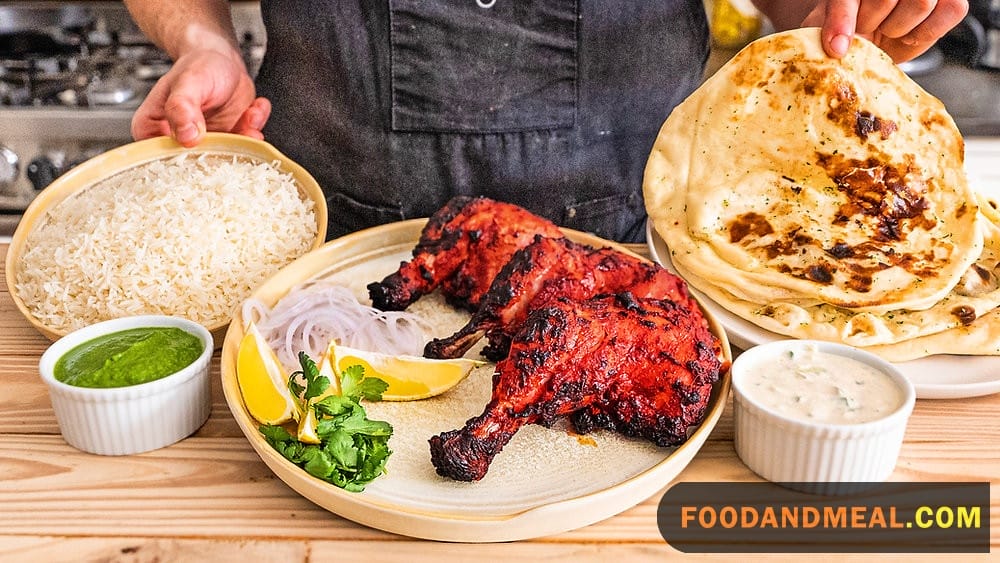 Marination Time: Don't rush the marination process. Longer marination, preferably overnight, ensures the chicken absorbs all the flavors.
Temperature Control: If using an oven, preheat it to the highest temperature for that charred effect. On a grill, maintain medium-high heat.
Even Cooking: Keep an eye on the chicken while cooking. Rotate skewers or pieces as needed to ensure even cooking and avoid burning.
Use the Right Yogurt: Full-fat, plain yogurt works best for the marinade. Greek yogurt is a good substitute for a thicker consistency.
Baste with Butter: To achieve that restaurant-style glaze, baste the chicken with melted butter during the cooking process.
FAQs about Tandoori Chicken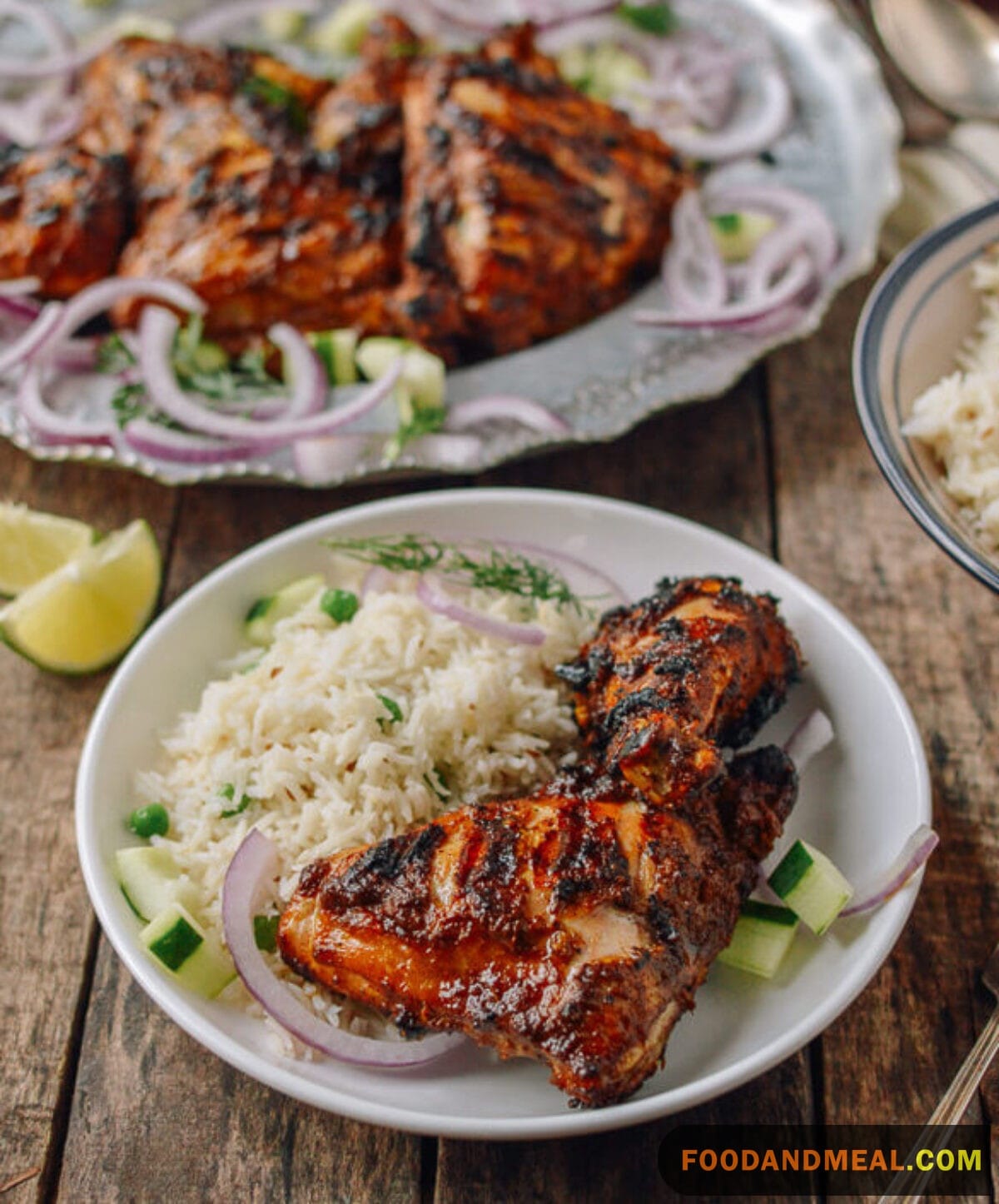 Can I use boneless chicken for Tandoori Chicken?Absolutely! Boneless chicken pieces or even chicken thighs work well for this recipe. Adjust the cooking time accordingly.
What makes the chicken red in Tandoori Chicken?The red color typically comes from a combination of red chili powder and food coloring in the marinade. You can adjust the spice level to your liking.
Can I prepare Tandoori Chicken without a grill or oven? Yes, you can make stovetop Tandoori Chicken using a grill pan or a heavy-bottomed skillet. It won't have the same smokiness but will still be delicious.
How do I store leftover Tandoori Chicken? Store leftovers in an airtight container in the refrigerator for up to 3 days. Reheat in the oven or on the stovetop for the best results.
What's the best way to achieve that smoky flavor at home? While you won't get the exact tandoor smokiness at home, you can enhance the flavor by adding a few drops of liquid smoke to the marinade or using a charcoal grill.
In closing, savor the delight of your homemade Tandoori Chicken, a culinary journey celebrating the richness of Indian cuisine. Share this masterpiece with loved ones, and for more flavorful adventures, subscribe to our blog. Thank you for joining us on this flavorful ride!
Experience the culinary brilliance of Chef John at Food And Meal Restaurant. With over 20 years of global expertise, My innovative creations and unwavering dedication to cooking have earned me a well-deserved reputation. My passion for gastronomy is showcased in every dish, combining fresh, local ingredients with harmonious flavors and captivating presentations. My ability to tell a story through my food reflects my profound understanding of culture and emotion.
Affiliate DisclaimerAbout The Content
As an affiliate, we may earn a commission from qualifying purchases. We get commissions for purchases made through links on this website from Amazon and other third parties.