Coconut milk – it's more than just a tropical flavor. It's an experience, a memory of sandy beaches and sunny days. As someone who's spent countless hours perfecting the art, I can't wait to unveil the secrets of crafting the creamiest coconut milk. Let's journey together!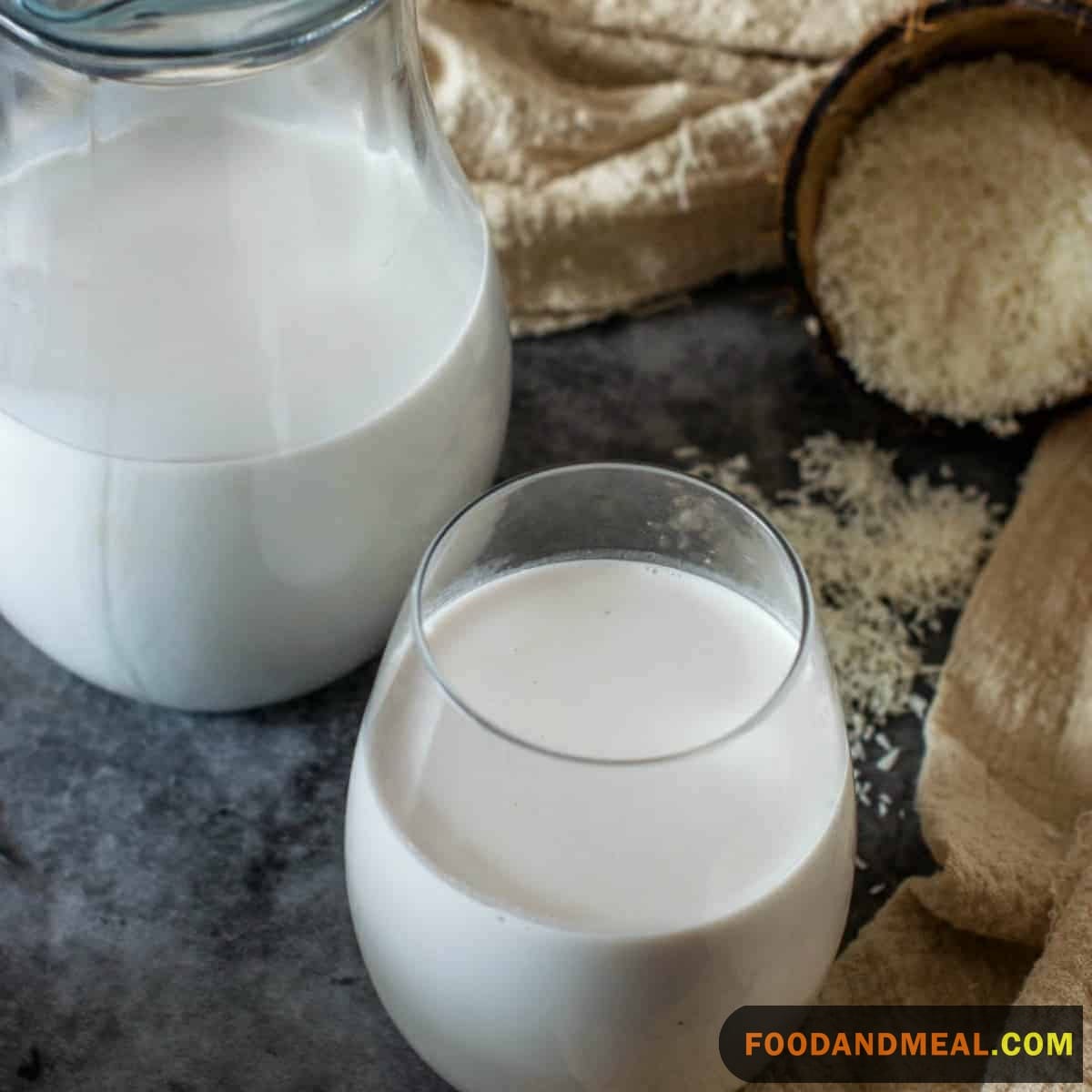 Coconut Milk Recipe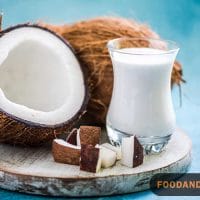 Coconut Milk
Dive deep into the world of coconut milk with our latest recipe, filled with tips and secrets that only an experienced chef would know. If you found our recipe enlightening, don't forget to share it with your friends and hit that subscribe button for more culinary treasures!
Print
Add to Collection
Go to Collections
Ingredients
1

cup

dried coconut chips

2

cups

water
Instructions
Heat water on the stove until it's hot, but not boiling.

Put coconut chips in blender.

Pour hot water over the chips.

Blend on high for 2 minutes, or until you get a creamy, thick

liquid.

Line a strainer or colander with cheesecloth.

Pour the coconut milk through the lined strainer into a bowl.

Ball up the cheesecloth and give it a good squeeze to press the

remaining liquid through.

Transfer your homemade coconut milk from the bowl into a glass

jar or other container.

Use the homemade coconut milk immediately, or keep in the

refrigerator for up to four days.
Notes
Tip: With the left over coconut you can make a lot of tasty recipesusing the
coconut remains. For example you can add them to meat balls, salads,many
curry recipes, pureed soup and risotto.
Share by Email
Share on Facebook
Share on Twitter
Nutrition
Sodium:
8
mg
|
Calcium:
5
mg
© Food And Meal
This website provides approximate nutrition information for convenience and as a courtesy only. Nutrition data is gathered primarily from the Spoonacular Database, whenever available, or otherwise other online calculators.
Making Coconut Milk using a Pressure Cooker
Coconut milk is usually extracted by blending coconut flesh with water, but if you're in the mood for something richer, with a deeper flavor, the pressure cooker method might just become your go-to!
What you'll need:
1 mature coconut, meat scooped out and roughly chopped.
3 cups of hot water.
A pressure cooker.
A fine mesh strainer or cheesecloth.
A large bowl.
Procedure:
Prepping the Coconut: Begin by ensuring your coconut meat is roughly chopped. This doesn't have to be perfect; just manageable pieces that will allow for efficient extraction.
Pressure Cooking: In your pressure cooker, combine the coconut chunks and hot water. Seal the lid securely.
Cooking Duration: Set your pressure cooker to a high setting and allow the mixture to cook for 15 minutes. If you're using a stovetop pressure cooker, this is once it reaches full pressure.
Natural Release: After the cooking time, turn off the heat and allow the pressure to release naturally. This might take another 10-15 minutes.
Straining: Once the pressure has fully released, open the cooker and stir the mixture well. Pour it through a fine-mesh strainer or a cheesecloth into a large bowl, pressing the coconut meat to extract as much liquid as possible. For an even smoother texture, you can strain it twice.
Cooling and Storing: Allow the coconut milk to come to room temperature. Then, transfer it to a glass jar or bottle and store in the refrigerator. Shake well before using, as separation is natural.
Cooking Tips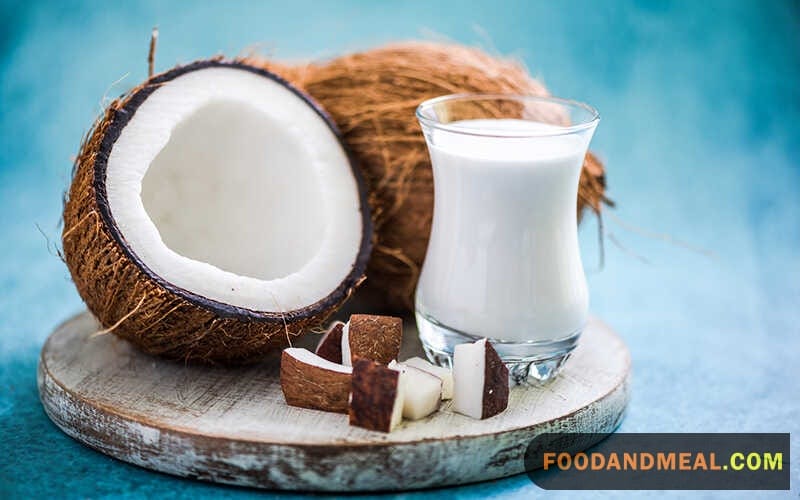 Full Fat vs. Lite: Always be aware of which type you're using. Full-fat coconut milk is creamier and ideal for desserts and thick sauces, while lite is best for beverages or when a lighter consistency is desired.
Avoiding the Burn: Coconut milk can burn easily when cooked on high heat. Always simmer or cook on low to medium heat.
Shake it Up: Separation is natural in canned coconut milk. Always give it a good shake before use or stir it well.
Freshness Matters: If making coconut milk from scratch, always use mature coconuts. They have the thickest meat and will yield the creamiest milk.
Serving Suggestions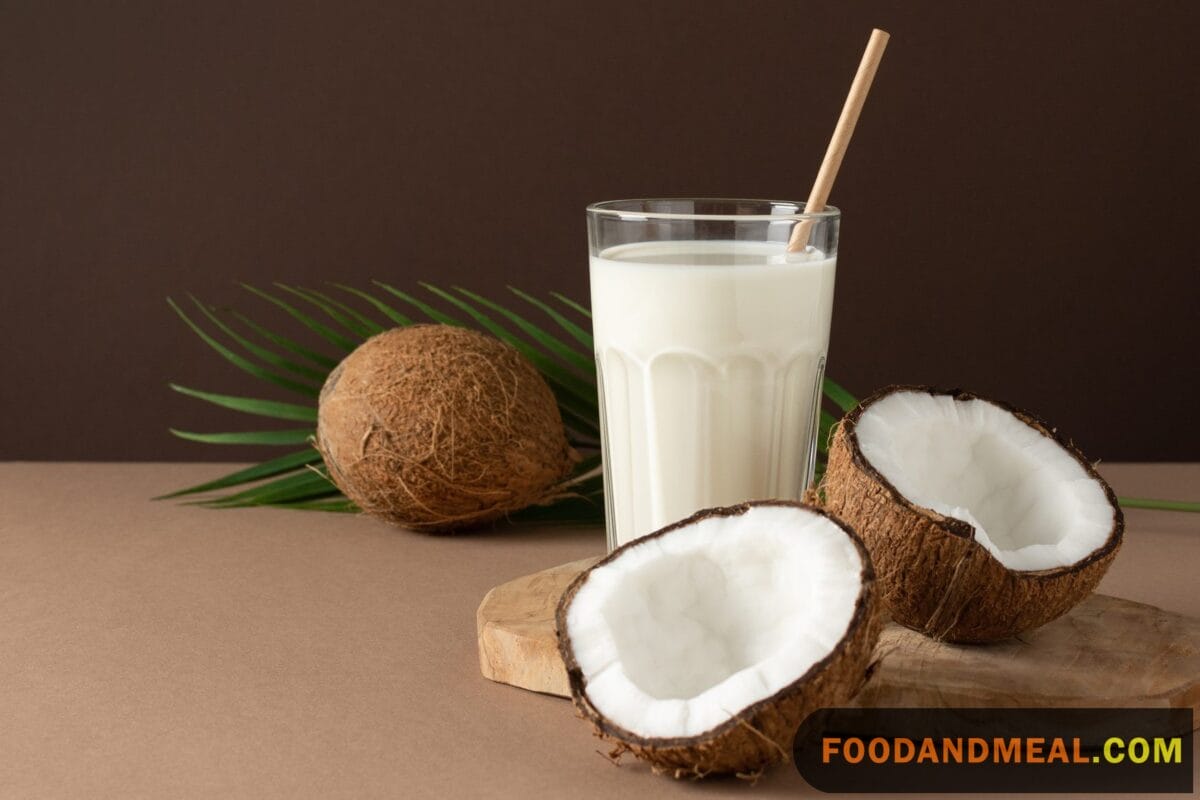 Dive into the tropical allure of coconut milk, a luxurious, creamy beverage that is far more versatile than you might think. Here's how to make the most of this delightful milk:
When and Where? Coconut milk is a hit at brunches and evening get-togethers. Its versatile nature caters to both morning coffee drinkers and nighttime cocktail enthusiasts.
For Whom? While it's a favorite among the vegan crowd and those with lactose intolerance, anyone looking for a burst of tropical flavor in their meals will fall head over heels with coconut milk.
The Perfect Pair: Coconut milk's creamy richness beautifully complements spicy foods. Think Thai curries or spicy Mexican dishes. As for beverages, consider adding it to your coffee for a creamy twist or even in Pina Coladas and other tropical cocktails.
Serving Styles: Aside from the traditional liquid form, freeze coconut milk in ice cube trays for a refreshing addition to drinks or blend it with fruits for a delightful smoothie.
FAQs of coconut milk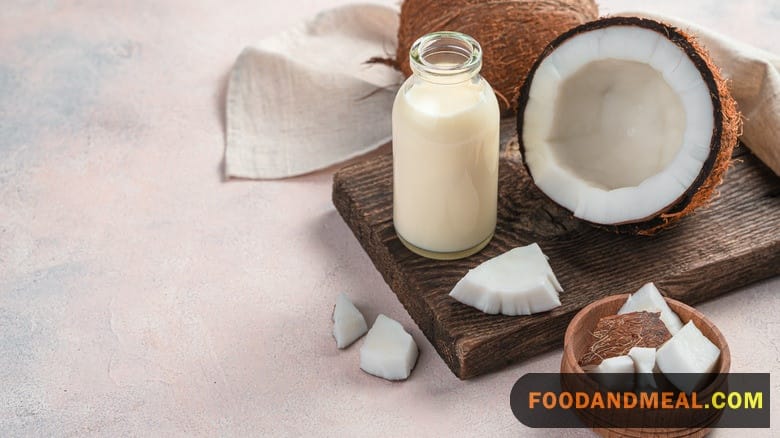 Can I use coconut milk as a dairy milk substitute in every recipe?
Absolutely! Coconut milk can be a fantastic substitute in most recipes, especially in curries, desserts, and beverages. However, it will impart a coconut flavor, so be sure the dish complements it.
How long does homemade coconut milk last in the fridge?
Homemade coconut milk usually lasts for 4-5 days when stored in an airtight container in the fridge. If it smells or tastes sour, it's time to toss it.
Is there a difference between canned coconut milk and the beverage cartons I see at the store?
Yes, there is. Canned coconut milk is usually thicker and richer, intended for cooking. Beverage cartons are often diluted and might contain added sugars, making them more suitable for drinking straight or adding to cereals.
Can I freeze coconut milk?
Certainly! Freezing coconut milk is a great way to preserve its freshness. Remember, though, it might separate upon thawing, so give it a good stir or shake once defrosted.
I noticed a thick layer on top of my canned coconut milk. What is it?
That's coconut cream! It's a thicker, more concentrated form of coconut milk. You can stir it into the milk or use it separately in recipes that call for coconut cream.
Looking for the creamiest, dreamiest coconut milk recipe? Our expert chef spills the beans on mastering this tropical delight. Don't miss out!
Affiliate DisclaimerAbout The Author
As an affiliate, we may earn a commission from qualifying purchases. We get commissions for purchases made through links on this website from Amazon and other third parties.