Hey friends! I'm so excited to share my tips and tricks for making restaurant-quality Char Siu Pork Barbecue right in your own kitchen. This Chinese-style red roasted pork is totally addicting, and it's easier to make than you think. Keep reading for my step-by-step guide to nailing this flavorful dish!
Best Chinese Char Siu Pork Recipe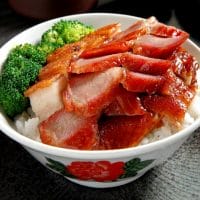 Char Siu Pork Barbecue
Seasoned and marinated in a flavorful Chinese sauce then grilled to perfection under indirect heat, this is a definite must-try alternative to the popular Chinese take-out dish.
Print
Add to Collection
Go to Collections
Ingredients
Marinade:
1/2

cup

soy sauce

1/3

cup

honey

1/3

cup

ketchup

1/3

cup

brown sugar

1/4

cup

Chinese rice wine

2

tablespoons

hoisin sauce

2

tablespoons

red food coloring

optional

1

teaspoon

Chinese Five Spice powder

2

pork tenderloins

cut into thin strips along the grain
Instructions
In a deep pan, add marinade ingredients. While stirring continuously, cook for about 2 minutes on medium heat or until ingredients are mixed well and warm. Then, pour into a large re- sealable bag. Add pork. Seal bag, making sure most of the air has been squeezed out. Using your hand, massage pork into marinade for an even coat. Place in refrigerator and leave overnight.

Apply some oil on the grate and preheat grill to medium-high heat.

Discard marinade and place pork strips evenly on grill. Cook for 10 minutes, turning over after 5 minutes. Place a small container filled with water underneath grate and pork, Return grate and cook pork for another hour or until cooked through, turning pork every now and then. Pork is cooked once internal temperature reaches at least 145 °F.

Serve.
Notes
If your pork shoulder comes with the skin on, score the skin in a crosshatch pattern before marinating. This will help the fat render and crisp up during roasting.

For deeper flavor, marinate the pork for a full 24 hours if you have time.

If the pork isn't as red as you'd like after roasting, you can quickly broil it at the end to intensify the color. Watch closely to avoid burning.

For food safety, marinate pork in the refrigerator and discard used marinade. Don't reuse it or marinate longer than overnight.

You can substitute chicken thighs or beef short ribs in this recipe too! Adjust cook times as needed.

To make Char Siu sauce for storage, double the marinade recipe and reserve half before tossing with pork.

Leftover sliced pork keeps well refrigerated up to 5 days. Reheat gently before serving.

For easier slicing, pop the roasted pork in the freezer for 10-15 minutes before cutting.
Share by Email
Share on Facebook
Share on Twitter
Nutrition
Serving:
4
servings
|
Calories:
1323
kcal
|
Carbohydrates:
53
g
|
Protein:
191
g
|
Fat:
32
g
|
Saturated Fat:
11
g
|
Polyunsaturated Fat:
5
g
|
Monounsaturated Fat:
12
g
|
Trans Fat:
0.3
g
|
Cholesterol:
590
mg
|
Sodium:
2409
mg
|
Potassium:
3749
mg
|
Fiber:
1
g
|
Sugar:
48
g
|
Vitamin A:
124
IU
|
Vitamin C:
1
mg
|
Calcium:
90
mg
|
Iron:
10
mg
© Food And Meal
This website provides approximate nutrition information for convenience and as a courtesy only. Nutrition data is gathered primarily from the Spoonacular Database, whenever available, or otherwise other online calculators.
About Char Siu Pork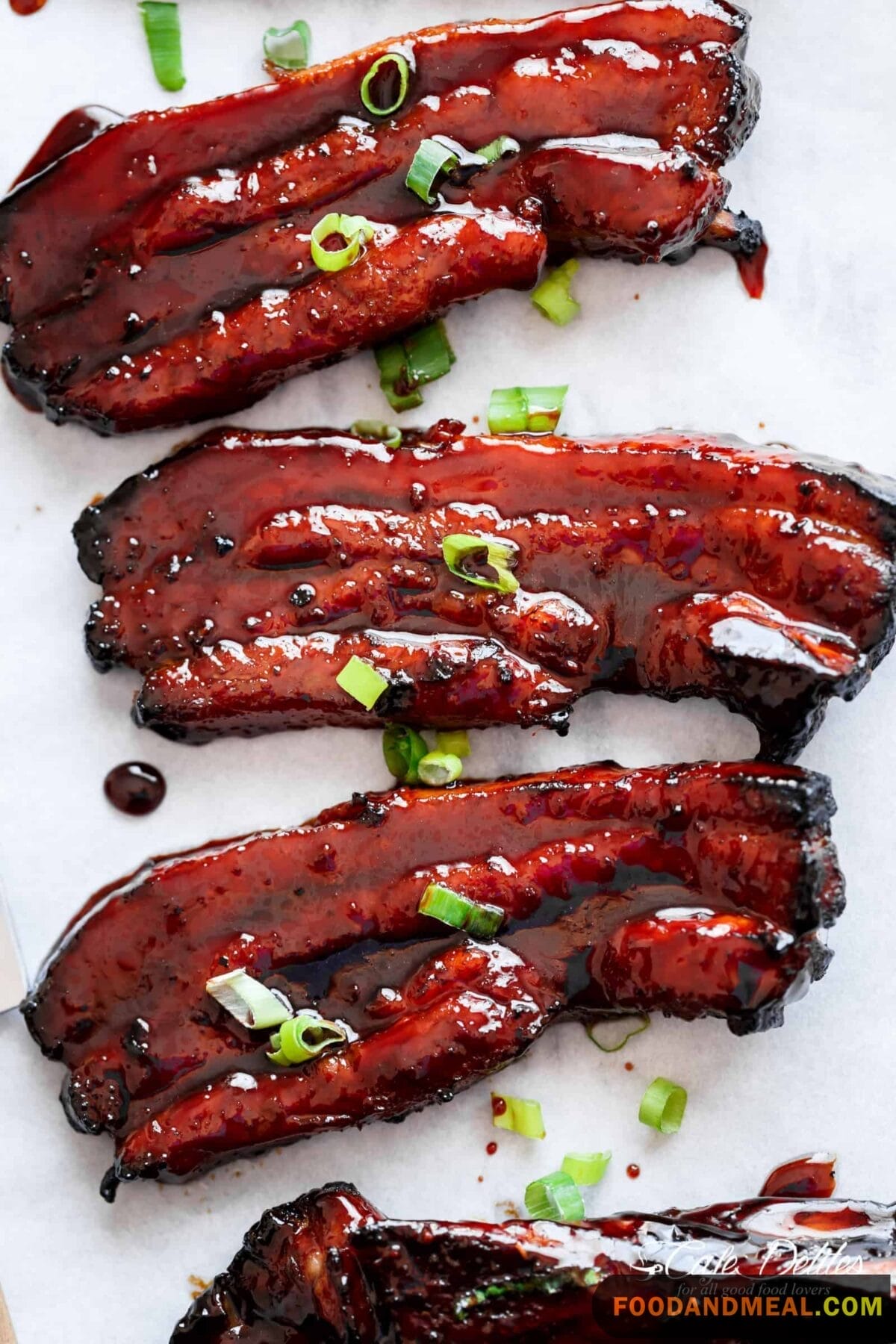 A Little Background on Char Siu
Char Siu Pork Barbecue originated in the Cantonese cuisine of southern China. The name literally translates to "fork roasted" in Chinese, referring to the traditional cooking method of skewering seasoned pork and roasting it over a fire. These days, most home cooks (including me!) prepare it by marinating pork overnight and then roasting it in the oven.
There are a few keys to getting the signature sweet, salty, and slightly spicy flavor of Char Siu Pork. First, the marinade is crucial. It's a sticky, glistening sauce made with hoisin, honey, soy sauce, rice wine, and spices. The marinade tenderizes the meat and gives it that addictive red tint.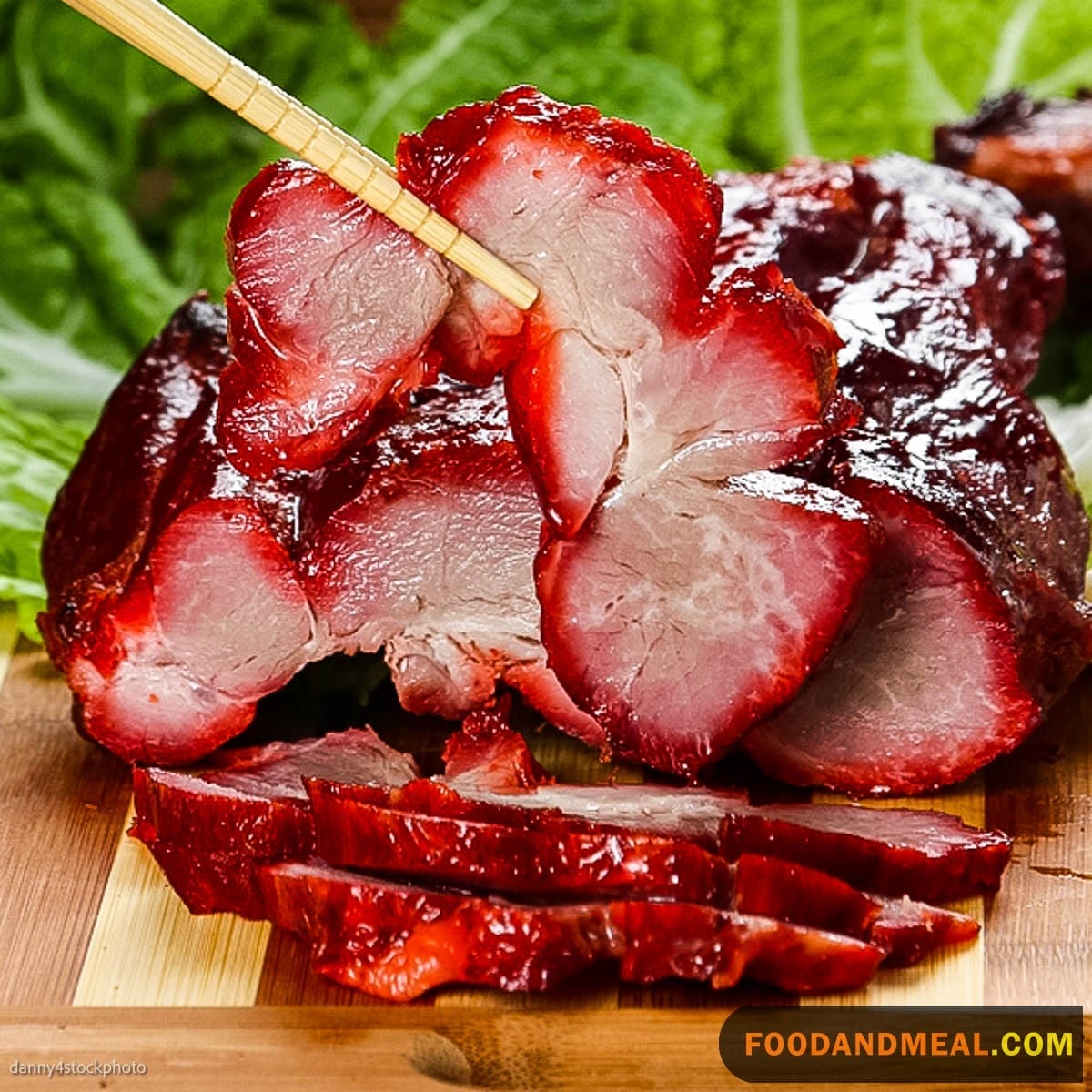 Second, fatty cuts of pork work best. Shoulder and belly are ideal because they stay juicy and absorb all that flavorful sauce. I like to use a boneless pork shoulder roast.
Finally, roasting it low and slow is important. You want the pork to caramelize and develop that crusty exterior without drying out. Patience is rewarded with fork-tender, fall-apart Char Siu!
Cooking Tips & FAQs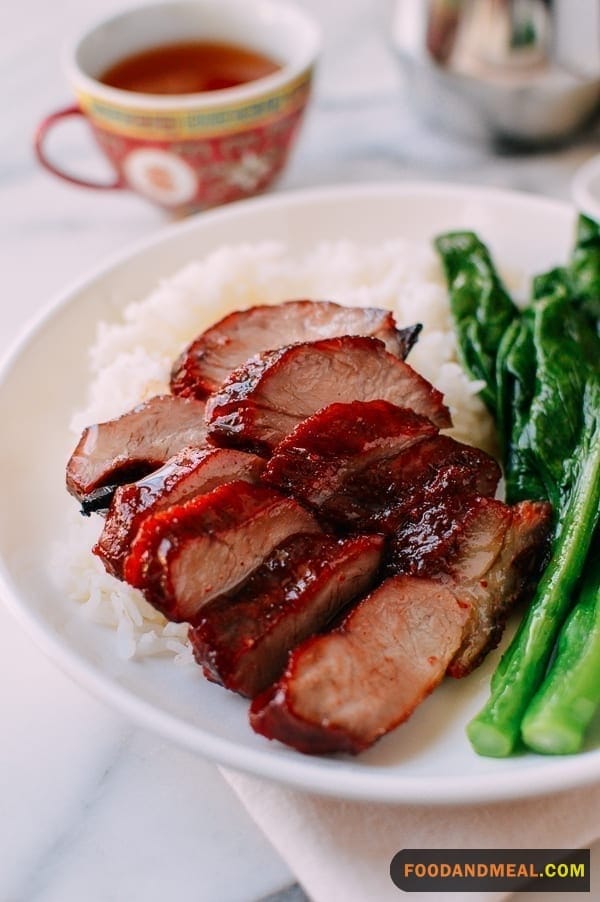 Over the years, I've learned a few things that ensure Char Siu Pork perfection every time. Here are some of my best tips:
Choose a fatty cut like shoulder or belly – it stays juicier.
Refrigerate the pork overnight in the marinade for maximum flavor.
Use a wire rack in the pan so the pork roasts evenly.
Brush with glaze towards the end only to avoid burning.
Let it rest before slicing! This allows juices to reabsorb.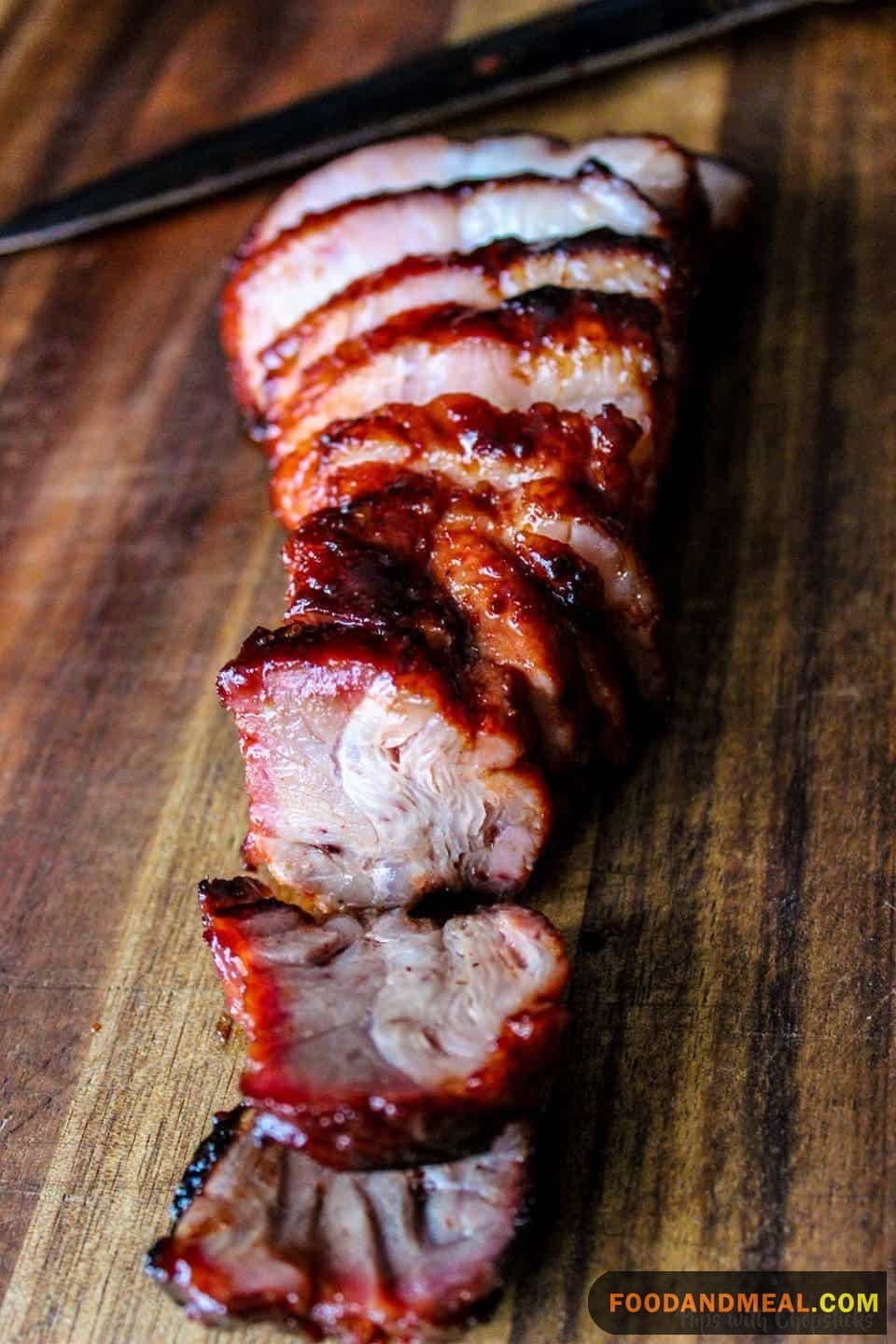 Some common questions:
How long does it last? Up to 5 days refrigerated. You can also freeze sliced pork for longer storage.
Can I use pork tenderloin? Yes, but it's leaner so be careful not to overcook. Reduce oven temp and roast time.
What if my pork burns? Turn down the oven temp and tent foil over the pork. Watch it closely next time!
Serving Suggestions for Char Siu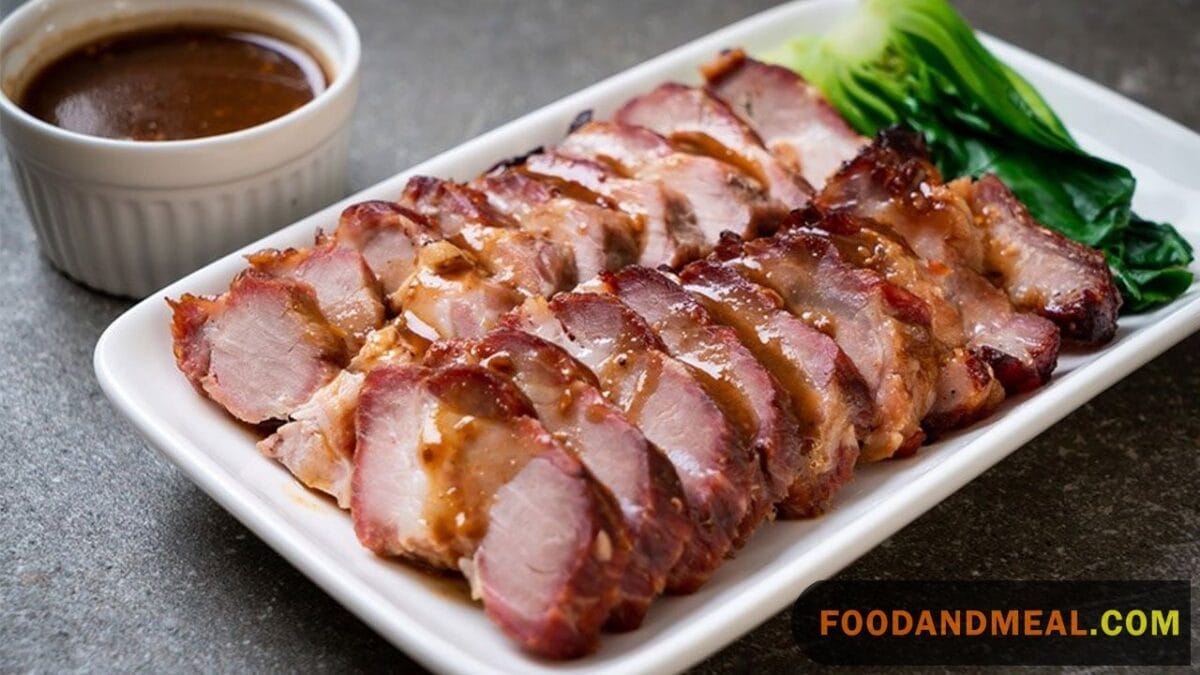 There are so many tasty ways to enjoy Char Siu Pork:
Slice it and serve over steamed rice with veggies.
Stuff it into Chinese steamed buns to make Char Siu Bao.
Add to fried rice or noodle dishes.
Layer on sandwiches and burgers.
Chop and use in wontons or dumplings.
Dice it up for easy weeknight stir-fries.
Leftover pork also freezes well for future meals!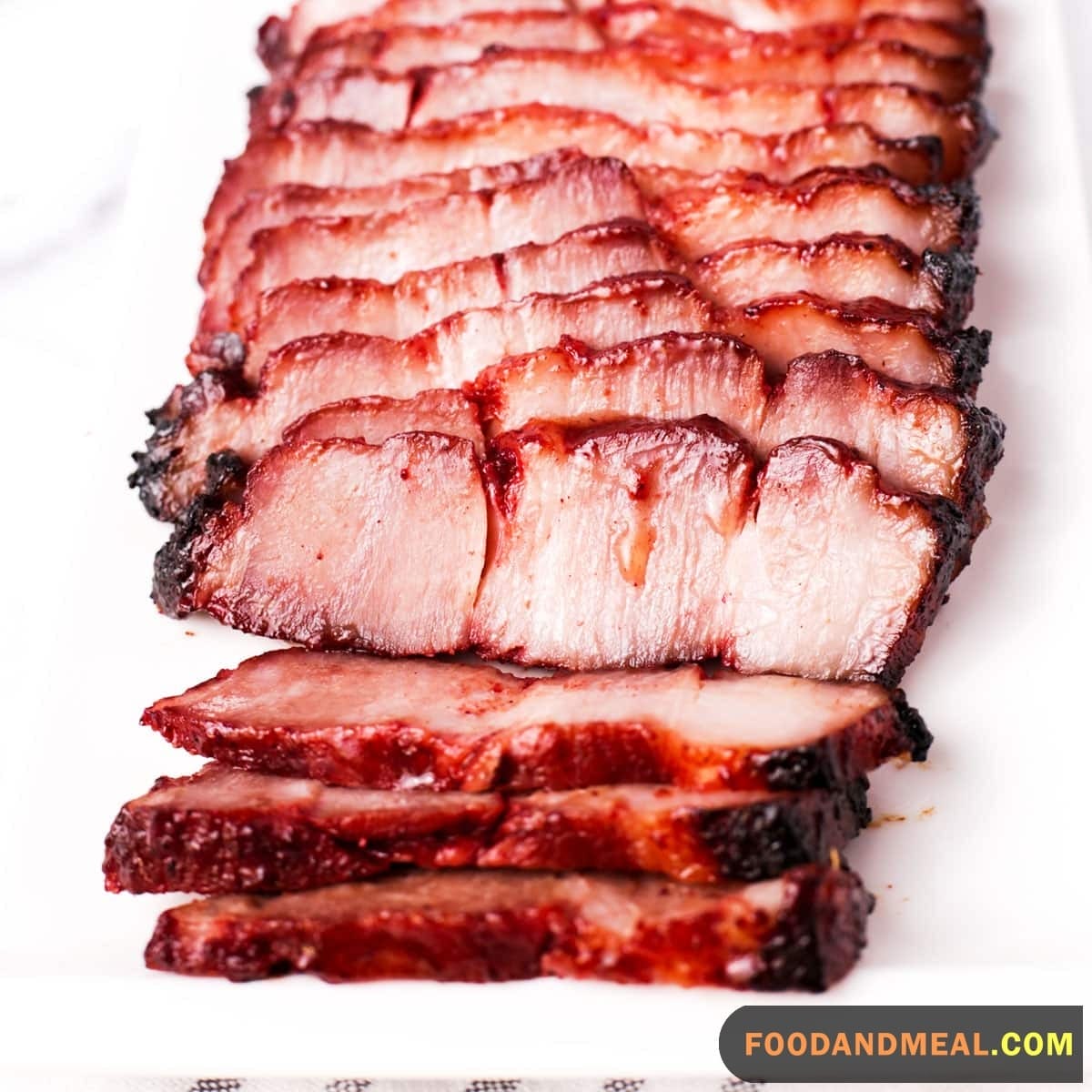 In closing, I hope this guide gives you the confidence to make restaurant-worthy Char Siu Pork Barbecue at home. The secret is in the flavorful marinade – take the time to let it tenderize the pork fully overnight. Then, low and slow roasting plus a sticky glaze at the end will yield fork-tender, caramelized perfection. Serve Char Siu with steamed rice and veggies for an easy weeknight meal, or use leftovers in fried rice, sandwiches, stir fries – the possibilities are endless. Once you master this recipe, you'll be hooked on the sweet, salty, slightly spicy magic of Char Siu. Got any other questions or tips? Let me know in the comments! Now get out there and start roasting your best Char Siu yet. Happy cooking, friends!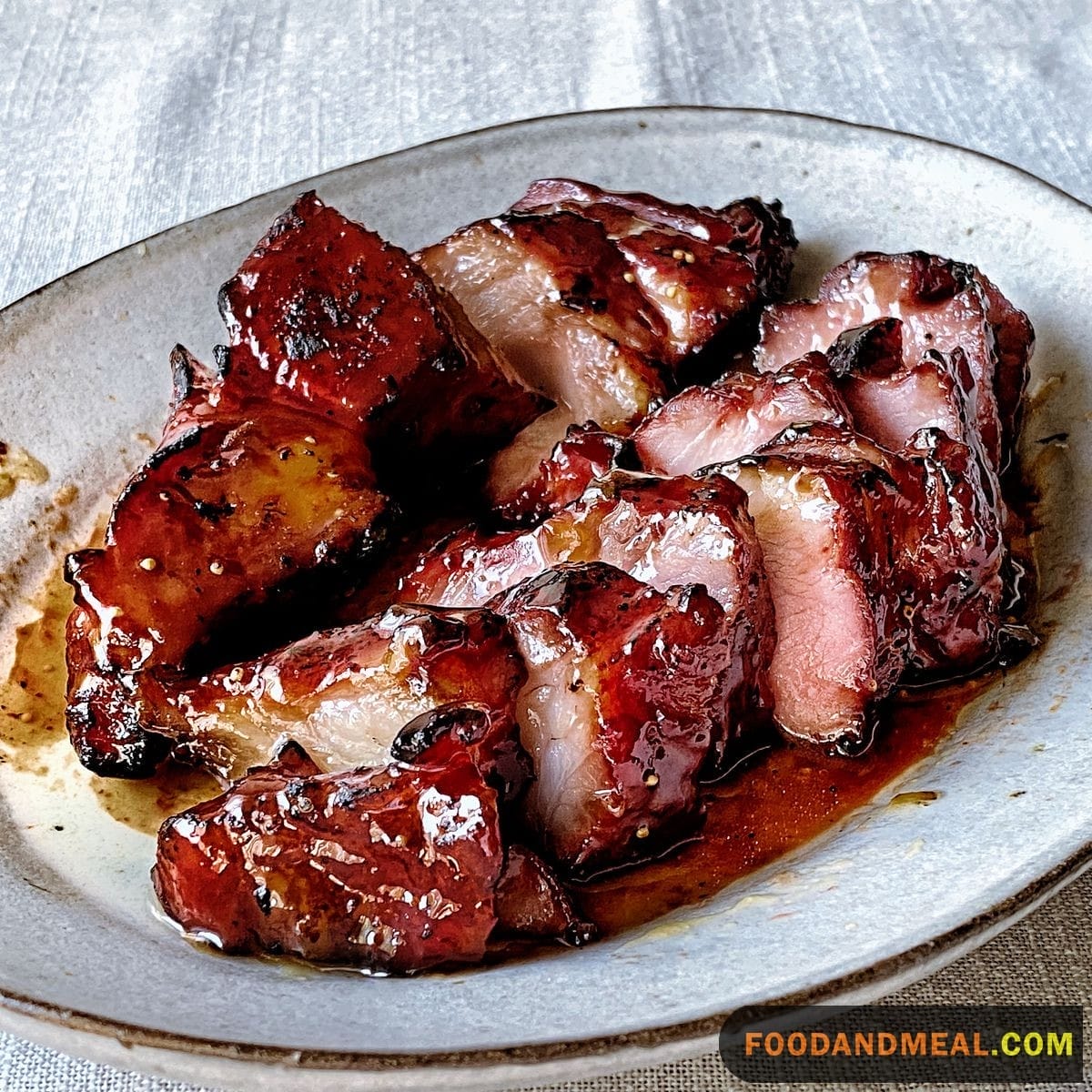 I'm Tracy F Hilton, a devoted culinary professional shaped by a mix of natural aptitude and refined skills from a top culinary school. In the dynamic kitchen environment, I'm a catalyst for seamless operations and timely, high-quality dish preparation. My culinary creations are a blend of art and skill, offering visually and gustatorily delightful experiences. A learner at heart, I'm continuously honing my craft, embracing new techniques, and culinary innovations. My positive, collaborative nature is amplified in fast-paced settings, showcasing my commitment to team efficiency and guest satisfaction. Each dish I present is a meticulous blend of tradition and innovation, promising an unforgettable dining experience that marries taste, aroma, and aesthetic appeal in perfect harmony. Join me on a gastronomic journey where each bite encapsulates a rich, evolving narrative of flavors and culinary artistry.
Affiliate DisclaimerAbout The Content
As an affiliate, we may earn a commission from qualifying purchases. We get commissions for purchases made through links on this website from Amazon and other third parties.