Ah, Tonjiru Hot Pot, how you've warmed many winter nights for me! Bursting with flavors and depth, this classic Japanese dish encapsulates the beauty of simple, yet profound culinary traditions. Allow me to guide you through its rich tapestry.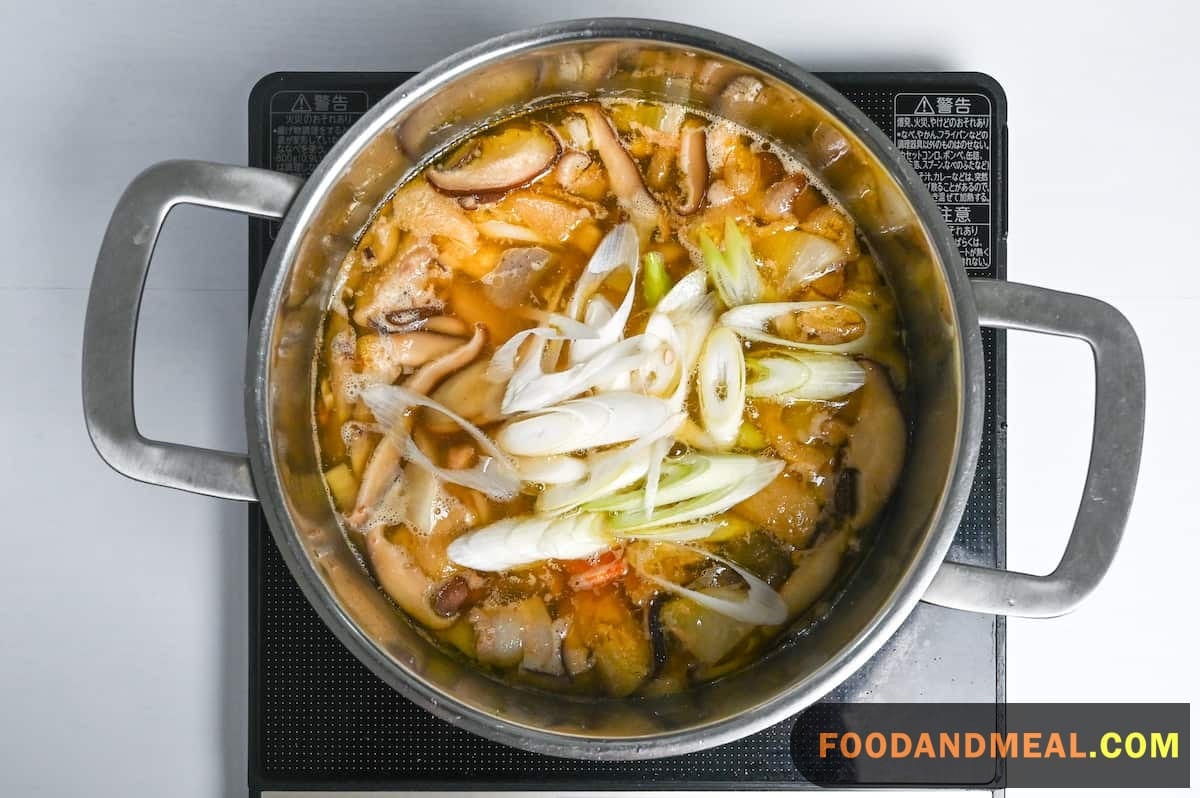 Japanese Tonjiru Hot Pot Recipe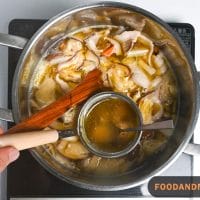 Japanese Tonjiru Hot Pot
Dive into the rich and comforting world of Tonjiru Hot Pot, a timeless Japanese delicacy. Loved our unique take on it? Share this recipe with friends and join our community! Every share fuels our passion to bring more recipes to your table. Don't forget to subscribe for more culinary adventures!
Print
Pin Recipe
Add to Collection
Go to Collections
Equipment

Ingredients
5

cups of

dashi

1⁄2

tablespoons of

oil, sesame

1⁄2

pound of

sliced, cubed pork belly

1

teaspoon of

minced or ground ginger

1

tablespoon of

canola oil

1 x 2

radish, daikon

1⁄2

burdock root (gobo)

2

Japanese Taro (Satoimo)

1⁄2 to 1

carrot, medium

1/3

block of

konjac (konnyaku)

5

tablespoons of

miso

1⁄2

package of

cubed tofu, med. firm

1

sliced

green onion
Instructions
Prepare the five cups dashi stock. After it is ready, set it aside.

Cut veggies into small sized pieces.

In fry pan, heat the sesame oil on med-high. Add ginger and meat. Cook till browned nicely. Set it aside.

In large sized pot, heat canola oil over med. high heat. Sauté the onion till coated well with the oil.

Add carrots, baby taro, daikon and gobo, along with the rest of any harhardb ingredients you choose to include. Mix well. Add konnyaku and the softer ingredients, including mushrooms. Stir till all is mixed well.

Pour the dashi stock in large sized pot.

Add meat. Bring soup to boil. Immediately before it boils, skim fat and scum off soup. Simmer till veggies become soft.

Use a strainer to add the miso. Be sure it dissolves completely. Add the tofu. Gently stir but don't break it up.

When ready to enjoy, reheat miso soup over med-high. Never allow it to boil, as this causes flavor loss. Add green onion and serve your guests in individual bowls.
Notes
Tip for the Perfect Broth: The essence of Tonjiru lies in its rich broth. Always use fresh ingredients, and don't shy away from letting it simmer a tad longer.
Share by Email
Share on Facebook
Share on Twitter
Nutrition
Serving:
1
serving
|
Calories:
128
kcal
|
Carbohydrates:
8
g
|
Protein:
9
g
|
Fat:
7
g
|
Saturated Fat:
1
g
|
Polyunsaturated Fat:
2
g
|
Monounsaturated Fat:
3
g
|
Trans Fat:
0.01
g
|
Sodium:
1631
mg
|
Potassium:
334
mg
|
Fiber:
1
g
|
Sugar:
3
g
|
Vitamin A:
31
IU
|
Vitamin C:
2
mg
|
Calcium:
106
mg
|
Iron:
1
mg
© Food And Meal
This website provides approximate nutrition information for convenience and as a courtesy only. Nutrition data is gathered primarily from the Spoonacular Database, whenever available, or otherwise other online calculators.
Pin Recipe
Tonjiru Hot Pot: Pressure Cooker Method
Ingredients: Same as the original recipe. Adjust water quantity if necessary, considering pressure cookers need less liquid.
Method:
Preliminary Prep: Slice the pork into thin pieces, and keep your vegetables chopped and ready. Remember, the pressure cooker works fast, so having everything prepped ensures a smooth process.
Sauté Mode: Most modern pressure cookers come with a sauté setting. Use this to lightly brown the pork slices. It adds a depth of flavor to the final dish. Once browned, set the pork aside.
Layering Ingredients: Begin with a layer of your harder vegetables like radish or carrots at the base. Follow with the pork, tofu, and other ingredients. This ensures even cooking.
Add the Broth: Pour in your dashi or broth, ensuring it covers the ingredients but doesn't exceed the cooker's maximum fill line.
Cooking: Secure the pressure cooker's lid and set it to the "high pressure" mode. Cook for 25 minutes. This duration allows the flavors to meld beautifully, and the meat to become succulently tender.
Natural Release: Once done, let the pressure release naturally for about 15 minutes. This ensures that the broth remains clear and the flavors stay intact.
Final Touches: Open the lid, stir gently, and add any soft or leafy ingredients like spinach or green onions. The residual heat will cook them perfectly. Taste and adjust the seasoning if necessary.
Serve and Enjoy: Ladle your Tonjiru into bowls, garnish as desired, and relish the depths of flavor achieved in such a short time!
Cooking Tips for Tonjiru Hot Pot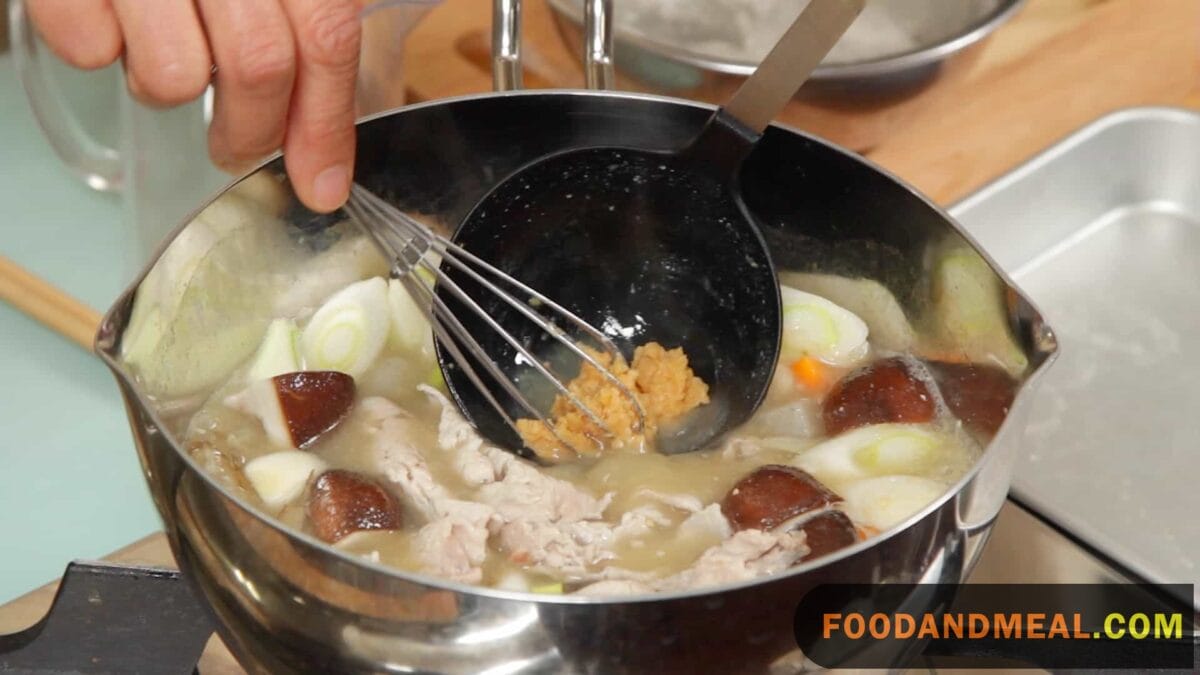 Freshness First: Fresh ingredients are the cornerstone of Japanese cuisine. Ensure that your pork, tofu, and veggies are of top-notch quality. This isn't a dish where you can hide behind spices or sauces!
The Broth's Essence: Your broth, whether it's dashi or another variant, should be clear and umami-packed. Don't rush this step; a good broth can elevate the entire dish.
Watch that Heat: Avoid boiling the pot vigorously. A gentle simmer retains the delicate flavors, especially of the tofu and vegetables.
Mistake to Avoid: Overloading the pot. While it's tempting to toss in all those lovely ingredients, overcrowding the pot can result in uneven cooking and a murky broth. Less is more here.
Serving Suggestions for Tonjiru Hot Pot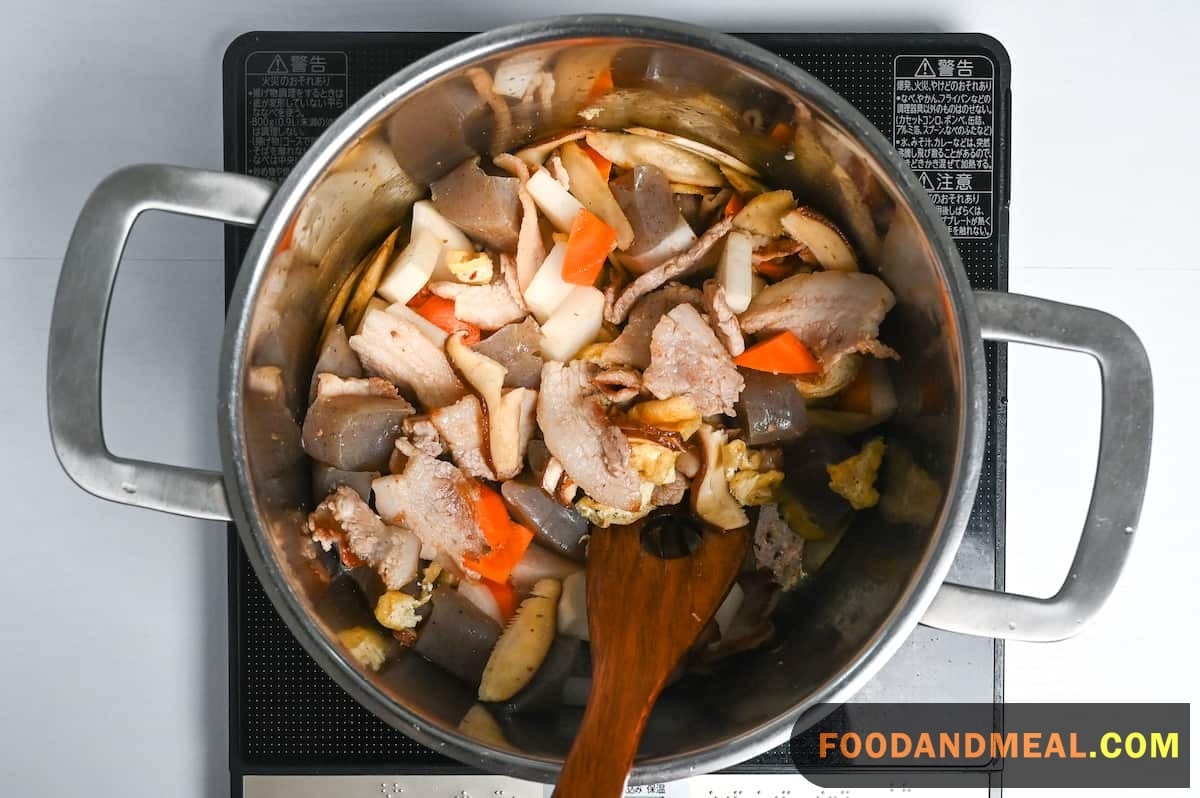 Occasion: Ideal for chilly evenings, family get-togethers, or when you're longing for a comforting bowl of goodness. It's versatile enough for both casual dinners and special occasions.
Audience: Perfect for those who appreciate the nuanced flavors of Japanese cuisine. While adults often love its depth, kids are drawn to its mild, comforting notes.
Complementary Sides: Serve with a side of Japanese pickles or a light salad dressed with sesame oil. A bowl of steamed rice also pairs beautifully, soaking up that delightful broth.
Beverages: A cup of green tea or a glass of chilled sake can enhance the Tonjiru experience, complementing its rich flavors.
Alternate Serving Style: For an extra touch, you can also serve it in individual bowls with toppings like fresh scallions, sesame seeds, or a dash of chili oil for those who like a little kick.
List of 5 FAQs on Tonjiru Hot Pot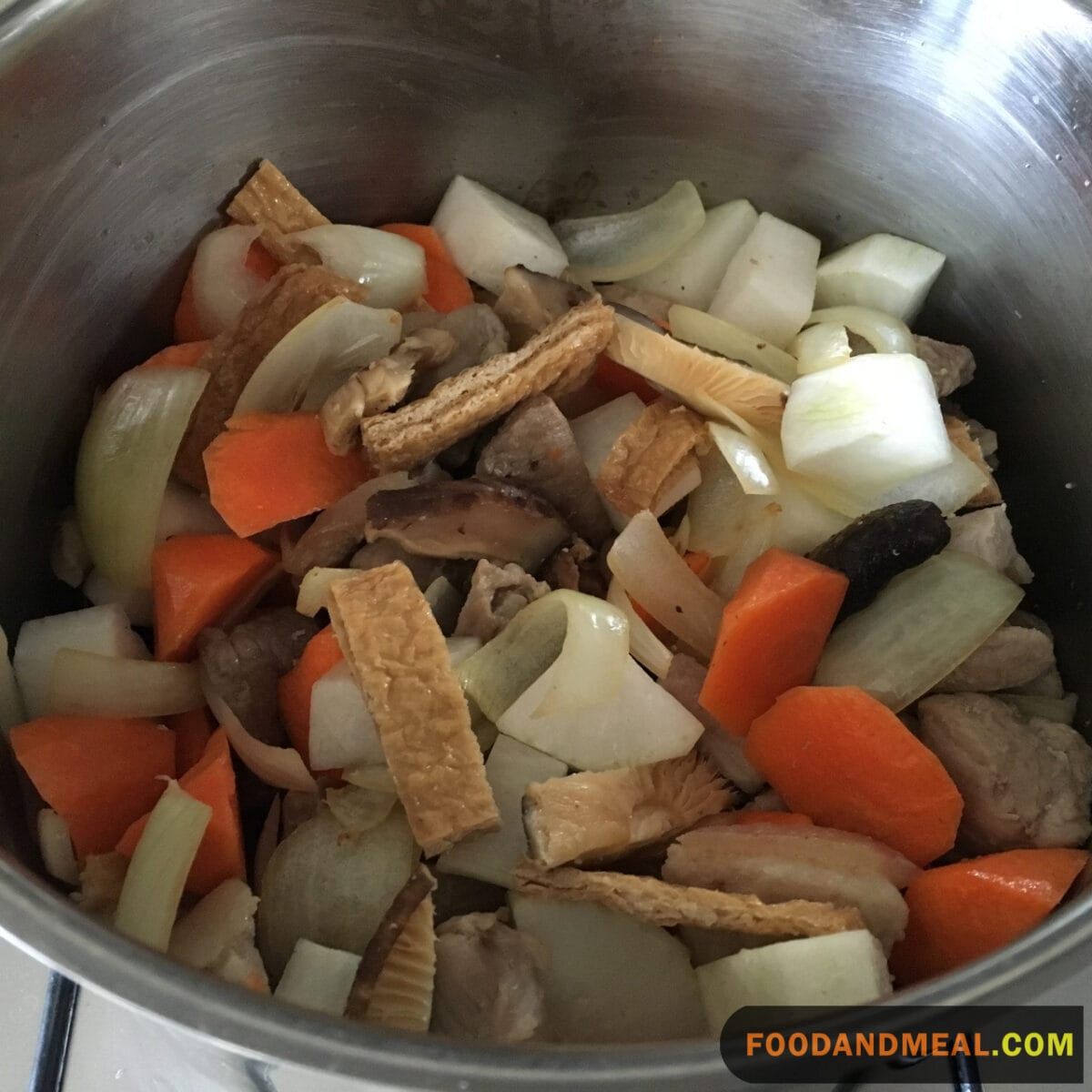 Can I use chicken instead of pork in Tonjiru?
Absolutely! While pork is traditional, chicken, especially thighs, can be a great substitute. It gives a different but equally delightful flavor profile.
What if I can't find a specific vegetable or ingredient?
Japanese cuisine, including Tonjiru, is adaptable. Feel free to experiment with locally available produce. Remember, it's the essence and technique that matters most.
Why is my broth cloudy?
Vigorous boiling can cause this. Always aim for a gentle simmer. Also, adding ingredients to already simmering broth, rather than cold water, can help maintain clarity.
How can I store leftovers?
Cool the Tonjiru to room temperature and transfer it to an airtight container. It can be refrigerated for up to 2-3 days. Reheat gently before serving, ensuring not to bring it to a rolling boil.
Is Tonjiru gluten-free?
Traditional Tonjiru may contain soy sauce, which has gluten. If you're aiming for a gluten-free version, ensure you use gluten-free soy sauce or tamari. Always check the labels of your ingredients.
Dreaming of authentic Tonjiru Hot Pot? Step into our kitchen as we guide you through each stage. Flavorful adventures await!
Affiliate DisclaimerAbout The Author
As an affiliate, we may earn a commission from qualifying purchases. We get commissions for purchases made through links on this website from Amazon and other third parties.